Chelsea Taylor
TimeWednesday, August 9, 2017 | 9:20 PM
FOR IMMEDIATE RELEASE
Chelsea Taylor
(304) 284-0101
[email protected]
2017 Wiseco ATV Motocross Championship Battle
Comes Down to the Wire at Loretta Lynn's
It's Wienen Versus Hetrick in Final AMA Pro ATV Showdown
MORGANTOWN, W.Va. (August 9, 2017) – After a long and competitive season filled with incredible racing and one of the most dramatic title fights in recent memory, the 2017 Wiseco ATV Motocross National Championship (ATVMX) presented by CST Tires, an AMA National Championship, will come to an exciting conclusion on Saturday afternoon. Fittingly, the host venue for this weekend's finale, on August 12, is a track known for building champions – Loretta Lynn Ranch – and just 11 points sit between the top two in the AMA Pro ATV Class.
The Hurricane Mills, Tennessee, facility has been the home of the Rocky Mountain ATV/MC AMA Amateur National Motocross Championship for decades, and just last week the world's single-largest motocross event crowned 35 amateur national champions. Now it's time for the world's best ATVMX riders to take center stage at "The Ranch" for what is sure to be a thrilling showdown for the AMA Pro ATV title.
Heading into Loretta Lynn's, only two riders have a shot at claiming the 2017 championship - Maxxis/Elka/Liquid Wrench/Honda's Joel Hetrick and Wienen Motorsports/SSi Decals/Walsh Racecraft/Yamaha/Maxxis/7240's Chad Wienen. This dominate duo are the only two riders to have wins accredited to them this season and they have amassed a stellar rivalry in their continued battle for the title. The final chapter of their season-long fight will be one of the most memorable moments in series history.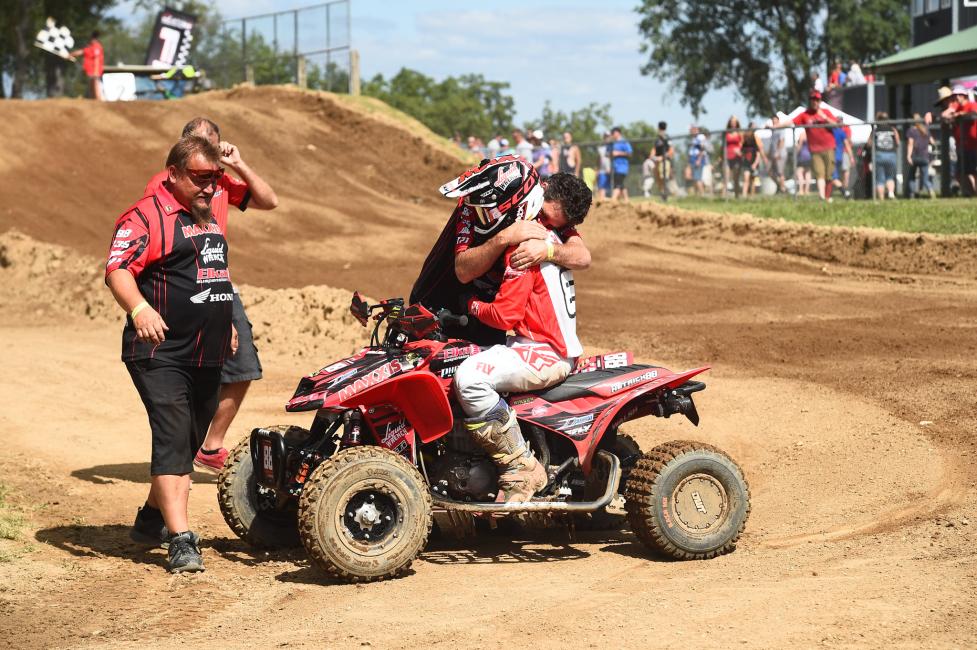 Based on this season's results, the 11-point cushion Hetrick enjoys should be enough to hold on to the points lead through to the final checkered flag. Although history suggests that all the pressure is on Wienen this Saturday to go out and win at all costs. Wienen has been in this position now for six consecutive years and knows better than anyone in the sport what it takes to win a title. However, throughout his dominant reign Wienen hasn't quite faced a challenge as stiff as the one Hetrick has put forth this season. Not only has Hetrick consistently been the fastest rider from round-to-round, he has more overall wins than anyone else in the championship.
Based on this season's results, the 11-point cushion Hetrick enjoys should be enough to hold on to the points lead through to the final checkered flag. It's the approach Hetrick has taken for most of the 2017 season. He's shown no intimidation in pushing his Honda to the limit, and that won't change this weekend.
Instead the focus will be on Hetrick to stay out of trouble and ride his own race, knowing he doesn't need to win in order to walk away as champion. While these two riders have been the class of the field virtually every round of the championship, this is still motocross and anything can happen once the gate drops.
No matter how the final championship points play out, there's little doubt that Hetrick has set a new standard for speed. In addition to the crowning of the 2017 Wiseco ATV Motocross National Champion at Loretta Lynn's, several other coveted distinctions are on the line.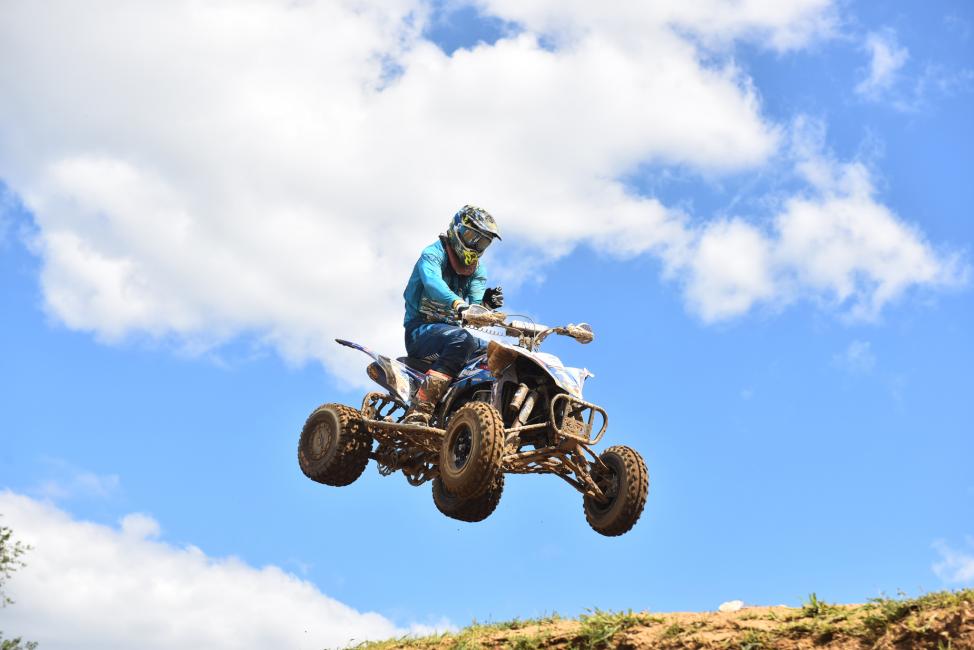 The ATVRiders.com Top Qualifier Award is a season-long battle to determine which rider walks away with a $1,000 bonus for laying down the quickest lap each weekend. Hetrick has been nothing short of dominant when it comes to qualifying, posting down the top time in five of the nine events this season. Wienen still has the possibility to tie Hetrick for the award on Saturday.
Additionally, the SSi Decals Holeshot Award is a season-long fight for a $2,000 bonus. Once again Hetrick has been top dog in this fight, racking up 22 holeshot points to go virtually untouched when it comes to getting a jump out of the gate.
Saturday's race schedule is as follows: practice at 10 a.m. followed by a timed qualifying session at 11:30 a.m. Pro motos are at 2 and 4 p.m. with an autograph session taking place at 4:30 p.m. For a complete schedule of the weekend's activities, please visit the Loretta Lynn's ATV National event page on the series website by clicking HERE.
RacerTV will provide a LIVE broadcast of the racing action from 11 a.m. to 6 p.m. EST including both pro motos via www.racertv.com. A highlight show featuring the event will air on MAVTV Saturday, October 7.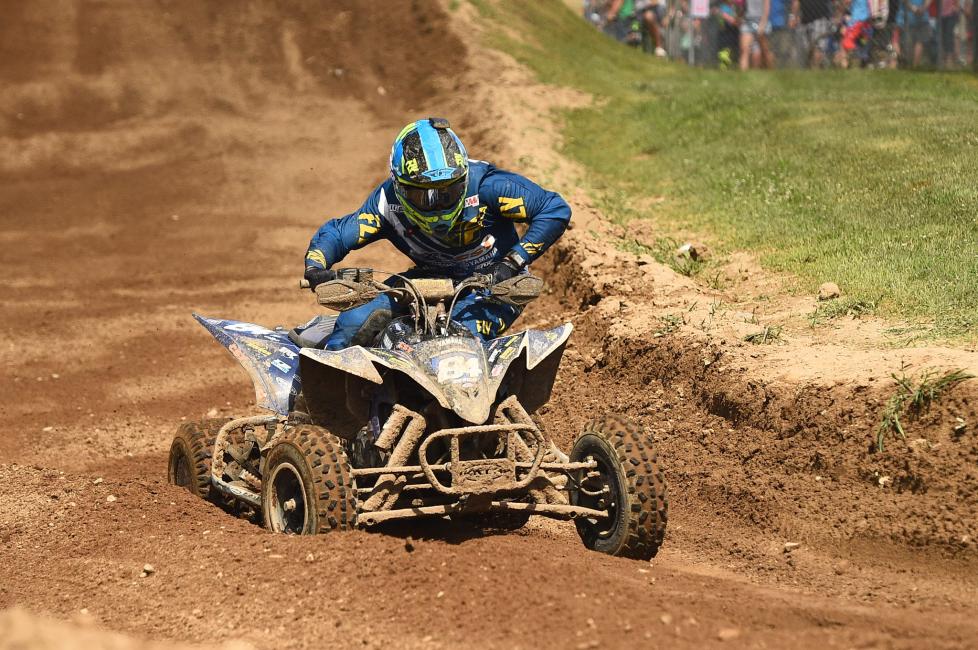 Saturday spectator passes run $20 for adults and $10 for children (6-11), with kids five and under getting in for free. Each pass includes pro pit access and pro autographs at no additional charge.
Amateur racing will take place throughout the weekend alongside the AMA Pro class, and local riders are invited and encouraged to compete in the event, as ATVMX offers classes for riders of all skill and experience levels. The amateur race entry fee is only $50 and riders can sign up at the event. To learn more about ATVMX racing, please refer to the ATVMX101 webpage.
Local racers expected to compete this weekend will be: brothers Silas (Pro) and Lucas Lamons (Junior 25+ and Pro Sport), Eli Elswick (450 B and Production B), Chris Furches (Open C and 450 C), Rocky Heupel (Veteran 30+), Dalton Lipford (450 C and Production C), Garrik Kelley (Open C and 450 C), Cesar Jimenez (Open B and Production B), siblings Darrin (College 16-24), Alex (College 16-24) and Lilly Huckabey (Girls 8-13), Tyler Powers (450 A and College 16-24), brothers Lincoln (70 Automatic 6-11, 50 Open 4-8 and 50 CVT 4-8) and Waylon Tummel (70 Automatic 6-11, 50 Open 4-8 and 50 CVT 4-8), Bryson Slagle (90 Open Sr. 12-15, 90 Automatic 8-13 and 90 Shifter 12-15), Braden Lollis (Youth All Star 13-15 and 250 Mod 13-17) and Phillip Oppen (Junior 25+).
To get to the track from Nashville take I-40 west 65 miles to exit 143. From Memphis take I-40 east approximately 140 miles to exit 143. After taking exit 143 follow Highway 13 North seven miles and the track entrance will be on the left.
For more information on the Wiseco ATV Motocross National Championship, visit the official series website at www.atvmotocross.com. Join the conversation on the series Facebook page, follow on Twitter and Instagram, and be sure to always hashtag #ATVMX.
Previous Round Results and Points Standings
RedBud MX
Buchanan, Michigan
Round 9 of 10
Saturday, July 29
2017 AMA Pro Class Event Results:
Joel Hetrick (1-1)
Chad Wienen (2-2)
Thomas Brown (4-3)
Nick Gennusa (5-4)
Josh Upperman (6-5)
Westley Wolfe (8-6)
Parker Wewerka (7-8)
Sam Rowe (9-9)
Jeffrey Rastrelli (3-17)
Ronnie Higgerson (14-7)
Overall National Championship Standings:
Joel Hetrick (398)
Chad Wienen (387)
Jeffrey Rastrelli (304)
Thomas Brown (295)
Nick Gennusa (283)
Josh Upperman (246)
Ronnie Higgerson (239)
Parker Wewerka (215)
Westley Wolfe (201)
Sam Rowe (171)
SSi Decals Holeshot Award Standings:
Joel Hetrick (22)
Cole Sepesi (2)
Josh Upperman (2)
Sam Rowe (2)
Chad Wienen (1)
ATVriders.com Top Qualifier Award Standings:
Joel Hetrick (5)
Chad Wienen (4)
About the Wiseco ATV Motocross National Championship:
The Wiseco ATV Motocross National Championship presented by CST Tires, an AMA National Championship, is the nation's premier amateur and professional ATV motocross series, hosted at top motocross facilities nationwide. The 10-round series features the Nation's best racers, teams and sponsors, and is America's largest and longest-running ATV national motocross program. Since 1985, the series continues to expand and produce top talent from the amateur ranks, while premiering the professional class. For more information, please visit www.atvmotocross.com.
About the American Motorcyclist Association:
Founded in 1924, the AMA is a not-for-profit member-based association whose mission is to promote the motorcycle lifestyle and protect the future of motorcycling. As the world's largest motorcycling rights and event sanctioning organization, the AMA advocates for riders' interests at all levels of government and sanctions thousands of competition and recreational events every year. The AMA also provides money-saving discounts on products and services for its members. Through the AMA Motorcycle Hall of Fame in Pickerington, Ohio, the AMA honors the heroes and heritage of motorcycling. For more information, visit www.americanmotorcyclist.com. Not a member? Join the AMA today: www.americanmotorcyclist.com/membership/join.
-MXS-