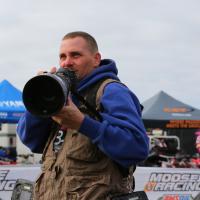 Ken Hill
Time
Tuesday, July 5, 2022 | 3:55 PM
FOR IMMEDIATE RELEASE
Pleasure Valley Raceway ATVMX National Championship Race Report
Chad Wienen Goes 1-1 in Pennsylvania
SEWARD, Pa. (July 5, 2022) - Pleasure Valley Raceway would be the site of some intense racing as the facility played host to round 8 of the 2022 ATV Motocross National Championship (ATVMX) Series, an AMA National Championship. Held over the 4th of July weekend, the celebration of Independence Day would only be overshadowed by the racing that once again pitted Wienen Motorsports/Maxxis/SSi Decals/Fly Racing/Yamaha's Chad Wienen and Phoenix Racing/CST Tires/Elka/Moose Racing's Joel Hetrick against each other. The two continue to be locked into a fierce battle for every point as the season starts to look at crowning a champion.
Race day would start with the typical mountainous grey skies after a drenching rain overnight from a passing thunderstorm. However, by the time pro practice rolled around, the sunshine and numerous motos that had been run had the track in a very race-able condition. Hard pack would lead into sections that were filled with soil that would test every racer on the track. Ford Brothers Racing/Fly/SSi/Maxxis/DWT/Maxima/Fourwerx/ Walsh's Bryce Ford would take the top qualifier and looked to be poised to get into the fight for the win.
Race time soon approached for the first moto as the track was prepped, riders were loading the gate. The gate dropped and it was Wienen charging to the front to claim the SSi Decals Holeshot Award. As Wienen powered through the first few sections, Hetrick was already on his grab bar and the fans were loving it. For many seasons this sight has played out so many times one would think it would get boring but with these two racers, the excitement they carry keeps everyone on the fence cheering and waiting for their rider to pull away. Wienen was flying even when Hetrick pulled up nearly alongside him at times only to return to Wienen's shadow as they ripped lap after lap. This was a classic battle as Hetrick's explosive speed was only matched by Wienen's ability to retain his speed in some of the roughest track conditions seen this season. Every lap seemed to equal the intensity of the previous even as the moto came to an end with Wienen taking the win after an exhaustive battle with Hetrick.
Taking third in moto one was Musick Racing/Déjà Vu/Kenda Tires' Brandon Hoag who also does well on hard pack tracks and looked to be primed for the event as did ML2 Motorsports/Walsh Race Craft/Maxxis/Yamaha's Max Lindquist, who came through fourth, and GennUSA Racing/Integrated Financial Concepts/CST Tires/Walsh Race Craft's Nick Gennusa crossing the line in fifth for the first moto. The racing behind the top two was as good as it gets with adjustments already being planned for the second moto.
The sun had indeed been busy as temperatures climbed into the lower 80's as moto two approached. The track crew went to work and prepped several sections of the track that had reached the point of repair. In no time they had things ready to offer probably the best track of the day as the riders took the gate for their final moto of the day.
The gate fell on moto two and once again it was Wienen powering to earn the SSi Decals Holeshot Award. Wienen was once again in control of things as he began to pull away. As the chaos cleared the first few turns, one racer not upfront was Hetrick. Hetrick did not get the start he wanted and was now facing nearly the entire class to race through if he wanted to save his weekend. With clear track ahead of him, Wienen was on rails and never seemed to back off knowing behind him was Hetrick charging hard to catch him.
Hetrick faced a more one lined track in moto one but here in moto two he was having to find areas to pass and that's exactly what he was doing, one-by-one picking off those that stood between him and a podium finish. He was pushing extremely hard and gasps from the crowd erupted when things got sketchy as he put everything he had into this charge. In one section, he saved what could have been a nasty crash only with the skill set he has but never gave up.
Wienen would clear the finish line putting the finishing touches on a perfect weekend with his 1-1 results and was stoked to have earned the win here on what most consider Hetrick country. For Hetrick, a solid 2-2 just doesn't describe or show the massive amount of effort that went into the results. By race end, Hetrick had come from near dead last to nipping at Wienen's rear tires at the finish.
Hoag would take the final podium position with his 3-4 effort. Hoag has had mixed results early; however, he has found the podium three of the last four rounds proving he has what it takes to run upfront. New Jersey's Gennusa had a solid weekend as he has been hitting wall after wall thus far in 2022. Gennusa pushed hard in the second moto and would go 5-3 for 4th overall. Lindquist would secure fifth overall after going 4-8 as he continues to get the feel for the pro class and finds his way into the mix of talent.
Only two more events remain in the 2022 season, which means only four more moto's remain in the season as well. Thus far the motos have proven to be conquered by both Wienen and Hetrick, who will not let up until the last checkered flag flies on the season. It is anyone's guess who may come out on top or how the points could be shaped up if big changes happen to befall either of the top two. It will be an exciting final two rounds.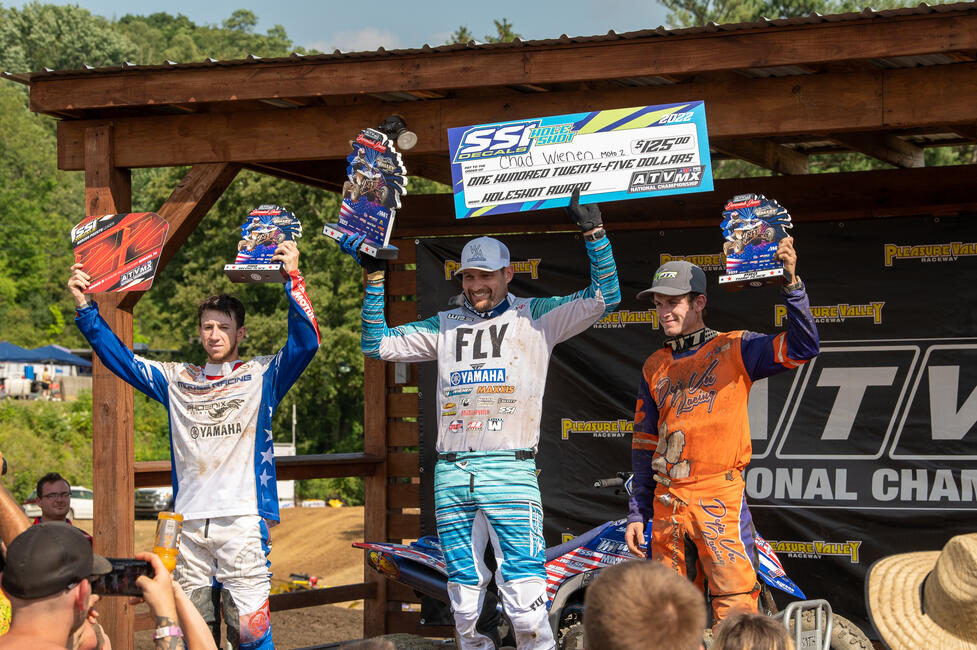 Pleasure Valley Overall Results and Points
Seward, Pennsylvania
Round 8 of 10
Saturday, July 2, 2022
AMA Pro Class Event Results:
Chad Wienen (1-1)
Joel Hetrick (2-2)
Brandon Hoag (3-4)
Nicholas Gennusa (5-3)
Max Lindquist (4-8)
Cody Ford (7-7)
Zack Decker (10-6)
Jeffrey Rastrelli (12-5)
Logan Stanfield (8-9)
Bryce Ford (6-12)
Overall National Championship Standings
Joel Hetrick (354)
Chad Wienen (326)
Brandon Hoag (249)
Bryce Ford (242)
Jeffrey Rastrelli (239)
Nicholas Gennusa (231)
Max Lindquist (211)
Logan Stanfield (175)
Cody Ford (174)
Zack Decker (167)
About the ATV Motocross National Championship:
The ATV Motocross National Championship, an AMA National Championship, is the nation's premier amateur and professional ATV motocross series, hosted at top motocross facilities nationwide. The 10-round AMA Pro and 9-round amateur series features the Nation's best racers, teams and sponsors, and is America's largest and longest-running ATV national motocross program. Since 1985, the series continues to expand and produce top talent from the amateur ranks, while premiering the professional class. For more information, please visit www.atvmotocross.com.
About the American Motorcyclist Association:
Founded in 1924, the AMA is a not-for-profit member-based association whose mission is to promote the motorcycle lifestyle and protect the future of motorcycling. As the world's largest motorcycling rights and event sanctioning organization, the AMA advocates for riders' interests at all levels of government and sanctions thousands of competition and recreational events every year. The AMA also provides money-saving discounts on products and services for its members. Through the AMA Motorcycle Hall of Fame in Pickerington, Ohio, the AMA honors the heroes and heritage of motorcycling. For more information, visit www.americanmotorcyclist.com. Not a member? Join the AMA today: www.americanmotorcyclist.com/membership/join.
Series Media Contact:
Kayla Bolton
Media Manager
[email protected]