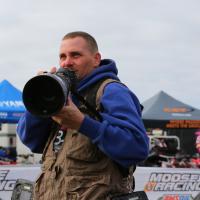 Ken Hill
Time
Monday, April 18, 2022 | 2:00 PM
FOR IMMEDIATE RELEASE
Aonia Pass ATVMX National Championship Race Report
Hetrick Makes it Three-In-A-Row with Georgia Overall Win
WASHINGTON, Ga. (April 18, 2022) – Ominous skies greeted the ATV Motocross National Championship (ATVMX) Series, an AMA National Championship, as round three kicked off at Aonia Pass MX in Washington, Georgia, setting up another exciting round ATVMX racing. With some of the muddiest conditions seen in years, the day would not offer anyone a break as the teams worked tirelessly setting their machines up for an old fashioned mudder. Unfortunately, the conditions forced race officials to drop one of the qualifying sessions in the morning and delay racing until mid-afternoon.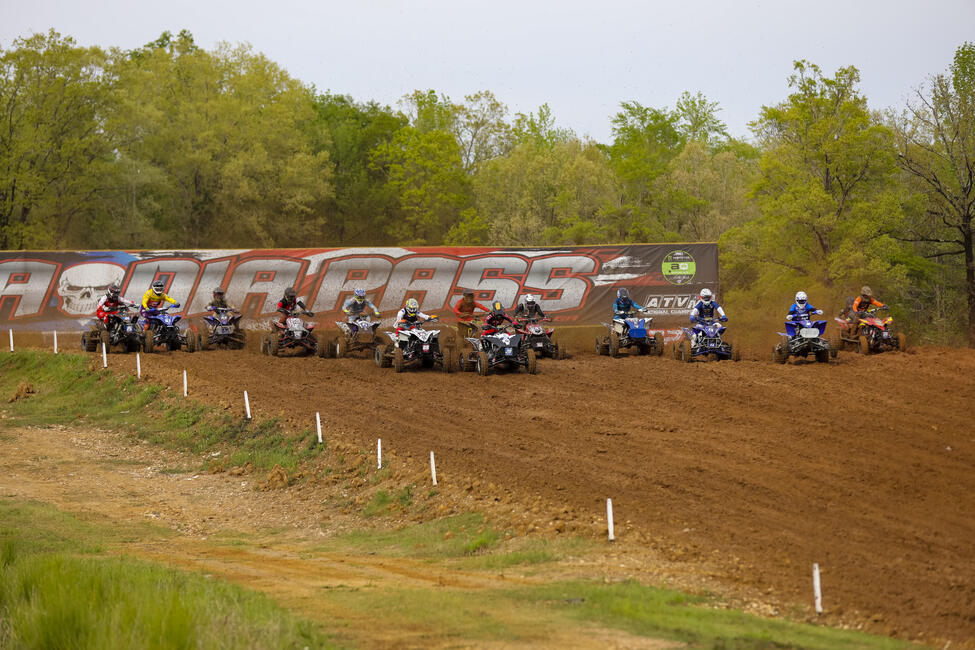 In the qualifying session they did have, Phoenix Racing/CST Tires/Elka/Moose Racing's Joel Hetrick was able to take the Dirt Nation Fastest Qualifier Award giving him the first gate pick. That gate pick would become paramount to taking the moto one SSi Decals holeshot, as Hetrick set the pace in what quickly became a one-lined racetrack offering little passing due to the conditions.
Undaunted, Hetrick poured on the power taking the moto win followed by a hard-charging Rastrelli Racing/FXR Moto/Rocket Machine Design's Jeffrey Rastrelli in second and returning champion Wienen Motorsports/Maxxis/SSi Decals/Fly Racing/Yamaha's Chad Wienen in third. Finishing just off the podium was Ford Brothers Racing/Fly Racing/SSi Decals/Maxxis/DWT/Maxima/Fourwerx/Walsh's Bryce Ford who rode to a solid fourth with GennUSA Racing/Integrated Financial Concepts/CST Tires/Walsh Race Craft's Nicholas Gennusa rounding out the top five.
Moto two would offer some better track conditions as Wienen took every advantage he could as he grabbed the SSi Decals Holeshot Award. After a strong performance in moto two, Wienen would earn the win giving him second overall for the weekend. The number 88 machine of Hetrick would keep the pressure on, but time ran out as he scored second in moto two, handing him another well-earned overall win.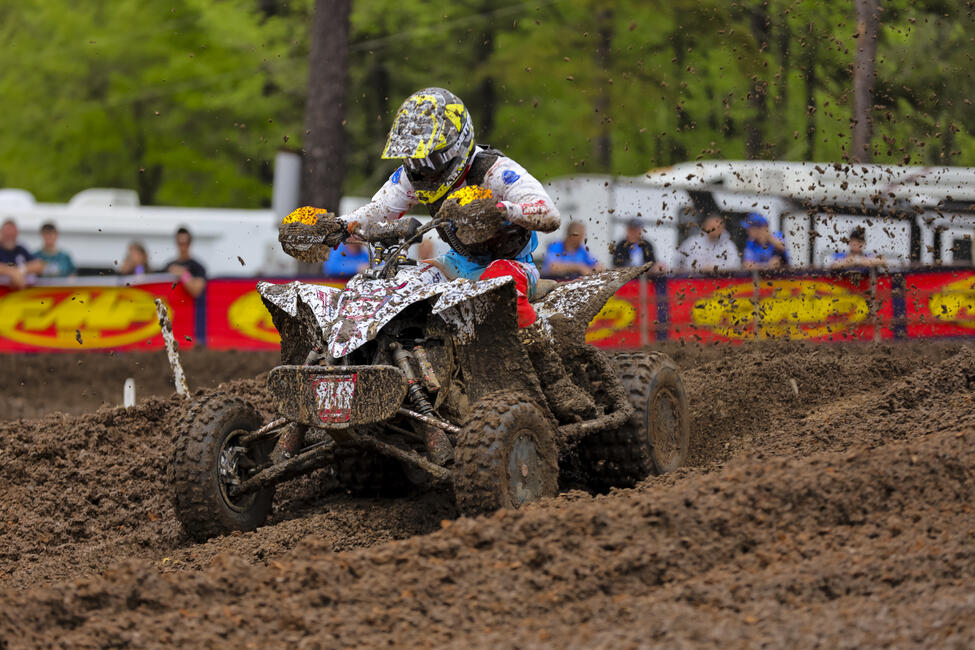 Third overall would fall to Rastrelli as he continues to finish upfront but would slip to fourth in moto two as he and Ford swapped positions back and forth. Ford would earn third in moto two, earning fourth overall on the day. Musick Racing/Déjà vu/Kenda Tire's Brandon Hoag wouldn't have the weekend he was hoping for as the rising star went 8-5 for fifth overall.
The AMA Pro class weren't the only riders affected by the rain and track conditions, as amateur racing was delayed until Sunday in an attempt to allow conditions to improve, the WMX Pro and Pro Sport classes would also run their Saturday motos in the muddy conditions. In WMX, Ellie Roush didn't let things get in her way as she rode to a 2-1 finish on the day, earning her first-ever overall WMX win. Niamh Shaw also didn't go down without a fight as she earned second after posting 1-3 finishes. Kinsey Osborn fought back from her fourth place in moto one to take second in moto two handing her a podium spot in third overall. Defending Champion, Andrea Berger came through for fourth overall after going 3-4 on the day.
Pro Sport is another one of the classes that gets a lot of attention as they hit the track and this round would be no different. Brett Musick and Blair Miller swapped moto wins with Musick going 1-2 and Miller earning 3-1 allowing the victory to fall to Musick with Jayden Londerville going 2-3 for the final podium position.
The highly anticipated Pro-Am class nearly equals the Pro class when it comes down to sheer grit and solid racing. Dane Molander has been stomping his way to the top for many seasons and would unleash a torrent of speed as he took 2-1 finished to secure the overall. The shake up behind him made for good racing albeit stressful and in the end, Joseph Chambers would grab second overall after going 1-4 as the pair was joined on the box by Aaron Salinas after his impressive 3-4 effort.
The series and its competitors head north for round four as High Point Raceway hosts what should be another epic round of racing on April 30 – May 1 in Mt. Morris, Pennsylvania. This event will be round of three of amateur ATVMX racing, and round four for AMA Pro, Pro Sport and WMX Pro ATV classes. This is Hetrick's stomping ground, and he will be looking to defend his record here with a fierceness that is hard to match!
For more information on the ATV Motocross National Championship, visit the series official website at www.atvmotocross.com or call (304) 284-0101. Join the conversation on the series social media channels, along with receiving the most up-to-date news and exclusive content.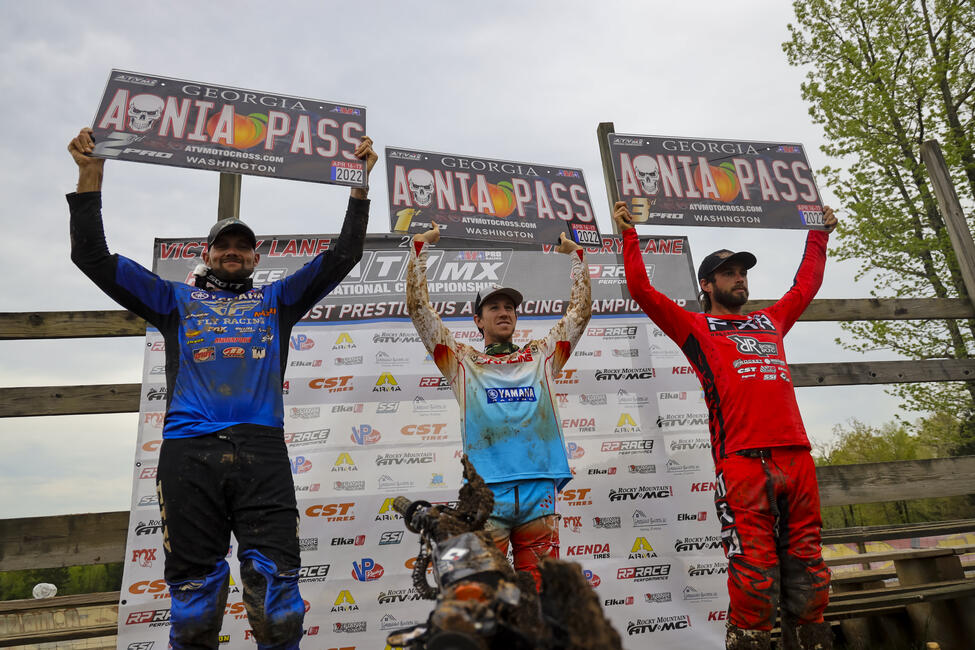 Aonia Pass ATVMX Overall Results and Points
Washington, Georgia
Round 3 of 10
Saturday, April 16, 2022
AMA Pro Class Event Results:
Joel Hetrick (1-2)
Chad Wienen (3-1)
Jeffrey Rastrelli (2-4)
Bryce Ford (4-3)
Brandon Hoag (8-5)
Michael Allred (6-7)
Nicholas Gennusa (5-8)
Cody Ford (7-12)
Catriel Altamirano (10-11)
Logan Stanfield (14-10)
Overall National Championship Standings: UPDATED 4/18 @ 2:45
Joel Hetrick (122)
Chad Wienen (101)
Bryce Ford (98)
Jeffrey Rastrelli (92)
Brandon Hoag (75)
Nicholas Gennusa (72)
Michael Allred (64)
Max Lindquist (62)
Cody Ford (58)
Zack Decker (57)
About the ATV Motocross National Championship:
The ATV Motocross National Championship, an AMA National Championship, is the nation's premier amateur and professional ATV motocross series, hosted at top motocross facilities nationwide. The 10-round AMA Pro and 9-round amateur series features the Nation's best racers, teams and sponsors, and is America's largest and longest-running ATV national motocross program. Since 1985, the series continues to expand and produce top talent from the amateur ranks, while premiering the professional class. For more information, please visit www.atvmotocross.com.
About the American Motorcyclist Association:
Founded in 1924, the AMA is a not-for-profit member-based association whose mission is to promote the motorcycle lifestyle and protect the future of motorcycling. As the world's largest motorcycling rights and event sanctioning organization, the AMA advocates for riders' interests at all levels of government and sanctions thousands of competition and recreational events every year. The AMA also provides money-saving discounts on products and services for its members. Through the AMA Motorcycle Hall of Fame in Pickerington, Ohio, the AMA honors the heroes and heritage of motorcycling. For more information, visit www.americanmotorcyclist.com. Not a member? Join the AMA today: www.americanmotorcyclist.com/membership/join.
Series Media Contact:
Kayla Bolton
Media Manager
[email protected]