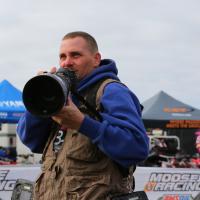 Ken Hill
Time
Tuesday, July 6, 2021 | 3:05 PM
FOR IMMEDIATE RELEASE
Joel Hetrick Goes 1-1 at Pleasure Valley Raceway
AMA Pro Championship Battle Down to One-Point Gap
SEWARD, Pa. (July 6, 2021) - Round six of the ATV Motocross National Championship Series (ATVMX), an AMA National Championship, settled into Pleasure Valley Raceway (PVR) for a 4th of July weekend full of racing action. With incredible weather on hand, the racers were treated to several days of near flawlessness as the temperatures remained mild and rain would stay away affording a great holiday weekend of ATV Motocross Racing.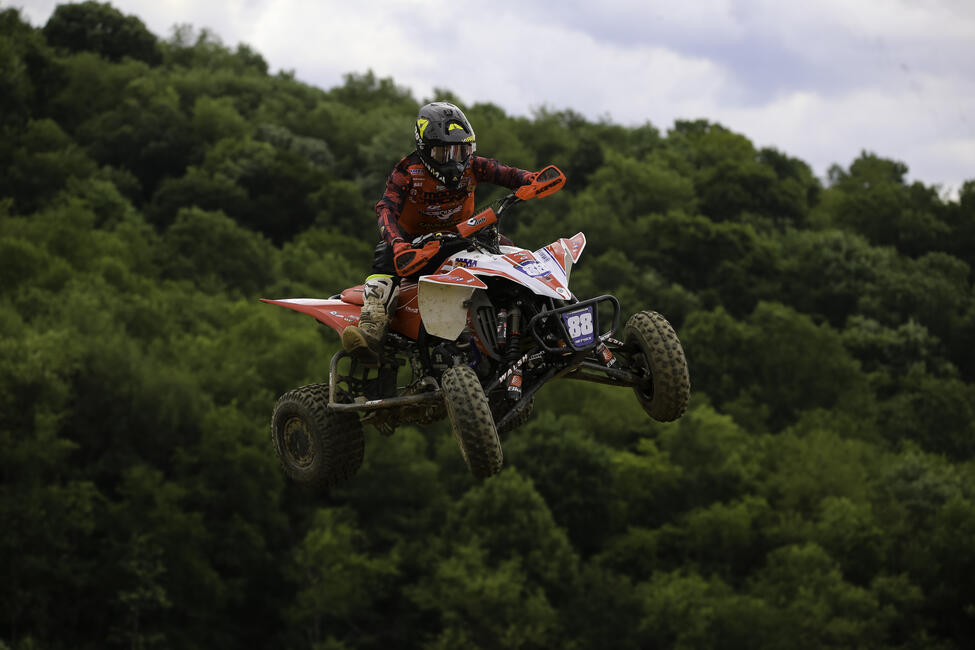 This is Phoenix Racing/CST Tires/Elka/Walsh Race Craft/Moose Racing's Joel Hetrick territory and as the weekend began to unfold, Hetrick fans began showing him support as he was the clear favorite on this hard-packed track. Coming off the win at the previous round, Wienen Motorsports/Maxxis/SSi Decals/Fly Racing/Yamaha's Chad Wienen was looking to shut down the hometown favorite as the stage was set for the two big guns of the series to unleash their own brand of fireworks in two incredible motos that lay ahead. Nothing is guaranteed especially when looking back through the ranks to predict which rider would stand up and earn their position on the podium or possibly unseat one of the current front runners.
Ford Brothers Racing/Fly/SSi Decals/Maxxis/DWT/Maxima/Fourwerx/Walsh's Bryce Ford has shown he can fight up front if he can dodge the early moto carnage that set him back at Sunset Ridge as well as GennUSA Racing/Integrated Financial Concepts/CST Tires/Walsh Race Craft's Nick Gennusa who seems to be having a very quiet season all the while holding down the third points position.
Others are still clawing their way back with Phoenix Racing's Jeffrey Rastrelli showing he can run upfront if he can get a good start and avoid trouble and then there is JH Racing/FTR Graphics/Fly Racing/Walsh Race Craft's Westley Wolfe who set his sights on proving he can be a contender before the first gate drop of the season. With a stacked field, the fuse was lit for another epic round of racing!
Hetrick quickly secured the Dirt Nation Fastest Qualifier Award as he set the tone for the day. Riding smooth and making quick work of the track that lay before him, Hetrick was indeed in full control of his destiny on this day. With his Phoenix Racing team fully in tune with taking command of another round of racing.
The gate was loaded and the only rockets' red glare seen was that of Hetrick's Yamaha screaming to the moto one holeshot as he took command of things. Behind him rallied the remainder of the AMA Pro class all looking to leave their mark on this round as positions shuffled giving the fans in attendance a look into the ferocity that open wheel racing brings to the table. Wienen had stated several rounds ago that he needed to find speed and in the last two rounds his efforts had been not only seen but being put to the test. Here at PVR it was once again obvious that the multi-time champion was eagerly wanting to close the gap on the leader and force his hand. Several laps had Wienen pulling up in sections that could offer him a run at the number one spot only to have Hetrick pull away as he denied anyone the opportunity to challenge him. The moto would end for Hetrick taking the win with Wienen in second and Ford in third.
Some of the most intense racing of the moto was happening just behind the leaders as rookie ML2 Motorsports/Walsh Race Craft/Maxxis/Yamaha's Max Lindquist found himself once again a player in the top five early in the moto as Rastrelli, Wolfe and Gennusa all battled for position. In the end, Gennusa would secure the fourth spot, followed by Rastrelli and Wolfe in the fifth and sixth place positions respectively.
Moto two would head to the gate as the final moto for the Pro riders, and they were set to battle once more at PVR. Hetrick rode confidently to the gate, knowing he was the man to beat and had everything he needed to claim victory. For everyone else, time had run out for changes or adjustments and the mental game took over. From those struggling to those having solid finishes, the final moments before the gate drops can be one of the most intense moments of the race. Things shifted from a process to the insane as the revs came up and only seconds remained before the class was unleashed for the final time on this historic dirt.
Once again it was Hetrick on fire as he powered to the first turn taking holeshot number two, finding himself right where he seems to like things… out front and pulling away! His Phoenix Racing teammate, Rastrelli was inside and hanging with Hetrick as the pair were soon joined by Ford as the class roared through the first few turns. Bad luck struck as Gennusa and Wolfe were left sitting in the first turn with Gennusa's ride on its side.
Up front it was looking like Hetrick was going to repeat moto one as he started place a gap on his competition. Ford had cleared any cobwebs from a practice get off and was now dogging Rastrelli as the pair soared high over the track. Meanwhile, Wienen was doing his best to try and get back to the leaders as he found himself having to work incredibly hard to make up ground. Lindquist was in the top three running hard as this rookie is showing signs of fast becoming a contender as the laps started adding up. Position changes were coming at a rapid pace as Wolfe and Gennusa were coming up through the field to try and salvage the moto, however, up front the leader was riding near flawlessly as he hit every mark. TDR Motorsports/OnTheBox Performance/Pafford EMS/Decker Training Facilities' Brandon Hoag was racing for a podium finish early only to have the second moto go as poorly as his first. Hoag will bring it back together and look for him to be a force in upcoming rounds.
Wienen wasn't going to sit back and not put up a fight as he needs every point he can take. His effort in moto two had him doing battle nonstop as he attacked those in front of him. Late in the moto, Wienen had moved himself into third behind Rastrelli and was soon making the moves to get past him and into second place which he was able to do as the moto came to its final laps. Hetrick was indeed on rails as he secured the moto win giving him even lap, two hole shots and the fastest qualifier award for a perfect weekend, Everyone knew this track favored Hetrick and Wienen's second moto effort salvaged the day but he will need to really knock off a few wins as this championship points battle looks to come down to a razor thin margin yet again.
The final podium position fell to Ford who had a very solid weekend going 3-4. Ford has long been watched as the rider who at some point will overtake Hetrick and while that may be the case, it wouldn't come at this round. With lots of racing yet remaining, Ford could have the weekend he needs at any of the remaining rounds if he can stay focused and unleash the speed he has shown.
Rastrelli was pumped after a valiant effort here at PVR. Going 5-4 for fourth, Rastrelli is climbing back as he finds the tools he needs to get back to where he feels he should be after a few seasons of health issues. A very fired up Rastrelli leaves PVR and is looking good as the series enters its second half.
Fifth place on the weekend is not making Gennusa jump for joy, however, he has to be proud of his comeback in the second moto. Gennusa has been flying under the radar all season however he finds himself holding the third spot in pro points. This could be his best season of his career even with the adversity he has had to overcome. Watch for Gennusa to pull it together as he heads into the next few rounds.
Outside the top five sits some serious talent and some good racing by the series rookies. Wolfe continues to pound the GNCC schedule as well as the ATVMX series proving he is an ironman in his own right. Rookie Lindquist has some really good building blocks already as the season rolls on and looked solid here this round. Confidence is building for this young racer and he will be a force in the coming seasons.
The series heads to Unadilla MX on July 17 and 18 for its next round as predictions are already being formed. This track is big, requires all the power one can get and the skill needed to handle the fast speeds found here.
For more information on the ATV Motocross National Championship, visit the series official website at www.atvmotocross.com or call (304) 284-0101. Join the conversation on the series social media channels, along with receiving the most up-to-date news and exclusive content.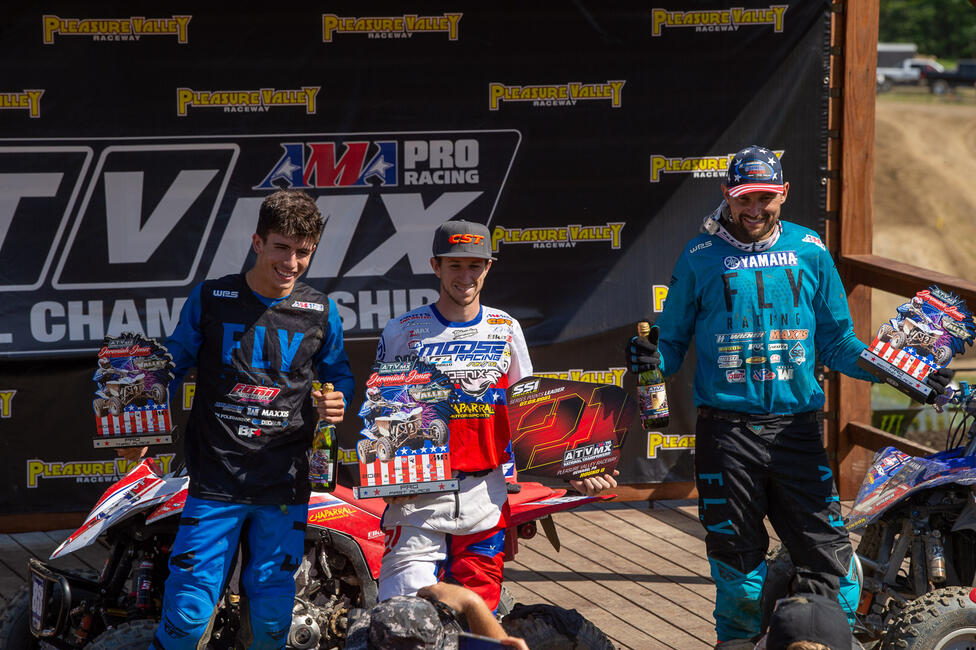 Pleasure Valley ATVMX Results and Points Standings
Seward, Pennsylvania
Round 6 of 10
July 3, 2021
2021 AMA Pro Class Event Results:
Joel Hetrick (1-1)
Chad Wienen (2-2)
Bryce Ford (3-4)
Jeffrey Rastrelli (5-3)
Nicholas Gennusa (4-7)
Max Lindquist (7-5)
Westley Wolfe (6-6)
Cody Ford (8-9)
Logan Stanfield (10-8)
Michael Allred (9-10)
Overall National Championship Standings:
Joel Hetrick (250)
Chad Wienen (249)
Nicholas Gennusa (179)
Jeffrey Rastrelli (178)
Bryce Ford (177)
Westley Wolfe (170)
Max Lindquist (156)
Brandon Hoag (146)
Logan Stanfield (139)
Cody Ford (126)
About the ATV Motocross National Championship:
The ATV Motocross National Championship, an AMA National Championship, is the nation's premier amateur and professional ATV motocross series, hosted at top motocross facilities nationwide. The 10-round AMA Pro and 9-round amateur series features the Nation's best racers, teams and sponsors, and is America's largest and longest-running ATV national motocross program. Since 1985, the series continues to expand and produce top talent from the amateur ranks, while premiering the professional class. For more information, please visit www.atvmotocross.com.
About the American Motorcyclist Association:
Founded in 1924, the AMA is a not-for-profit member-based association whose mission is to promote the motorcycle lifestyle and protect the future of motorcycling. As the world's largest motorcycling rights and event sanctioning organization, the AMA advocates for riders' interests at all levels of government and sanctions thousands of competition and recreational events every year. The AMA also provides money-saving discounts on products and services for its members. Through the AMA Motorcycle Hall of Fame in Pickerington, Ohio, the AMA honors the heroes and heritage of motorcycling. For more information, visit www.americanmotorcyclist.com. Not a member? Join the AMA today: www.americanmotorcyclist.com/membership/join.
Media Contact:
Kayla Bolton
Media Manager
[email protected]