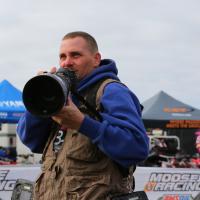 Ken Hill
Time
Monday, October 5, 2020 | 1:40 PM
FOR IMMEDIATE RELEASE
Chad Wienen Clinches Seventh ATV Motocross National Championship
Joel Hetrick Takes Season Finale Win in South Carolina
HAMER, S.C. (October 5, 2020) – The 2020 ATV Motocross National Championship (ATVMX) Series, an AMA National Championship, season finale would take place at South of the Border MX (SOBMX) in Hamer, South Carolina. SOBMX would be the round where the 2020 season would come to a close after a lengthy season that once again saw Wienen Motorsports/Yamaha/Maxxis' Chad Wienen and Phoenix Racing Honda/Maxxis/Elka's Joel Hetrick locked in a championship points battle until the end.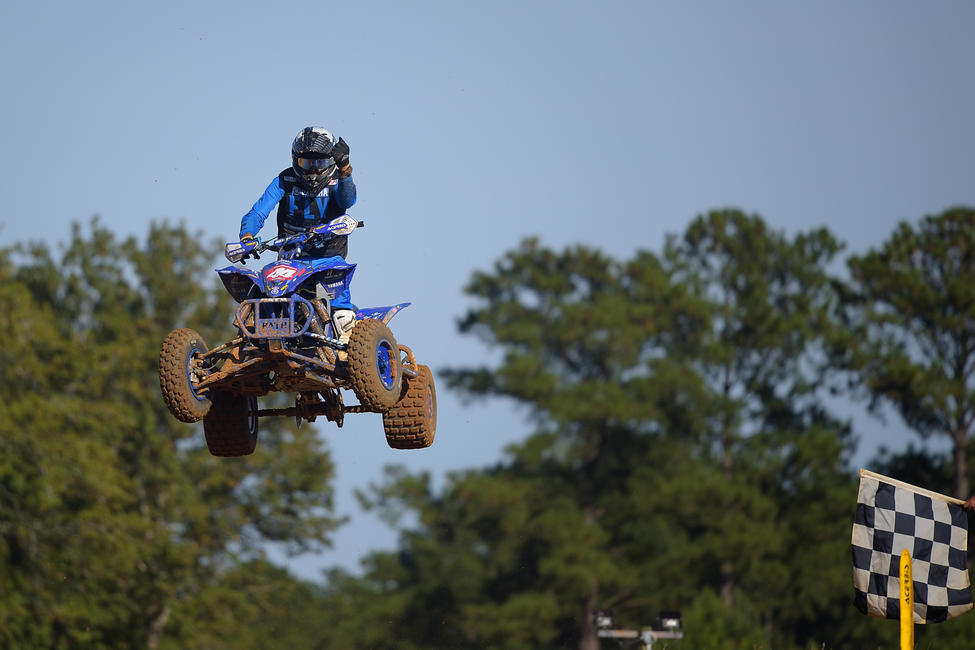 The points would lean in Wienen's favor after round nine, leaving very little room points wise for Hetrick to retain his number 1 plate. Hetrick would need to win both motos and Wienen would have to finish fourth or worse in order for the status quo to remain, leaving questions open as to whether Wienen would layup or give this twisted season a real fight. Those questions and concerns were soon answered as the gate was ready to drop in moto one.
Hetrick came off the gate hard and charged into the first turn claiming the holeshot as Wienen powered his way towards the front. If there was any caution in play it wasn't coming from Wienen who was latched onto Hetrick's grab bar as the duo began yet another brawl over a track that was fast and becoming increasingly rough. The crowd cheered as Wienen assumed command proving he was leaving nothing unanswered as he was indeed going for the win. Ford Brothers Racing/Baldwin/Maxxis' Bryce Ford had made his presence known in Texas and was running up on Hetrick as he and Tbrown84 Training/CST Tires' Thomas Brown began bearing down on what is usually an uncatchable target. Ford would end up wrecking in a rough and choppy section of the track, allowing Brown to gain the position.
Hetrick was in trouble and soon found himself in third after Brown made the pass for second. There were no indications of a mechanical issue that could be seen as the gap started widening between Wienen and Hetrick as Brown would have to be dealt with if a shot at reeling back in the leader was going to happen. Late in the moto Hetrick would make the pass to reclaim second and in just a few laps had caught the leader and was looking like he could possibly start pressuring Wienen if time did not run out. As time wound down, Wienen would secure the moto win with Hetrick powering through to take second in the first moto. Brown would run to the checkered flag and secure third.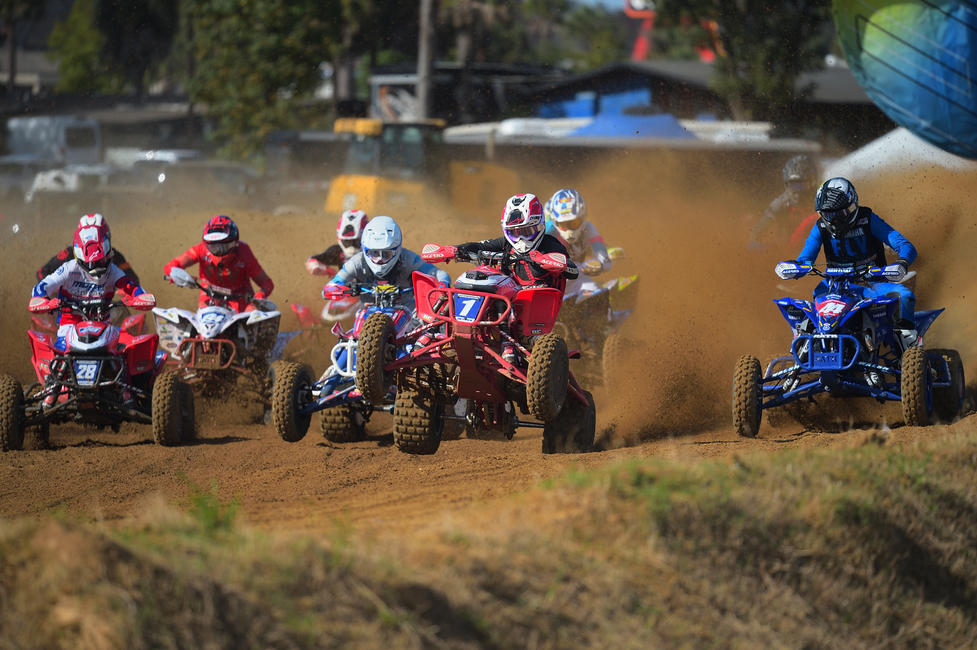 The celebration was short lived as teams busily went back to work making changes and repairs as the brutality of the track had taken its toll on man and machine. A 4 p.m. moto two start had every team member, fan and spectator on the fences to see the story unfold as the finishing touches were about to be applied to the 2020 ATV Motocross National Championship season!
The gate dropped and once again it was Hetrick out front claiming his second holeshot of the day with Wienen locked in as everyone watched to see things play out. Hetrick seemed to be on a mission this moto and never showed any signs of letting up. Hetrick may have been watching his chance at another championship fade, but he was determined to go out with a win. For the top two the race was over as Wienen seemed to settle comfortably in second as he started absorbing that he was just a few laps away from championship number seven. For the majority of fans this was another moment in the story of these two champions that was being written here in the South Carolina dirt. Wienen would cross the finish line behind Hetrick and secure another incredible milestone in his career.
For Brown this was his last time lining up for a full season of AMA Pro ATV racing. Brown's announcement a few rounds earlier regarding his retirement at the close of this season was somber for those that have raced with him, cheered for him and called him a friend. There was still a spark in his eye as he joined the podium however it was bittersweet as we all knew this was the end to an era.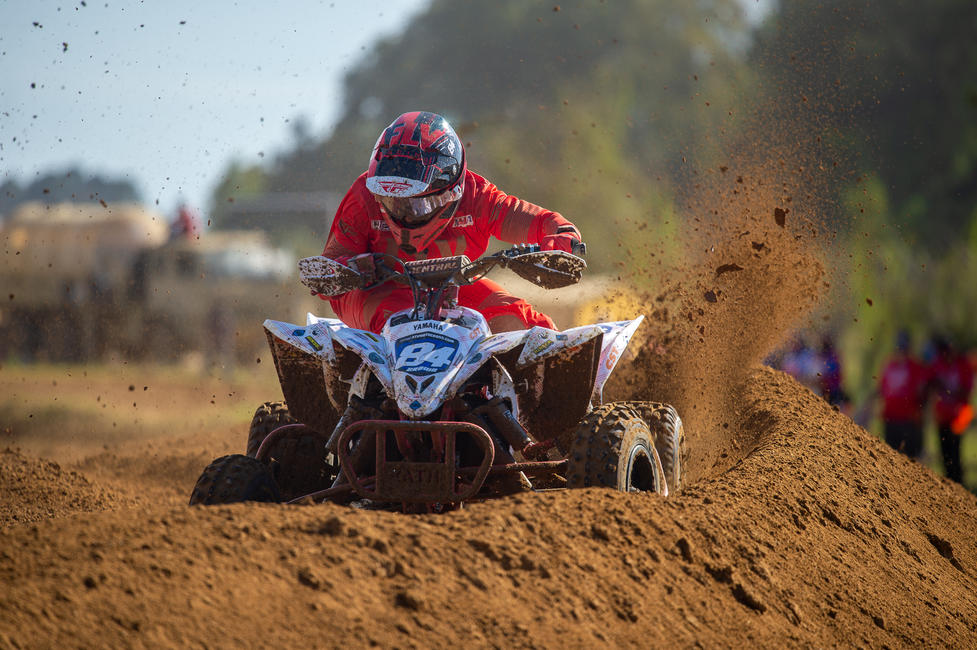 Fourth overall would belong to Phoenix Racing Honda's Jeffrey Rastrelli who would go 4-4 on the day after a 2020 season filled with many different setbacks. Rastrelli's drive and grit keep him going and he rolls out of the 2020 season with a solid performance and a chance for some much needed time to heal and build on his health during the off season.
New Jersey's Nick Gennusa has been in the middle of things all season, earning fifth overall in the championship standings. Gennusa's 5-5 finishes for a fifth overall performance on a brutal track showed that he may have made strides in getting back inside the top five at each round in the 2021 season.
The series ends on a solid note after a trying year that so many have had to face as schedules were juggled and training time hampered by shutdowns. In the end, riders have a season to look back on that may prove to be the learning experience they need to set their goals as we look ahead at the next season. Rookie Pro's have had their initiation under fire and the crop for 2021 should prove to be exciting as new talent starts the long journey of life amongst the fastest riders in the world as well as this year's rookies who have shown their metal and will be wanting to prove themselves.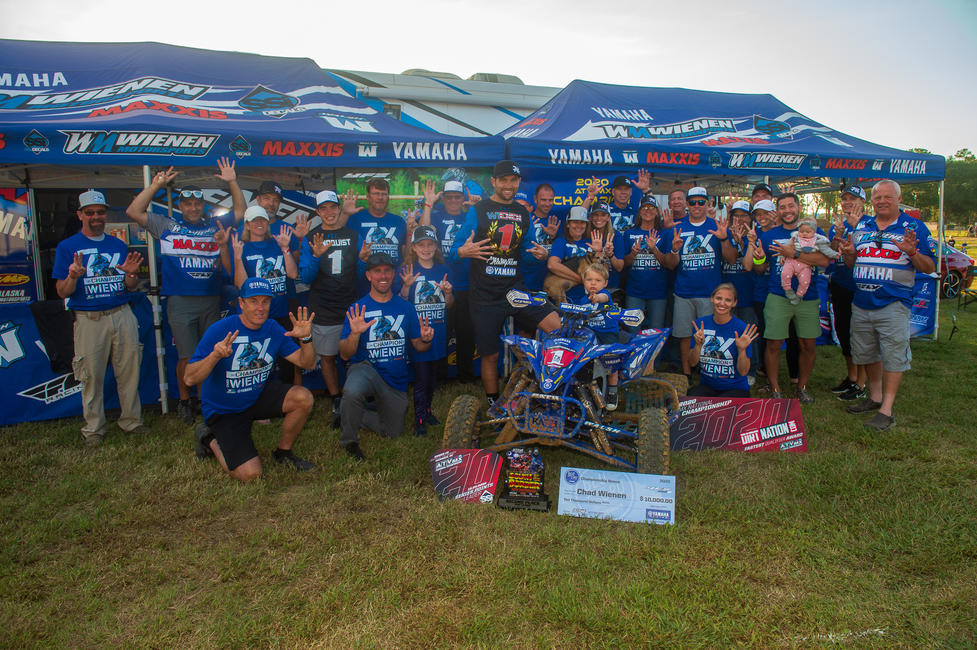 South of the Border ATVMX National Overall Results October 3
Joel Hetrick (2-1)
Chad Wienen (1-2)
Thomas Brown (3-3)
Jeffrey Rastrelli (4-4)
Nicholas Gennusa (5-5)
Haedyn Mickelson (7-7)
Wes Lewis (6-8)
Troy Hill (10-6)
Noah Mickelson (8-9)
Cody Ford (9-11)
Overall National Championship Standings:
Chad Wienen (396)
Joel Hetrick (391)
Thomas Brown (308)
Bryce Ford (270)
Nicholas Gennusa (242)
Alan Myers (230)
Westley Wolfe (226)
Wes Lewis (188)
Brandon Hoag (184)
Logan Stanfield (178)
For more information on the 2020 ATV Motocross National Championship, visit the series official website at www.atvmotocross.com or call (304) 284-0101. Join the conversation on the series social media channels, along with receiving the most up-to-date news and exclusive content.
To get the latest ATV Motocross clothing and merchandise visit https://www.mototees.com/atvmx/.
About the ATV Motocross National Championship:
The ATV Motocross National Championship, an AMA National Championship, is the nation's premier amateur and professional ATV motocross series, hosted at top motocross facilities nationwide. The 10-round AMA Pro and 8-round amateur series features the Nation's best racers, teams and sponsors, and is America's largest and longest-running ATV national motocross program. Since 1985, the series continues to expand and produce top talent from the amateur ranks, while premiering the professional class. For more information, please visit www.atvmotocross.com.
About the American Motorcyclist Association:
Founded in 1924, the AMA is a not-for-profit member-based association whose mission is to promote the motorcycle lifestyle and protect the future of motorcycling. As the world's largest motorcycling rights and event sanctioning organization, the AMA advocates for riders' interests at all levels of government and sanctions thousands of competition and recreational events every year. The AMA also provides money-saving discounts on products and services for its members. Through the AMA Motorcycle Hall of Fame in Pickerington, Ohio, the AMA honors the heroes and heritage of motorcycling. For more information, visit www.americanmotorcyclist.com. Not a member? Join the AMA today: www.americanmotorcyclist.com/membership/join.
Media Contact:
Kayla Bolton
Media Manager
[email protected]