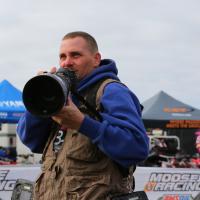 Ken Hill
Time
Tuesday, September 22, 2020 | 4:40 PM
FOR IMMEDIATE RELEASE
Intense Racing at Texas ATVMX National Doubleheader
Wienen Holds Ten Point Lead over Hetrick in Championship Standings
CONROE, Texas (September 22, 2020) - Three Palms Action Sports Park in Conroe Texas would host the first doubleheader in the 2020 ATV Motocross National Championship (ATVMX) Series, an AMA National Championship, on September 19 and 20. With the Pro points once again running in the single digits, the weekend would be highly anticipated as current champion, Phoenix Racing Honda/Maxxis/Elka's Joel Hetrick trails multi-time champion, Wienen Motorsports/Yamaha/Maxxis' Chad Wienen by a razor thin margin. The stage was set on a track that would be a new challenge as it hosted their first ever ATVMX event.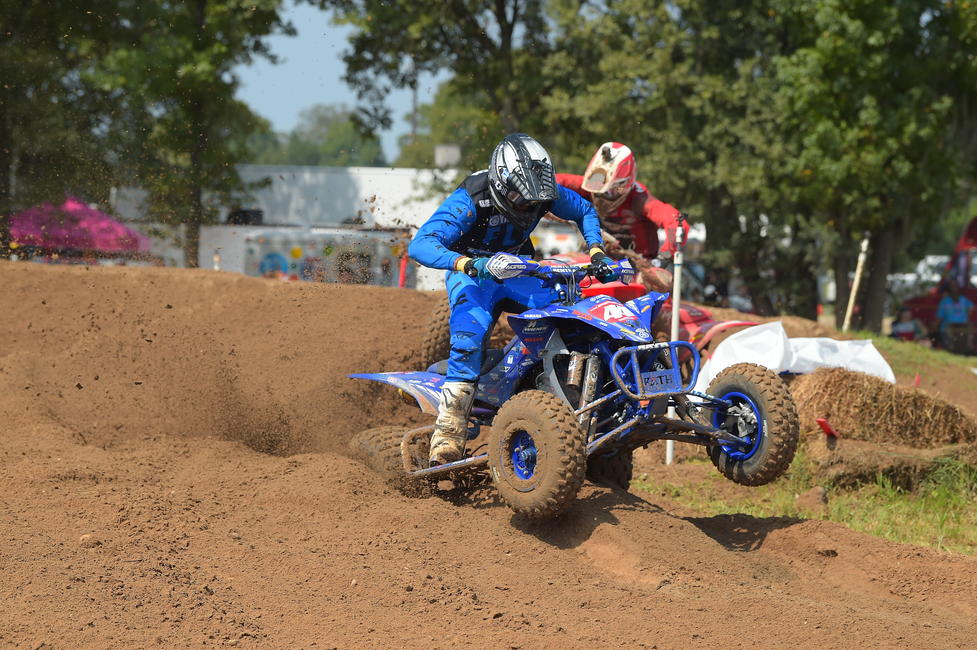 The practices were run, and Hetrick would claim the fastest lap time to secure the fastest qualifier award. The riders were finding that the track offered the passing they have been asking for, however they quickly found out that making the passes would not be a cut and dry line choice as the sandy soil offered no real advantage as to line choices. While each rider may have a preferred style or type of soil and layout, Three Palms was going to offer them a blank canvas that quickly became apparent it offered no real advantage to any one rider.
Moto one was on the gate as every fan became part of the intensity that had been building. Fans of both Hetrick and Wienen were on edge as the gate dropped and the sand churned as a narrow left-handed first turn became one of the busiest pieces of real estate in Texas. Wienen came into the weekend knowing he had to put forth a maximum effort and hope that luck would be on his side. After a brief and hectic battle, the lead was his as Hetrick was shuffled at the start. Hetrick was working his way to wage war knowing he as well could not afford mistakes or any misfortunes if he was going to cut into Wienen's lead in points. Texas native Ford Brothers Racing/Baldwin/Maxxis' Bryce Ford was eager to please his home states fans as he remained a threat right from the gate drop, and if Hetrick hoped of getting on Wienen's grab bar, Ford was going to have to be tamed before the leader started opening up his lead. Fortunately for Hetrick, Ford was taking the fight to Wienen as the trio clawed their way through the opening laps.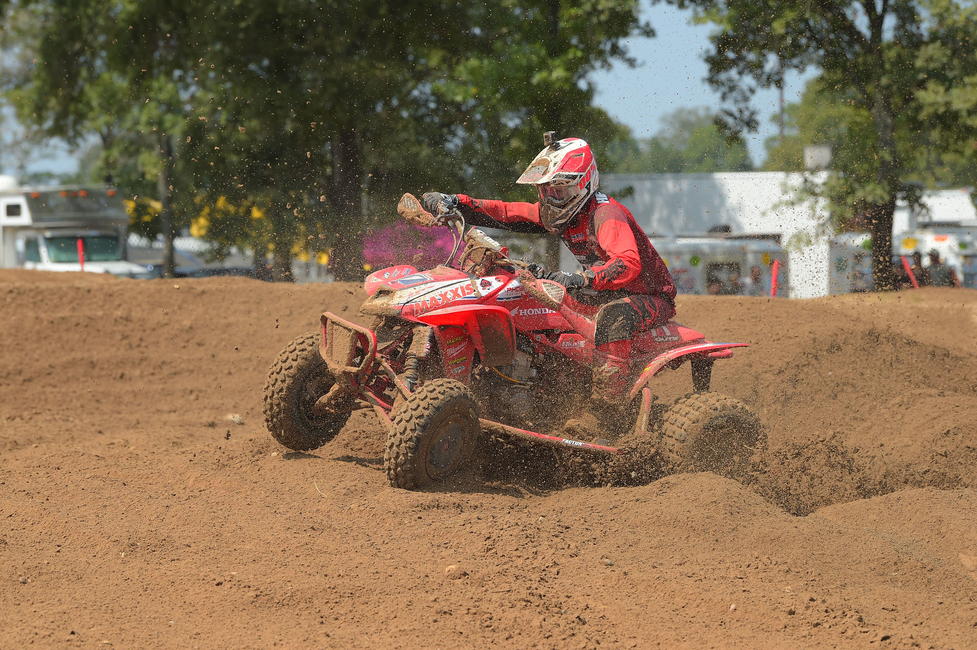 Hetrick would make the pass on Ford and now set his sights on the leader as the action intensified. With the series two top guns now dueling, the tracks line choices were being used relentlessly. Every attempt Hetrick threw down was a strike as he just couldn't find a weak spot to make things happen allowing Wienen to remain in the lead and with the control of the moto in his hands. The defining moment of the moto would come in a corner that had become rutted and Hetrick plowed into the tight inside line only to make a slight mistake. The entire bobble was only seconds long, but it was enough to allow the momentum to remain with Wienen as he took the moto win. Hetrick made a few small mistakes that cost him and with everything on the line, facing a competitor that was focused and determined, those few barely noticeable issues took away any shot he had at taking the moto.
Texas was being well represented as Ford was in the fight for the podium right from the start. Ford would take third after an exhaustive effort as he continues to be the rider watch as this season closes and talk of the 2021 season is starting to enter into discussions. Finishing just off the podium in fourth would be another Texas native Tbrown84 Training/CST Tires' Thomas Brown. Brown announced that this was going to be his final year racing and wants badly to go out a winner. Thomas has an uncanny ability to make things happen and when the roost settles, he could be counted on as one that would be on the podium. Rounding out the top five in the opening moto would be GennUSA Racing/CST Tires/Corrosion Specialties Nicholas Gennusa who looked like he might have shaken off the issues that have hampered his season thus far.
The flurry of activity between motos was intense as changes were made and strategy was quietly discussed. The attitudes in the pits were positive even though the stress was building up. Both Hetrick and Wienen seemed relaxed and ready to get things sorted out as they headed for the gate for the final moto of their day. With Ford now considered a huge factor here, any pre-race plans were going to have to include him as he was there to make a statement and a big one at that. With track prep completed, the gate was loaded and soon we would all get to see how things were going to go the second time around.
Moto two was off and once again the first turn held everyone's attention as Brown streaked to the front and claimed the holeshot. The top three were very familiar as Brown, Hetrick and Wienen quickly set the pace as a three-way battle for the lead was keeping everyone on the fences. Hetrick applied the power in one section setting up the pass that gave him the lead as Brown now found himself being hounded by Wienen who was going to be forced to fight Brown if he had plans to make this a 1-1 weekend. The pass on Brown would indeed happen, however that small back and forth between Brown and Wienen was enough to let Hetrick find a clear track ahead of him. With no pressure, it allowed Hetrick to put some space in between himself and the one rider he can't seem to shake. With the top three falling into order, behind them was once again proving to be some of the best to keep tabs on. The moto would come to a climax without incident as Hetrick kept things honest in points as he rolled in for the win. While Hetrick took the overall, Wienen would finish second and Brown would visit the podium here in his home state for the final time with a third. Ford put in another solid moto with fourth finishing just ahead of Gennusa in fifth.
The racing for the day was complete with one moto left on the weekend. The countdown to earning the 2020 National Championship was still alive and well after Saturday's action as the gate was once again loaded for the one moto day format. Ford ripped the holeshot as he led the field into the final moto of the weekend. Hetrick had made his way through the first turn without issues as he sat in second, however, he wouldn't wait and overtook Ford for the lead. Wienen would pass Ford as well and was now tracking Hetrick who is very tough to beat once he gets into the lead. Saturday's first moto had proven that small mistakes hurt, and it appeared as if Hetrick was not making those mistakes, nor could he afford to. Wienen paid attention to the sections of the track that had given Hetrick problems and was going to push as hard as he could to remain close enough to force a mistake. In a post-race interview, Wienen stated he was not planning to try a pass but to force a mistake when he rolled up heavy in a corner and made contact that allowed him to take the lead. The dogfight was on though the chance for Hetrick to make a pass back for the lead never presented itself as Wienen raced to the moto win. The points are still favoring Wienen with two motos left in another season that has absolutely no tolerance for mistakes.
Ford would have an exceptional weekend as he took the third spot and looks to be ready to run in the top five as his young pro career is now just starting to shine. Gennusa would pick off another position as he climbed from his 5-5 in race one by claiming fourth. Nine6Nine/Barker's Exhaust/Walsh Race Craft's Alan Myers would not have a good race one nevertheless he came back strong with the second race of this weekend's doubleheader by taking fifth.
The last stop of this season is in two weeks as the series heads to South of the Border MX in Hamer, South Carolina. With two motos remaining, the points remained static, but after Wienen's win here in Texas, a 10-point advantage should have the last two motos proving to be as intense as ever.
Three Palms ATVMX National Overall Results September 19
Joel Hetrick (2-1)
Chad Wienen (1-2)
Thomas Brown (4-3)
Bryce Ford (3-4)
Nicholas Gennusa (5-5)
Logan Stanfield (6-7)
Wes Lewis (8-8)
Brogan Guyer (9-9)
Cody Ford (7-11)
Haedyn Mickelson (10-10)
Three Palms ATVMX National Overall Results September 20
Chad Wienen
Joel Hetrick
Bryce Ford
Nicholas Gennusa
Alan Myers
Westley Wolfe
Jeffrey Rastrelli
Noah Mickelson
Logan Stanfield
Cody Ford
Overall National Championship Standings:
Chad Wienen (371)
Joel Hetrick (361)
Thomas Brown (287)
Bryce Ford (262)
Nicholas Gennusa (226)
Alan Myers (223)
Westley Wolfe (221)
Brandon Hoag (184)
Wes Lewis (174)
Logan Stanfield (168)
For more information on the 2020 ATV Motocross National Championship, visit the series official website at www.atvmotocross.com or call (304) 284-0101. Join the conversation on the series social media channels, along with receiving the most up-to-date news and exclusive content.
To get the latest ATV Motocross clothing and merchandise visit https://www.mototees.com/atvmx/.
About the ATV Motocross National Championship:
The ATV Motocross National Championship, an AMA National Championship, is the nation's premier amateur and professional ATV motocross series, hosted at top motocross facilities nationwide. The 10-round AMA Pro and 8-round amateur series features the Nation's best racers, teams and sponsors, and is America's largest and longest-running ATV national motocross program. Since 1985, the series continues to expand and produce top talent from the amateur ranks, while premiering the professional class. For more information, please visit www.atvmotocross.com.
About the American Motorcyclist Association:
Founded in 1924, the AMA is a not-for-profit member-based association whose mission is to promote the motorcycle lifestyle and protect the future of motorcycling. As the world's largest motorcycling rights and event sanctioning organization, the AMA advocates for riders' interests at all levels of government and sanctions thousands of competition and recreational events every year. The AMA also provides money-saving discounts on products and services for its members. Through the AMA Motorcycle Hall of Fame in Pickerington, Ohio, the AMA honors the heroes and heritage of motorcycling. For more information, visit www.americanmotorcyclist.com. Not a member? Join the AMA today: www.americanmotorcyclist.com/membership/join.
Media Contact:
Kayla Bolton
Media Manager
[email protected]