Time
Wednesday, July 11, 2018 | 2:45 PM
And just like that we are setting up for the penultimate round of the 2018 ATV Motocross National Championship at RedBud MX in Michigan! Just two weeks ago the Pro Motocross Nation took over the Michigan track, but next weekend is when the ATVMX Racin' Nation gets to make their mark.
One thing you should know is that you can PRE-ENTER for RedBud. It closes July 19 at midnight.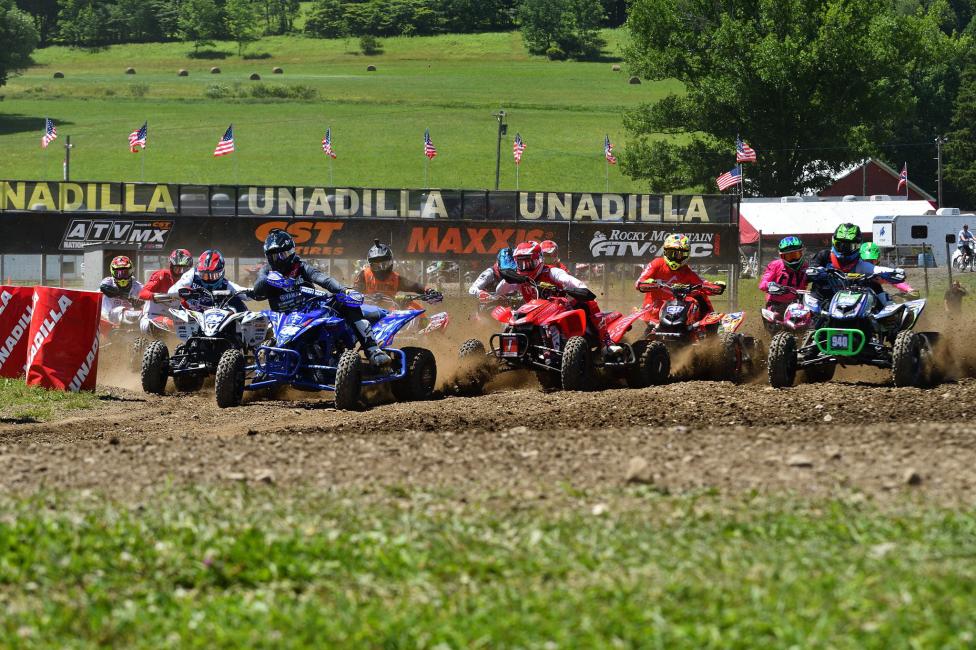 Also, RedBud has race registration on Thursday evening.
Registration Times:
*Thursday: 6pm – 8pm
*Friday: 8am – 6pm
Saturday: 7am until races are finished
Race Fees:
Pit Vehicles | $15 for first driver. No charge for one additional driver; please come to register together. $5 for a third driver. ALL PIT VEHICLE DRIVERS MUST BE AT LEAST AGE 16, AND MUST REGISTER TO USE THE VEHICLE.
Friday Practice | $25/group
Race Fee | $50/class for amateur, youth and ProAm classes
Race Fee | $100 for Pro class
AMA membership is required for all racers. Save time at the track and join AMA online! You can join at the track if needed. Full annual membership is $49. The following discounted full memberships are available at the track but NOT online: Youth racer membership (age 11 and under) is $29; Family membership (for racers who live at the same address) is $98.
Cash, Visa and MasterCard accepted at registration. ONLINE REGISTRATION will be available a month prior to the event.
TRANSPONDER SCORING
All racers* must have a transponder. The only exception is Class 39. 50cc Automatic (4-6), which races on the 50 track. You can purchase your own transponder or rent one from eScore at the track. Check the eScore web site for more information, and for race results.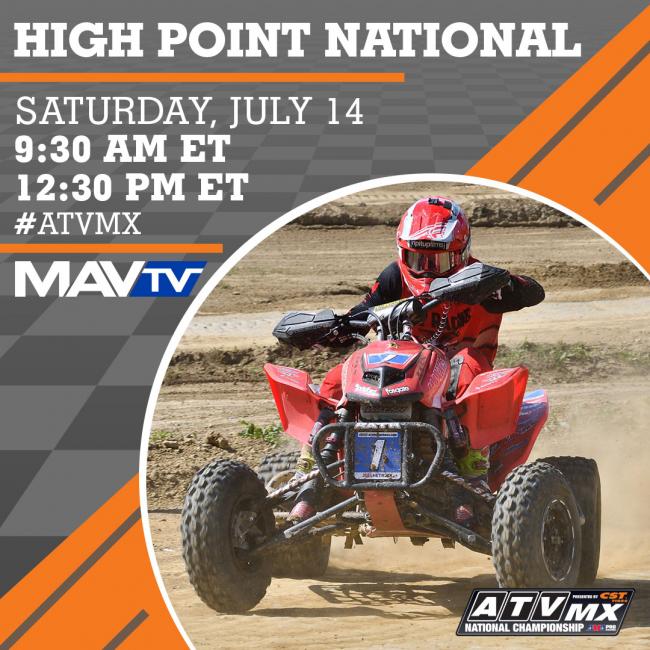 ATVMX on MAVTV Saturday, July 14
Tune in to MAVTV this Saturday, July 14 at 9:30 a.m. ET and/or 12:30 p.m. ET for the ATV Motocross National Championship (ATVMX) presented by CST Tires to watch round five – High Point ATVMX National highlight show from Mount Morris, Pennsylvania.
Don't miss all the action as the ATVMX Series as predictions of rainfall were forecasted throughout the week prior to the race. However, the storms split and spared the track. With the threat of rain gone, the fans were treated to some of the best racing action to happen thus far in the season.
In The Loop With Gloop: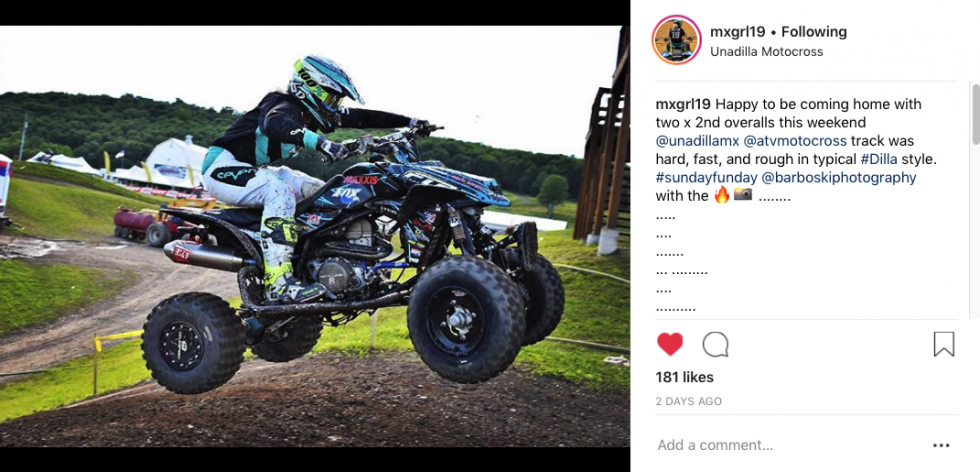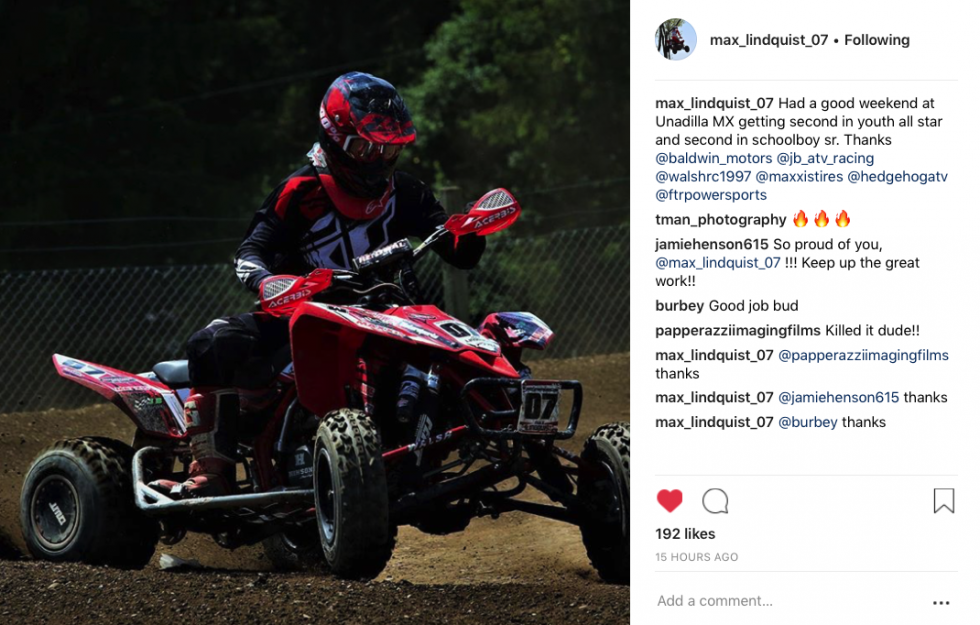 Keeping up With Ken Hill
I am not sure who put the order in for the incredible weather that graced the region around Unadilla but I sure am thankful! That had to be some of the best weather ever for a race of any kind and those in attendance made full use of it! There was great racing all weekend and the pro class was simply awesome to watch. If you are a Joel Hetrick fan you witnessed a serious battle in the first moto and full on Hetrick domination in the second! We all knew this season was going to be close and while Hetrick has racked up the wins we still have four moto's left to race and nothing is guaranteed. RedBud will probably tell the tale of things to come and this year I do believe Hetrick and Wienen stand on virtual even footing and neither holds any advantage over the other. It will come down to who wants it more and I am excited to see them at this level!
Wienen looked smooth as silk and Hetrick was on him like a perpetual shadow through the first few laps with no advantage I could see in any section. Hetrick has gotten smart, incredibly smart at using patience when he doesn't get a good start or is trailing Chad and he was looking for things that would help him make the pass or gain time. Chad has to worry that he is teaching whomever happens to be behind him but when it is Hetrick, he has to know he is giving up every advantage as he uses everything he has to stay out front. Hetrick's explosive speed is a double edged sword in this fight as he can go from here to there in less than a blink of an eye and that's what I saw happen.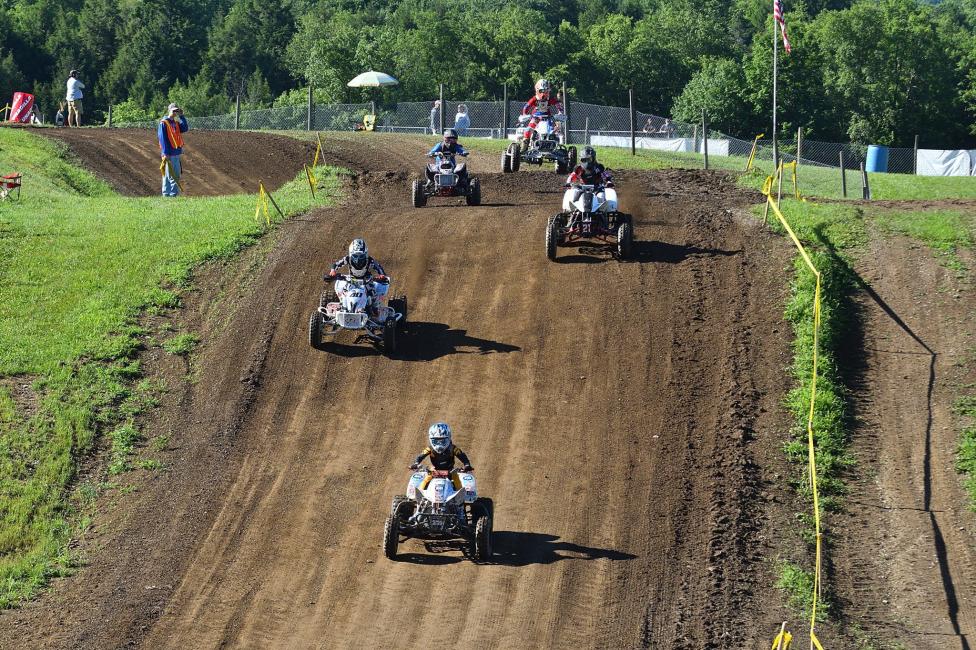 At the bottom of horsepower hill, Hetrick looked to be making a run as the pair hit the turn and double before the hill. I could see Joel move to take the inside line and while I cannot swear to this, through my lens I am pretty sure Chad hit the outside rut hard and that is all it took for Joel to dive to his inside, block him on the face and take the lead. It happened so fast that I had to look at my images later to verify what I had witnessed. It was incredible to have that happen 30 feet from me, and so fast that my brain did not believe what I had just seen. That was that as they raced up the hill and out of sight and they would remain that way until the moto ended.
Moto two would offer no real excitement for Joel and Chad, Joel ripped the holeshot and checked out with Chad trailing and taking second. Not that it wasn't a great moto, but when you get Joel out front of the gate he is almost unstoppable and unless he makes a mistake he usually can run to the checkers unchallenged and that sums it up. Chad has to be in a complex state mentally, he knows he can win but has to deal with a rider who at this time is almost unbeatable. Chad was in this position for many seasons with no one capability of cutting him down to size moto after moto as he racked up wins and championships. Being the best becomes a state of mind even when humility doesn't allow you to be brazen and boast about your ability or capabilities so it stays bottled up to be unleashed at the next round. We have two champions racing who are very close according to the stop watch but far apart on where they stand in the bigger picture.
Behind the two garnering all the attention is another veteran of many on track battles and that is Thomas Brown. Brown had a slow start to this season and struggled to get things up to speed while he pulls double duty as racer and coach/mentor to several riders. His role is changing but that doesn't cut into the fierce competitor he is. Brown earned a solid third in the first moto and fourth in moto two for third on the weekend proving he still has plenty of fire in his tank to push hard for good finishes. Brown stated this wasn't his kind of track but it would be hard to tell that by how he handled his business on the Unadilla dirt. The battles between Brown and Jeffrey Rastrelli have been some really good action this year and although Rastrelli is still on the mend, he is never out of the equation as he continues to get faster and faster.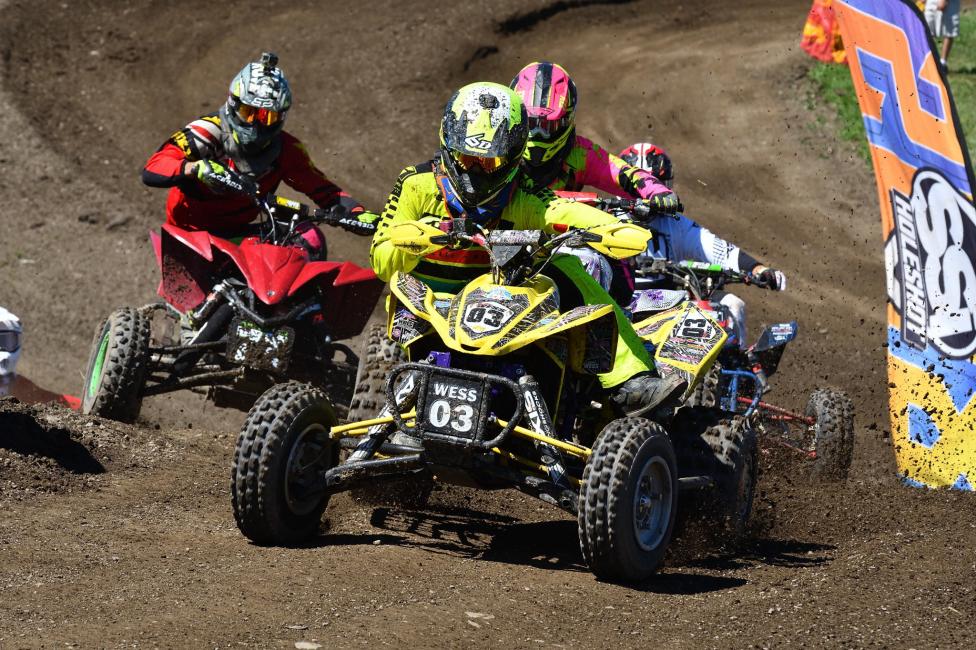 Nick Gennusa put in a solid ride earning him a third place finish in moto two and he is yet another racer who has yet to find an even flow mainly due to his injury from earlier in the season. I can't imagine the races that have not happened due to him and Rastrelli riding at far less than 100%.
The break out rider at Unadilla in my opinion was that of Zach Kaczmarzyk. Zach showed he had some speed during qualifying and finished 6th and 7th respectively in the moto's but that doesn't really tell or show how well he was riding. If he can build on the momentum he found here in New York, he could be a real threat for a top five position at the final two rounds.
Open Pro Sport was probably one of the best races of the weekend as Logan Stanfield and Cody Ford put on a show that rivaled the pro class with Ford coming out with the overall win. There was actually really close racing in almost every class throughout the weekend and we had a few riders go down and we wish them all a speedy recovery.
There were some changes to the track this year which seemed to get mixed reactions. The small section added really looked awkward but you all handled it well. I know the track crew had its hands full trying to keep enough water down to prevent dust but with a strong sun and light breeze it was a really tall order to fill. The trike racing is always a hoot here at Unadilla and they looked to be having fun even if they were taking a beating out there. The speeds between the three wheelers versus the trikes offers no comparison although I am partial to the history that started it all.
That's all from me this week, RedBud will be here before we know it so I am excited to get to watch you all race at another legendary track. I would like to ask for everyone to pray for equally good weather! God bless you all in all that you do and be safe in your travels!