Time
Wednesday, June 13, 2018 | 2:00 PM
After three weekend's off of racing, ATVMX heads to Sunset Ridge MX in Walnut, Illinois. This is Chad Wienen's hometown race, and he is looking for redemption after finishing second at the past two events. Joel Hetrick has been on a two-race winning streak, and is looking to keep his spot in the center of the podium. Hetrick is also looking to take the red plate away from Wienen this weekend as he sits just THREE points behind him in the championship standings.
This championship battle is intense, and this racing is some of the best we have ever seen. This is great for fans of the sport, and other competitors as they go head-to-head almost every round. Now you cannot count out other riders like Jeffrey Rastrelli, as he was leading at the last round in Pennsylvania until he got together with another rider and was unable to get his ATV restarted quick enough to continue the battle up front. Another rider that has been up in the mix at some of the rounds is Thomas Brown. Brown has been a top contender for the past couple years, and he is still on the hunt for his first win of the season.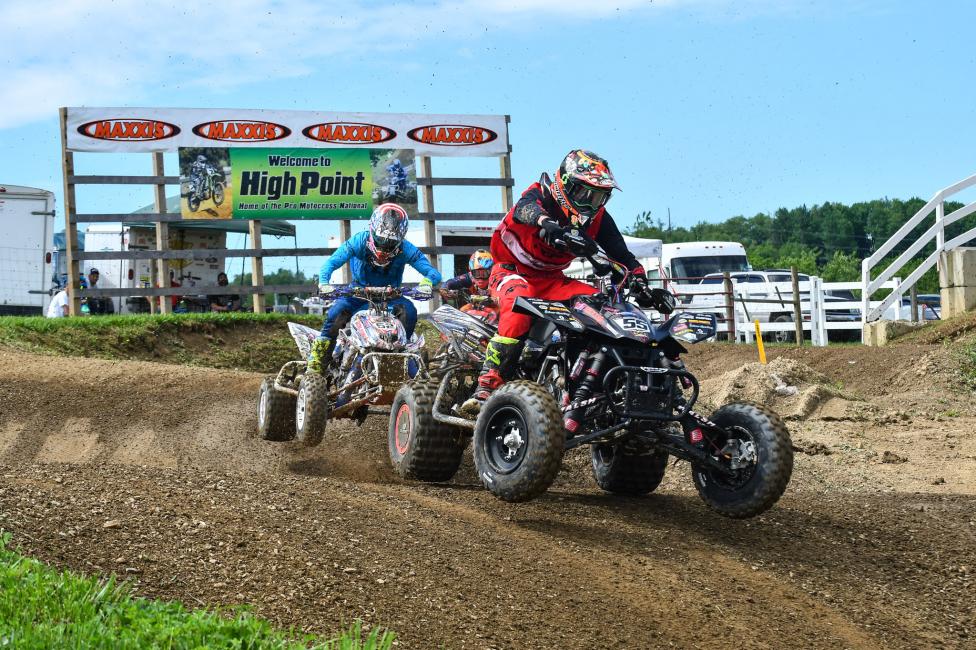 This race could be a turning point in the season, the racers have had three weeks off from the ATVMX Championship Series, and we're sure they are all eager to get onto the starting line for what now is technically round six considering Muddy Creek's National was canceled due to that nasty storm that came up through the states.
I know we are excited to see how this round plays out! Keep an eye out on our social media accounts this weekend and for the race report! It should be a good one.
Sunset Ridge ATVMX National Info:
If you are heading out the Sunset Ridge's ATVMX National there are some special events that you may want to take part in! The first one is one that has happened for years now. The 8th Annual Track Walk for the Cure is taking place on Friday, June 15 at 5 p.m.
If you did not pre-register for the event, you can register AT the event from 2 - 4 p.m. on Friday at Rider Registration. If you did pre-register please go to Rider Registration at the above times and check-in.
If you cannot make it and would still like to donate please click HERE and donate.
On Saturday, June 16 at 6 pm a Spaghetti Supper sponsored by SF Racing will take place! Followed by "Funky Munky" Wrestling at 7 pm. These are some great events taking place, so be sure to check them out if you plan on attending.
In The Loop With Gloop: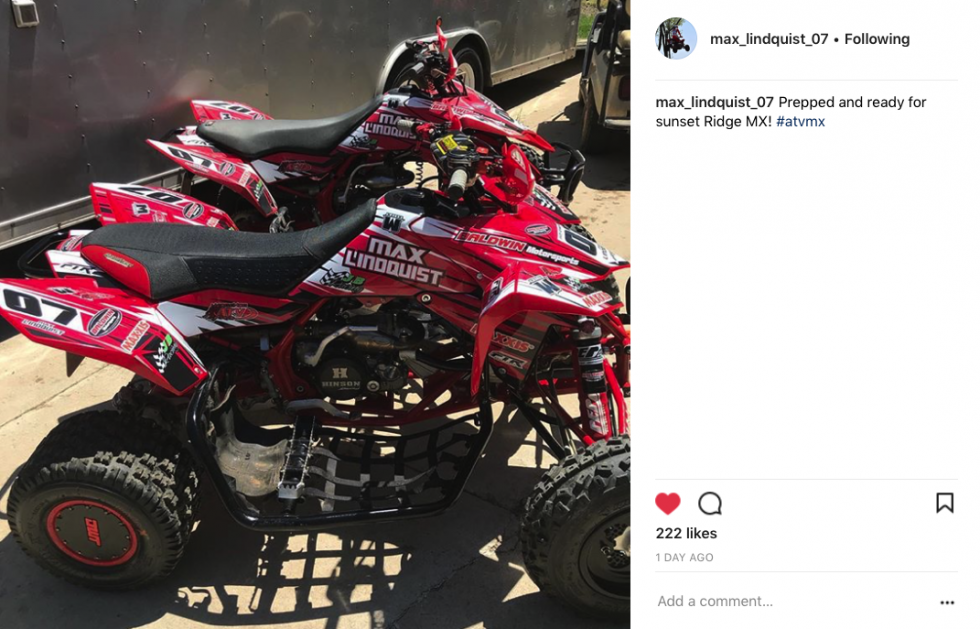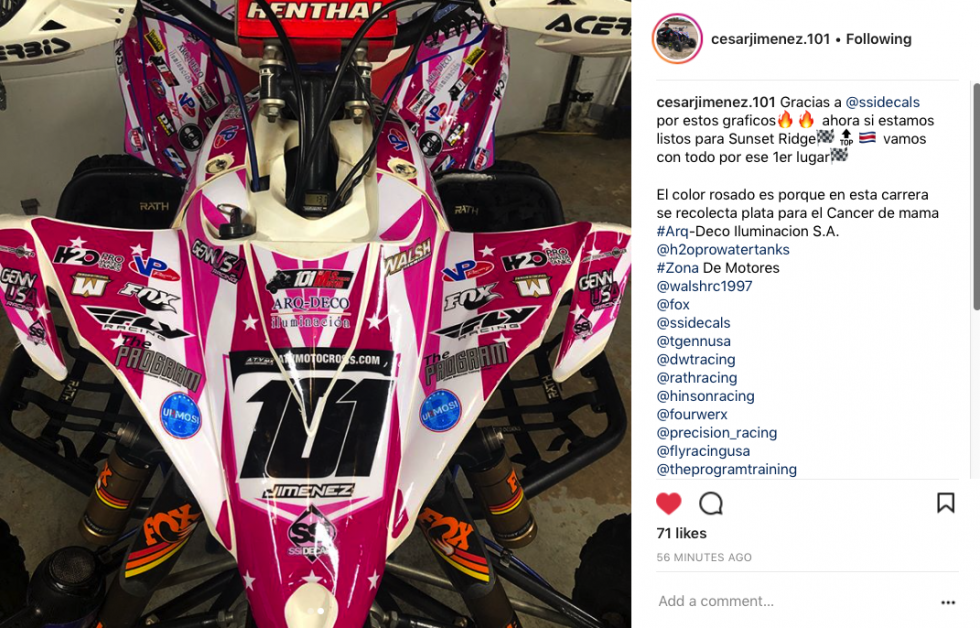 Keeping Up With Ken Hill:
Sunset Ridge is on deck and it will be a welcome sight for all of us who find a missing round way out of place as our lives revolve around racing. For me, it was a chance to get caught up around the house however the same rains that cost us Muddy Creek hit our region and flooded everything! Nothing here saw damage but all around us was impacted so I can only imagine what a mess it would have been if we had to somehow race in that mess. Regardless of what you felt about the cancellation, looking forward to the next round is always exciting and this round should prove to be a real tough one for those seeking success.
Joel Hetrick and Chad Wienen are locked into another fight for the number one plate and Muddy Creek was going to be one round that I was really wanting to see. It was the round I felt that was going to showcase what these two men have and pit them against each other on a track that was a great equalizer with a slight edge going to Hetrick. Sunset Ridge is the same with just a change in the advantage going to Wienen and if not for the cancelled event, we could have seen two races that were totally different soil wise and two races that offered each rider an edge. Now we look at Sunset and I really have trouble nailing down who my pick would be for the win as not only could we see the number 1 and 2 ranked riders hit the podium, it could be a round that sees an upset.
Thomas Brown has yet to come off the gate and put to dirt what we know he is capable of. Brown can win races and is no stranger to Sunset Ridge and what it offers. The same can be said of Jeffrey Rastrelli although he has been very consistent with podium finish after podium finish this season. A good start is going to be critical here maybe more so than any remaining rounds and with deep loose soil, the fight to come from behind will be a tough one. One slight bobble and we have a new leader or podium contender and it can happen just that quick. Nick Gennusa's name can be thrown in the mix as well upping the ante for a new name to grace the podium when it is all said and done.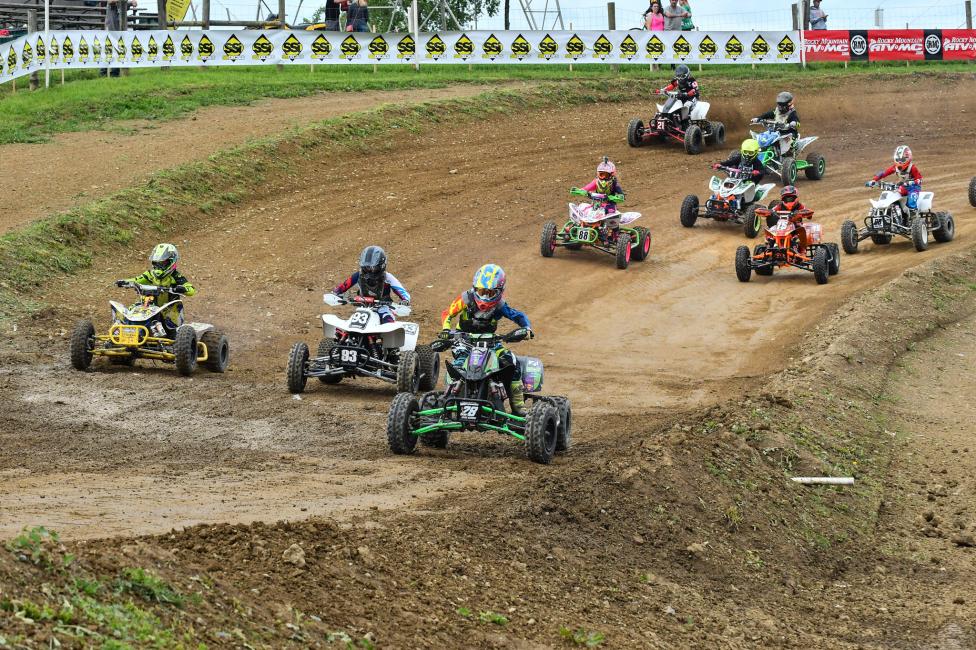 The pro class aside, there will be a ton of great racing throughout our ranks this coming weekend. Keep in mind the temperatures are expected to break the 90 degree mark so physical conditioning is going to come in to play especially for those running multiple classes. That being said, make sure you are well hydrated and remain that way or this will end up being a miserable weekend! I was in a winter coat yesterday morning and back to shorts and a t-shirt, so a bit of warmth will be a nice change but, in all honesty, that heat can go somewhere else!
A scroll through social media has most of the top players looking forward to this race and with such a break thrown in there, most just want to get back to normal and the life we have all created. I did see that you all have a life outside of racing as most took advantage of the cancellation and headed off doing other things which are normally reserved for the off season. Truck shows, fishing and more "normal" weekend type stuff is fun for sure but usually the word is given on short notice when a cancelled event does occur that we don't have time to actually enjoy a weekend without racing, at least this one threw us enough warning that a few plans could be made so while we all hated seeing Muddy Creek tossed, it all worked out for the majority. I have one more GNCC after Sunset Ridge then we go on summer break so some free time and enjoying a slightly less demanding schedule will be well received by myself and the family. In fact, I usually have veggies to bring to the races by now and yet I still have plants that have to go in the ground but haven't due to the weather, so I can only see the positive that we have only had one race so far hit with these wet systems that have been hitting all over the east coast since April.
That's about all from me this week as I get ready to send this off and start getting gear readied for the upcoming race. I am hoping the weather man is correct and we have a stellar weekend of racing ahead and that we get in another incredible weekend of ATVMX action. And how about some of that drone footage from Highpoint? I love seeing that and I hope we continue to get more of it as it adds another dimension to what is captured as the weekend goes down especially at a track like Sunset Ridge. Also, as we now have some battles behind us, if you'd like to have your voice heard, drop me an email at [email protected] so I can get it included in the next Site Lap. You can also DM me on Instagram (kenhill127) or message me on Facebook to get the ball rolling. As always, be safe in all you do, and God bless you all!
ATV Supercross Full MAVTV Episode Now Available Online: