Time
Wednesday, April 4, 2018 | 4:15 PM
Next weekend, April 14-15, the ATVMX Racin' Nation heads to Underground MX for the 2018 Texas Memorial ATV National! I guess it's true what they say, everything is bigger in Texas... Because the Purse Payout for this round is BIG (see total purse breakdown by clicking HERE).
Last year's racing in Texas was full of surprises and battles throughout many of the ATVMX National classes, and this year seems to be shaping up for some dramatic battles as well. We've already seen Wienen and Hetrick take overall wins at the first two events, so it is hard to call who will be victorious in Texas. This is also Thomas Brown's hometown, and he finished second overall here last year. He could possibly be a top contender as well as Jeffrey Rastrelli who has been running up front at the first couple rounds.
Only time will tell, and we cannot wait to see who it is crossing the finish line first.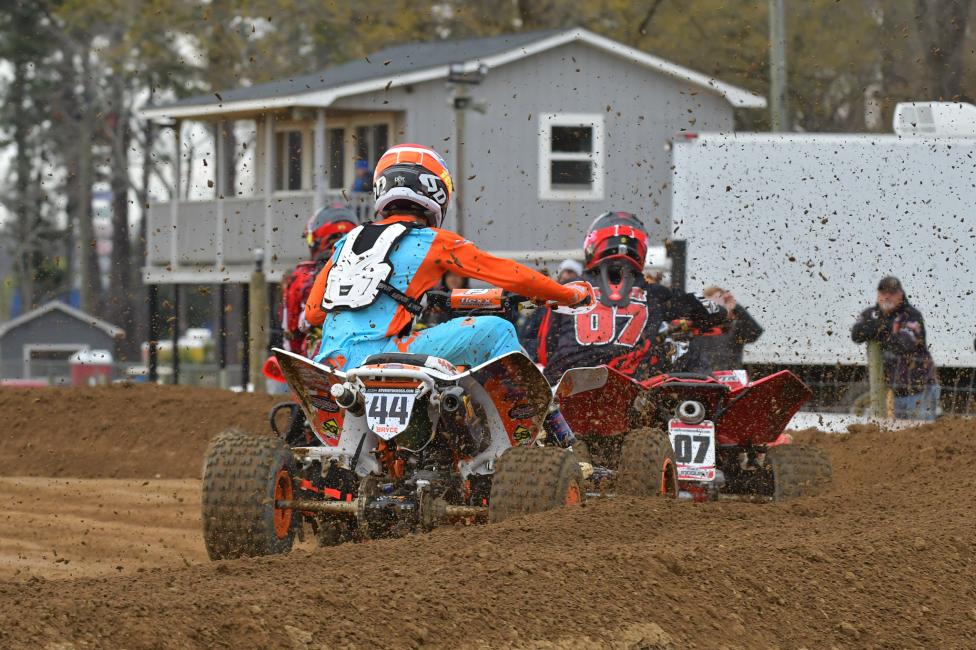 News from Underground!
This race will be a memorial race to Remember Our Riders who have passed way too early in life.
Come out and enjoy some great racing action and some fun Saturday night...Just Us, a local rock band will perform and we will have Buckshot the mechanical bull on site!
Pre-Registration is open until Midnight 4/9: pre-register here
A $50,000 purse and the AMA Texas State Championships are up for grabs! Pro total purse is $23,000 (15 places + moto1 & moto2 holeshots) ; Pro-Am is $7750 (1-10 overall places + moto2 holeshot); Amateurs are $9500 in gift cards (1-3 overall places + moto2 holeshot for each class); and Youth are $10,450 in gift cards (1-5 places + moto2 holeshot for each class). Sponsorship for this awesome purse is from 88 Live to Ride and Ford Brothers Racing...be sure to stop by and thank them during the event!
AMA TX State Championship (overall winner in each class) will receive a #1 TX State Championship plate and bragging rights!
Underground ATVMX Schedule
Thursday, 4/12
4:00 PM – Midnight – Gates Open
Friday, 4/13
6:00 AM – 12:00 AM – Gates Open
7:30 AM – 5:00 PM – Registration
11:00 AM – 4:00 PM – Amateur Practice
12:00 PM – Pro Pit Parking
3:00 PM – 5:00 PM – Amateur Tech Inspection
Saturday, 4/14
6:00 AM – 12:00 AM – Gates Open
7:00 AM – Registration
7:00 AM – 10:00 AM – Amateur Tech Inspection
7:30 AM – Amateur Riders Meeting
8:00 AM – Amateur Practice (3 laps) After practice – Amateur Racing (4 laps; A classes 5 laps)
8:00 AM – 9:30 AM – Pro Tech Inspection
9:50 AM – Pro Riders Meeting (at Start Gate)
10:00 AM – Pro Timed Qualifying (Session 1)
11:00 AM – Pro Timed Qualifying (Session 2)
12:30 PM – Pro Consolation Race LCQ (if needed; 3 laps)
1:30 PM – Opening Ceremonies
2:00 PM – Pro Moto 1 (18 minutes + 2 laps)
2:30 PM - Amateur Racing (continued)
4:00 PM – Pro Moto 2 (18 minutes + 2 laps) Victory Circle following Pro Moto 2
4:30 PM – Amateur Racing (continued)
4:30 PM – Pro Autograph
In The Loop with Gloop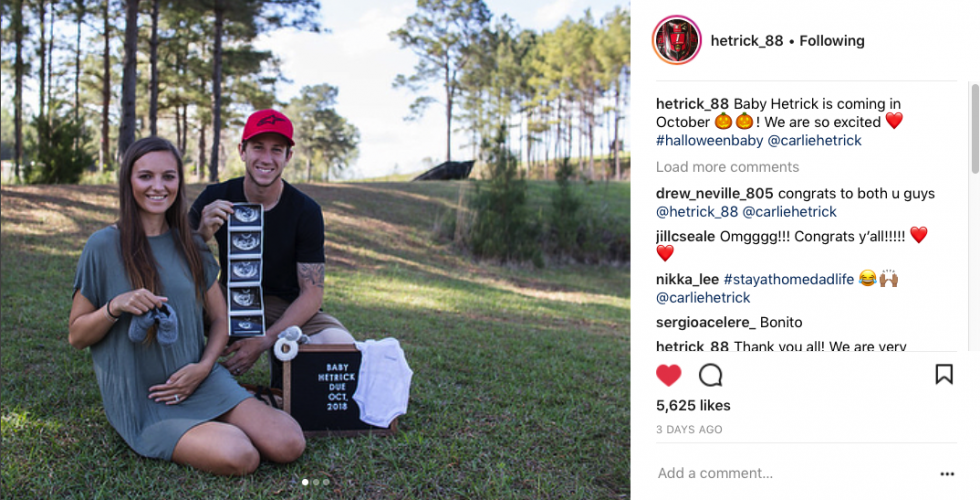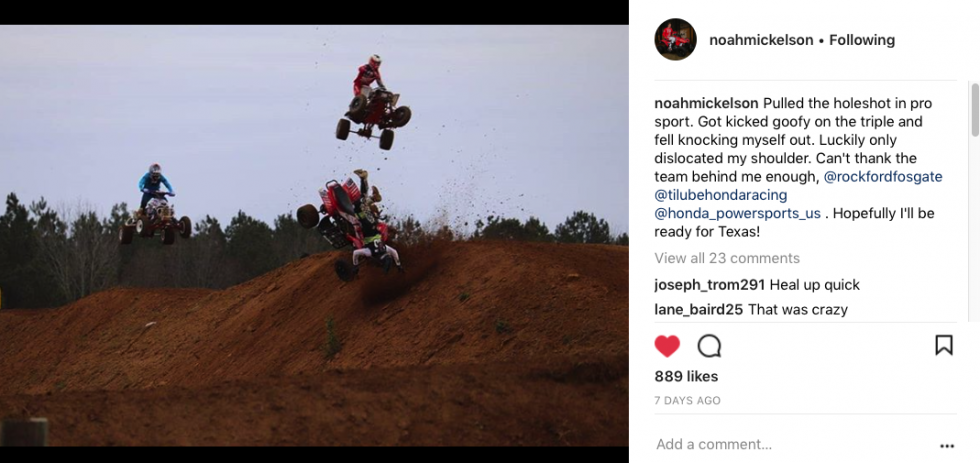 Keeping up with Ken Hill:
The South of the Border MX facility was pretty interesting! This was the first time I had been there so everything was new to me, as well to many of you and it appears it is a location many really liked. It has been requested for us to return there for another ATVMX National, however many want the South of the Border attraction open so some scheduling could make that happen. This could easily turn into a really great addition to the series schedule that offers more than just racing for everyone in attendance as the town has all sorts of attractions most of which were not opened at this time of year.
The track was a bit tough to shoot from my perspective though. The area is flat so every jump is built up and if you do not get a colorful sky it becomes just a white or dull white background. The corners were good but the berms built up and before long I could only see a helmet go by! All in all it was good, and nothing I can do to change things but of we do go back I will have a better handle on how the track flows throughout the race weekend. Feedback from everyone as they came off the track Friday was that it was fast, almost to fast for some including a few of the Pro riders. Thomas Brown talked with me after the race on Saturday and said he knew this wasn't going to be his track and was happy to come out with the results he earned. Others like Joel Hetrick were more than happy with the fast pace and airtime found over some of these jumps. I kind of expected him to do very well and of course he did, but that isn't the real story!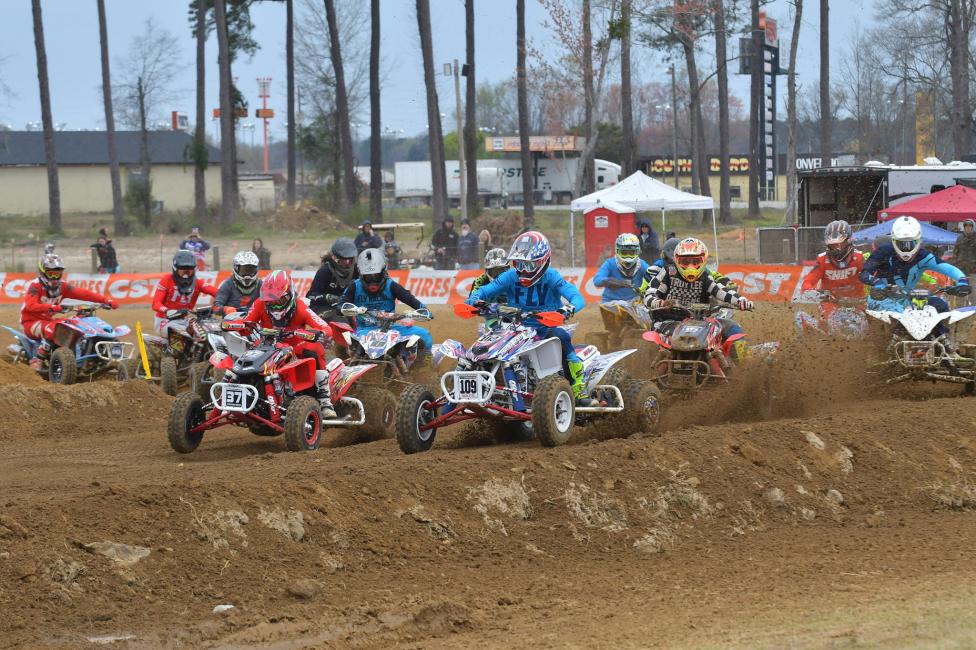 On the gate prior to moto 1, everyone was feeling good. Positive vibes and laughter over took the usual tense apprehension that befalls a start as Thomas Brown informed everyone to not be surprised when he went straight at the first turn and ended up 3/4 a lap ahead of everyone else! It was great seeing everyone in a good mood and ready to hit the track, the question remained, who was going to be out front when it counted. That was all about to be answered as the gate came alive and the pro class rocketed off the line. Chad Wienen poured on the power and carved his way through the first turn taking the holeshot and the lead. It was literally nose to tail racing as they launched in unison over the first few jumps with little in the way of separation. The riders had stated on Friday they felt the track was narrow however their concerns were addressed and changes were made and now it was time to see if this track was going to be good or not. It didn't take long before Wienen and Hetrick were doing their dance but something was different. Chad had worked very hard in the off-season to be in much better shape heading into this season and it was showing. Every push from Hetrick was met with more speed from Chad and this continued for several laps as the pair started putting distance between themselves and a hard charging Jeffrey Rastrelli. Near the end of the moto I noticed that Hetrick might have been backing off just a bit, possibly to save energy for the second moto and not force the issue in moto 1. Wienen rolled to victory and that was that. It was the race most of us expected however the bar to bar battle never formed between the top two riders.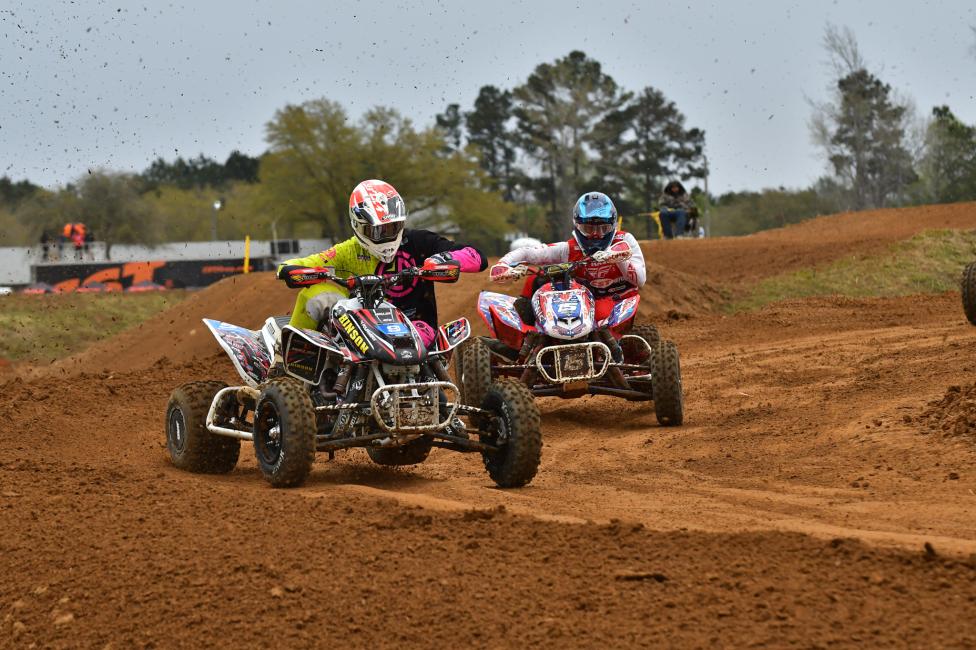 When they took the line for moto two, I was unable to scurry to the gate to pick up any info as the moto came quick and I found myself running to my truck to grab the gear I use to shoot the pros. The racing was clicking along through out the ranks and I was just zoned in on things and got caught flatfooted! By the time I got to my spot to shoot the start, the revs were up and the gate was dropping! All I could see was a red blur heading to the first turn and in the blink of an eye roost was flying and this moto was underway. It actually took me a lap or two to realize Wienen was nowhere to be seen! Hetrick was on rails, on the gas, flying through the air and facing no pressure as he had the lead and was checking out. When I finally got a look at Chad he was doing all he could to get through the entire pack of pro riders in front of him finally getting within reach of Jeffrey Rastrelli who remained the last rider between himself and the leader. He was riding almost flawlessly making short work of everything in his path. The battle with Rastrelli was intense but the pass came clean, and now Wienen was going to have to run down one of the fastest guys on the planet if he wanted to take the win. Unfortunately for Wienen, time had run out as the last lap pass on Rastrelli afforded him no time to do a thing with Hetrick as the moto came to an end.
The podium was set and the information flowing as Chad laid out his mistake at the start. He had forgotten to put his Yamaha in gear and that simple mistake cost him the chance to take the win here at SOBMX. He laughed it off, a simple mistake for sure, but one that could cost him downs the road. In any event, the cat is out of the bag as Wienen showed everyone he came to do work each moto and not be content with second, the man wants that number one plate back and has put in the work to make that a possibility. Hetrick was stoked on the win and he too knows he has a real competitor coming after him and I for one am positive he is ready for it! Going 3-3 on the weekend was Jeffrey Rastrelli who was pumped to be back up on the box. Rastrelli was rolling at not only SOBMX but at Daytona as well as he has picked up the speed he was looking for to keep him upfront. His two 3rd place finishes may have him in a solid spot to capitalize on any bobble the top two make. I will get a chance to chat with him in Texas to see what has helped him in the off season and where he sees himself as this season starts racking up rounds.
This being a new round for everyone sort of evened things out as I see it. Like Daytona, no one rider had an effective edge over another with the exception of Hetrick and Wienen who both seem to be able to go fast regardless of what is in front of them. Opinions varied throughout the ranks as to how riders felt about the track but nothing major in the way of negativity came out of it. The youth and amateur racers all put in great races even though the weather was not perfect. Next season is a long way off, but I kind of hope we get to go back and run here again!
That's all from me this week; I am off to cover the Steele Creek GNCC then down to Texas for the Underground event then back to South Carolina for another GNCC. Pleas bee safe in all you do and may God bless you all!