Rodney Tomblin
Time
Wednesday, March 7, 2018 | 10:45 PM
The 2018 season is here! Well almost. It's now less than a week away from the opening Daytona ATVSX and the ATV Racin' Nation is revved up and ready to for the gate drop. All the hard work and dedication is about to pay off and the fans just may be treated to yet another best season of racing. The classes are stacked from top to bottom and at this point it's anyone's championship.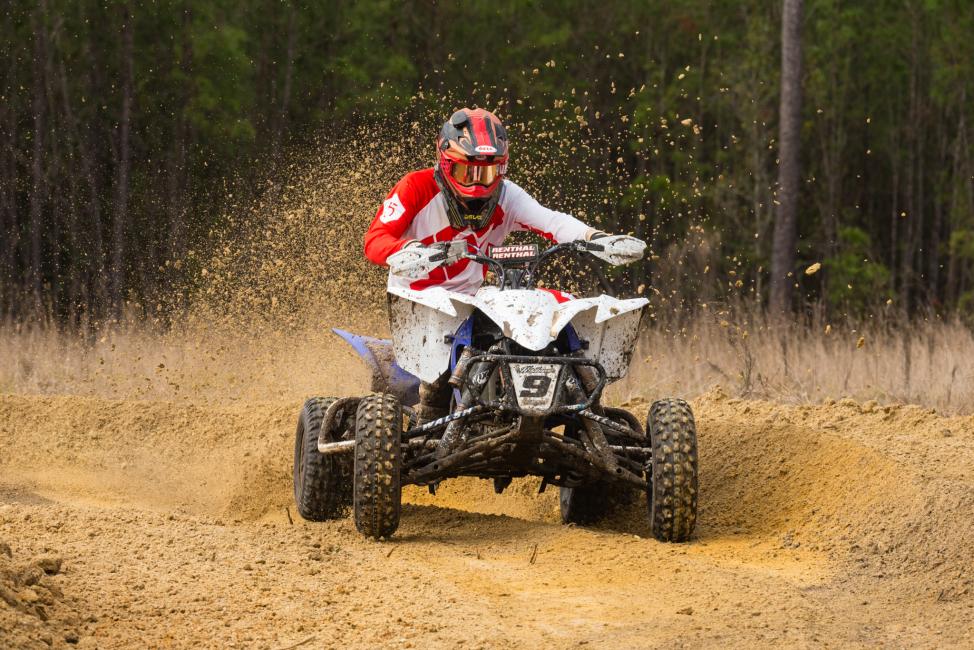 It's been a while since our last Site Lap and a number of things have happened as more information becomes available. The AMA Pro ATV Motocross class will see a couple of new faces this season and a number of the riders we have been watching grow up are now reaching the 450A and Pro Sport levels.
One of the biggest changes to kick off the season will be that the Daytona ATVSX is now a points paying event for all classes offered at the event. That could change the face of the way many of the titles all pan out. It's amazing what one more race can do to a points battle. It has always been a pro points event but only a one off type event for amateurs. So now the statement "it's just a warm up" becomes a little more serious and it will count.
Another interesting factor is that riders winning their classes will also be crowned state champion from each state we race. This from what I understand is setting the stage for some big changes that may be on the horizon. That's right! Changes! This is something I mentioned several times last fall. I did not know then and I do not know now what all the changes will be but change is something we will see lots of in the near future.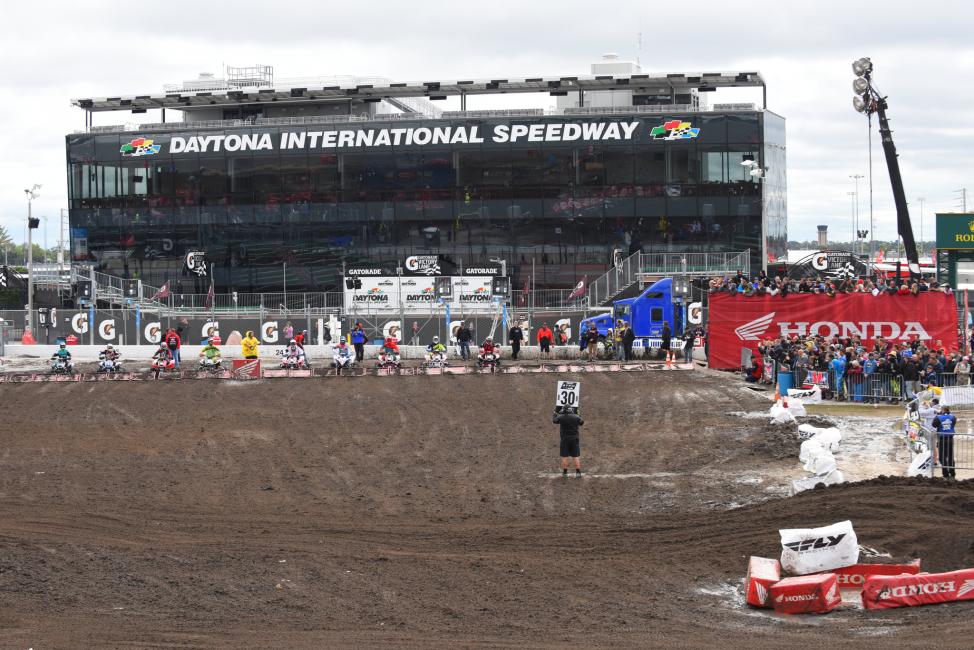 A big change you will note this season in the pits is the return of a factory presence. The newly crowned champion Joel Hetrick will be riding under the Rockford Fosgate/Ti-Lube/Honda tent. In reality there is not much difference in the team but there are significant differences in the program and the biggest is that Honda is back!
Now the question is when will there be a new model released. The answer to that is that right now there are no speculations and there are no rumors of anything hitting the market soon or even at all. That doesn't necessarily mean a lot either as I know my experiences in the past has been that they are usually pretty good at keeping things top secret. And if and when the time comes that something like that happens you can trust it will be huge for the sport as a whole. However I will say let's not get our hopes up and keep moving forward to build this sport.
I sat down this week with Joel's team at their headquarters in Salisbury, NC and found out some interesting things. Those interviews will be available on Quad Radio along with several others you may find interesting. The bottom line though seems to be that they are extremely excited about the upcoming season as each one faces new challenges.
Haedyn Mickelson will be moving up to the AMA Pro ATV ranks and contesting the Pro Am championship as well. The "Essence of Cool" has been working out and training harder than he ever has. He says that the off-season training has been going great and the new equipment seems to be working great. His younger brother Noah Mickelson will be moving up to the Pro Sport and Pro Am classes. Noah is so eager for the gate drop and is ready to gauge himself against the competition. Not only that Noah is just ready to go race and release some of the energy he has been storing this winter. And as far as Grayson Eller the other team member goes, he is really pumped to get to the races. Grayson will be moving up to the A ranks and is ready to begin his transition into a pro rider.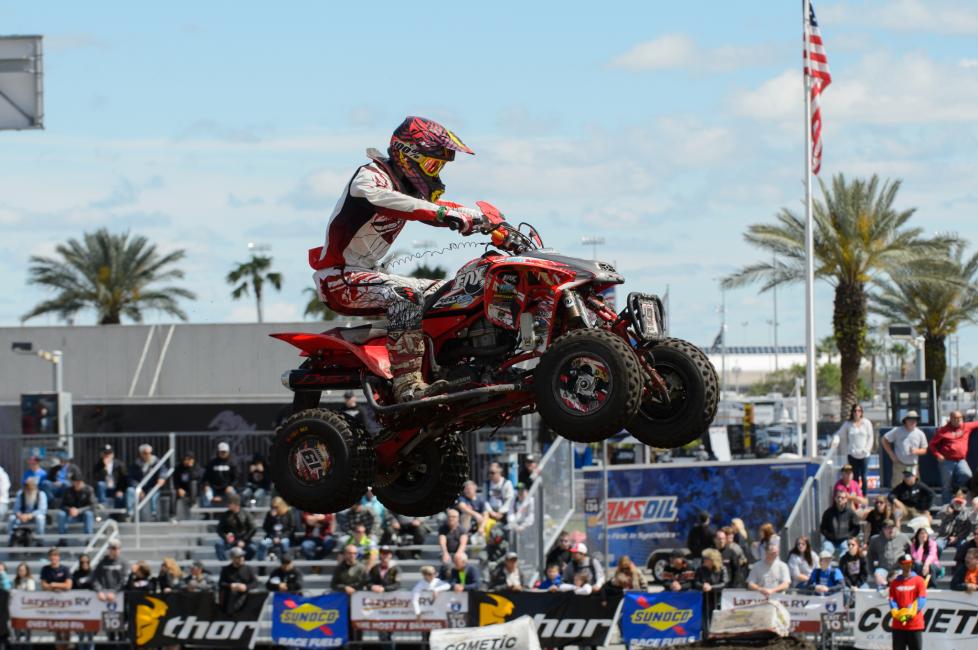 The trio of riders has also been busy racing GNCC. They all tell me this year they are racing for titles in both series. Haedyn will be chasing the 4x4 A class and actually finished a solid third to open the season. With a smile he said he has a lot of fun on the 4x4. Noah rode an amazing race in the highly competitive College A class. Noah finished second in the class and is in great shape for a title if the season goes like it started. As far as Grayson Eller goes he too started out strong leading most of the race and would have won had he not stuck his quad in a tree two miles from the finish. He finished second with a chuckle and smile. I asked them why they like the woods so much and they all said, "It's fun and there is no pressure at all."
It's hard to speculate as to what is really going to happen and just exactly what changes will see or soon will see. The easy thing to say though is that it will be a great year and there will be great racing. Who is coming out on top? Time will tell the story!
That's it for me for now. Let's check in with Gloop's Loop and with Ken "working on my tan" Hill. Till next time, God Bless Your Heart and All Your Vital Organs.
IMPORTANT
The 2018 ATVSX Practice and Race Orders have been updated! Make sure you check them out ASAP. We can't wait to see you all in Florida!
In The Loop with Gloop
Final preparations are underway before the FLY Racing ATV Supercross at Daytona International Speedway!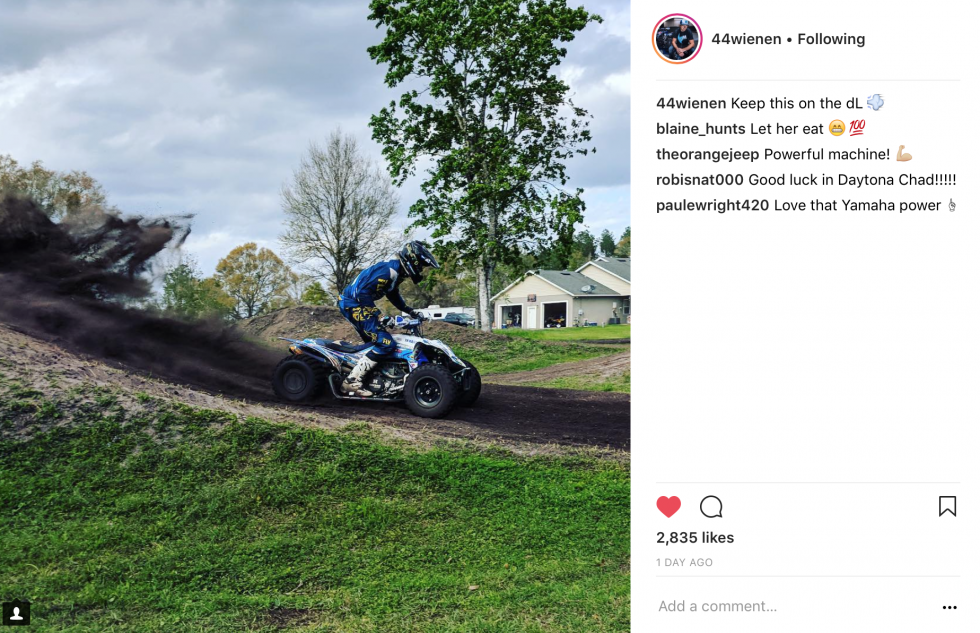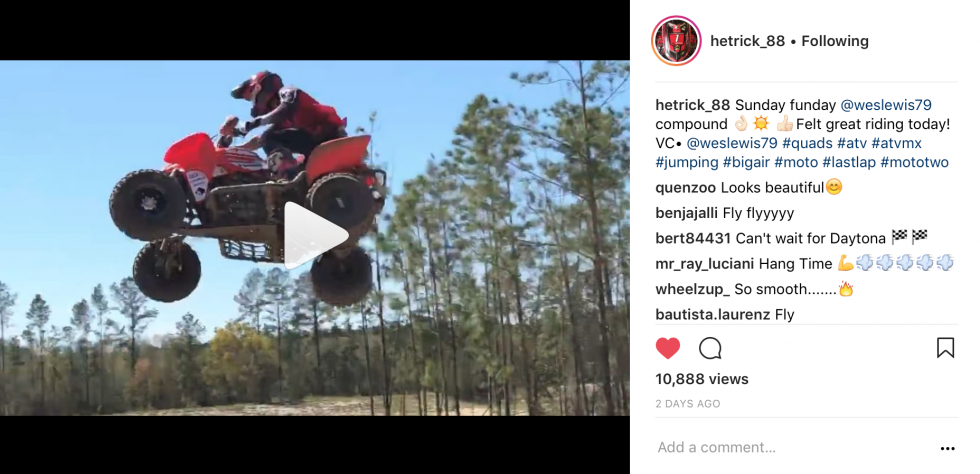 Keeping up with Ken Hill:
Well folks, 2018 is here and Daytona is just around the corner! After months of training, building, deal making and even some rest and relaxation, it is indeed go time. I have done my very best to stay out of the loop so I am very excited to see what the new season offers us. Traveling down south, I got to shoot the breeze with Chad Wienen and while he was reserved in the info he would allow out, he sure seemed charged up and ready for the season to get underway. Doing a photo shoot doesn't afford me the chance to watch him ride but keeping tabs on his social media showed he looked good to go so when the gate drops we will get a chance to see just how hungry he is to battle for that number one plate.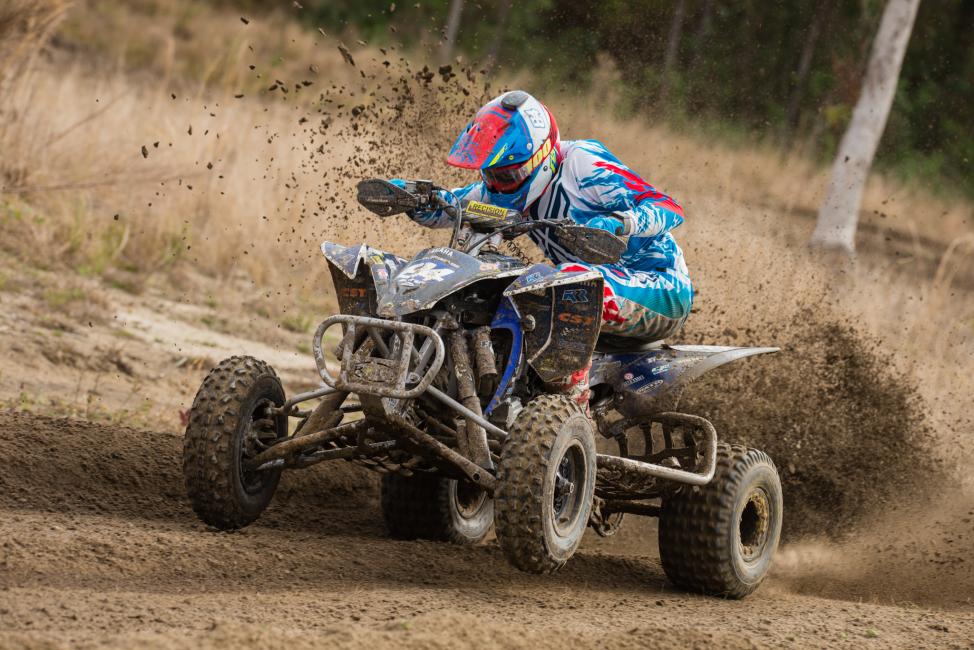 Joel Hetrick seems to have been in Texas and from the video clips he has released he should be the rider to beat all else being equal. There is no doubt he is the fastest rider on the track and has been however last year we saw him put everything together to take that championship and now he gets to defend it which will be no easy task. I am looking forward to watching this season play out and with zero inside knowledge, I would have to split my money between Hetrick and Wienen as I feel they are going to be going at each other from the first gate drop with even more intensity than we saw in 2017.
The problem with betting is always the wild card or the unknown. I spoke with Thomas Brown and while he is ready, he is facing what many face with regards to having enough in the way of support to get the job done round after round. If anyone can be an upset, Thomas jumps to the head of the line and I expect him to be on the podium and fighting for wins so don't count him out!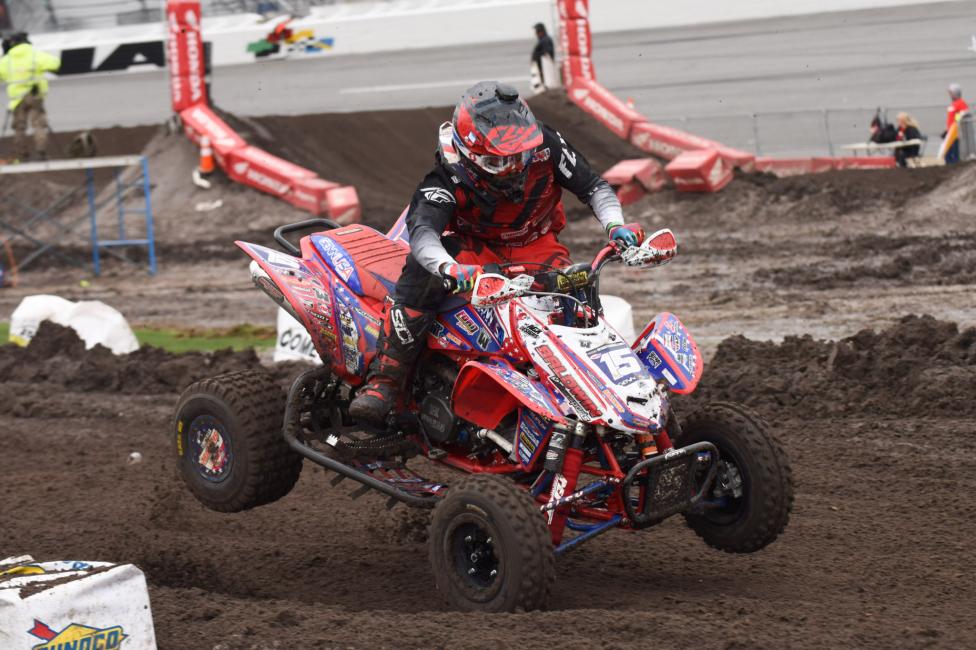 The two, actually three riders that have my interest peaked is Jeffrey Rastrelli, Ronnie Higgerson and Nick Gennusa. Nick told me last year he wanted to spend more time closer to home and that seems to be what he was able to do. How that translates into his program is yet to be seen but the mental part of all this is pretty huge so maybe it is what he needed to come out swinging. Nick made big waves in 2017 and should be one to watch again this season. Higgerson, always upbeat and positive looks to have more support in the off season than ever before as he has been doing what's needed at the Ford compound in Texas. Ronnie has been hitting a wall here and there with successes that did not come often enough or consistent enough to set him apart from the others. This year may be way different and well earned if he can roll into Daytona and set the pace for his season right from the opening round.
Now Jeffrey Rastrelli is a fan and rider favorite and has been for years. He is super fun to watch ride, an asset to the sport in the pits and abroad and left 2017 with a solid season behind him. Jeffrey is right there, on a razor thin line of being lumped into the group that always is fighting for a top five and with those who seem to find the podium round after round. I have no idea where he stands as we roll in to Daytona but I suspect he will be doing what he does and we will see what happens when the roost settles!
Daytona garners a ton of attention and with merit. It is kind of the crown jewel of the season and while it is far from what we are used to, we have run it enough now that we all should have somewhat of an idea of how the day unfolds. If you are attending for the first time, my advice would be to get with someone who has attended before and let them guide you through the event as it can seem overwhelming the first time there. In just a few days we will all get to see who done what with who as the lights and history surround us for the opening round of ATVMX racing so take a second or two, soak it all up and then get your head in the game and ride your race! Rodney touched on a few changes in the ranks above and I am excited to see how the riders who move up handle things. This should be an epic year of racing and I want to wish everyone a very safe and successful season!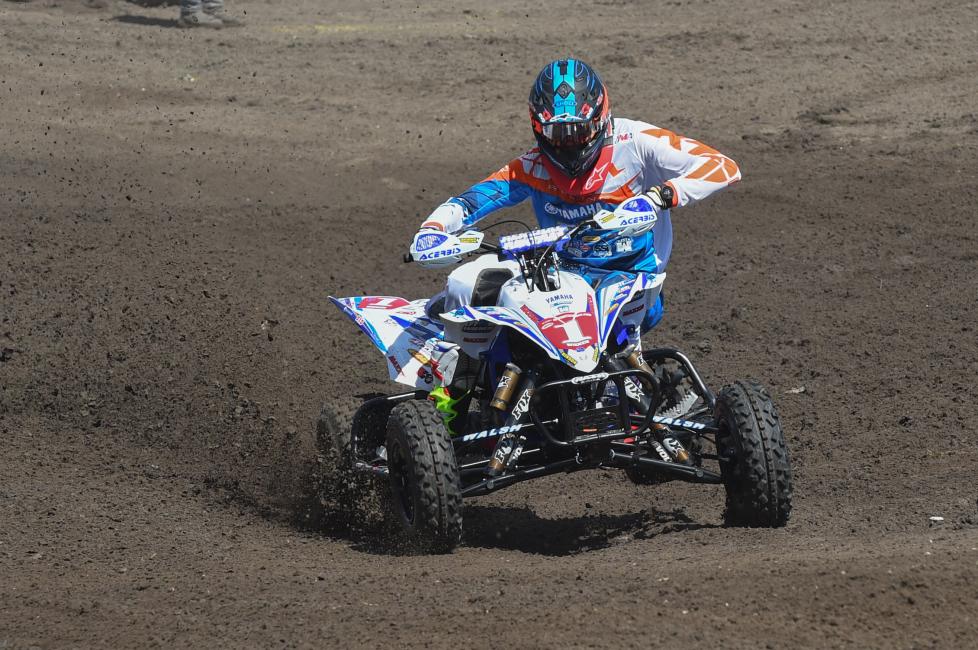 And for the record, that's windburn I was working on as I headed to the IXCR season opener in Indiana last weekend after being down south for three weeks. It was all planned, I wanted to show up with chapel lips and rosy cheeks so I would fit in with the of you who bore the brunt of old man winter instead of being down south in the sunshine! As always, be safe in all you do, God bless!