Rodney Tomblin
TimeWednesday, September 13, 2017 | 3:00 PM
One last exciting event left in the ATV Motocross Racin' Nation and unless you have been under a rock you know I speak of the QXoN September 21 in Italy. Chad Wienen is already in Europe and as this article is written, Thomas Brown and Joel Hetrick are wrapping up last minute training and packing as they head out this Saturday. As the time approaches the reality begins to set in. It's go time for Team USA!
As far as other things going on lately goes, there were a few ATV MXer's that found their way to the Parts Unlimited Unadilla GNCC this past weekend. There were just fewer than 2,000 entries at the event and they got to see a side of Unadilla they won't soon forget. The course this year was just less than 10 miles and offered about everything the terrain could throw at the riders. Rain (who would have guessed it) leading into the weekend of racing coupled with the amount of riders made things very challenging for every competitor. To finish was a task to say the least, especially if you are not familiar with the style of racing.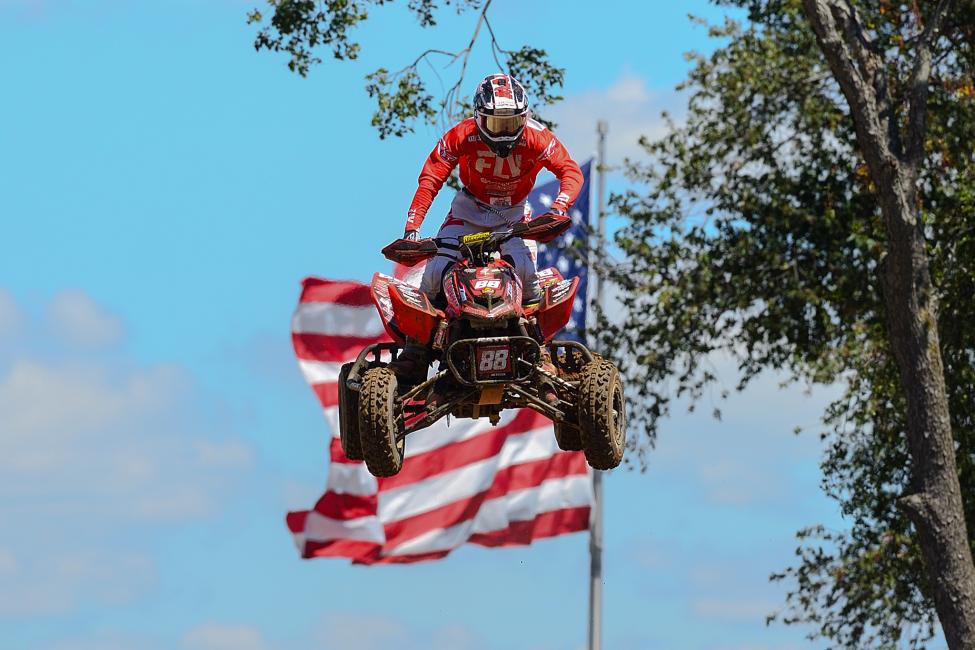 One rider I noticed in the morning youth division was Agostino Abbatiello. It was a surprise to see his name on the roster. He had a pretty good start as most moto guys do and went into the first part the race looking strong. In the end he finished 9th but was running a strong fourth in the early part of the race. One has to think if he gets to do a few more of these he could be a huge threat in the woods like on the MX track. I hope to see him back again soon but since it was close to his home in New York the likelihood is slim. It wouldn't surprise me though to see him give it a shot at least at Ironman the weekend of October 28th in Crawfordsville, Indiana as everyone needs to experience that if possible.
Most folks know and remember Jeremy Ledonne. Jeremy used to be a top ATVMX racer but a serious back injury cut his career short. He learned to walk again and still had a passion for racing. So he decided to give GNCC a try and fell in love. He has been back on the MX track but it was more of an "I conquered it" type experience. Off Road is where his passion lies now and he is doing a remarkable job. Jeremy currently sits second in the point race for his class championship for the year. He races the 19+ Novice class has excelled to new level this season. He finished second in class this past weekend and 24th overall out of over 375 riders. Then on Sunday he raced a motorcycle in the Open C College class. He finished fifth in the class and 175th overall out of over 740 entries. Jeremy is currently contending in both disciplines for national championships. He is the point leader on the ATV and is only nine points behind the leader in second on the bike. Not a bad show for sure.
We all know that Haedyn Mickelson has been running GNCC in the 4x4 A class and has had a few top four finishes and even a second. Though he missed a few rounds he is still considered a competitor in the class and is ranked eighth in points. A good show in the final rounds and he may be a solid top five or higher. This past weekend may not have been his best ride this season but it got him back in the flow of woods racing. He finished eighth this weekend in class and 311th overall.
Haedyn's little brother Noah was also in attendance this week at the Unadilla GNCC. If I am not mistaken it was his first GNCC and he turned heads as soon as the green flag waved. Noah jumped out front from a dead engine start with a kick-start. He then pulled a wheelie all the way to the first turn leading the entire pack of 30 riders. Noah lead the first lap as well before a mistake dropped him to fifth where he would finish the day. Very, very, very impressive first show, as he finished not only fifth in class but took an amazing 84th overall out of the nearly 400 riders.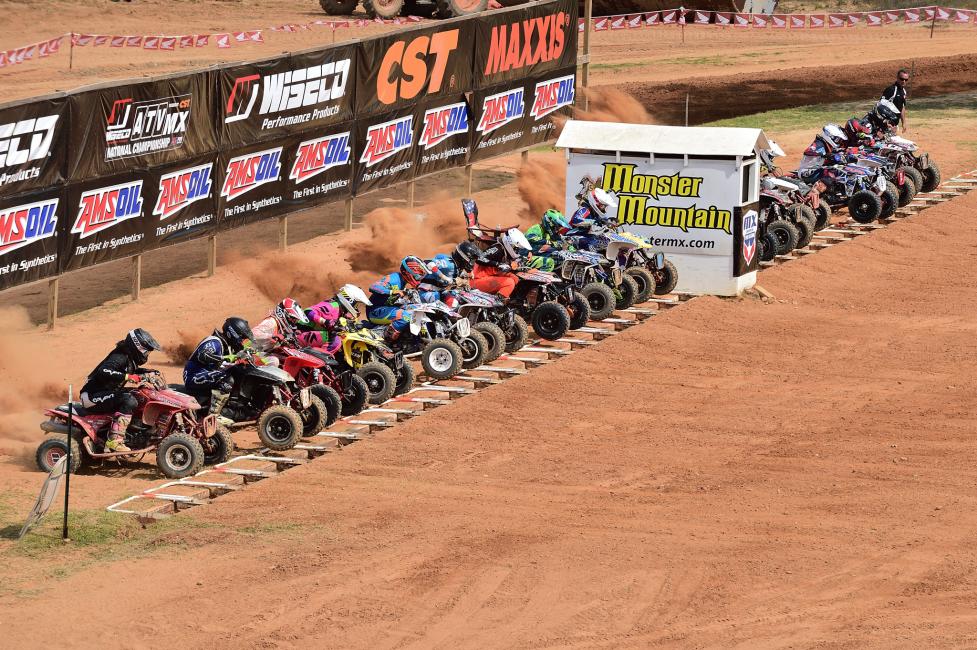 Along for the ride this week as well was the Mickelson brothers Maxxis/Liquid Wrench/Elka/Honda Team was Grayson Eller. Eller rode the same class as Noah but did not have the same luck his first time out. Grayson finished 27th in the class and 347th overall. The finish is a little deceiving though as to how he rode. He was able to finish only one lap but was a solid 10th at the end of the first lap. With a start like that one has to wonder how he could do with a little experience dodging trees. It's a whole different beast but looks like he too could adapt given some time.
It was rather exciting to see these guys out and hopefully I didn't overlook other competitors there. Like I said, there was just under 2,000 entries this weekend and it would be easy to get lost in the sea of names. If so I do apologize and ask you to drop me a note.
Don't forget to register for the banquet as all the details are on ATVMotocross.com.
That's it for me for now. Let's check in with Gloop's Loop and with Ken "I think I want a duel sport bike to ride in the rain" Hill. Till next time, God Bless Your Heart and All Your Vital Organs.
In The Loop with Gloop: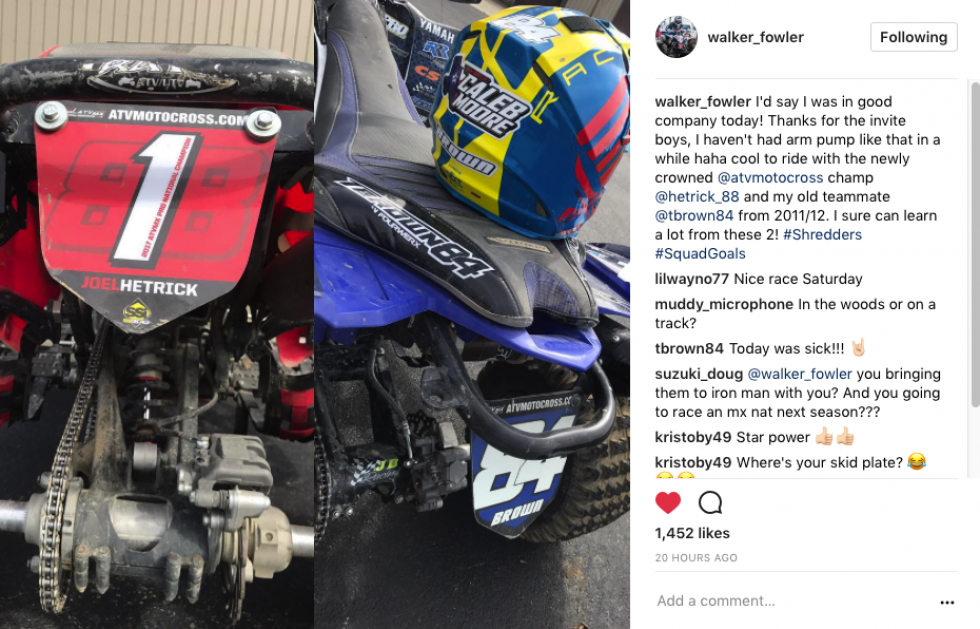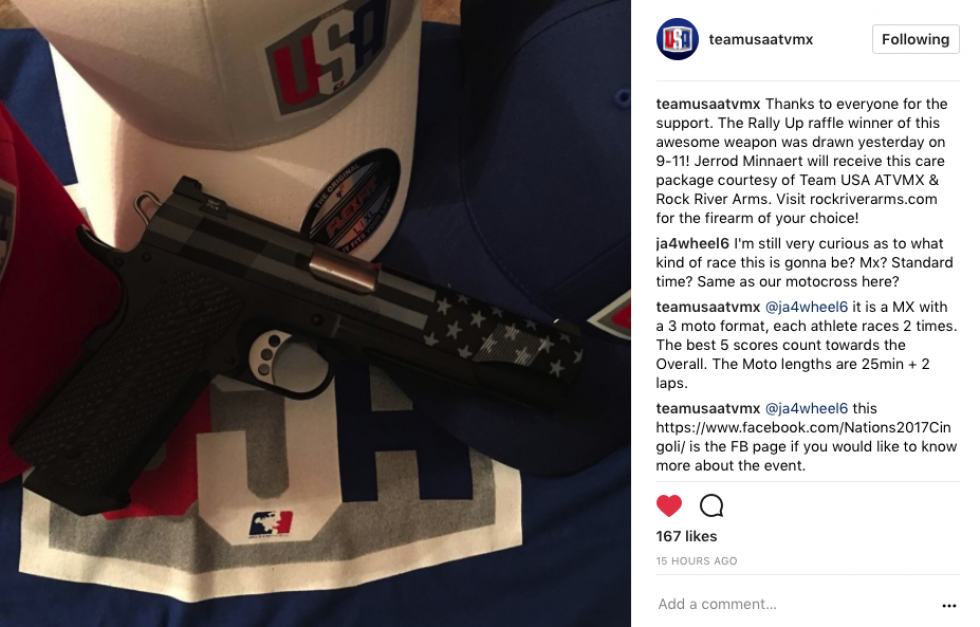 Keeping up with Ken Hill:
So here I sit watching it rain as the left over hurricane Irma passes by the region. Now don't get me wrong, I do not wish tragedy or destruction on anyone and I am pretty stoked Florida did not get hammered as hard or as bad as it could have been but after all the hype I kind of expected more. I know, that doesn't sound right but the media was setting everyone up for Armageddon and it ended up being far less of a state-destroying storm. The news reporters did their jobs and tried like crazy to make things worse than they were be it the wind, rain or flooding. Now much of this was due to them being in the wrong part of the storms path which sparred the east coast of Florida so they were left with out the hell storm they had been brewing for days as Irma closed in. Social media however gave a far more accurate reporting of things as many of my friends gave non-stop updates and as of this morning, non-had suffered catastrophic damage thankfully. As I attended the GNCC at Unadilla, I wasn't able to keep up with things in real time until the evening and literally turned off the news because it was so inaccurate or filled with fluff that my timeline had real people showing things in real time. Social media brings a ton of negative to the world but it sure seemed to me that it can and did bring much needed and wanted information to the world so kudos to those who reported, helped get info out and kept others updated. Florida is home to so many involved in our sport and we all have so many friends that call that state home that the chatter about the hurricane was the front runner in our thoughts through the weekend.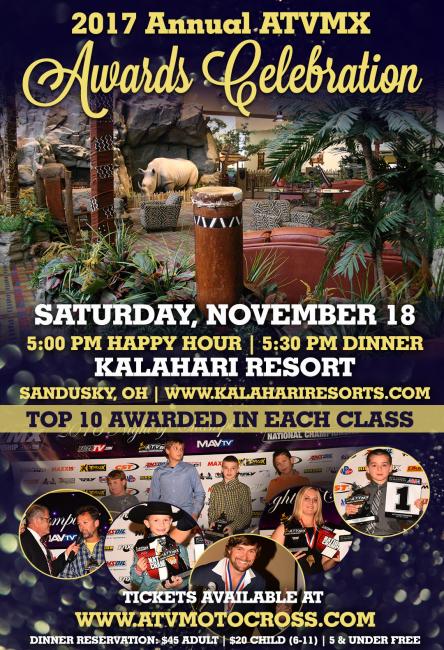 With the big storm brewing during the weekend combined with the 16th anniversary of the 9/11 attacks, it brought a very somber mood to the event at least for me. The series honored its first responders and military in a very emotional ceremony each day and between all of those memories and not knowing how things were going in Florida, it was hard to get into the regular happy and excited flow of a race weekend. Once I had heard that my family down there was safe it made things better but still not a normal weekend and as I chatted with others they were having the same issues as they too awaited info from friends and family. The event itself was great, the weather was great and the racing was great as we saw XC1 Pro Walker Fowler secure his 3rd championship as well as Tayla Jones grabbing her first in the WXC class on Sunday so there was plenty of fun for sure. Noah Mickleson's name popped up when someone asked about Sky shot and they said he didn't even hit it due to the course being blocked with a few hay bales to keep the approach to it slowed way down. I chuckled because I know he would have been flying high and really freaked the GNCC fans out when he launched it if he could have! It is pretty cool seeing racers run both series and it is always interesting to see how they do. Westley Wolfe is a rider who has been excelling at both series and this being his first season in the XC1 Pro class has been enlightening to watch him race. Wolfe grabbed his best finish of the season at this round with a solid 4th and I suspect we may see way more out of him in the next few seasons. The Unadilla round has always been a fan favorite and with just shy of 2000 entries, it floods the facility with racers and fans. It is usually a solid round for ATVMX as well but the woods racers sure run deep in that region. For many it is the only chance they get to throw roost on the MX track and even if they are not motocrossers and get big air, they have a ton of fun and get to brag about racing on such legendary dirt. There are still 3 rounds left so if you've ever wanted to try GNCC racing, these are three great races just waiting on you! You can find most of the info you need at www.gnccracing.com and even if you don't race, come on out and see what the tree bashers do!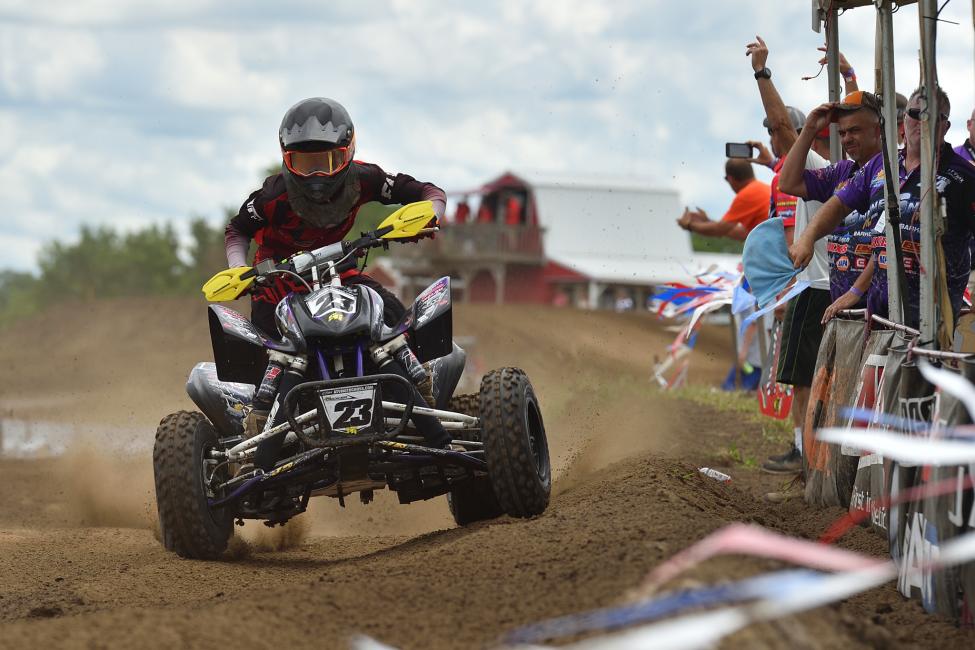 Fall is rolling in and while the MX action slows, there are still several events coming up to keep everyone on the pegs for a bit longer. With so many in school or college I would imagine racing is not on everyone's minds including mine as I fall into the last rounds of the season. I know that we will all be seeing the Hetrick wedding which is fast approaching and I know we all wish them the best of luck and well wishes for a long and happy marriage. I think fall weddings are best so I will be looking forward to seeing the images, as Carlie is quite crafty so I suspect big things! Fall is also my favorite time of the year as hunting season starts and I can get some tree stand therapy to unwind from another season of chasing the races. Of course it is also harvest time and we make all sorts of things here to preserve all the garden goodies we have been tending to. Nick Gennusa has a serious hot pepper addiction that I have been feeding all season so I will have to try and make sure to bring him among others some preserves to the banquet.
That is all from me this week as I prepare to hit the road to cover an event in Indiana, then one in West Virginia so back to the grind as they say. Please be safe in all you do and we all pray for those in Florida that were affected by the hurricane. God bless you all!