Rodney Tomblin
TimeThursday, August 10, 2017 | 7:40 PM
RacerTV will be LIVE on Saturday, August 12 from 10 a.m. CST / 11 a.m. EST until 5 p.m. CST / 6 p.m. EST. Be sure to catch all the action LIVE online if you can't make it out to Loretta Lynn's Ranch.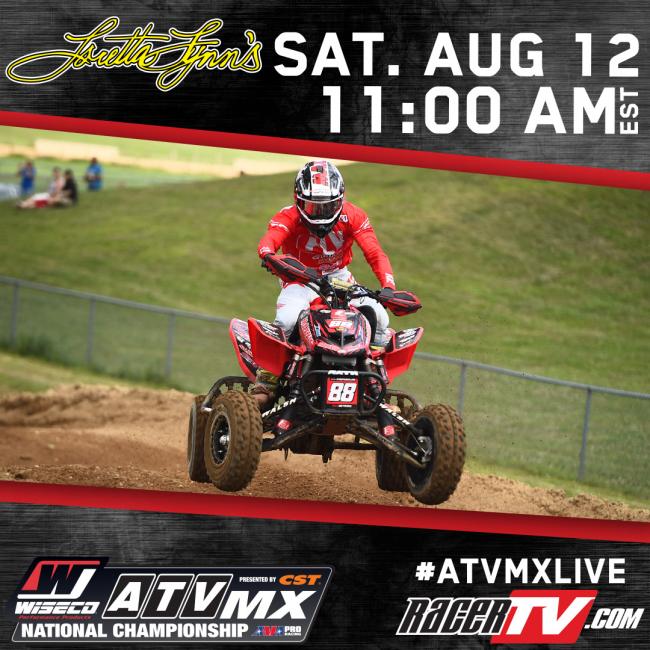 Special Information:
Benefit Spaghetti Dinner - Friday Aug 11 at 5:30 p.m. in the big pavilion
Silent Auction - During Spaghetti Dinner until 6:45 p.m.
LIVE AUCTION - Friday Aug 11 at 7 p.m.
Every year I say the same thing….I can't believe how gracious everyone is about donating to the 88 Live to Ride dinner and auction! Dinner is going to start being served in the big pavilion at 5:30pm. Thanks to Brian and Connie O'Neill for hosting/organizing the dinner along with all the volunteers who help serve. Sandridge Food is providing the 140 lbs of cooked spaghetti and sauce and Root River Racing will be supplying the drinks. Corrosion Specialties stepped up with a donation to cover any other expenses for the dinner.
We will be having the Silent auction while dinner is going on. There will be some great items up for bid - look them over, place a bid but don't forget to check back and make sure you're the high bidder!! Silent auction will end at 6:45pm and if it's like last year, it gets a little hectic with everyone trying to make their final winning bids.
Registration for the Live auction will begin at 6:30. You need to have a number in order to bid and let me tell you, you don't want to miss out! Even if you don't want to bid, you need to stop by and watch Stan "Big Daddy" and Digital Dave work their magic on the crowd. We have product, gift certificates, baskets, etc. Here's a good sampling of what will be available:
Of course, we will have the beautiful Event T-shirt Quilt that Linda McFarland does for us. Wanna catch the action on the track or at home? We'll have (2) Go Pro Cubes that were anonymously donated.
Thinking ahead to next year – don't miss out on the (4) ATVMX Season Gate Passess. Kame's Sports Center has given us a Rambo R350JR Power Bike.
New and exciting for this year are (4) Disney Day Hopper Passes and a (1) night stay for four people at the Sandusky Kalahari Resort. Shout out to good friend, Cindy Hull, for giving us several Collector Barbie Harley-Davidson items.
Tremellen's are giving us a BCC Skid Plate. Tires, you say you need tires? We will have both Maxxis and CST tiresvavailable along with other fun items from them both.
Holly Trimble, Becky's Flower Basket, will be creating (2) beautiful fall wreaths.
Lisa Howe, another good friend from home, is designing Mommy & Me Aprons just for our event!
The Nine6Nine; Maxxis/Liquid Wrench/Elka/Honda; Fierce Powersports and Ford Bros. Racing teams are all donating baskets (cannot wait to see what they come up with!). Huge shout out to a group of amateur families – Arnal; Kimmy; Revia; Tummel and Tvergyak for putting together two baskets: Moto Mom and Doggy.
And, I'm not sure what he's come up with, but Ken Hill is excited about his donation this year!
Baldwin Motorsports; Hinson; JB Racing; LS4 CustomFiber Components and PEP are donating gift certificates.
In The Loop with Gloop: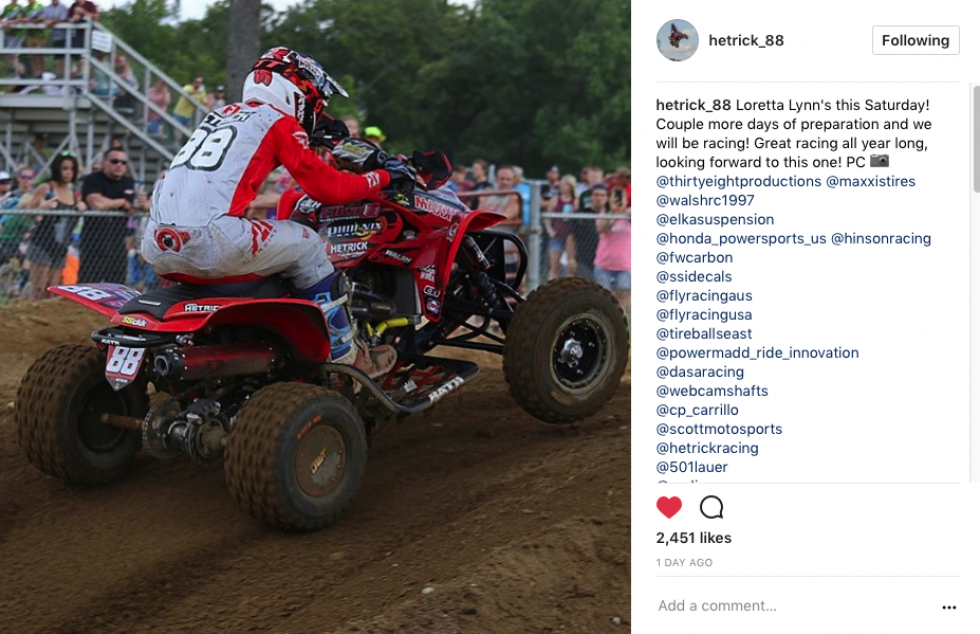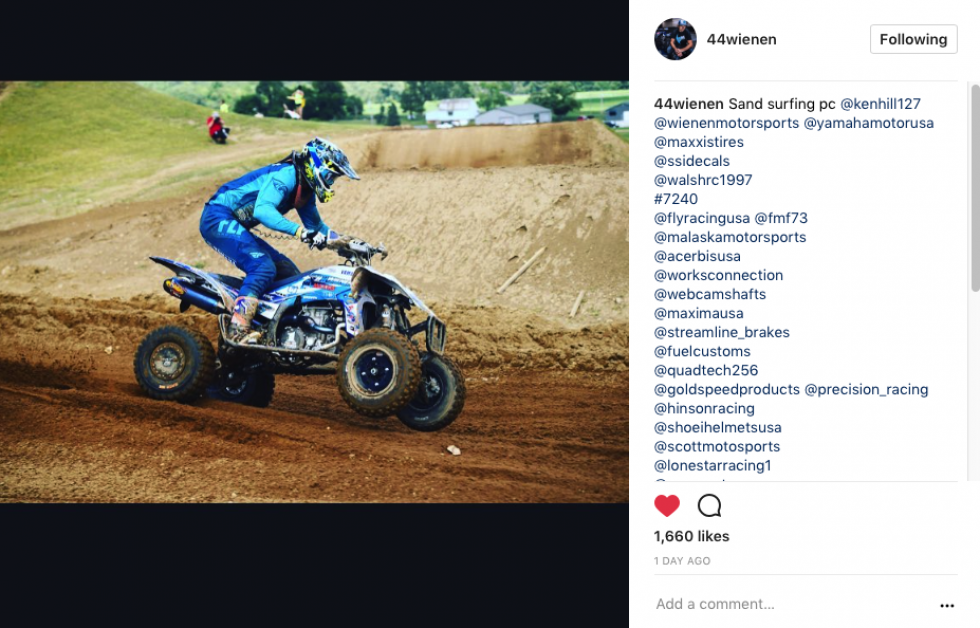 This weekend it going to be one awesome race. Two great competitors hanging it our for the Championship!. And don't forget that Thomas Brown and Jeffrey Rastrelli are fighting for the 3rd place spot!
Keeping up with Ken Hill:
Two moto's is what is left for Chad Wienen and Joel Hetrick as we prepare to watch it all unfold at the final round of the 2017 ATVMX season. This season sure has gone by fast as it seems like just a few weeks ago I was shooting Chad at his track in Florida as he prepared for his title defense and he knew then that Hetrick was going to bring everything he had as he went after his first Pro ATVMX championship. Chad did not say much when asked about his thoughts on the upcoming season, no hype or bravado, just a simple "I am looking forward to it" was all he said. Looking back on the season I can't help but wonder if there may have been a moto or two early on where he could have made a harder charge or planned a strategy a bit differently but seriously, when you are up against the likes of a Joel Hetrick is there really any plan beyond going 110% as the gate drops? You can't lay up or have a go after him in the second moto, you have to just ride your race and take the fight to him in every corner and over every jump.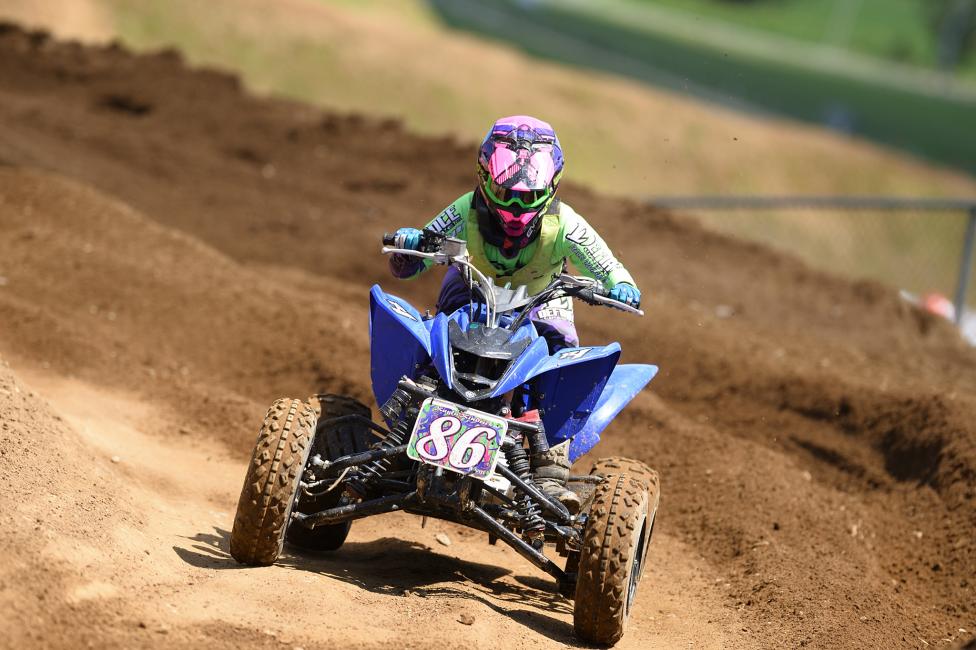 And it is not that Wienen has slowed down, not one bit in my opinion, it is fact that Hetrick has closed the gap and done so with fewer mistakes. I stated years ago when Hetrick supporters claimed he was going to win the championship that he was not quite ready and it would take a few seasons to fine tune things into a championship season and now here we are, sitting on the cusp of what could be that first championship he has sought for so long. It has been a long quest that started in the mini ranks as he pounded his way through class after class. It was easily seen that at some point he would be in the position he finds himself in right now, the very horizon of an already long career that is ready to dawn either a sunny weekend or a thunderstorm of emotion should things not fall his way. Emotionally many have no clue what is going to happen and as a fan of racing, I find it intense and exciting while I pull for both riders to have a safe and successful race this weekend while giving us everything that we have come to expect from this exceptional pair of riders. One rider will stand tall this weekend while another will fall. It is the epitome of battle, a winner and a loser, a victor and the defeated. It will be one of the best races of all time and everyone will be able to watch it live on Racer TV so please share the broadcast info so we can get the world tuned in to watch these two end the 2017 season in an epic duel at the legendary Loretta Lynn's Motocross facility!
Now as much joy as this weekend may bring from crowning champions to putting the wraps on another season, I will be feeling like someone just kicked my dog. My long time friend, your friend and series asset David Smith announced he will be hanging up his cameras and turning his attention to a new career when this season ends. I had been talking with him all season long as he mulled the idea of making a career change after an incredible 19 year run shooting ATVMX and GNCC racing and everything in between. He made a post while at Loretta Lynn's last week and I followed that up with a post of my own that may have let the cat out of the bag early but in the end, I think everyone getting a chance to go see David and his family this weekend to shake hands and give thanks for his dedication and service will be a good thing.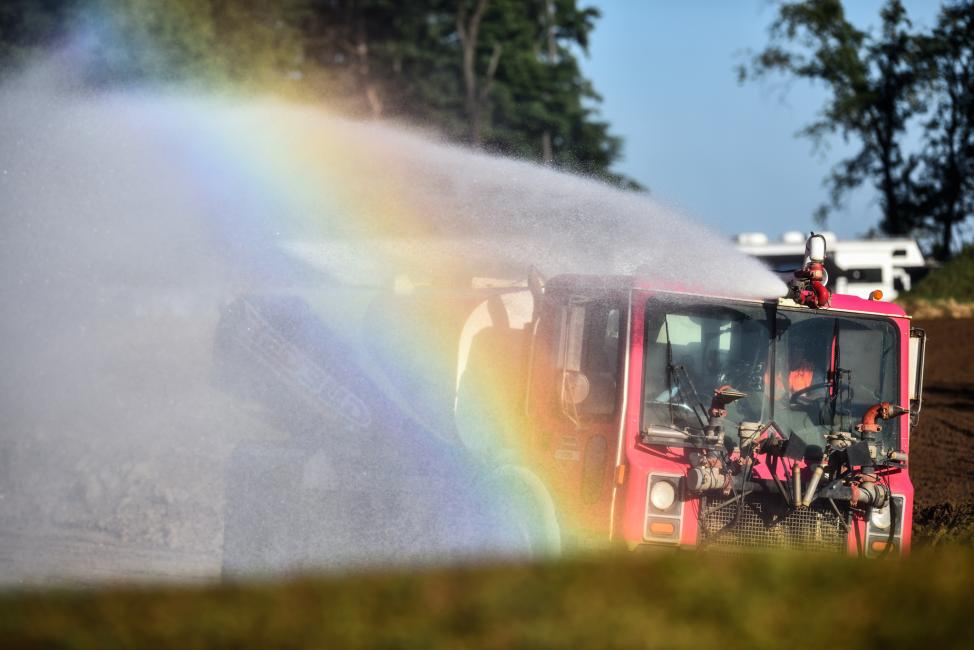 David and I did not start out on good terms; in fact we came close to sorting things out in the woods at the Steele Creek GNCC over a decade ago. It took a few rounds for him to realize I wasn't at the races to sell images to riders and for me to see he was not just a hack with a camera and selling images. David and I have become very good friends and I have come to enjoy and love his family as my own over the years. He is a walking history book when it comes to racing and has captured some of the most iconic images of our sport and will not soon be forgotten regardless of where his future takes him. We have stood side by side baking in the heat, drenched to the bone in torrential rains and tromped through many miles of mud all in the name of getting the job done. I can't say it has all been fun but I like to think we kept each other going on those days where an office job started looking real good! His big toothy smile was always easy to spot as well as his infamous red Fox racing hat. Many times we would end up standing next to each other at a spot shooting and make each other laugh so hard we couldn't do our job and I know of no one who will ever take his place as my friend and confidant at the races. The weekends will never be the same for me but I know we will remain friends forever and I as well as my family wish him and his family the very best in whatever they decide to do! I'm going to miss you Blue!
That is all from me this week. Last week I was MIA due to being at the ranch all weekend trying to survive. One camera is all I could manage to carry and by weeks end I did not even want that one hanging off my neck but slowly I am healing up so while I will miss ATVMX I sure will embrace the break I get after this weekends showdown is complete! Please everyone be safe, have fun and lets send the 2017 season out with one hell of a great race! God bless you all!