Rodney Tomblin
TimeThursday, July 27, 2017 | 5:25 PM
The dawning of the 2017 Wiseco AMA ATV Motocross National Championship presented by CST Tires, an AMA national championship, presented us with such high hopes and anxieties for so many. Many of the then unknown battles that waited have come to pass while some still wait for the finishing blow. This weekend's race at Red Bud will mark the penultimate round to one the greatest championships in the 32 year history of the series and could hold the key to how the final point standings for many championships.
The obvious attention that is basically overshadowing all the title fights is the AMA Pro ATV class between Chad Wienen and Joel Hetrick. We have a new point leader in Joel with the final two rounds looming and a whole different energy will electrify Red Bud this weekend. This has likely been the most celebrated race on the schedule next to Loretta Lynn's Dirt Days. The outcome of this weekend will carry a lot of weight heading to Loretta's and the final round. Chad Wienen has shown no true signs of stress. In fact he seemed very quietly confident as the points have shifted out of his favor.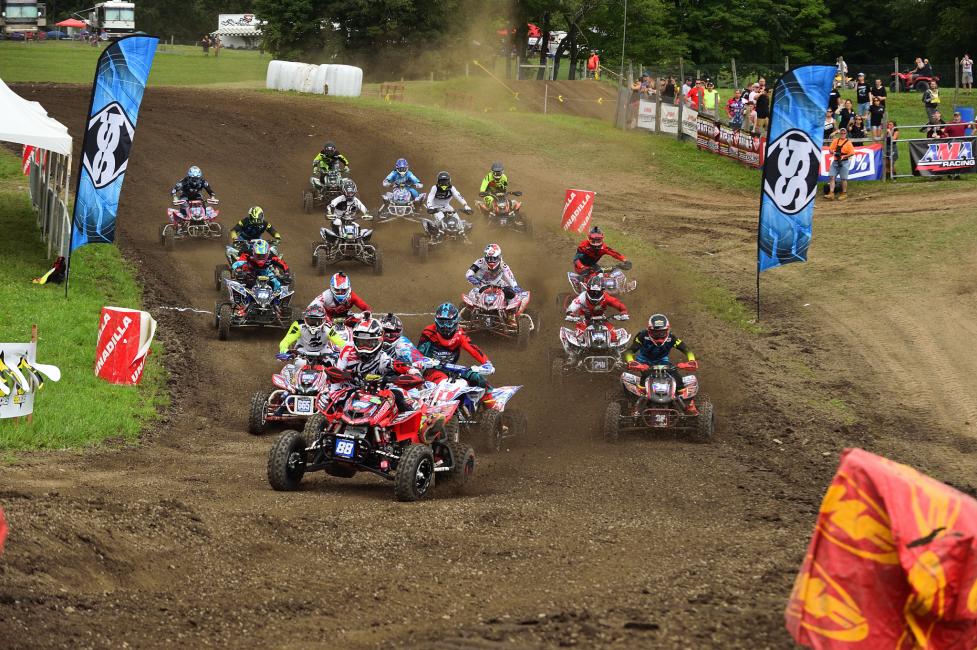 History may tell the tale in the Five-Time Champions favor as he has won this race a total of five times in 2010, 2012, 2013, 2014 and 2015. He can also rest on the fact that though Hetrick did get the overall win, they did split motos. The confidence on this alone has got to be inspiration for the champ. He did not seemed at all rattled at either of the last couple rounds with the point race tightening. The fact he is a five time champion may be in his favor as he really seems to know how to control the situation. He is likely going to be very focused in the coming few weeks.
Until last year the Red Bud track seemed to be a bit of a struggle for Joel Hetrick. However the win last season may have been a split but it may have been a signal of the turning tides. Hetrick actually split with Wienen last year at several "Wienen style" tracks that was considered to see the champ win at without much doubt. That was not the case and had things started out differently for Joel Hetrick last season he could be defending the title instead of trying to gain the title. These things loom in his mind and he has worked hardest at his weaknesses the last few seasons and wins this year at Millville and Unadilla show his true racing diversity.
It's still unknown what the fight will bring this week. We talk about "game changers" at the races lately and we could see something like that really upend the title fight. What if Jeffrey Rastrelli, Thomas Brown, Nick Gennusa or Josh Upperman takes the win this weekend. Or what if one or more get between them and split the points to a bigger gap in either favor? The answer is basically the same for both riders. If it is Joel's favor then it would make the finale' at Dirt Days a little easier think about. If it is in Chad's favor then he too could be approaching the final round a little more calmly too. But the fact is that these riders at the moment are on a little level and in reality the starts will be more key this weekend than possibly in life of this rivalry.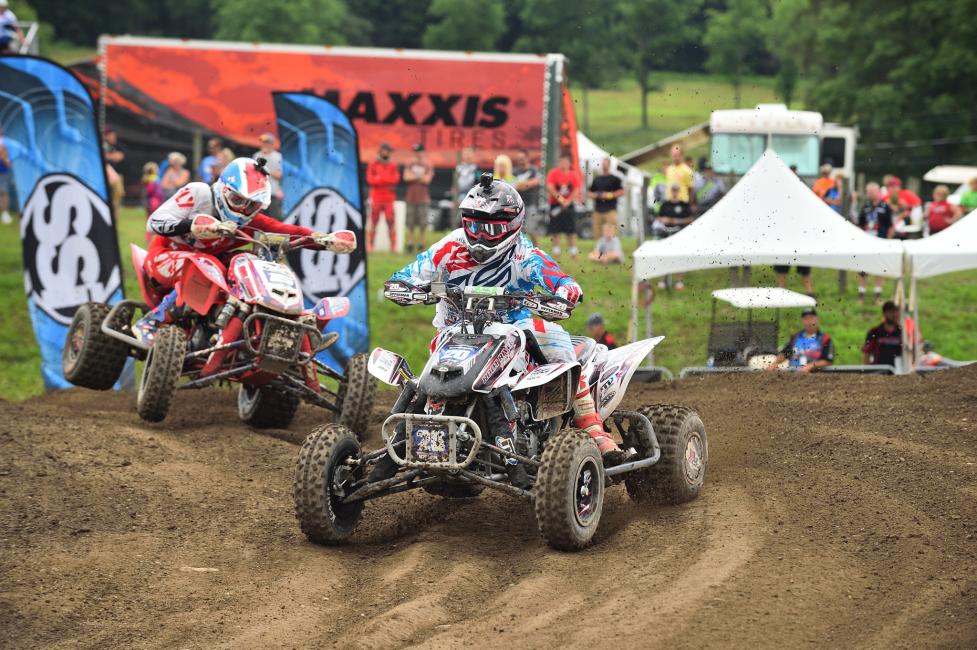 As I mentioned earlier, the AMA Pro Classes have overshadowed so much recently but don't be fooled. The amatuer classes have been all they were expected and more, The Pro Am and Pro Sport classes have offered possibly some of the most exciting racing to watch in reality. The depth of talent and fact that so many can win at any given time makes for a very competitive fight for the riders and a very great spectacle for the race fans. There have been four different winners in this class this season Parker Wewerka with three straight wins to open the season is leading Westley Wolfe and the field by 36 points and will likely win the title. Westley has one win, Alan Meyers has one win and Sam Rowe has captured last two wins straight and hopes to win more. Parker can thank his amazing start to the season with three straight wins and the consistency he has finished as well for the points lead at this point.. When the chips are down, Parker has stood up to the challenge. Although he looks frustrated and disappointed when isn't in the center of the box, he has no reason to hang his head. He has truly earned his points lead and with a little luck the hard work will pay off. No one can rest in this class as there still could be twist in the plot.
The Pro Sport class also is exciting to watch. Noah Mickelson appeared that he may reach an untouchable status as the season began. Though he is touchable he is hard to beat and hard to keep in touch with when he gets out front. A total of four wins on the season is somewhat dominating but at the same time the field is showing some major signs of talent potential. The class has seen three different winners this year itself. Noah, Alan Meyers took one win and Peyton Zimmerman took two. The points race however is between Noah and his big brother Haedyn Mickelson who may not have captured any overall wins but has seen the checkers in motos. It looks like Noah should have this one pretty easy, but again there are two rounds to go. Drops may become critical if they don't go the point leader's way.
As Red Bud and Loretta Lynn's approaches, there is a lot of things going on and being prepared for that weekend. The youth riders will have a chance to win great stuff at Loretta's once again and the grand prize will be a Kymco youth quad. Details are coming on this one. However we do have details on the annual 88 Live to Ride Spaghetti Dinner and Auction set for Loretta's again this year. Debi Bartosek sent the following to key us in on the many things coming up over the next two rounds of racing.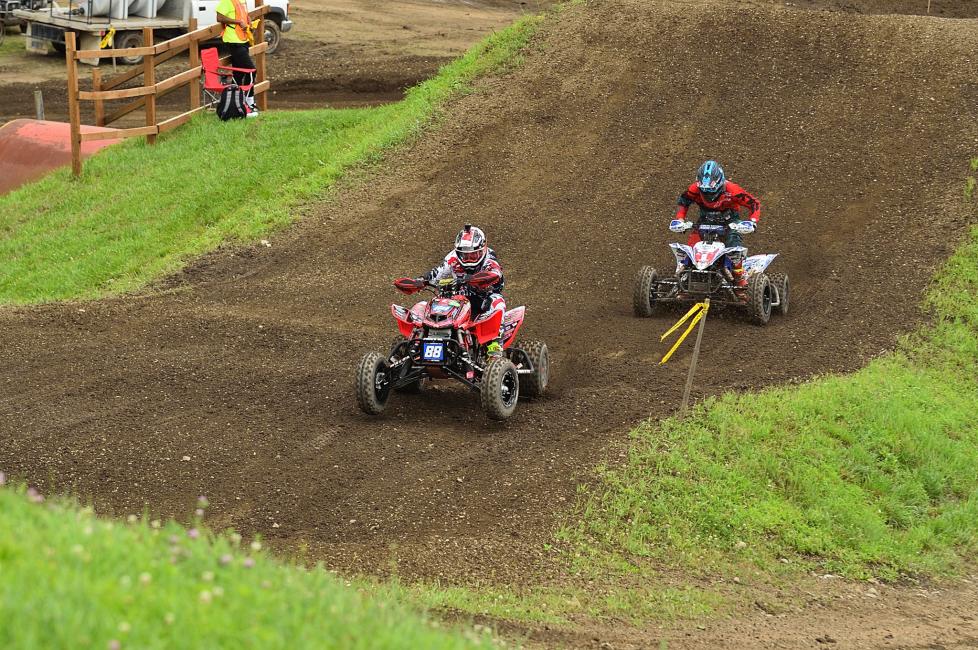 Debi wrote;
Hello, Rodney!
Every year I say the same thing….I can't believe how gracious everyone is about donating to the 88 Live to Ride dinner and auction! Dinner is going to start being served in the big pavilion at 5:30pm. Thanks to Brian and Connie O'Neill for hosting/organizing the dinner along with all the volunteers who help serve. Sandridge Food is providing the 140 lbs of cooked spaghetti and sauce and Root River Racing will be supplying the drinks. Corrosion Specialties stepped up with a donation to cover any other expenses for the dinner.
We will be having the Silent auction while dinner is going on. There will be some great items up for bid - look them over, place a bid but don't forget to check back and make sure you're the high bidder!! Silent auction will end at 6:45pm and if it's like last year, it gets a little hectic with everyone trying to make their final winning bids.
Registration for the Live auction will begin at 6:30. You need to have a number in order to bid and let me tell you, you don't want to miss out! Even if you don't want to bid, you need to stop by and watch Stan "Big Daddy" and Digital Dave work their magic on the crowd. We have product, gift certificates, baskets, etc. Here's a good sampling of what will be available:
Of course, we will have the beautiful Event T-shirt Quilt that Linda McFarland does for us. Wanna catch the action on the track or at home? We'll have (2) Go Pro Cubes that were anonymously donated.
Thinking ahead to next year – don't miss out on the (4) ATVMX Season Gate Passess. Kame's Sports Center has given us a Rambo R350JR Power Bike.
New and exciting for this year are (4) Disney Day Hopper Passes and a (1) night stay for four people at the Sandusky Kalahari Resort. Shout out to good friend, Cindy Hull, for giving us several Collector Barbie Harley-Davidson items.
Tremellen's are giving us a BCC Skid Plate. Tires, you say you need tires? We will have both Maxxis and CST tiresvavailable along with other fun items from them both.
Holly Trimble, Becky's Flower Basket, will be creating (2) beautiful fall wreaths.
Lisa Howe, another good friend from home, is designing Mommy & Me Aprons just for our event!
The Nine6Nine; Maxxis/Liquid Wrench/Elka/Honda; Fierce Powersports and Ford Bros. Racing teams are all donating baskets (cannot wait to see what they come up with!). Huge shout out to a group of amateur families – Arnal; Kimmy; Revia; Tummel and Tvergyak for putting together two baskets: Moto Mom and Doggy.
And, I'm not sure what he's come up with, but Ken Hill is excited about his donation this year!
Baldwin Motorsports; Hinson; JB Racing; LS4 CustomFiber Components and PEP are donating gift certificates.
Saving the most exciting news till last, we are going to have artist, Bill Patterson with us!!
"This year we are thrilled to announce that Bill Patterson, world renowned painter specializing in racing artwork, will be onsite to paint a special piece for the 88 Live to Ride live auction, Friday evening, August 11th. It will be centered on our great series, the AMA ATVMX National series. Bill will paint the entire piece before our eyes and the actual painting will be auctioned off. You DO NOT want to miss this one-of- a-kind opportunity to own a piece of our race series history!" A HUGE THANK YOU to Tom Vossman for suggesting and arranging for Bill to be with us!
Whew, that's it for now….thanks for the space to share our awesome news – see ya at Red Bud,
Debi
That's about it for me for now. If you can, get your butt's to down to Tennessee for the "World's Greatest ATV Motocross Racing Vacation" and the final chapter of 2017 and cheer your favorites on to victory. Let's check in with Gloop's Loop and with Ken " Born to Ride (with a broken back)" Hil. Till next time, God Bless Your Heart and All Your Vital Organs.
In The Loop with Gloop: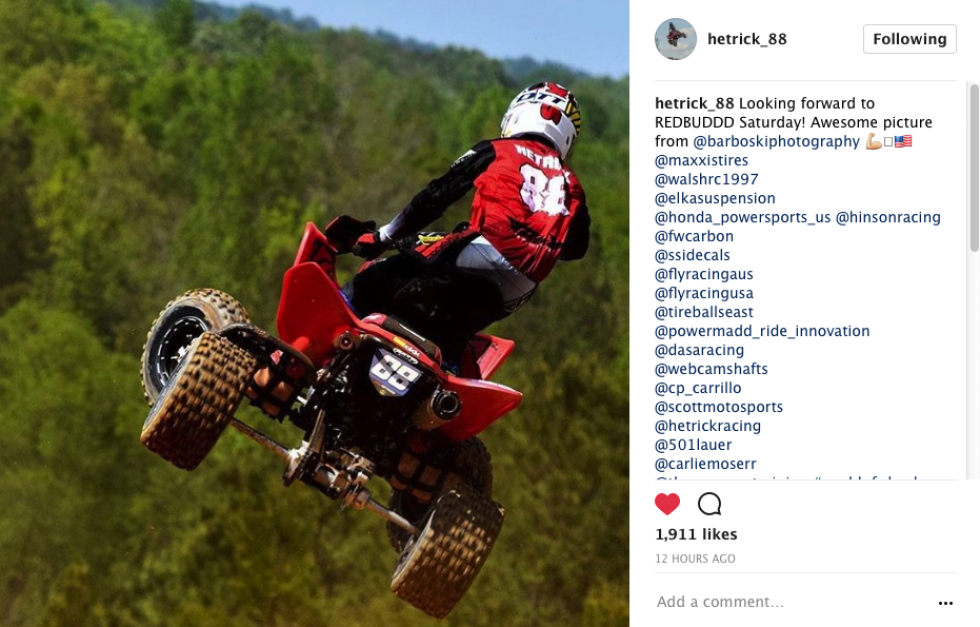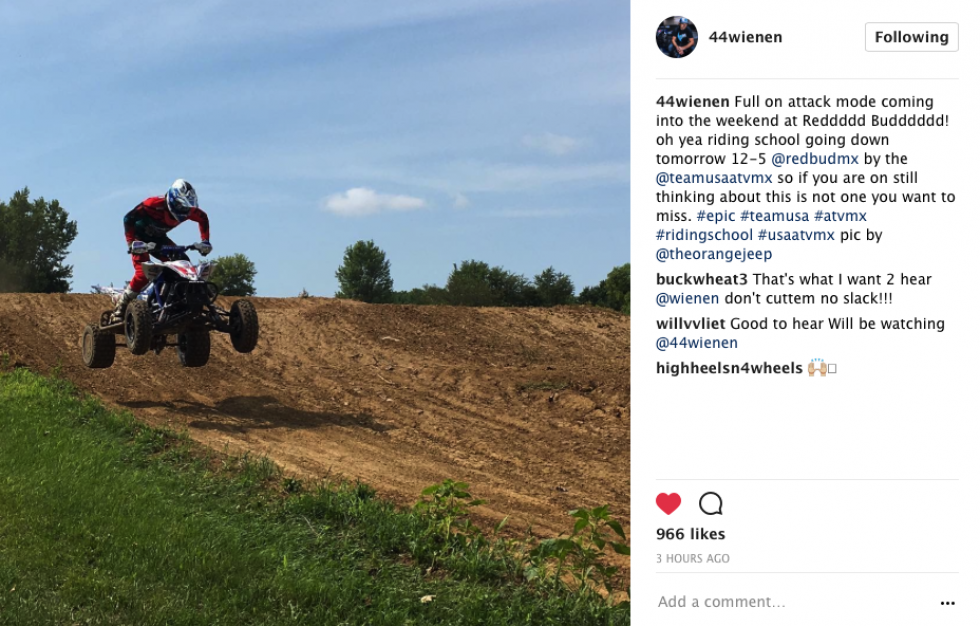 Keeping up with Ken Hill:
Well lets see, nothing has changed since last weeks Site Lap as we of course have not had a race but that is about to change as we get ready to hit REEEEEDDDDDBBBUUDDDDD! That's how it sounds in type even though my spell check disagrees! I would imagine that Chad and Joel are both filled with little butterflies as the stress starts to build around the final 4 moto's of the season as the points are separated by a razor thin margin. Ok, so maybe little colorful butterflies do not match the personas of these two gladiators, more like small dragons who breathe fire and damnation! The two are once again locked into a battle that no one can predict as the future is yet unwritten and remains in their hands and up to fate to decide who will stand victorious! It indeed is an exciting time if either of these two happen to be your favorite rider or just love a good race and enjoy seeing the two top ATV MX riders in the country go at it non stop.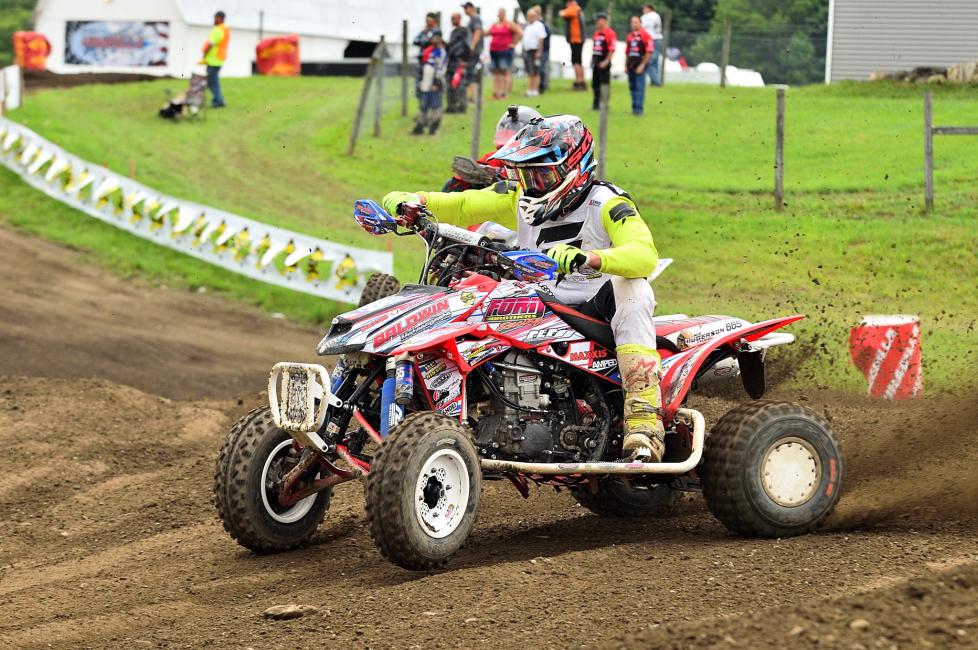 Some would say they are the best in the world and you know what, they will get their chance at owning that title as Hetrick, Wienen and Brown travel to Italy to compete at the European Quadcross of Nations in September. I haven't followed this event closely enough to discuss it at length simply because its so far out in my world that it is not on my radar but one thing I do know is they have set up a raffle to help raise some cash for the traveling expenses so please if you can, get yourself a raffle ticket or two as well as the teams "GoFundme" page which allows for a direct donation. You can find that information here gofundme.com/help-team-usa-at-race-of-nations or go.rallyup.com/usamx .
Switching gears now, I got a message from Robin Ford asking if I would join them for dinner Friday evening at Redbud which of course I accepted and then a post from her popped up in my feed that showed that big hauler and trailer of theirs all banged up! It seems a semi decided it wanted to become one with their race hauler on the highway! First, I am very thankful they are all injury free and the damage was contained only to the rig and then I thought wow, she is dealing with the race stuff, now a banged up rig and still invited me to eat with their crew! This is the type of hospitality you find throughout the series and I wanted to share that just to show how things are done for those who only follow the racing and have no knowledge of things beyond social media posts and the race reports, truly a class act that can be found in every pit at every event and I am always so thankful to see it and it includes me so blessed seems to cover it best!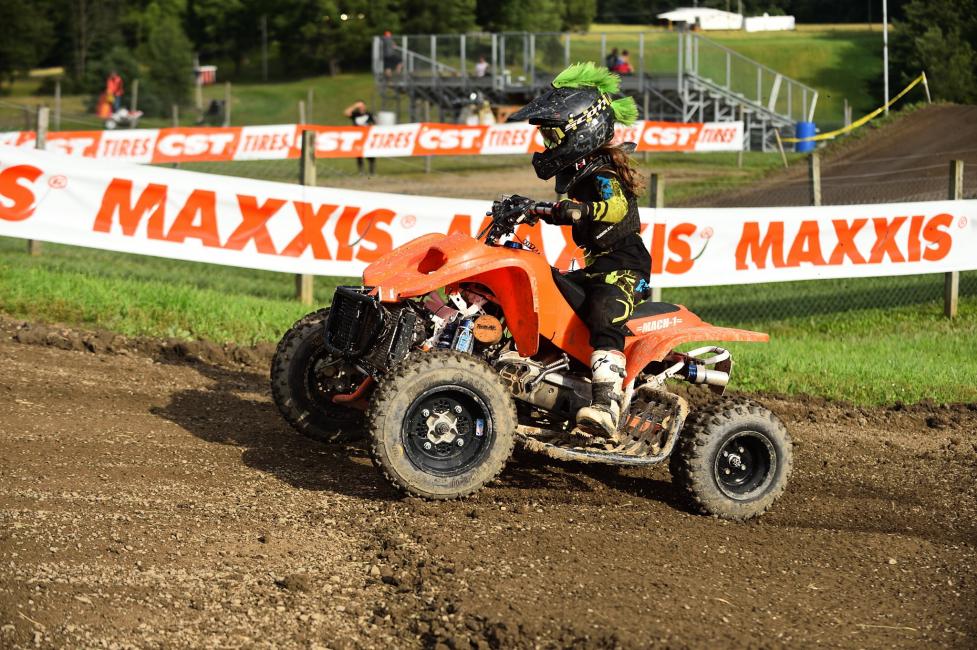 Speaking of social media, I have to go back several years and repeat what I have asked for relentlessly and that is for everyone to hit that share button. Be it the series media or posts from the Pro's, we need your help in keeping the information highway running wide open and in the hammer lane. That is how social media works, it doesn't work if you see a post and hit "like" and move on to the next video of a man on a rope swing being mauled by a kitten! The Pro's should be leading this charge as this is the vehicle of advertising and promotion of the day and foreseeable future and to dismiss it is like shooting yourself in the foot! As a sport, we have virtually no outside media to promote through so this falls on your shoulders.
So that is all from me this week as I finish chores and start packing gear up for the last big run of the season. Eleven days on the road, more if I stay down south and don't come home between the Loretta Lynn's Amateur National and the final round of our series. All I know is its hump and more humps for the next few weeks for myself and many of you. I should at least be walking normal at Redbud and not hunched over like I am 103! I am feeling better as the fracture in my vertebrae heals, in fact I even took a ride on my hog last week! I could only stand about an hour before my back was telling me to park it and stop being a jack wagon but it was great to be on the road with the wind in what's left of my hair! I wish you all good luck this weekend and as always may God bless you all!