Rodney Tomblin
TimeWednesday, July 19, 2017 | 4:45 PM
The final push for the 2017 Wiseco ATV Motocross National Championship presented by CST Tries, an AMA national championship, is on! The amateur classes are starting to wind down and some have already clinched titles while others will be determined over the course of last two rounds. The obvious news and talk this week is the new point leader and the possibility that a new era and new champion could be on the horizon. No matter who you are cheering for and hoping to see win the AMA Pro ATV Motocross title you have to admit that the battle is exciting. The edge of the proverbial seats are being used to capacity and with two rounds left something will break soon and some will be left sitting on the floor while others stand and cheer. These are great days in the ATV Racin' Nation.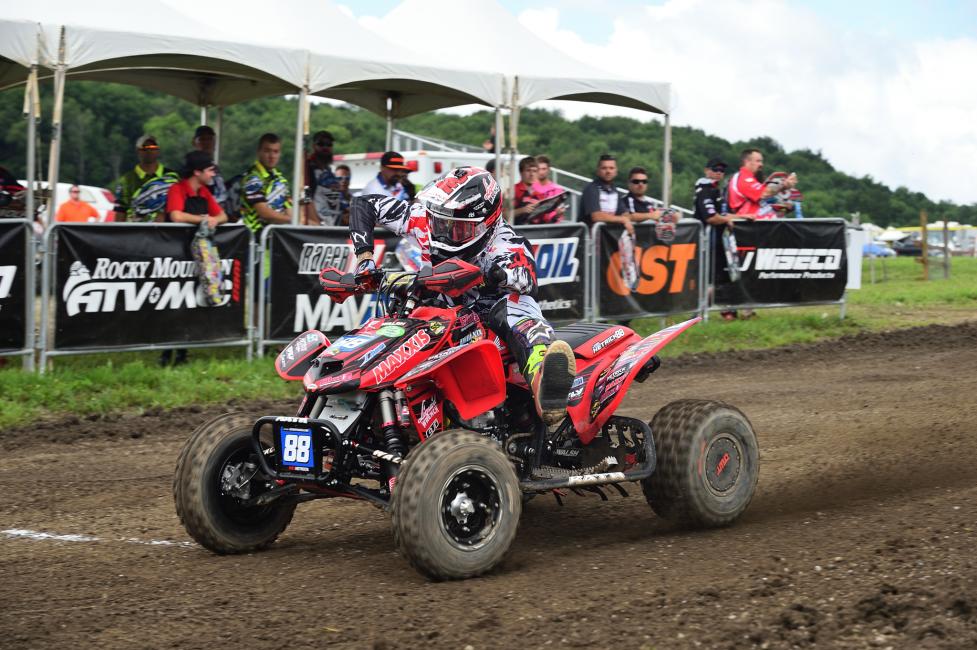 The amateur scene has its own excitement brewing and though a few titles have been claimed there are many to still sort out. I do have to admit though that some classes point battles did not shape up like I had expected but I feel that we have still seen the best season of competition in the history of the sport since I have been involved. I have never seen amateur racing at the level it has become. If I compared it to the two-wheel side of things I have to say that the battles are like watching the Loretta Lynn's Amateur National Championship Finals every round of the ATV motocross. It really is a treat to watch every time the gate drops and until the last couple of seasons it was hard to say that and really mean it.
One rider this past weekend really stood out to me showing heart and determination this week. Even though this rider I am talking about only won one overall out of four classes he competed in, he was in the fight in the other classes. The level at which he rode is worth a little recognition and may be the glimpse of some big things to come. Ian Jucia competes in the 90 Open Jr (8-11), 90 Shifter (6-11), 70 Open (6-11) and 70 Shifter (6-11). Ian took some moto wins in the other classes and finished second in moto twos but the 70 Shifter class was all Ian's this weekend. He rode each time out with the most heart he has ever shown and that is saying a lot cause this kid always rides with a lot. This weekend though he broke through to a level that will be hard to knock him off from and the competition best is watching out. We may see some rivalries being born in these younger classes that will carry on through to the pro ranks.
The upcoming RedBud ATVMX has the potential to be one of the greatest races to date. The gloves are off so to speak and each rider has staked their claims to this championship but only one can win. The surprise is waiting for everyone and it's almost like waiting on Christmas. I just hope the package stays wrapped to the final motos at Loretta Lynn's Dirt Days.
The excitement will be off the scale on the track this year at RedBud and may prove to be the most challenging round of competition so far this season. I expect to see riders dig deeper in the final rounds and we may see things we have yet to see. Off the track things will be pretty exciting as well. I spoke with Amy Ritchie this morning and she tells me that things are looking good for the upcoming weekend of ATVMX. She says they will be doing the bicycle races again on Saturday evening and they are also planning a RedBud Water Slide. The location will be by "The Leap" and even though it has been redesigned some it should still be the prime location.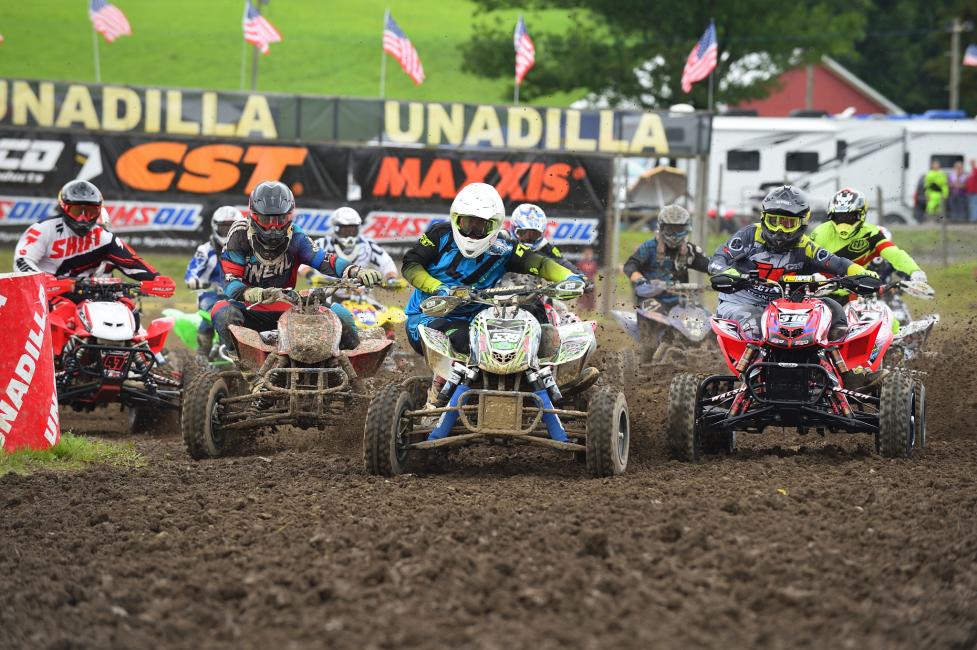 The upcoming QXoN in September is quickly approaching and the team is preparing for the trip trying to cover all the bases. One thing is certain and that is that it is being taken very seriously. It's not like these guys are just loading up some stuff and sending it over for a normal race. There are so many challenges the team will face on and off the track. Getting there is a big part of it and if you would like to help the team go there are a few ways to do it.
The following information should be helpful in finding out all the details of the event and what it entails for our team to make the trip:
Just as with the bikes for the MXON the responsibility of funding unfortunately falls on the riders, teams and all others directly involved. If we are fortunate enough to collect enough funds the remainder will be held in the Team USA ATVMX LLC until next years event currently scheduled for Denmark.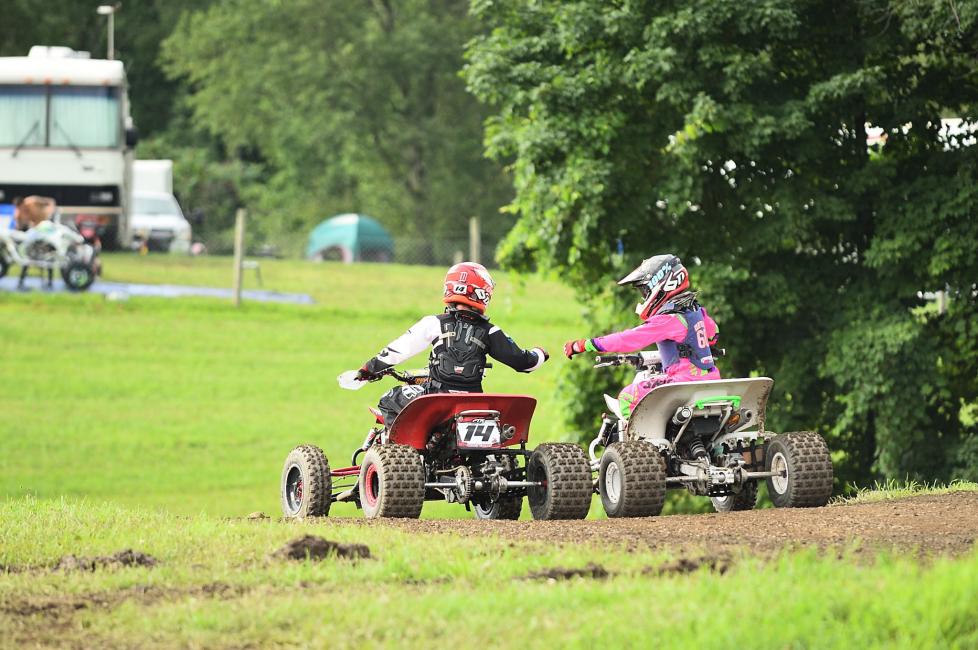 If willing below are a couple options available to assist, the first is my favorite, but I'm a gun guy...
Follow this link for a fundraiser we are doing for the team to be able to afford to go: https://go.rallyup.com/usamx
Here is another link to help our the Team: https://www.gofundme.com/help-team-usa-at-race-of-nations
Also here are our Social Media accounts if you are willing to share those as well that would also be appreciated.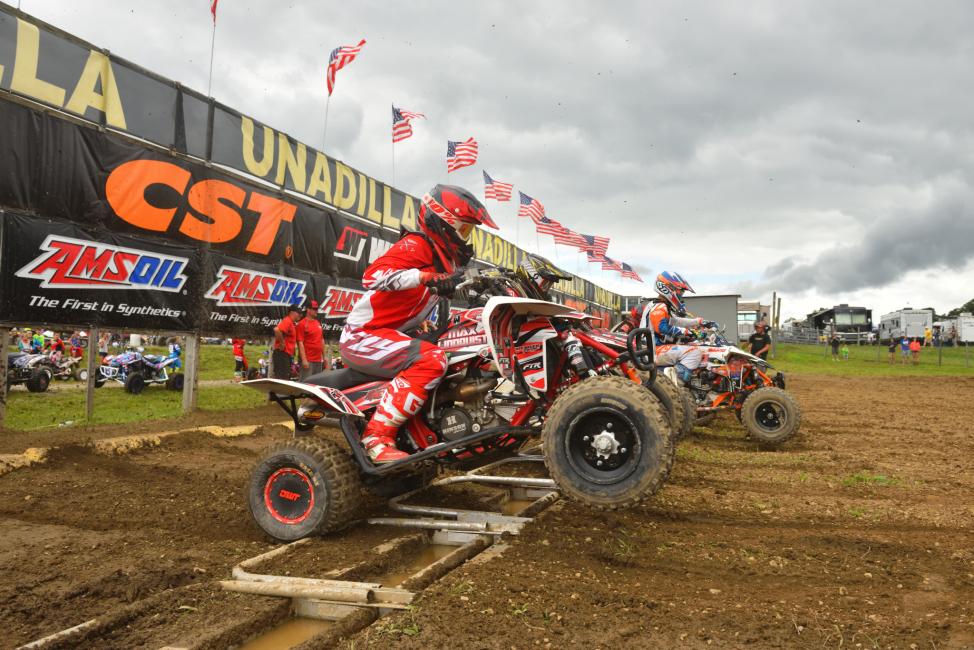 Hopefully this will help you understand a little more and give you more to think about as two of the USA's top riders wage a war against each other only to have to turn around and work so hard together to make this effort work. My hats off to all three riders Chad Wienen, Joel Hetrick and Thomas Brown for the extra effort being put into not only this season but taking it to the world. If you missed the Thomas Brown interview on the Quad-Radio Facebook page you can access it by clicking here.
That's it for me for now. Let's check in with Gloop's Loop and with Ken "getting the job done" Hill. Till next time, God Bless Your Heart and All Your Vital Organs.
In The Loop with Gloop: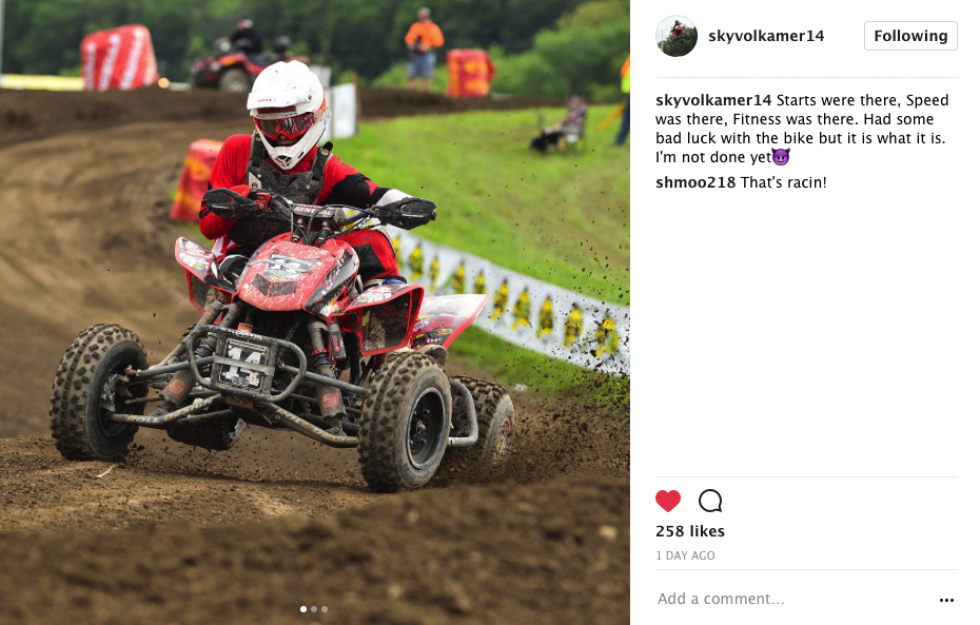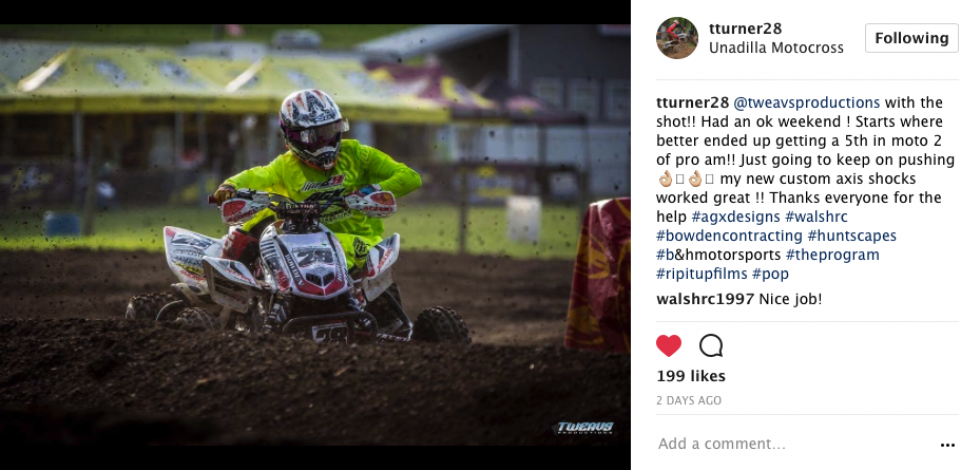 Keeping up with Ken Hill:
Well Unadilla lived up to my expectations, as the weekend was pretty sweet. The weather remained fairly cool and the rain held off during the racing, so I was happy because walking around in the mud just doesn't do it for me. The track looked good and it appeared extra attention was being paid to it throughout the racing, which caused some delays, but in the end I would say it was worth it. Even the banners looked great, which is hard to pull off, at this big track where getting them in places is harder than it looks. I did notice areas where it felt like the track was a huge sponge as I crossed it here and there and I meant to ask how it felt behind the bars, but was so busy doing my job I forgot to ask!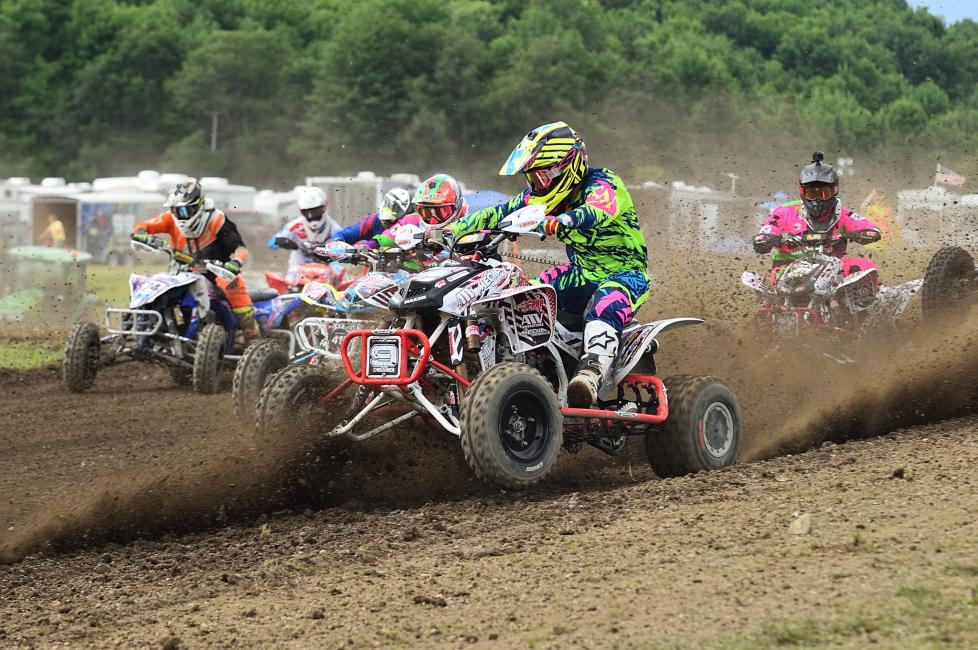 The question of whether Josh Creamer still has it was answered as he competed in a few classes and it was so awesome to see him back out there even if it was just for fun, although you'd be hard pressed to convince anyone who rubbed tires with him if it was fun because he threw everything he had at them! His style is just so cool to photograph and he has remained one of my favorite riders to shoot over the years. Its Wednesday so I may send him an email and ask him how he felt heading to work Monday morning! And of course, his demeanor and attitude off the track keeps him a fan and racer favorite and a true champion in so many ways. I hope we get to see him out there more often because he is truly an asset to this sport.
Now the pro race was solid in every aspect even though Joel dropped the hammer on everyone and flew to both moto wins. This gave him the points lead with 4 more motos remaining so things are as tight as ever heading into the final two rounds, which should be epic. The race for third had Rastrelli powering his way around Unadilla as he fought hard with Ronnie Higgerson and if you could take your eyes off the two upfront, the battle was real just behind them. I would say Rastrelli might be a player in the point's battle because I think he will be heavily in the mix at Redbud and Loretta Lynn's, which could throw a monkey wrench into the point's battle if he can work his way into things. A moto win or even a second place could be a huge twist in things! All I know is that it should be very interesting for sure and if Wienen can get a good start the battle for the win could be some of the most intense racing we have ever seen!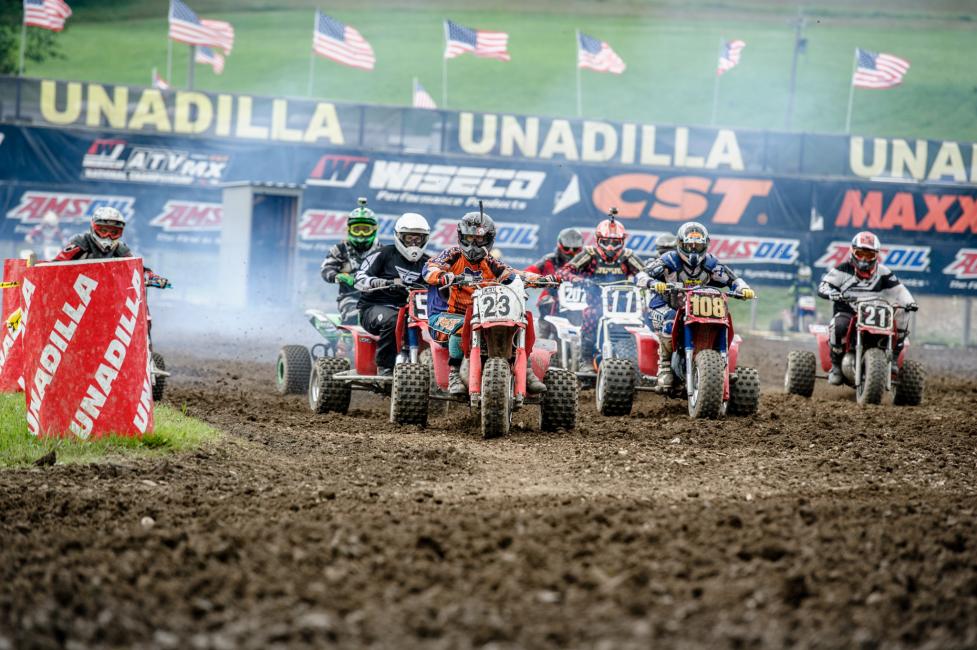 The trike racing was cool to see again but I felt let down as the riders left Sky shot almost untouched. I know, you gear up and hit it, but I missed the excitement of seeing a few of them air it out! What I did notice is how rough the track looked while they were racing versus the quads and how smooth things appeared showing just how far things have come in the past few decades. In any event, it was great having them out there and kudos to them for taking the beating and putting on a show for all of us!
That is about all from me this week. I paid a price for being there and even after a few days of rest I still feel like a truck ran me over but I do want to thank those that offered everything from drinks, a pit vehicle and even prayers. It was a challenge to myself to keep moving forward and get things done but at times, I was feeling like I should have been here at home sitting on my rear end and healing up. The little break I get between these rounds will be used hopefully to get that rest and be ready for Redbud, which is another monster track to hump around. As always, be safe in all that you do and may God bless you all!