Rodney Tomblin
TimeWednesday, July 12, 2017 | 6:30 PM
The final stretch for the 2017 AMA Wiseco ATV Motocross National Championship presented by CST Tires, an AMA National Championship, begins this weekend as the ATV Racin' Nation rolls into the "Home of Horsepower" at Unadilla MX. The famed "Dilla" will host one of the tightest championship battles we have seen since at least 2011 when John Natalie won his second championship title after top challenger, Chad Wienen, suffered a season ending injury while practicing at his home in Illinois. It was a storied season that year and the way things are looking for this championship battle the drama is just now beginning to unfold.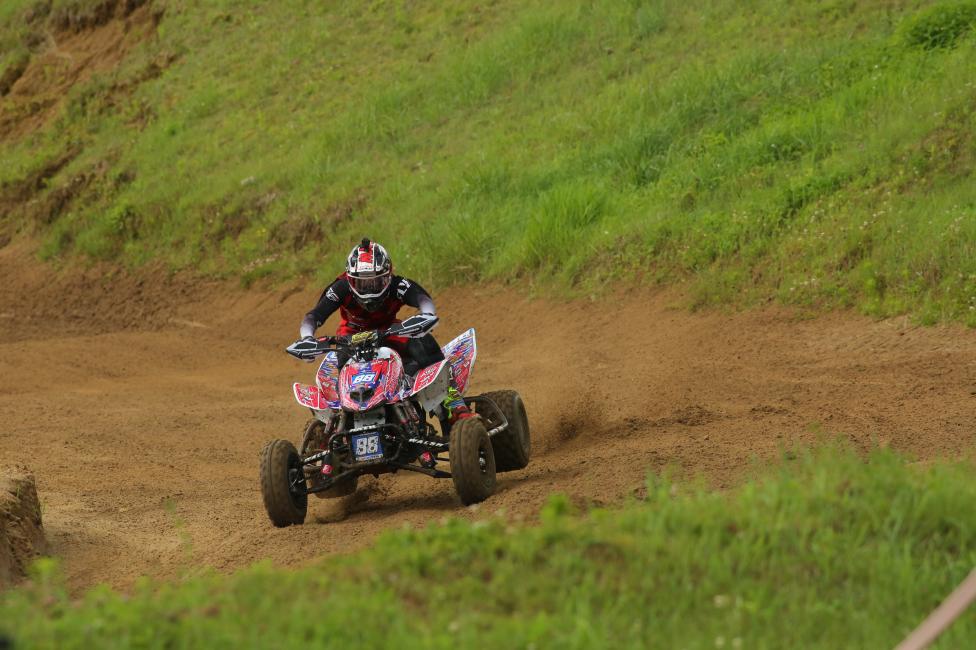 Only one point separates the AMA Pro ATV championship between 5-Time champ Chad Wienen and the challenger Joel Hetrick. The final three rounds will tell the tale of this championship and though many speculate no one knows what will happen. History has told us that Joel Hetrick is strongest at Unadilla with his small size utilizing the horsepower to his advantage on this big track. This however does not necessarily mean he will win as the results have proven. Last season Chad won here and everyone thought it was going to be Joel that would win. So don't expect anything when the starts of the AMA ATV Pro line up this Saturday. To say the gloves are off may be an understatement for both these riders as each wants it as much as the other.
The funny thing about these two enemies is watching how relentless they battle each other on Saturdays at any ATVMX national event and then how the rest of the week they have teamed up with Thomas Brown to work together preparing for the upcoming historic first trip to Italy for the Quad-Cross of Nations (QXoN). It's rather comical to see them breathing fire at each other one moment and then only minutes later talking about how they are going to work together to beat the world. The camaraderie is really amazing and I feel under different circumstances that Chad and Joel could be best friends.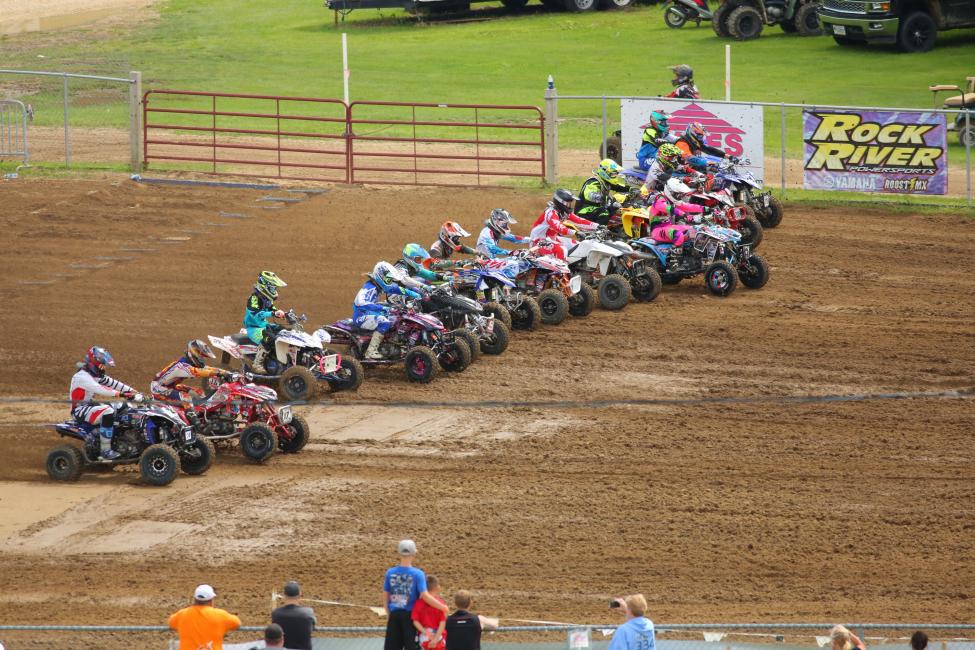 The battles this weekend will not reflect any camaraderie from Hetrick and Wienen on the track. Each rider has a purpose and a dream of winning the title this year. Joel as he has never won is in the best position he has ever been in at this point. The intensity level at this round should be off the charts as any ideas of being friends gets left in the pits as they wage war in their bid to become the best. Chad with seemingly his back against the wall in the point race will dig deeper than we may have ever seen him dig. Will the extra pressure do something we have not seen done is some time? Will it weigh so heavy on his mind that he makes mistakes we never see him make or will he prove why he is likely and been called the best ATV racer in history? One thing is for sure; any questions you have will probably be answered in the next four weeks.
A lot of attention is rightfully so being focused on the battle between Wienen and Hetrick but we should not forget about the battle for third between Thomas Brown and Jeffrey Rastrelli. This battle is only separated by a handful of points and deserves some attention too. Regardless how the battle between them finishes each rider will gain big steps. Already they have pushed themselves to new and higher levels and though the gaps between them and the two up front are sometimes a little big, it is an indication as to how hard these two are fighting. Given the right circumstances each would be capable of battling with Hetrick and Wienen and will soon reach their levels. Does it mean a four-way shoot out? I am not sure but I like a deep talent pool and the duo of Rastrelli and Brown are leading a wave of young hungry competitors that are learning the ropes and making big moves.
I spoke with Thomas Brown about the upcoming QXoN on Quad-Radio, which you can watch and listen to through the Quad-Radio Facebook page. I suggest you take a peek and see what's going on and what Team USA is facing as they prepare for the biggest race of their life. He talked about the format of the race and how challenging that will be. He says that even though we may be the best in the world here in the USA that we may not be the best in the world everywhere else. The longer motos, our smaller engine displacements and logistics of the whole affair are some major obstacles to overcome. Thomas says a lot of people think we are going to go clean house and though he hopes it to be the case he says it may not be just that easy. He hopes it is but he says the whole team is taking nothing for granted.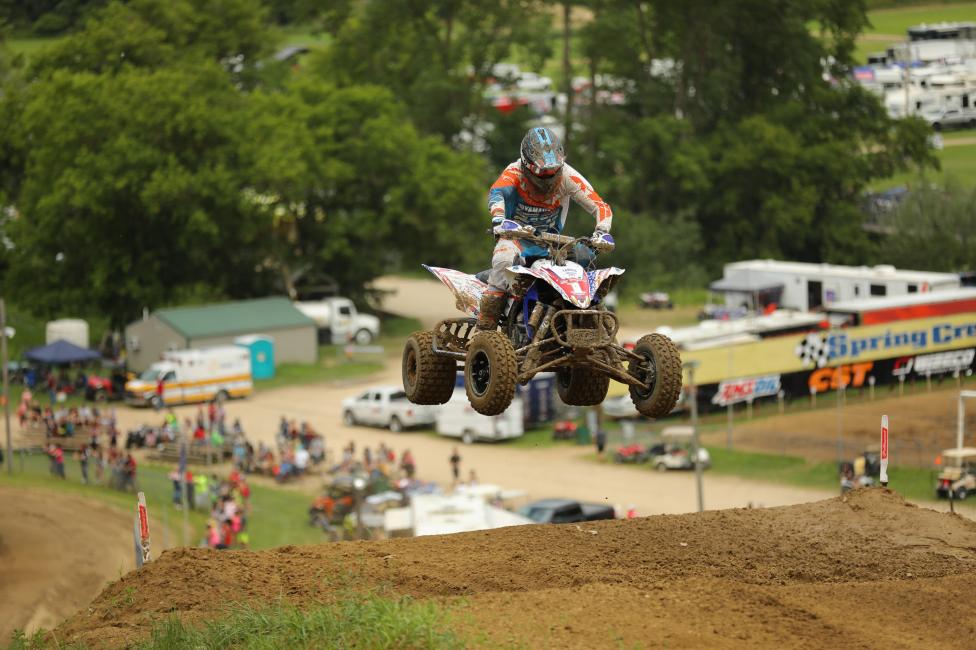 Team USA had scheduled a riding school for this week but due to weather conditions decided to cancel and will release some news in the near future if they will have another date scheduled to help raise funds for the expenses for the trip to QXoN.
The amateur battles and championships are starting to produce some early titles if you are watching the points. I promise there will be more attention paid to this in the future but right now there is so much going on at the premier level it is hard to look away. Unadilla should produce a few more "unofficial" title declarations and we may some kids moving around in classes to prepare for next season. I for one am very satisfied that this season has lived up to its full potential and still holds surprises and drama for these final three rounds.
This weekend at Unadilla will be a big one on the track and off. Look for a special visit from 2010 AMA ATV PR Champ Josh Creamer. Will he race this weekend is a big question and I will tell you to wait and see. He was scheduled to help Team USA at the Unadilla riding school so anything is possible at this point. It would be a good surprise if so. The rumor is though looking for the ole no. 9 back on the track at least in the 25 and 30 plus divisions.
Debi Bartosek from 88 Live to Ride says that they are gearing up for the annual dinner and auction at Dirt Days this year and sounds like we don't want to miss it. Debi sent the following note this morning to let us know what to expect as we approach the final round.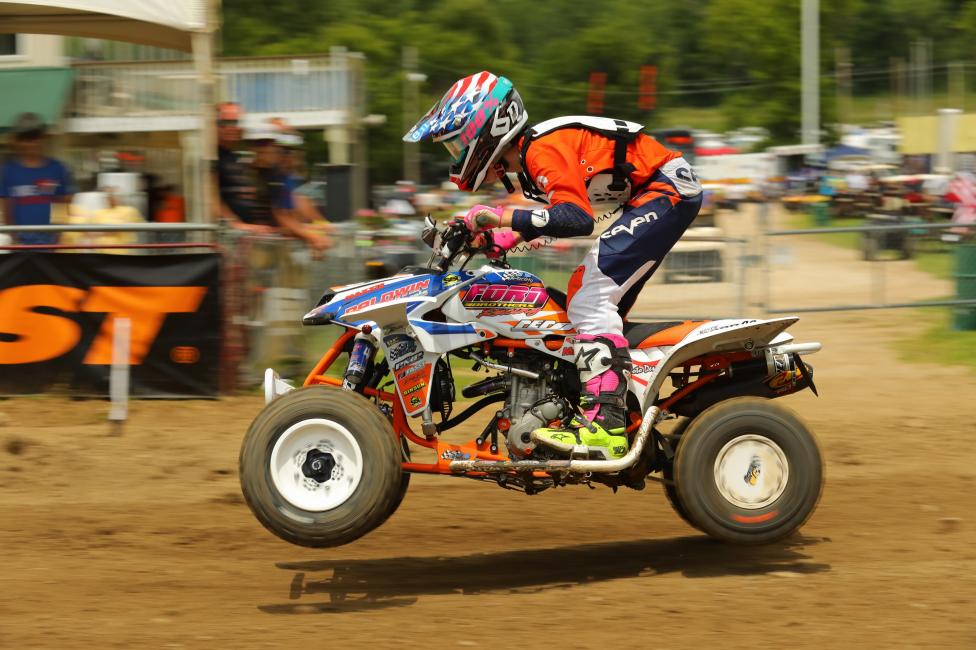 Good morning, Rodney!
So many exciting things going on I don't know where to start!
It is crunch time for making sure we have everything ready for the annual 88 Live to Ride Benefit Spaghetti dinner and Auction that's going to be Friday evening of Loretta's. Brian and Connie O'Neill are hosting the dinner for us again and along with the support of Root River Racing, Sand ridge Food and Corrosion Specialties it is going to be yummy!
Not only is Brian and Connie organizing and making sure everyone gets enough to eat BUT ALSO they are donating a 70cc Pit Bike for 88 Live to Ride to raffle off. Tickets are going to be $10 each or 3 for $25. Be on the lookout, starting this weekend at Unadilla, for volunteers selling tickets. We will have the drawing during the auction Friday evening.
We're going to have some awesome new additions to the auction this year. Can you say Disney?
Kalahari, Harley Davidson Collector Barbie just to name a few? I am so excited and so appreciative of all the donations we receive. I'll clue you in on more items we've received next week. Speaking of donations, the more the merrier! And, Stan "Big Daddy" will be returning as our auctioneer with Digital Dave as his sidekick. Watching and listening to the two of them is an event all on its own!
On another note, thanks for mentioning the results of our fundraiser for the Visnic Family in last week's Site Lap. Amazing that in 5 hours we raised $1,500! I would like to give a shout out to the teams and individuals who helped make "Spin the Wheel" a success: Vossman Motorsports; JB Racing; Baldwin Motorsports; Ford Bros. Racing; Root River Racing; Maxxis; Nine6Nine; Maxxis/Liquid Wrench/Elka/Honda; Thomas Brown; Chad Wienen; Zack Kaczmarzyk and Sherry Cottage.
See you this weekend,
Debi
That's it for me for now. Let's check in with Gloop's Loop and with Ken "I got a real good woman" Hill. (He does too!). Till next time, God Bless Your Heart and All Your Vital Organs.
In The Loop with Gloop: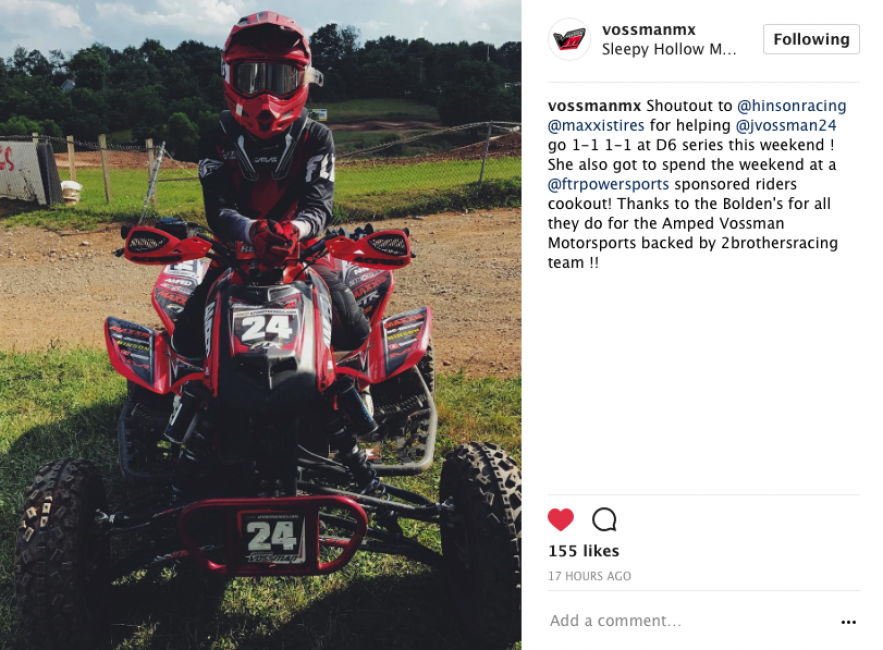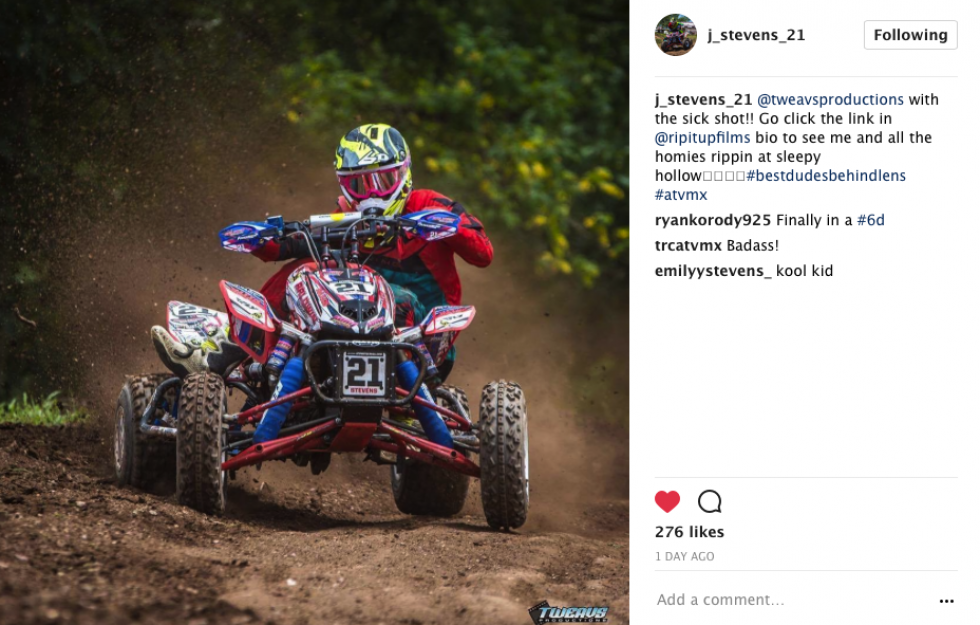 Keeping up with Ken Hill:
Unadilla here we come! Ok, so I am not stoked on having to do anything until I heal up but the show must go on. I will be there doing all I can, in fact I haven't even seen a weather report to show you how detached I am from things! In all seriousness, it is UNADILLA! How can you not get pumped for this round, it is a legendary track and offers some huge air for those who have the stones to air out the sky shot. The track itself is huge and difficult to cover, but the track itself usually looks fun if you can hang on to the bars as it can get brutal out there. We have seen some incredible racing happen here over the years and I suspect this year to be intense as Chad and Joel get ready to square off once again in an already epic points battle that has developed. Who comes out on top is the question, both riders can really rip this track so we will find out when the roost settles Saturday afternoon!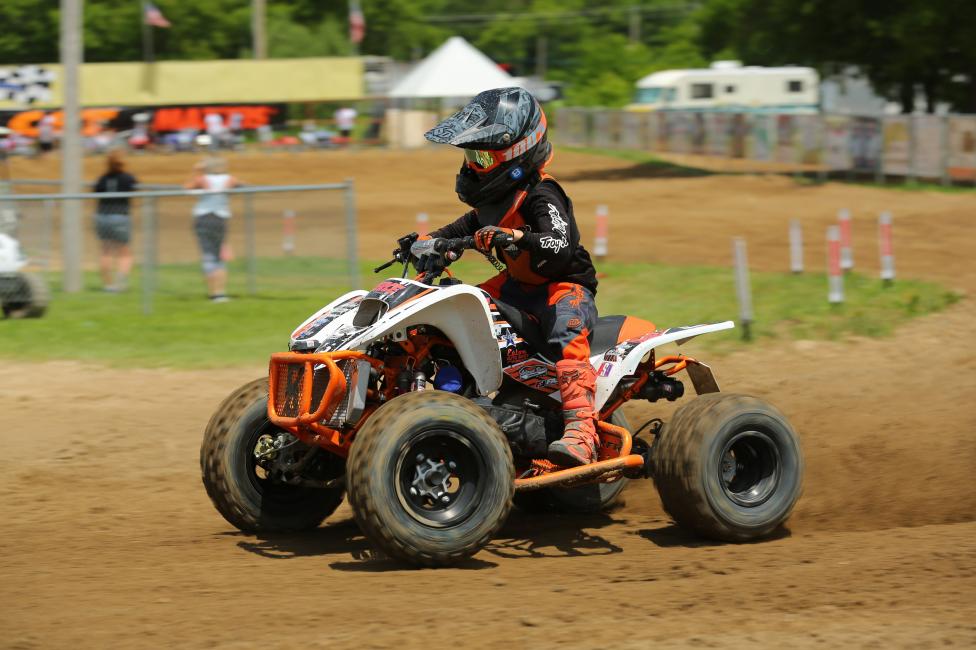 The highlight for me this weekend is the trike racing, that takes me way back to when I first got the addiction of racing and just seeing them out there is pretty awesome not to mention when a few of them throw down and bust out sky shot! Insane, just insane and such a treat to those who are way to young to know names like Jimmy White, Mickey Dunlop and others who were the kind of the three wheeler world for so many years. In fact, I will be looking for a 200X to restore soon just to have a piece of that history, maybe also a 350x and why not an ATC250R white I am at it! I still remember seeing my first 200x at the dealership as if it was yesterday not 20 plus years ago! So yes, as much as this weekend will test my physical resolve, I am stoked to get there and poke around and see something we do not get at every round. Kudos to the Unadilla staff for making this all happen!
There is probably a ton I could write about this week but with my injury and being in pain, thinking about much beyond when I can take more Advil has me way off track. I had my doubts if I could even do the GNCC last weekend but thanks to my wife, my trusty 4x4 and a big pillow shoved behind me I got it done. The wife complained, told me I was making the wrong decision and should be at home resting but after so many people came up and told me about there injuries and showed the scars she began to understand that the racing world is full of some very hardcore tough and down right indestructible people! I may not be one of them because all I wanted to do was curl up in a ball and cry until it was over! I did sit on my Harley yesterday for the first time since I hurt my back and it is killing me not to be able to ride it but when I heal, that thing better be ready for some serious miles to be put on it!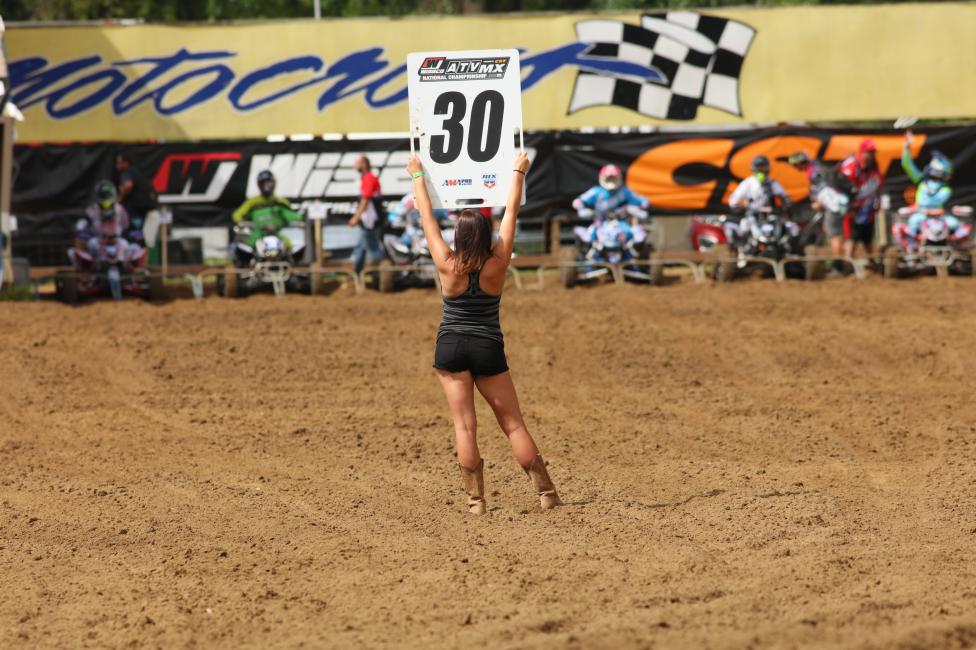 I read on social media where Fly Racing was sending out Josh Creamer some jerseys, and I know he will be helping out Thursday with the training offered to help fund the race in Italy so maybe, just maybe he will gear up and do some laps! He was always so fun to photograph and such an outstanding individual, a true asset to ATVMX and has written his chapter in our history that will never be erased.
That is all from me this week, as much as it will hurt, the green beans are ready to be picked and canned so it's off to get that done before I roll out. I am looking forward to chatting with everyone and catching up on things so don't be surprised if you come back from a moto and find me sitting under your tent! God bless you all and please, be safe in your travels!
ATVMX on MAVTV
Don't forget to catch up on the action with this weekend's re-air lineup on MAVTV. This Saturday July 15, be sure to set your DVR's to catch Daytona ATV Supercross at 9:30 a.m., 12:30 p.m. and 7:30 p.m. And at 7:00 p.m. catch all the action from Round 4 at Ironman Raceway.