Rodney Tomblin
TimeWednesday, May 31, 2017 | 5:10 PM
The pressure is on and the ATV Racin' Nation is geared up and ready to face the challenges that lay ahead. The championship has taken so many turns at this point one has to think things may be about to settle down. However, if you are paying close attention it might be recognized that nothing is close to settled and the only thing for sure is no one knows how any of this will end. The good news is that the road to the championship has many more memories to make and characters to build as we witness the greatest championship battles in the history of this sport.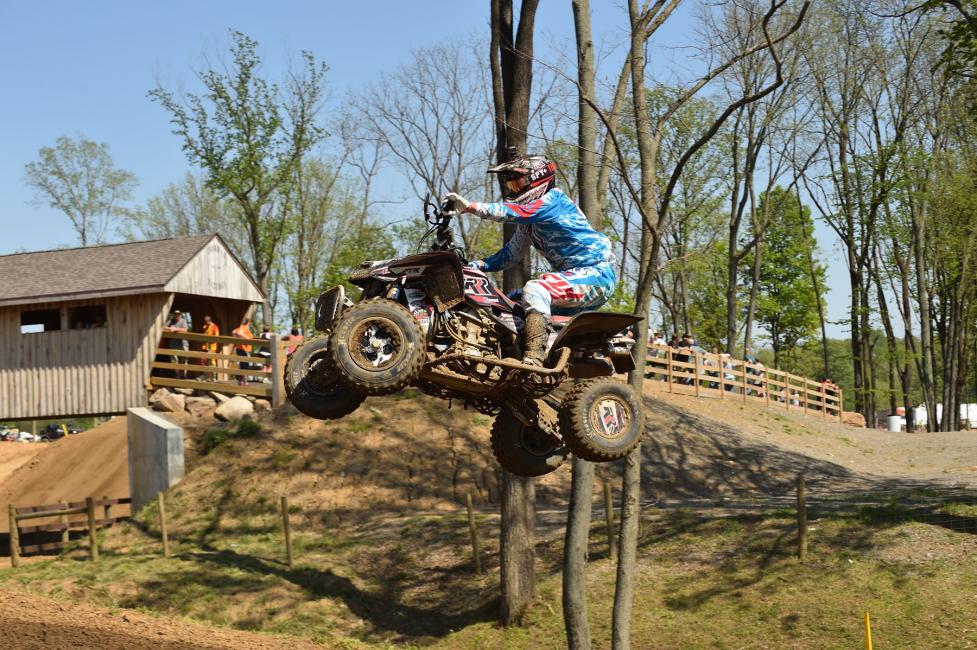 Generally I spend a lot of time talking about classes and individuals. This week I want to take the time to bring our attention to a few other things that coincide with things with all the hoopla of chasing race wins and championships. The fact that we are competitive does not mean that we have no heart, but may reflect a greater passion for all things in life.
I would like to take this time to remind everyone of the upcoming bake sale to help with the year-end awards, the former Youth Contingency Program now called The National ATVMX Youth Racer Program. This program was originally set up to provide prizes and products to youth competitors and was held each year at Loretta Lynn's. Now, there have been some changes as each race the promoters are providing awards to different youth classes throughout the year. They also are spreading the contingency prizes out to different positions as well. This has been rather exciting for those who receive the prizes and the sponsors supplying the products and prizes are happy to see that keeping with the tradition of the program to focus on all the kids racing.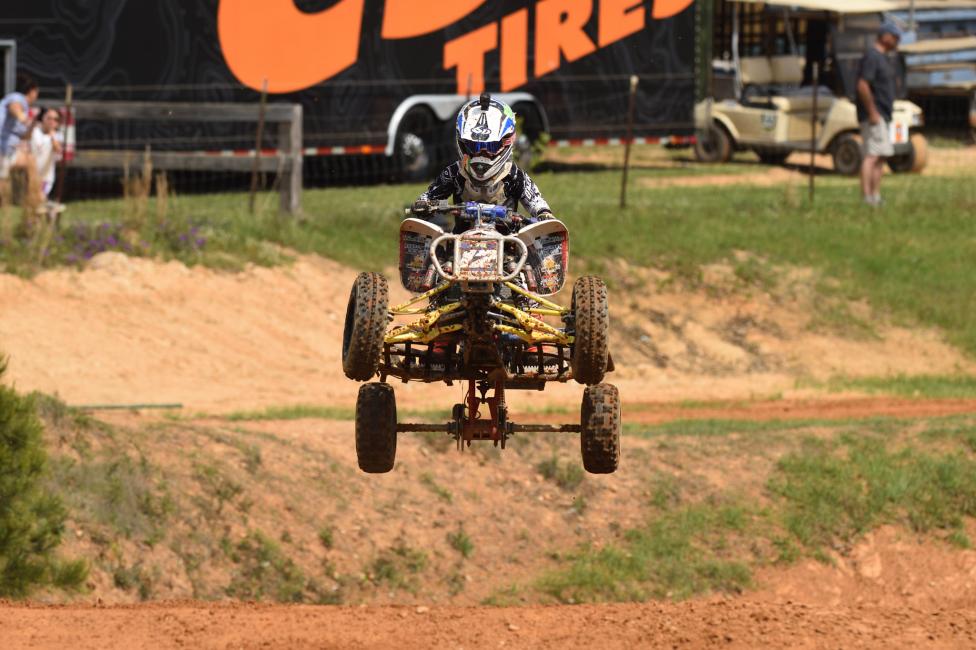 As far as the National ATVMX Youth Racer Program Auction and Silent Auction is concerned, Tim and Stephanie Furches who are currently overseeing the program posted the following message on Facebook:
Okay boys and girls here is the big news for The National ATV MX Youth Racer Program, the next race which will be muddy creek ATV National next weekend and we will be hosting our annual bake sale and fundraiser this is always a huge event. Not only will we be having lots and lots of sweets but we will also be doing a silent auction with several of the pros. What this means this and the way this will work the winner of the silent auction for the rider that they wish to support the winner will get that Pro to prep their Starting Gate I'm sure give them advice and also will run their pit board but you must provide the pit board at Sunset Ridge or redbud for Sunday if the pro is able to work it out to do it on Saturday you must get with the pro prior to the event to see if they would be willing to do it on the pro race day.
Below is a list of riders who will be at the raffle and the track that they will support one youth Rider and please share as much as possible.
Joel Hetrick. RedBud
Tim Dettling. RedBud
Dylan Tremellen. Sunset Ridge
Nick Gennusa. Sunset Ridge
Wes Lewis. Sunset Ridge
Johnny Hale. Sunset Ridge
Ronnie Higgerson. Sunset Ridge
Jeffrey Rastrelli. Sunset Ridge
Brett Musick. Sunset Ridge
Silas Lamons. Sunset Ridge
Chad Wienen. RedBud
Sam Rowe. RedBud
Zack Kaczmarzyk. Sunset Ridge
Sean Taylor #39. (Sat only)
Cody Janssen.
Westley Wolfe. (before Pro-Am race moto 1) Sunset Ridge
This should be tons of fun and will help fund and make better the year end celebration of youth competitors at Dirt Days, the season finale at Loretta Lynn's.
As far as the weekend goes we are happy to be able to say that the event this year at Muddy Creek is also co-sanctioned by SE QUADS. This event will be round #6 of their 2017 schedule. Click this SEQUADS.COM to link to all the information.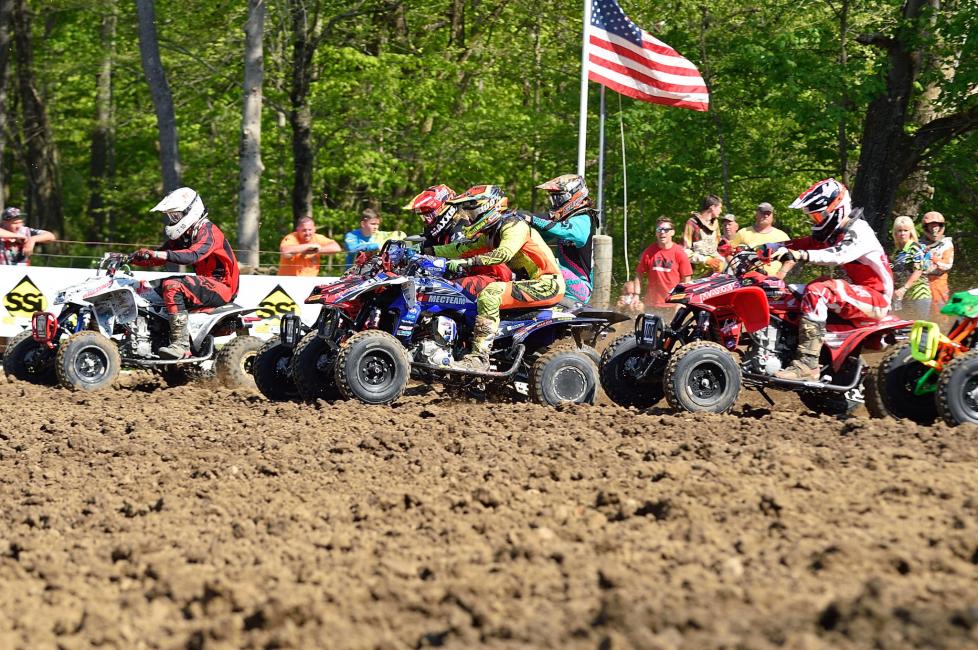 In addition to the cool things going on this weekend our good friends and supporters at Rocky Mountain ATV/MC will provide $20 Gift cards to each participant for each round they pre-register for. Race Gift cards can be combined, and are redeemable on any merchandise carried by Rocky Mountain ATV/MC. Riders can Pre-Enter by CLICKING HERE – /event/muddy-creek
**NOTE – Road Construction is going on at Exit #63. Use EXIT #69 off of I-81 for BETTER Roads. OR use Exit #13 off of I-26 to get to the track.
That's it for me for now. Let's check in with Gloop's Loop and with Ken "Red Fox" Hill. Till next time God Bless Your Heart and All Your Vital Organs.
In The Loop with Gloop: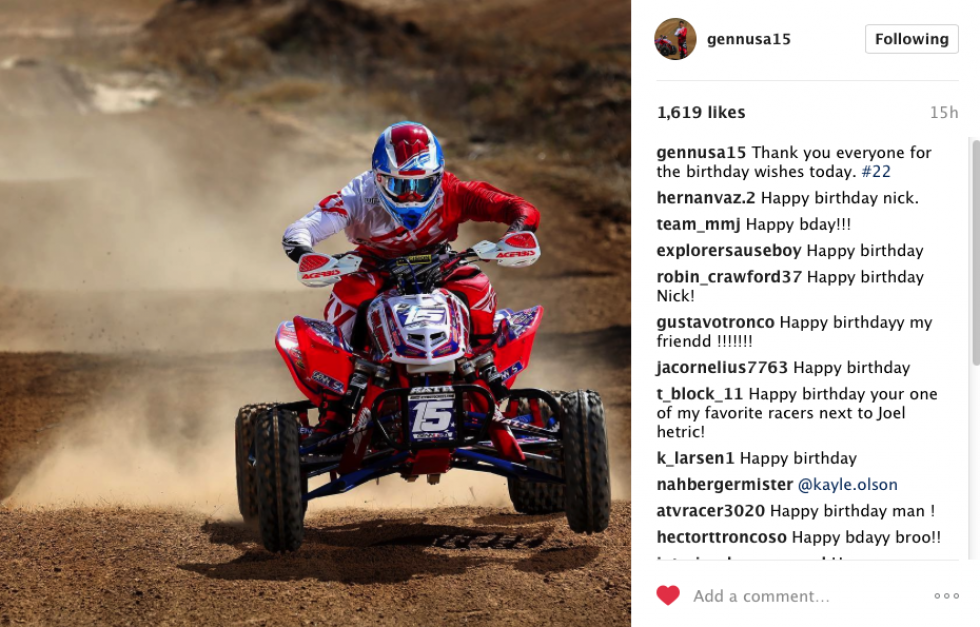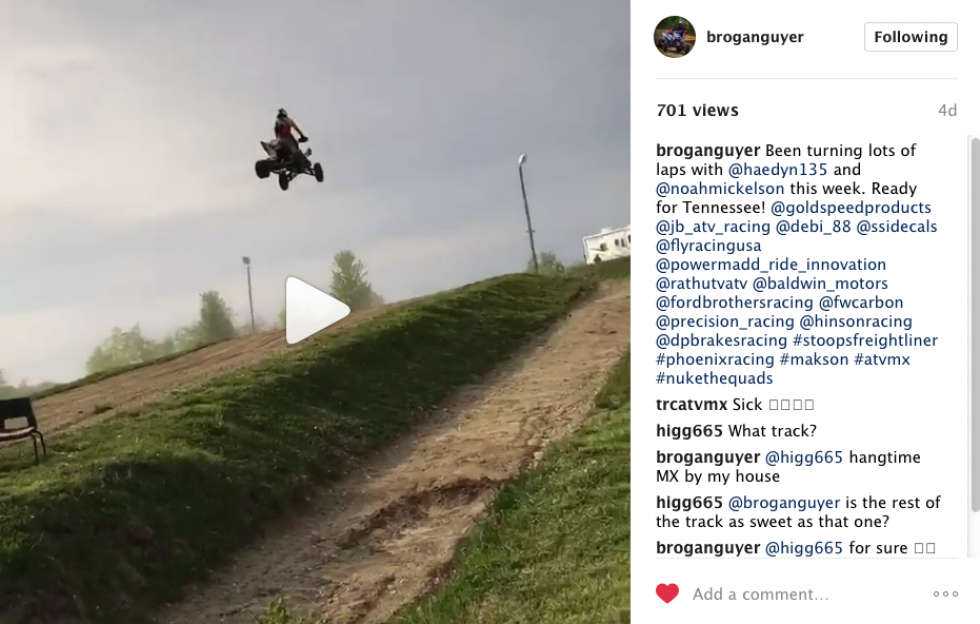 Keeping up with Ken Hill:
I do believe we have a race this weekend, at least according to the schedule, and the barrage of social media posts from many of you stating you are now already heading that way or soon will be have been to show up on our timelines. I haven't even looked at a forecast, but I will be ready regardless and I cannot do a thing about the weather so it will be what it will be. Last weekend was supposed to be a GNCC weekend but that got pushed back due to a myriad of factors so I tried my best to enjoy the down time and life rolled on. I guess what surprises me the most is that this has not even been our wettest year as I recall a few seasons that seemed to pour on us near every race, ATVMX and GNCC. I do not think I owned a pair of pants that did not have mud stains to the knees or boots that lasted until the end of the seasons. One memorable race took place at Muddy Creek when the skies opened up during one of the pro moto and dumped rain by the buckets. I shot the moto and ended up inside the tower by the time it ended soaked to the bone. Let's pray we can get through the remaining rounds with Mother Nature playing nice, because I cant afford new boots just yet and I enjoy shooting at this venue, and that rain just makes the images, well, crappy!
Now if you are like me, this disputed schedule we all have had to face makes it very difficult to stay on point in regards to training and staying ready for the next race, maybe even to remain motivated to soldier on. Usually I am going 900 mph between rounds and doing my very best to get things done before hitting the road for another round, but the rain made even that difficult. I am pretty sure I have replanted my gardens 3 times due to this soggy spring and mowing grass is more like a race than a chore as I try to beat the next storm due in! My wife, the most positive person near me daily has even began to look up and ask for a break from the wet stuff, well it was more of a look up and some bad language as she sunk in the saturated garden. I chuckled and asked if she wanted to come to a wet race and see how deep and heavy the mud gets which brought her displeasure from above to eye level. In all seriousness, life rolls on and bad weekends become memories, even a badge of honor if you fight the good fight and survive such a race.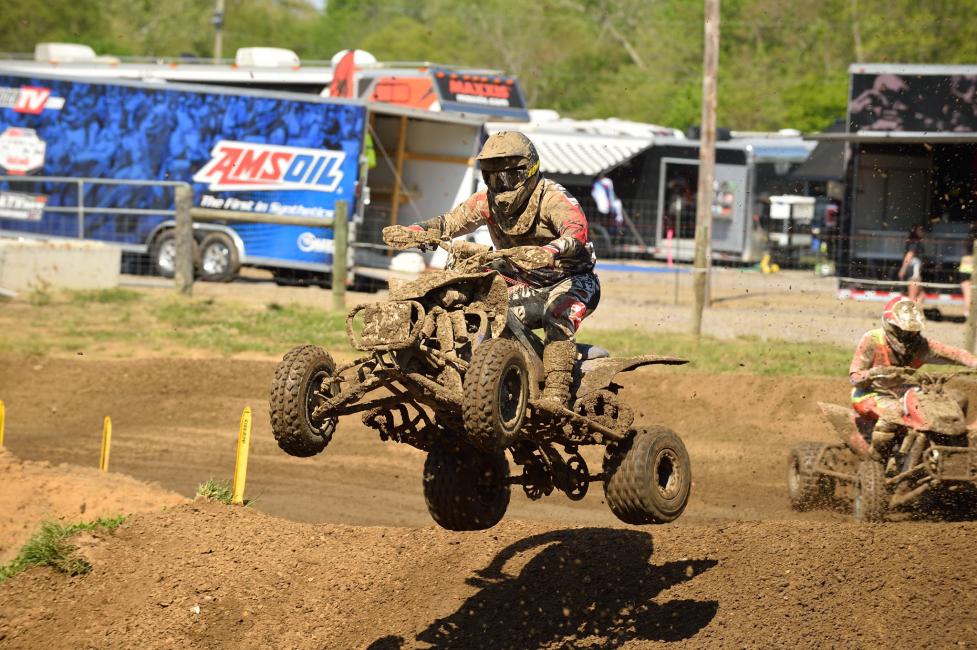 In any event, I am pumped to head to Muddy Creek as I really like the track even though it's a big beast and tough to cover every section when the pro riders are on the track. The changes they made a few years back and the attempt to keep it from becoming so hard packed is either your cup of tea or it isn't, and we really never know what the track will turn into until we get there. I do know in the past it has been a very fast track for most classes which most seem to enjoy and it can get nasty and rough even though some blue groove will run in especially on that downhill section. I don't know if there is another track in the schedule that can change so much from section to section so walk the track and adjust accordingly and be prepared for anything!
That is all from me this week as I see the sun starting to break over the trees in between dark clouds. If this pattern keeps up I may start growing fish and forget about sweet corn! God bless you all and be safe in your travels and racing!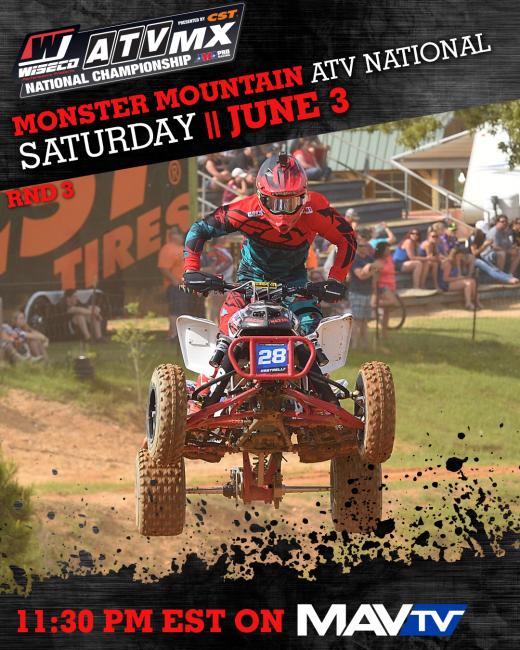 ATVMX on MAVTV
Don't miss the ATV Motocross Highlight show on Saturday, June 3 at 11:30 p.m. ET from Monster Mountain, Round 3 of the 2017 Wiseco ATV Motocross National Championship Series presented by CST Tires.
If you miss a show, full replays will be archived on RacerTV.com throughout the season.
Please check out the full broadcast schedule for the month of June online now, by clicking HERE.