Rodney Tomblin
TimeWednesday, February 8, 2017 | 4:05 PM
The months have now turned into weeks and soon we will only be days away for the 2017 Wiseco ATV Motocross National Championship presented by CST, an AMA National championship, kickoff with the Fly Racing ATV Supercross opener at Daytona International Speedway for AMA Pro ATV Championship. Teams and individuals are busy preparing for the madness about to take place and in the past couple of weeks it's like the floodgates are starting to open in a big way. The Ironman is looking at something different, Brown has a big change in his program, Chad Wienen is building a big legacy and the "Almost Evil" one Ronnie Higgerson is likely more ready than ever.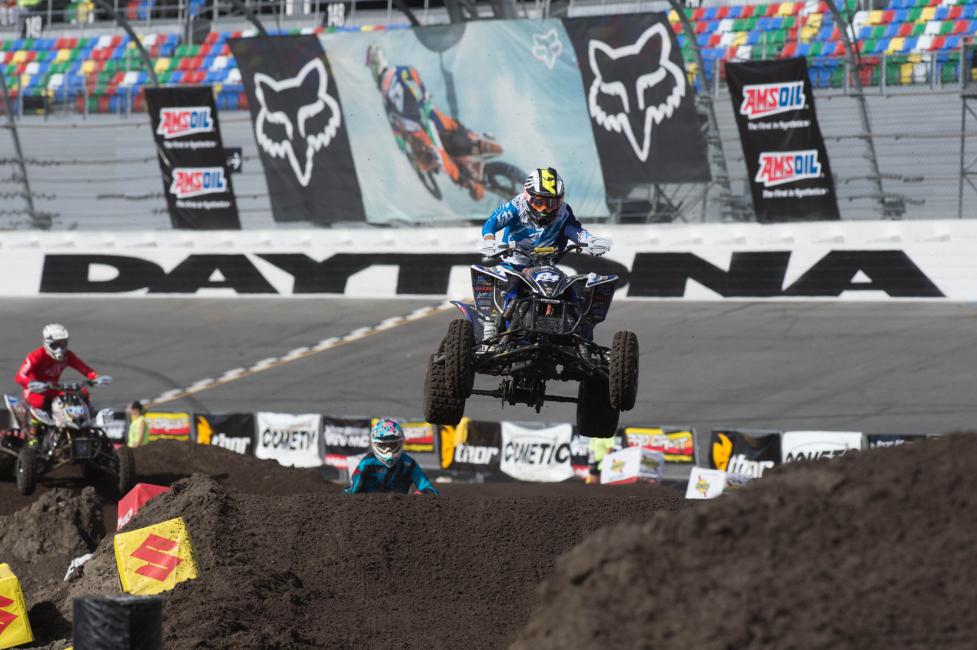 As many folks may have seen the post in the past few days about John Natalie and his upcoming appearance at Motorama in Harrisburg, PA. The post also indicated that John might be looking at a possible run at the NEATV championship as well in 2017. This obviously leaves a number of questions in the minds of nearly anyone who read it. Will John make the switch completely and step away from national competition? It's no secret that John has had some time to evaluate a number of things with the recent two seasons of injury. Without a doubt he is one of the toughest people in the sport and possibly toughest but this announcement makes us all wonder. The only way to settle the curiosity was to go straight to the source.
I contacted John yesterday to see how things where going and he told me simply, "Not sure yet." This was not a surprise answer as much as it was. I had spoken to John a few times and he had stated that he had some things in the works this off-season. As sensitive of a subject as it was a year ago, John realizes his age and is preparing for life after racing. The Ironman fans can rest assured John seems to not be done any time soon. He said, "I have some other racing deals I'm working on. Things are going great and I am super busy with my demolition business and we just started a marketing business." Which all seems positive from John and inspires me to expect a lot from him this year.
Another notable we have talked about this off-season is Thomas Brown who has been busy himself. Brown was on the west coast and has now found his way to Florida where he has been riding with several other pros like Chad Wienen, Josh Upperman, Jeffery Rastrelli and more. Thomas has made some big changes and even has his transporter up for sale. I heard he was going to be running out of the Pro Motorsport Yamaha Pits with Jesse Barnes as him teammate. Lane Barnes will take care of a lot of back work and Thomas will be able to focus purely on racing. Thomas told me, "This is something I haven't had since I won my Pro Am title. I have been driving and taking care of the rig every year. I was beat mentally by Saturday morning. I am really looking forward to it and it will be fun to just race."
Five-Time AMA Pro ATV Champion Chad Wien has had a rather interesting off-season even though there has. It been a lot said. We know he went to South America a couple of times and now we have learned that there is a little bit of an expansion in the Wienen Motorsports team.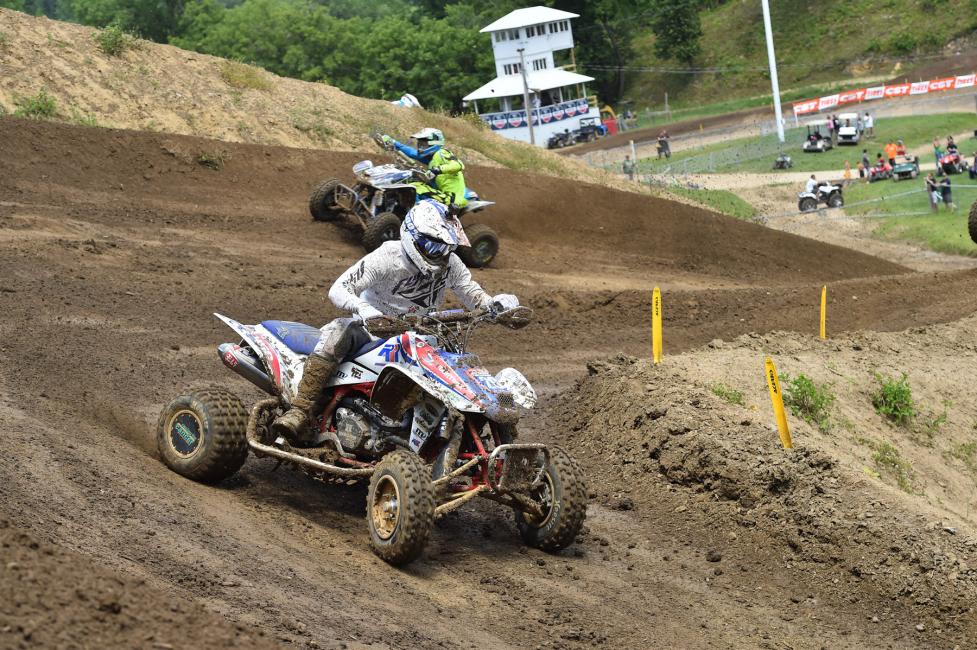 As far as the excitement, it has been rather fortunate that what he tells me makes for good "you won't believe what almost happened" stories. Chad said, "Personally I am doing great! I am healthy but it has not been easy (chuckling) Last week I had some out of the ordinary things go on. I got cut off by a car on my road bike and ended up going down. Luckily I was ok. A week before that I had a crazy crash while riding. The frame tapped a large double on my track and I had to step over the bars and bail off. I landed down the landing unharmed. My Yamaha took a little beating to the stem and grab bar. I was back at it riding the next day so very lucky and fortunate to be well and having good people above watching over me!"
Chad has also been busy as we said expanding the team and training as hard as ever. He has been busy with testing the past few weeks and pruning up for Daytona a little more than a month he said. He said, "T-Brown stop busy with few times to ride at my place some and it has been good to catch up with him. The Wienen Motorsports Team riders are determined to be a constant threat throughout the majority of ATVMX classes. Enjoying ourselves and working hard is what we are all about." As far as the team he said, "We currently support 20 amateur riders throughout the series. Some things are still in the works but will be a great addition to the Wienen Motorsports Team."
The "Almost Evil" Ronnie Higgerson has had his #665 machine busy this off-season and maybe more so than in season past. He said "I've been down at the Ford Brothers compound in Texas for a few weeks now and I'm starting to feel really good. I'm very excited for Daytona this year, I'm down south a whole month earlier than last season and thanks to the Ford family, Jon and Robin, I have 100 times more support than last year. I'm excited to have recently joined The Program for my off the bike training this year which is something new for me. In only a couple weeks I can say that it's no joke. In the past I've always relied on my riding only. This upcoming year should be by far my best year yet, expect to see a whole new me come Daytona on and off the track and look for the almost evil 665 up on that box!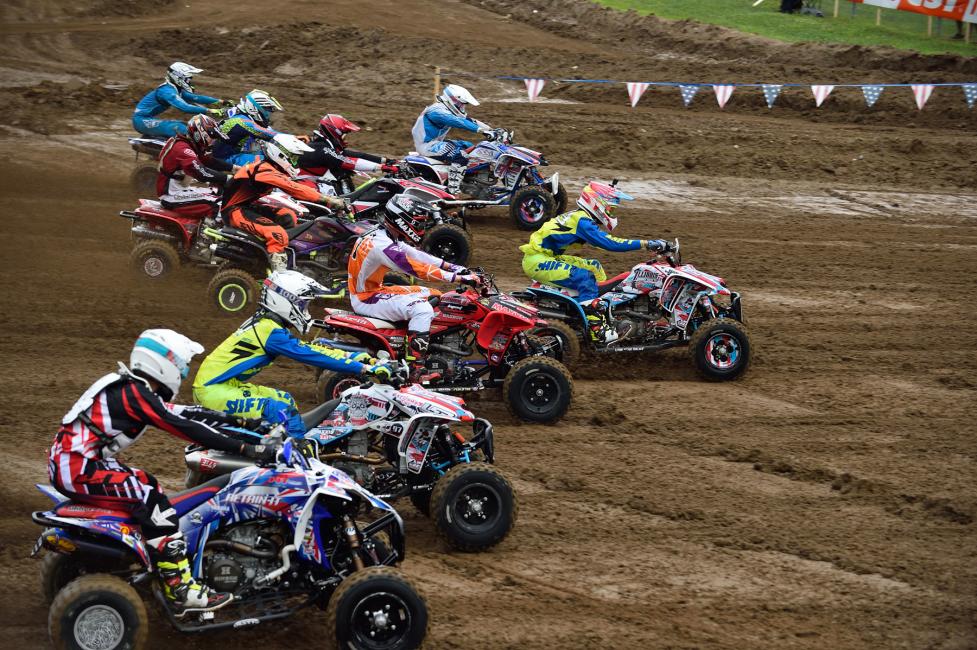 Last season we saw Ronnie achieve his first podium at High Point and he told me, "Last year after my podium I put a lot of pressure on myself to get back on it and ended up overtraining and getting hurt the weekend after it and struggled to catch back up. This year I'm taking it one race at a time, coming into the season in way better shape and having a lot more confidence. All that adds up and should be the best season yet!"
All this news is rather inspiring and really puts into perspective what possibilities loom for 2017. Will this be the best season ever of championship racing? It is so hard to know at this point but all indications give us a great feeling that some big things will happen. As we know this is only news about some of the top AMA Pro ATV riders and everything seems so positive. I can't answer that it will be the best but it could be the one that sets us up for a long run of challenging battles in the future that could produce what I am referring to. It's all up to time, chance and circumstances at this point.
That'll do it for me for now. Let's check in with Gloop's Loop and with Ken "My bags are packed" Hill. Till next time, God Bless Your Heart and All Your Vital Organs.
In The Loop with Gloop:
The FLY Racing ATV Supercross at Daytona International Speedway is getting closer and closer! Who else is excited? Grayson Eller and Nick Gennusa seem to be getting anxious! Don't forget to tag us @atvmotocross and #ATVMX so we can see how excited you all are for the upcoming season.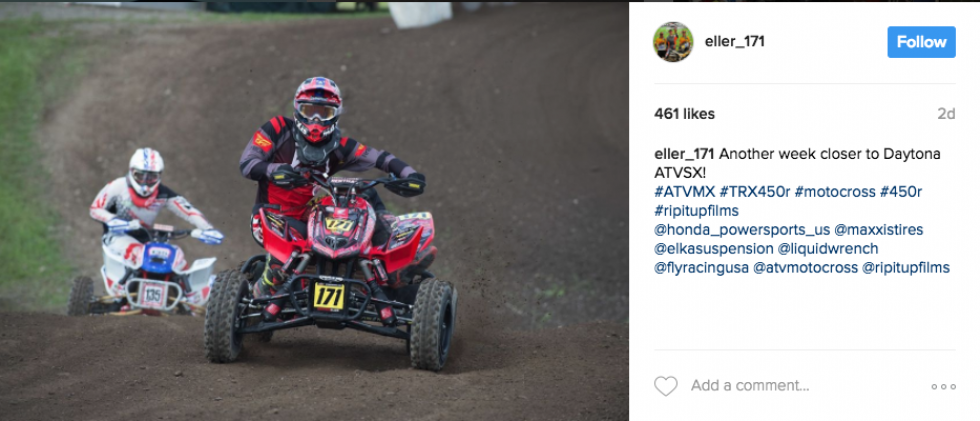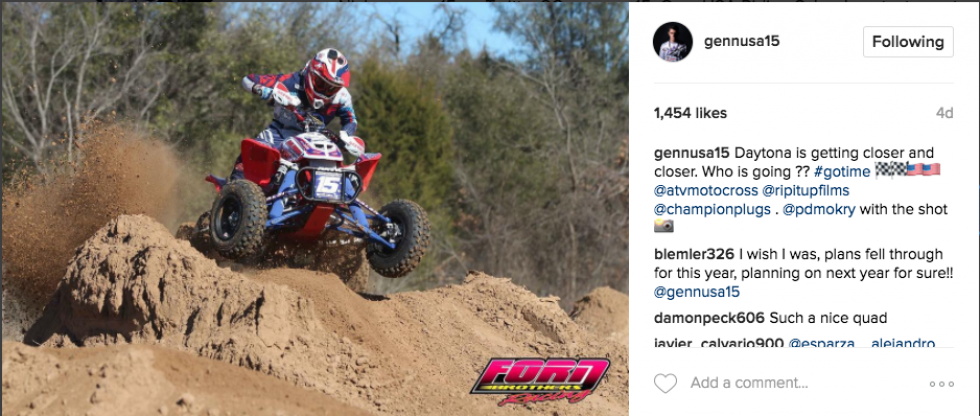 Keeping up with Ken Hill:
Well I made it down south, however I won't be the one telling you how nice the weather is or how good the warm sunshine feels. I think it is bad to rub it in, so I refuse to do it! I mean it is not perfect let me tell you, I had to move my truck into the shade just so I could see the laptop to write this weeks contribution and to cool it off a bit as the bright glowing globe of fiery heat was almost to much to handle. For a few minutes I thought I might even break into a sweat, but please do no worry, I will survive it!
I do wish I could give you some inside info or share some fresh images, but I haven't ran across any ATVMX riders just yet. That is coming very soon though. The trouble with pre-season is most of the time only about half of the riders are even close to being ready, and this year seems to be a bit worse than usual. Everyone is waiting on one last thing, which forces me to either go insane or flow with it and so far the insanity is loosing! Next week I will be back in the sunshine state and have riders that will be good to go so keep your fingers crossed, because boredom and I do not mix well. Now it isn't all without its perks as I do get a chance to hang out and just chat without being at the track where nerves are shot and everyone has their game day face on. That for me is way different than usual because once the season starts it is all business until the last checkered flag flies. Plus, the personal side often gets put on the back burner but I will try to make time this year for more of that.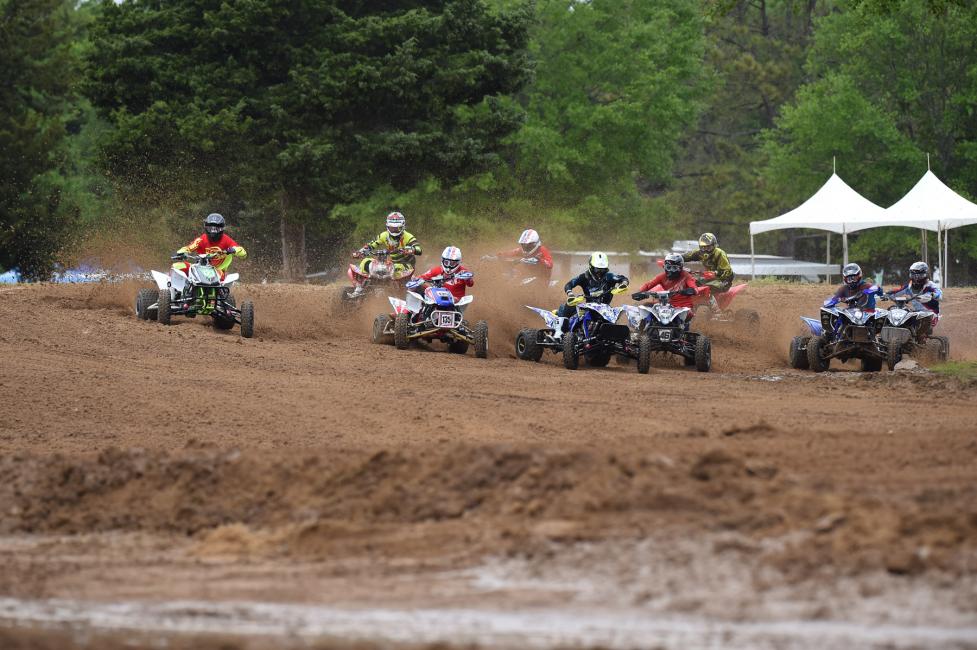 That is it, unless you want to hear about driving and the highway and by ways that get me to and from. The common theme I am hearing from so many is "almost," so that is good in a way as I know round one is fast approaching and well, we kind of need you all on the gate! So once again, please be sure to share the series info and try to do your part in promoting so we can get the 2017 season kicked off in a big way! God bless you all and safe travels!