Rodney Tomblin
Time
Friday, July 4, 2014 | 10:00 AM
The return to Millville, Minnesota for the Mtn. Dew Spring Creek ATV National was without question a great return the mid-west for the Mtn. Dew ATV Motocross Nationals. Though the weather was somewhat uncooperative, it was a little kind by choosing it's time to visit. A few showers fell on Friday but practice went on and though it was not quite to schedule it offered riders a great chance to check things out after the long absence. At the end of the practice the track was dialing in and the track crew had a working model to get the track ready for Saturday's first motos for amateur and AMA Pro ATV racing.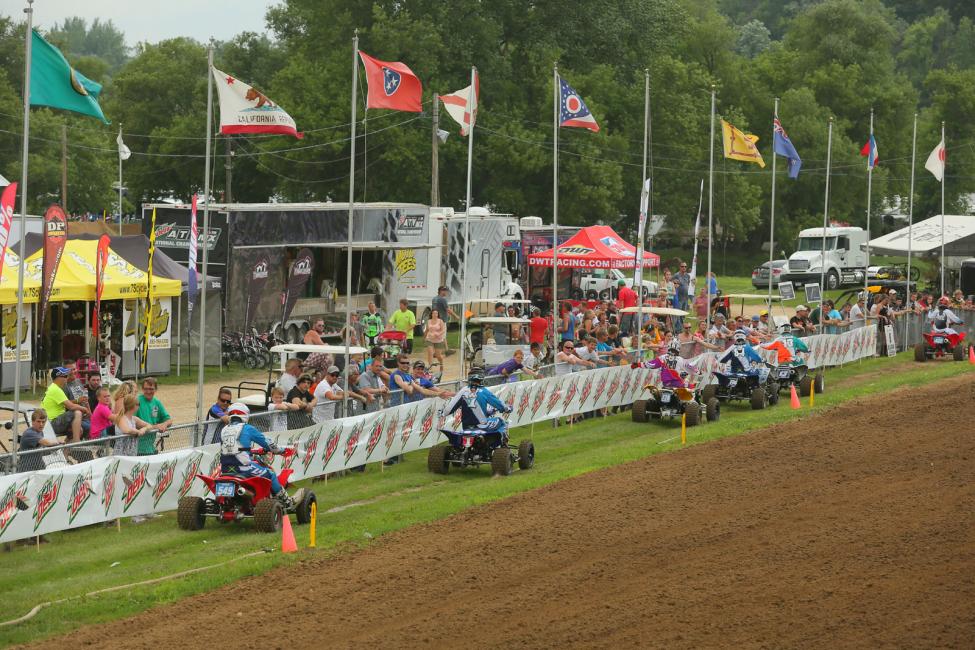 Ken Hill elaborates a little more on the pro scene in a few moments so I want to take some time on a few other items. First thing is that although it seemed nighttime activities were dampened the fireworks literally still went off as expected. There had been much talk leading into the Spring Creek ATV National about all the exciting things planned to make it a festival type show. Unfortunately the rains came immediately following the AMA Pro ATV moto 2 and so the ATV FMX was immediately cancelled because of obvious reasons. Then the band had started to play and was cut short by the rains. The big question on everyone's mind was "what about the fireworks?" which amazingly it stopped raining at 10:15 and all of a sudden the skies over Spring Creek MX Park lit up with a celebration of ATV Motocross and of course our nations freedom and independence with a magnificent fireworks display lasting nearly 30 minutes. It was no dog and pony show for sure and even though the rest of the fun was cancelled at least we were able to experience that part of the night.
The amateur racing this weekend showed the signs of a championship season shaping up to be exciting and even more interesting than we thought it could get. There were also a few surprises through the ranks and the ever-exciting Pro Am class also presented a few twists to the racing scene this weekend.
One and only constant remained this weekend in the Pro Am racing and that was the "Almost Evil" #665 of Ronnie Higgerson. Higgerson has been the one rider in this class that has finished on the podium all but one race this year in this class. Ronnie had a horrible start to the season with an 8th but since that point has not finished out of the top three since that first round. Ronnie has one win and is the only rider in this class that has finished on the podium more than three times.
The only other rider with at least three podium finishes is Jeffrey Rastrelli who is using this class to help push his limits in the pro class. Ronnie has been on the podium five times out of six races. Jeffery as we mention has been the podium three times. Alex Woskob has finished on the podium twice but has not seen the consistency to considered a threat for a championship title his first year. Woskob is a former motocross racer so to only see one other podium.
Tyler Hamrick is has one win and has finished on the podium twice so far. Tyler currently sits in third in points only two points out of second and a whopping 33 points behind Higgerson for the lead. Tyler sits only 4 points ahead of 4th place in points Sean Taylor. This makes a very tightening battle for third now tin the championship, as 2nd, 3rd and 4th places are only 6 points apart.
Sean Taylor took his first win of the season in the Pro Am class. Sean is also an AMA Pro ATV Rookie and was featured on the event tee shirt. Sean had troubles on Saturday but rose to the occasion on Sunday. Taylor may be able to build off this and if Jeffery Rastrelli is any indication of that then we should see some exciting things out the #39 in these final 3 rounds.
Next week we head to the legendary Unadilla Valley Sports Center for the Can Am Northeast ATV National. This is a much-storied track. Love it or hate it, Unadilla always offers something exciting for the ATV Racin' Nation. It holds a history that comes to life before your eyes and writes itself and you know what it is doing. Remember it is the place where Joel Hetrick finally got his first win and it could also stand as a turning point this year seeming to finally find a little speed and consistency on his side. If you he can get a little luck in Unadilla he may be able to close up the point gap some and hope for the best the rest of the year. Certainly he still feels there is hope and a chance and will not let up until he knows for sure he cannot make it happen.
Let's check in with Ken "I was scheduled off and felt worse than when I called off for the weekend" Hill:
Thanks Rodney,
It sure looked like Spring Creek was another solid race! I once again found myself sitting and watching the event unfold all weekend via social media however I was totally bummed due to lack of cell service that limited the usual flurry of activity throughout the race weekend. In this day and age the instant news fueled by fans, teams and media is almost expected but I am pretty sure most know all about the black holes that seem to envelope some of these facilities creating a gap between the action and when the world gets to see it. Kudos to those who were able to get some info out even if it happened to be well after the race.
I do know the vibe has turned and everyone seems to thing Chad Wienen has this season in the bag and he very well may, just keep in mind that this is racing and anything can and usually does happen! Once a rider and team get their program so dialed in it is indeed hard to surpass their success. I think Wienen is about to enter a stage in his career where he gets scorn for success and that is normal, happens in most forms of sports so all I can say to those who decide it is easier to ridicule than offer a cheer is to suck it up because I do not see Wienen going anywhere for the next few seasons albeit the ease at which his wins come may get harder and harder.
The usual players were swinging big with Thomas Brown and Joel Hetrick finding the podium. I commented in a Quad Radio interview last week about how I felt Brown had found whatever it was he was missing in the opening rounds and sure enough, Texas was back on the box. Hetrick, well you can never tell how he is going to do but solid seems to fit at Spring Creek. The kid is an animal and I can say that he should be a factor at Unadilla.
And how about that Jeffrey Rastrelli? We have all had the good fortune of watching him climb the ladder and it was awesome to see him claim the ATVriders.com Fastest Qualifier award here at Spring Creek. His progression has been steady and now he stands as the break out rider in 2014 in my opinion. A few tweaks, some more speed and experience and he will find the Pro podium.
I had the pleasure of looking through the images and what gives with the blue skies when we hit a round that I am not scheduled to shoot? I know the evening activities were scrubbed mostly due to the rain and storms but cut a guy some slack! Hey, I am not upset, I was happy to see everyone have another great weekend of ATVMX racing and proud to see how well everyone did.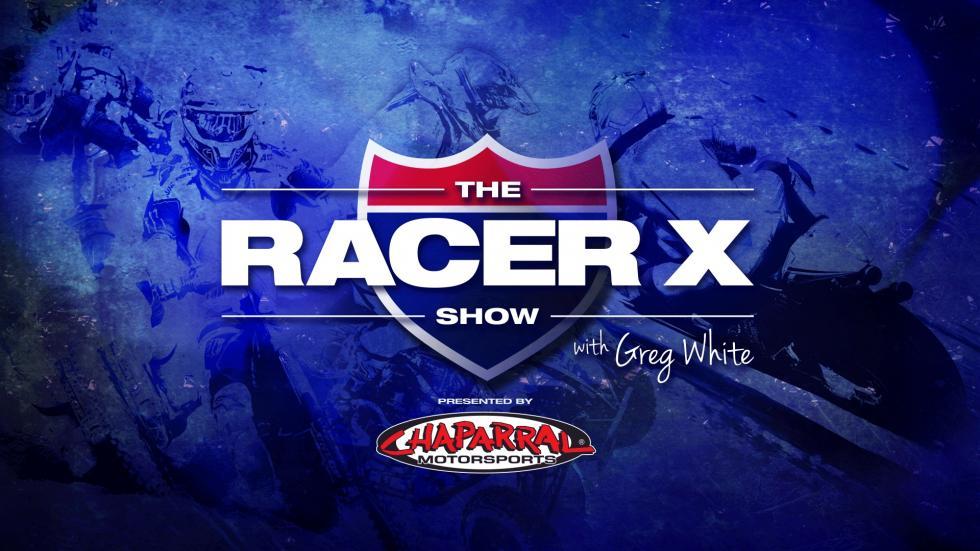 Now I hope everyone took the time to check out the Racer X TV show we posted on our Facebook page. They featured the ATVMX series during the show and this is pretty big. Racer X is the premier source of Motocross action in the world and their new endeavors into the world of TV coverage is just another feather in an already full cap. The coverage of the ATVMX Pro Class is to be done each show so it was not just a one-time thing. This is all pretty wicked, you have Dungey and JS7 one minute, then Chad Wienen and John Natalie the next! This is a huge step in bringing the ATVMX Pro's some attention in front of an audience that surely will be wondering what the deal is. To me, it is a huge opportunity to show your sponsors the coverage from a premier news source that spans the globe.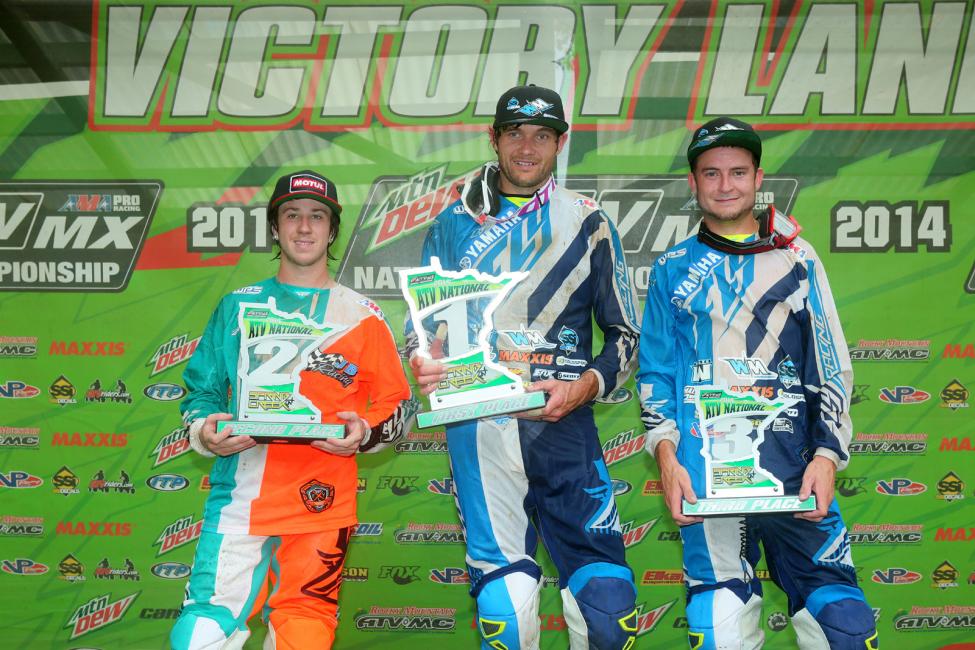 That is all from me this week. I hope to see a record crowd at Unadilla next weekend!