Rodney Tomblin
Time
Tuesday, June 24, 2014 | 10:20 AM
Welcome to the delayed version of last week's Site Lap. All apologies that we didn't make the grade on Friday but somehow I ended up losing everything I wrote when I closed my computer without saving. Normally I find the file somewhere auto-saved in a case like that but not this time. Add to that when I figured this all out I was in over my head with the Amsoil Snowshoe GNCC and well let's just say time and technology were not on my side. So anyway, here goes what I was thinking last week.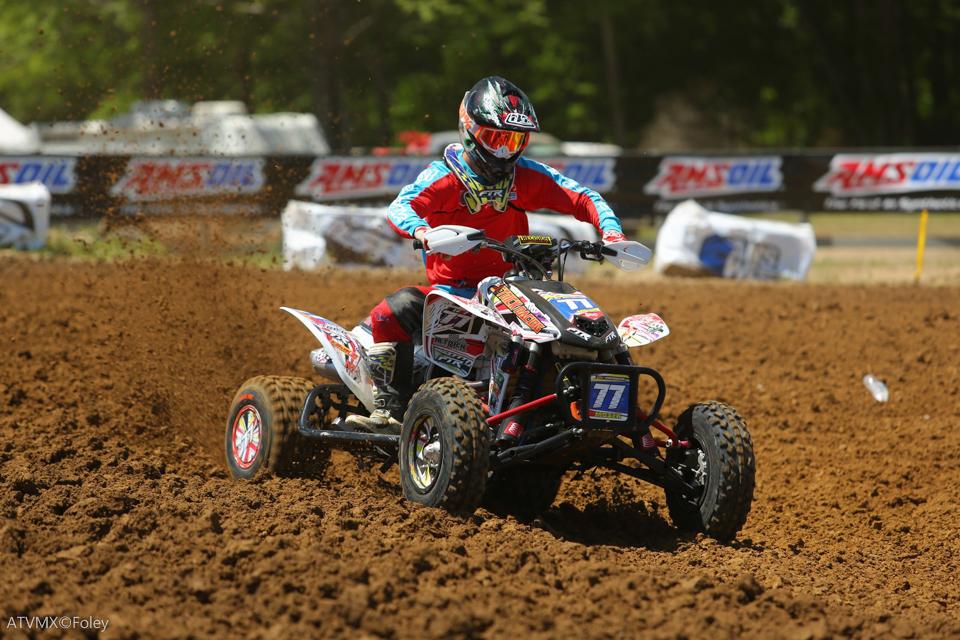 The inaugural Built Ford Tough Ohio ATV National at Briarcliff MX in Nashport, Ohio was without a doubt one of the more infamous shows I feel I have ever been a part of. The halfway point of the season may have a lot to with that. The championship battles are heating up and so is the racing. The weekend in a nut shell would be something like this; Beautiful facility, great track, good spectating, a great staff to work with, phenomenal racing and a few bad crashes. My thoughts and prayers go out to all those affected and hoping for speedy recoveries.
I must say that it has been a while since there have been what seemed like so many bad get offs throughout the weekend. As bad as it seemed from that perspective, the racing was also very, very good. The amateur classes kept folks on the edge of their seats as did the AMA Pro ATV on Saturday and the Pro Am races on Sunday. Aside from the horrific crash that Nick Moser suffered during Sunday's Pro Am racing, that may have been one of the best battles I have ever witnessed. I must say the same thing about Saturday's Pro race also. One thing is certain, the nice spectator crowds were more than pleased and many of the folks I talked to were thrilled they came saying it was some of the best action they have ever witnessed.
As exciting of a time that was had in Ohio, it is hard to believe that we are going to back that up with our return to Spring Creek in Millville, Minnesota. There we will continue a four race portion of the race schedule where something new and/or special is taking place throughout the weekend. If you wonder what I am talking about then let me explain.
Round 2 at Muddy Creek Raceway we had the chance to ride on the newly reconfigured course built for the Lucas Oil Motocross Nationals. It presented the ATV Racin' Nation with what seemed like an all new facility but on common ground we have been before. Round 3 at High Point offered a fierce media blitz and advertising campaign and featured for the first time in history of AMA Pro ATV Motocross racing live wire to wire coverage on RacerTV.com. Round 4 brought us a new winner and new players in the championships and although Sunset was a lot the same, there was more different there this year than folks may have realized. The Round 5 at Briarcliff gave us a new home in the heart of Ohio only minutes away from the American Motorcyclists Associations headquarters and museum. And as round 6 dawns in Millville it appears that we will be treated to an awesome festival type atmosphere with live bands and other activities that is expected to be bringing a huge crowd. I have heard there is a lot of advertising all around the region for the Mtn. Dew Spring Creek ATV National.
As we approach the coming weekend there have been press days set up leading into the week of the race. This continues the monumental efforts we have seeing by the promoters in 2014. The ATV Racin' Nation spoke and the promoters are trying harder than they ever have and if you have been to any events this season then you know it has gotten better with each passing round. I for one would like to tip my hat to the promoters and the racing community for working together to make this happen. And remember, when an event is coming close to you, don't be afraid to ask how you can help. You can hang posters; talk to dealers and local press to help spread the word of someone local racing an event so close to home and anything else you may have the resources to do. If we all work together, we can continue the positive position and recognition the ATV racing has started to gain.
Enough of all that. Just remember that you don't want to miss this weekend's race. A lot of hard work and effort is going into this event and we as a racing community and family should support the efforts if at all possible.
Let's check in with Ken "Man I ain't ever felt bad enough I couldn't go to an ATV race" Hill:
Thanks Rodney
Wow, I was M.I.A. from last week's Site lap due to well, being pretty much unconscious. I sat down in my chair Thursday afternoon after packing for Briarcliff and did not really come out of it until 6 am Saturday morning. It's funny how a small bump under your skin can blow up an infection that slams you down needs to have a Doctor break out his scalpel. On the mend now as I get ready for the GNCC at Snowshoe but will be doing it with a drain in my arm. Just proves life has a funny sense of humor because i was so looking forward to shooting the new venue!
So by race time Saturday, I was watching the news coming out via social media between the ATVMX and the Pro motocross race at High Point. MAVTV was airing the ATV rounds leading up to the Pro bike MX Live show so even though I was under the weather, I was having racing overload to keep me occupied. I took the opportunity to compare what I was seeing and it came back to the sheer numbers thing I have been mentioning since the first of the year. More spectators, more sponsors, more advertising all from a much bigger piece of the racing market added up to a marked and stark difference between what I was comparing.
Now I could have just brushed off the obviously larger crowds or the immense number of banners but that is again, based on the funding available from sheer numbers that the bikes continue to draw. The actual TV coverage to me was equal footing as far as quality even though there were more production people and cameras covering the bikes. I was trying to ignore what I knew and watch things as a pure fan and in the end, I doubt many picked up on the negatives and scored the ATV racing right there with the bikes. The ATV's actually looked faster and more competitive thanks to the brutal High Point track the bikes had to run on. Hey, I will take every advantage we can get when it comes to public perception! So overall, I think the general public who enjoys races mx got to see a fair comparison if they tuned in and watched both shows.
The social media side was a bit different. Images were hitting Facebook and Instagram before the sweat soaked jerseys were off the riders so that is an area I aim to work on. I know several of the people behind getting things like that done on the bike side so I need to work on assembling some help so that we can project a bigger media team then we have. Kind of funny because I had intended on doing that at Briarcliff due to having some extra hands at my disposal but from reading posts I see the internet was not the best there, but we would have tried!
That's about it from me. I do wish a speedy recovery from those that ended up having to deal with injures. It is never fun to hear or read about wrecks no matter what sport we happen to be racing. So a heartfelt get well soon to anyone who went down and hopefully we will see far less of this as the season rocks on!
Thanks Ken! I know you hated missing Ohio but we are looking forward to seeing you back soon.
That's it for now. Till next time, God Bless Your Heart and All Your Vital Organs.