Vechery Racing Announces 2014 AMA ATV Race Team
TimeWednesday, March 12, 2014 | 2:00 PM
Northeast Ohio based Vechery Racing is pleased to announce their return to AMA ATV racing for the 2014 season with an exciting lineup of riders and sponsors. After an up and down season in 2013 that saw multiple wins in the Pro-Am class with riders Tim Dettling and Tyler Hamrick, Vechery Racing is excited to see both riders return this year competing in both AMA ATV Pro and Pro-Am aboard Vechery Racing Honda 450's. Scottie Vechery will also be joining his teammates in Pro-Am and will enter one of the "A" classes for this season.
For 2014 Vechery Racing welcomes TLX Transport Division of AWL Transport and Never Sleep Designs as title sponsors for the race team as well as Maxxis Tires, Elka Suspension, Dave Schrock of DCS Truck Repair, Greg Pafford of Pafford EMS and Aunt Linda as associate sponsors. Vechery racing would also like to thank many of their loyal sponsors such as Six 5 Design, Hetrick Racing, Fourwerx Carbon and Titanium, State 8 Motorcycles, SSI Decals, Meyer Coating, Hinson Clutch Components, Precision Racing Products, Baldwin Motorsports, DASA, Yoshimura-R&D, Streamline Performance, Rath Racing, Twenty7 Promotions, Carlton Harley Davidson, TAG, Janssen Motorsports, CP Carrillo and Weekend Warrior Motorsports.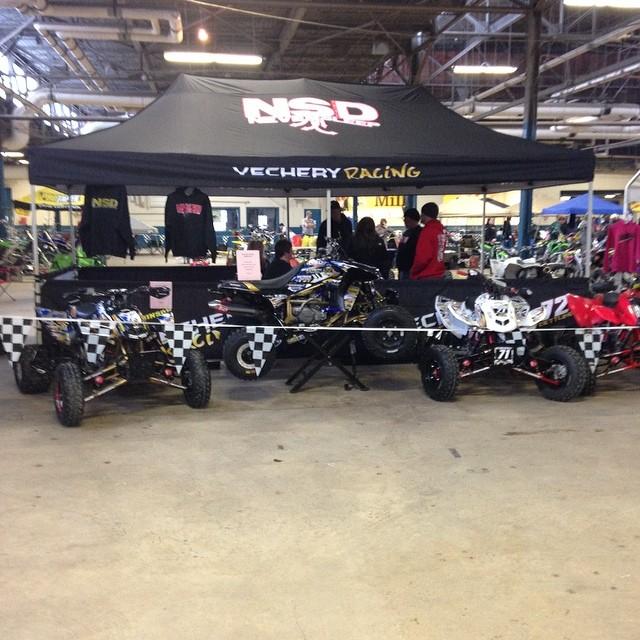 Also new for 2014 is the addition of the Vechery Racing/Never Sleep Designs Satellite support team consisting of Dan Hoisington, Dave Schrock and Alex Pafford. Many of the same great sponsors as our main team can be found on each of these riders ATVs.
The first round of the Mtn Dew AMA ATV Motocross series kicks off March 22nd in Washington, Georgia and be sure to follow Vechery Racing on Twitter and Instagram @vechery_racing as well as facebook.com/vcr4972726 for all of the team updates and results.