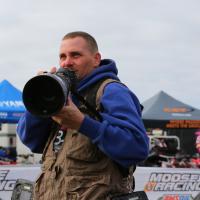 Ken Hill
Time
Monday, December 23, 2013 | 9:25 AM
For 20-year-old Silas Lamons, the 2014 season will be spent racing the Mtn. Dew ATV Motocross nationals as a Pro. The Bulls Gap, Tennessee native decided that it was his time to take the step and carry his racing career to the next level.
"My goal is being in the top ten every race and giving it 110%. It has always been a dream to become a PRO and I have stepped my training up big time to make sure I don't come off the track with my tongue hanging out," proclaimed Silas.
Lamon's first national was at Loretta Lynn's in 2008 and the young rider has been working his way up through the classes over the past five years. It hasn't been an easy journey; however, the goal of making it to the Pro ranks was always there as a driving force to make him continue training and racing. After finishing in the top ten at several nationals this season in the Pro Am class, Lamons will have to find a way to keep himself and his Suzuki healthy and ready for competition. As he self admits, he had troubles in 2013 making it to each round and faced the mechanical issues that at times plague most riders.

The move will put Lamons on the track with the nation's fastest ATV racers and in the spotlight where failures seem to be out paced by success for many. With a good attitude and focus, and some backing by family, friends and sponsors, it will be interesting to see how Silas can adapt to the high pressure and fast pace that awaits him.
"I want to thank my mom, dad and brother for getting me to where I am now and a huge thanks to my mechanic Mike Ulrich and all my sponsors. Ulrich Performance, Hyperion, Twisted Images, Moto Trim, Moose, Faast Company, Walsh Racecraft, Pro Armor, X Brand Goggles, Jeremiah Jones Racing School, Fuel Clothing, FSR, Hinson, Fox Shocks, FMF, ITP, 89 Speed Shop, Alco Products Inc, Alpinestar, Bluff City Marble, JPMX."