Rodney Tomblin
Site Lap: The Big Finish
Time
Saturday, August 17, 2013 | 4:55 PM
Welcome back to Site Lap which has been non existent the last few weeks. Partly due to some technical difficulties in my world, the new site I had no idea how to access and largely in part to the fact that Loretta Lynn's two wheel and four wheeled nationals. It is to say the least very nice to be home for a few days before things kick back into high speed with the wrap up of the Amsoil GNCC series. Right now I am packing to head to Elsinore to help with the set up and announcing of the last Lucas Oil Pro Motocross Nationals. So it is literally only a few days of rest but actually things are slowing down as fall approaches.
The 2013 Mtn. Dew ATV Motocross National Championship was without a doubt one of the most challenging and exciting championships in history. With all the rain and mud that seemed to plague us is some way every round certainly made it challenging before the other rider factor can even be considered. As Chad Wienen put it at Red Bud, "The weather was the 21st rider on the gate every round and each moto was unpredictable and presented different challenges and challengers." It was like you never knew who was going to be battling for the wins from one moto to the next. The two most consistent riders were Chad and his teammate Thomas Brown. Brown finally had the combination that worked and since he snagged his first win at Dirt Days 2014 could present a challenge for Wienen for the title from within his own camp.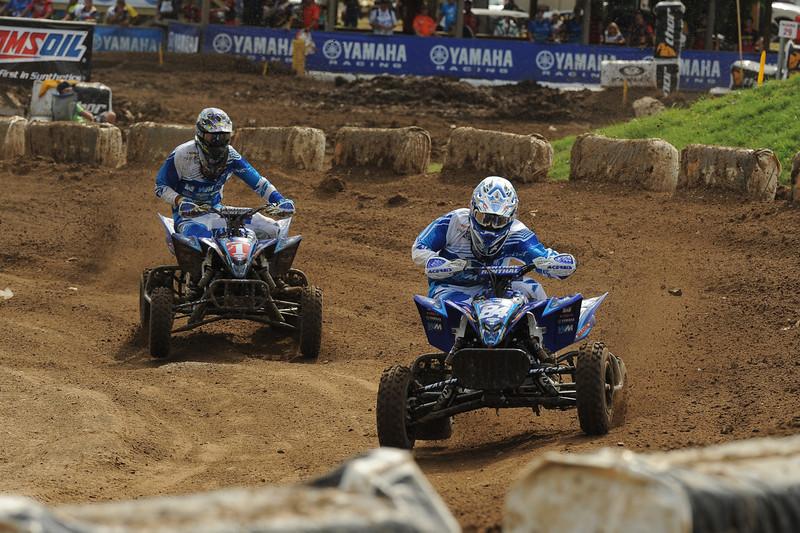 Congratulations to Thomas Brown on his historical first ever overall AMA Pro ATV MX win. Brown did it in an amazing style as well. If you were there to witness what took place in the first moto then you may not appreciate just how monumental this win was. Brown had an amazing fan base turnout as a host of Texas natives actually charted a bus to make the trip to Loretta Lynn's Ranch in anticipation of Brown's biggest race to date. The fences were lined with T-Brown 84 shirts and signs and it left no doubt as to who they were there to cheer for. Brown got off to a solid start in moto one and nearing the end of lap 1 Brown had a near catastrophic situation turn into one the wildest spectacles I have ever witnesses in ATV racing. Brown hit the camel back tabletop heading into Loretta's famous beach side sweeper turn. Something went wrong and Brown's quad took a nose dive and then bounced up in the air flipping over forward back onto its wheels. Miraculously Brown stayed on the quad and with a violent slam to the ground, he restarted the machine and took back off. An amazed crowd could not believe their eyes and Brown went on to take 3rd in moto one. Apparently Thomas's foot got caught in the nurf bar and under normal circumstances it would not be a good thing but this time it was a blessing. It was if fate would not allow for anything to happen but for Thomas Brown to win that day. Something that amazes me though is that I have talked to no one that caught the incident on video. If you know someone who may have, I would love to see it again.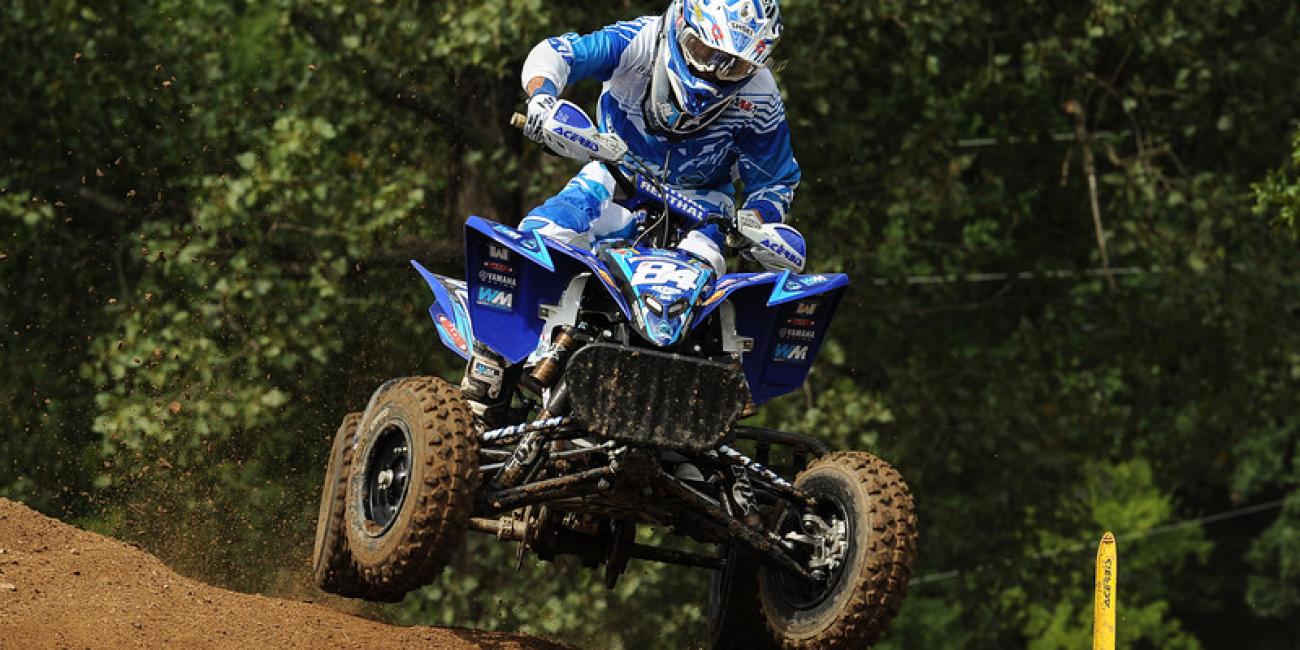 I would also like to say a big thank you to Kyle Fix, Travis Moore and Nick Gennusa for the assistance in calling the pro races on Saturday. Very good job guys and any time you want some mic time, you got it! Travis didn't get to stick around for moto 2 but Kyle and Nick did another amazing job and I really enjoyed listening to their perspectives on the race.
Cody Janssen had his re-debut into AMA Pro ATV MX and had a little better success this time. He finished just outside the top 10 but had solid lap times and qualifying times. It was noted by several who have been watching Cody the last couple of seasons. Janssen scored a good run in the Pro Am Class also and nearly won it on Sunday aside from some mechanical issues. Cody grabbed the hole shot in moto 2 and says he feels like it was all him that day and in his mind he won that one. Regardless the end result in the race the end result for the season was that Cody rode impressively enough to snag some good support from two top tier support programs in the industry. It appears that Cody has inked a two year deal to ride with Elka Suspension and Walsh Racecraft. As his father said in a recent post on Facebook, "Watch the lap times go down!" Don't surprised if Janssen battles for some top five rides next season in his rookie year a few times.
Ronnie Higgerson the final Pro Am win of 2013 at Dirt Days and he was more than happy with the outcome. It seems that no matter how good or bad your season goes, if you score well at Loretta Lynn's you leave on a high note and the optimism of the coming season becomes so much brighter. Like many, the win for Higgerson could not have come at a better time. Ronnie had some good rides this season and to go out on top like that may have been the spark that his camp needed to carry them strong through the long off season.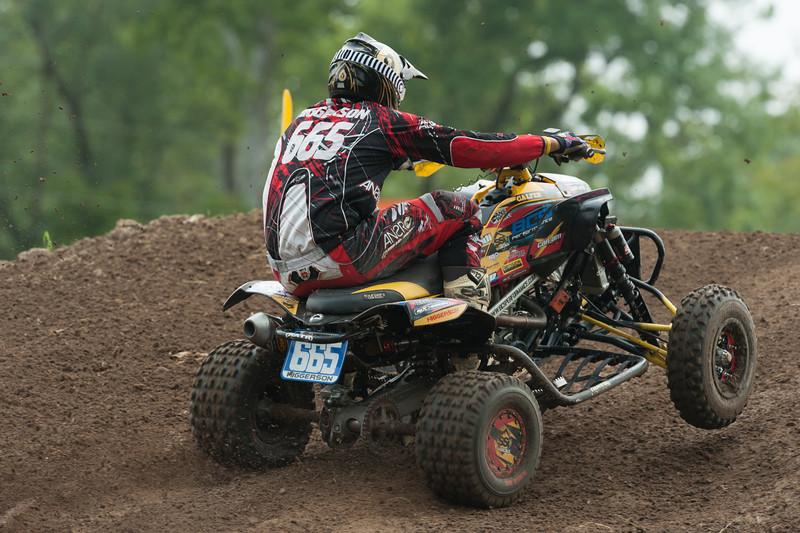 Speaking of the off season. I heard about the big race coming in October to Texas. I got the flier and details today and here is the low down:
The ATV Pro Challenge in Memory of Caleb Moore
October 4 - 6, 2013
at
Underground MX Park
Kemp, Texas
It is being deemed "The Largest Pro ATV Payout in History" and is by invitation only. It will feature Pro, Amateur, Utility ATV and UTV class racing. For more information you can go to
www.facebook.com/atvprochallenge
. It seems like this could be a big one. Sure hope I can make this one.
If you haven't heard. You can watch the latest episodes of Racer TVs coverage of the ATV MX Nationals from 2013. Round 7 and previous rounds are available to watch on
www.RacerTV.com
. Check it out.
One more note before we go. If you ever wondered to yourself that #419 Morehead Motorsports/Media All-Stars rider Chase Cunningham seemed a little sketchy, your feelings have been confirmed. It appears that Chase is a super criminal in the state of Pennsylvania where there is a bench warrant out for his arrest. It appears according to a Face Book post made by Cunningham himself that he forgot to pay an emergency brake ticket from earlier in the season and now there is a statewide manhunt for him and his capture. Okay maybe a little over exaggerated but it made me laugh when I read his comment and thought I would share the news. Chase did say he was going to pay it for sure now because he would hate to DNF a race in PA because he was in jail. I laughed again.
Also on a serious last note, don't forget the banquet scheduled for November 2nd in Morgantown West Virginia once again this year. Make sure you check
www.ATVMotocross.com
for details and congratulations to all top 10 national class finishers.
That's it for now. Till next time, God Bless Your Heart and All Your Vital Organs.