Andy Bowyer
Tuesday Feature with John Natalie
Time
Tuesday, May 13, 2008 | 12:00 AM
Written by: Andy Bowyer
They say mud racing is the great equalizer because it is the same for everybody. Historically speaking in motorsports, that saying holds true - unless your name is John Natalie. After suffering through eye problems that were serious enough to almost necessitate a cornea transplant, the factory Can-Am rider entered one of the biggest mud races in ITP Tires/Moose Racing ATV National Motocross Presented by Parts Unlimited history with an additional handicap. But the Houtzdale, PA, rider was still wishing for rain, knowing it would make visibility poor for his competition and level the playing field. In the end, it was a big weekend for Team Warnert Racing with Natalie nailing down second place while his teammate, Cody Miller, earned a top-five. The runner-up finish, a first for Can-Am in Pro ATV Motocross competition, elevated Natalie to third in points, and he has some momentum with his favorite round of the series approaching. We caught up with John to talk about his eye, his new Cam-Am DS 450, and how he plans to stay up front this season.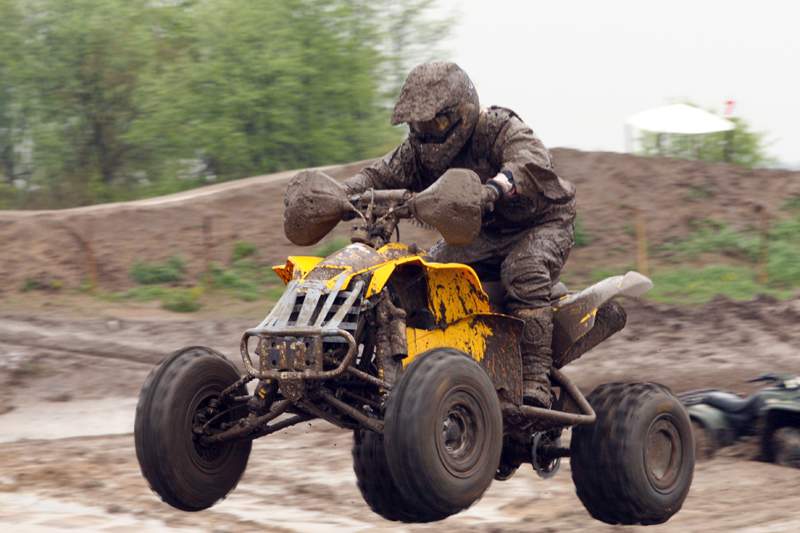 Wow, John, Iron Man is #1 at the box office and John ""Ironman" Natalie steals his first podium of the season. Congratulations!
It was a great weekend for me. I was hoping for rain, even though I had some eye issues. I figured the mud would equal things out because no one would be able to see. I pretty much had the holeshot, then someone slid into me pretty hard and I got knocked back to fourth. Then I ended up passing Doug Gust and Pat Brown and fought back to second.
We heard a little about your eye. That is really unfortunate. Is it any better?
No, it's not better yet. I got mud in it and got a fungal infection, which is a serious infection. It's very uncommon and there isn't even any medicine to treat it very well. We caught it just in time before the doctor was going to do a corneal transplant. At Virginia, I had 22/00 vision, and I could barely see out of my left eye at all. This weekend I had 20/40, so it is getting better. I should be pretty close to 20/20 by the next race though.
So after all of that you were actually wishing for rain?
[Laughs] I'm not sure if my eye was digging it, but I was, because I knew it would put us all on a level playing field as far as vision went.
Your runner-up performance moved you up to third in points on your Can-Am DS450. How is the new ride working out for you?
It's working great. You know, like with anything new, we had to find the little things that suit my riding style better. We're picking up better performances each time out and I think it's a great bike. We've proved that by coming out with a bike that hadn't even seen the track, and we're already running with teams like Suzuki, Honda, and Kawasaki.
The DS450 is a fairly advanced machine that has some revolutionary features, such as the frame. As a former factory-backed Honda rider, what is your opinion of the new ATV?
With the way the frame is built, you don't have to tear it down and gusset everything before you ride it. It's race ready right out of the box, and it's a lot lighter and more predictable in the air. It actually feels more like a dirt bike when you jump it.
You're the 2005 AMA Champion, then you raced elsewhere for a while, now you've returned. How do you like the series so far?
It seems to be going really well. We have more riders than ever, and with the economy being bad, we're still pulling record numbers. In 2005 we were getting 400 or 500 quad riders, and it's been almost 700 quads at every round this year. I think it's great to see people in our sport still showing up and fighting to compete.
We're approaching the halfway point of the season and have some big races on the horizon. What are you going to work on to keep yourself on the podium?
We're still switching some things around on the bike to make me feel more comfortable and we're going to keep working on that. We're going to move my pegs around, and the bars and just keep trying to work on some rider-comfort stuff. You know, Mount Morris has always been a really good track for me. I've always placed well there. I'm looking forward to swapping places with Dustin Wimmer and taking over the place he was in last weekend.
It's really been a battle all year for podium finishes and wins. You're now a part of an impressive list, that continues to grow. Congratulations, anyone to thank for getting you to this point?
I definitely want to thank Warnert Racing, Can-Am and BRP. Then there's ATV Four Play, Hyper Wheels, Torco Racing Fuels, Rage ATV for outstanding motors; KYB Suspension, Fasst Company bars, Quad Tech, and just everyone that is helping me.