Andy Bowyer
Monster Energy Kawasaki's Jimmy White
Time
Thursday, April 3, 2008 | 12:00 AM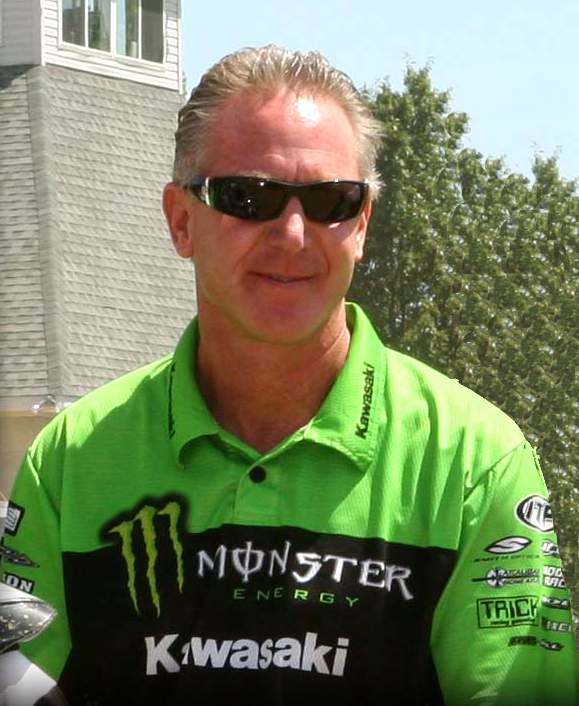 Jimmy White

There are a few folks within the ATV industry that share the unique perspective of being a part of the two major eras if ATV racing. The early-to-mid 1980's saw the advent of professional three-wheeler racing and for a while the sport was really rolling. They had factory involvement and a starting gate chock full of talent that was making a real living in professional ATV racing. Jimmy White was one of those riders. Today, Jimmy is a major part of the current ATV movement that is exploding into the Power Sport industry. This time around, Jimmy is the Team Manager of the newly formed Monster Energy Kawasaki ATV professional team. Now in it's second year, the team has expanded to three riders and has its sights set on the coveted AMA ATV Pro #1 plate. We caught up with Jimmy to talk to him about his role as Team Manager and his thoughts on the 2008 ITP/Moose Racing AMA ATV Pro and ATVA Motocross Nationals.

Explain to us how Team Monster Energy Kawasaki came to be and how you became Team Manager.

KHI Japan must have seen the spike in ATV sales because they contacted Kawasaki Team Manager, Reid Nordin, to put together a team. Reid and I actually rode for Kawasaki on their last ATV team and it was just a natural fit.

You've been around the Pro ATV scene since the beginning. Tell us some more about your racing history.

I'm originally from Des Moines, and I spent most of my professional career racing three-wheelers, but had one season on four wheels.

This was when the Kawasaki ""Tecate 250" was the machine to have, right?

Yes, that all began in 1983 and that signified the first go around of the factory involvement before the big cut off in 1986. During that time I had a great working relationship with Kawasaki and Bruce Stjernstrom. I had maintained that relationship from my riding career and when it came time to form the team It was just kind of a natural fit, everything came together. We didn't have a lot of time before the season began last year, but we managed to get all of the quads race ready, the 18-wheeler bought, and everything organized in 45 days.

Things went pretty well last year with Josh Creamer getting a couple top-fives and towards the end of the season he was really rolling. We spent all winter getting ready for this season and tested a lot of stuff. Keith Little is a great addition to the team and is an excellent test rider. Then the first race out that work paid off because Josh went out and got on the podium at Glen Helen. Last weekend didn't go as well as we hoped, we had a few little gremlins, but Keith pulled off a 5th in that second moto. It wasn't as big a step forward as we're trying to get but we're getting somewhere, for sure.

You guys have a really professional looking team. It seems like the pit area as a whole is really looking strong and we saw record entries last weekend. Do you feel that professional ATV racing is growing and your team has come together at the right time?

Well, yeah, for sure. It's grown as big as it was when I was racing. Obviously it looks a lot bigger now with all of the 18-wheelers, and the factory involvement has helped. We have the Team Green program for amateurs and I have to say, I was very impressed last weekend at Pell City with how many Kawasaki riders there were out there in the Pro Am class. That went really well. I think the contingency we put forth has helped play a role in that. And one thing I want to throw in there is even though I am the team manager, Reid is the Team Green manager and he is a very passionate ATV guy. He has been a very instrumental part of making our team come together. He's really big on the mechanical side of making our stuff race ready.

It seems you guys have a lot of feathers in your hat. Do you guys also get to enjoy synergy with the factory supercross team?

We have the same resources. We actually get quite a few factory parts from Japan. Even though most everything on our quads you can purchase, there are a few factory parts our guys have to use as they are riding them harder than most of the general public. We have some cool stuff with the fuel injection that the road race team is helping us with too.

Folks like the AMA's Harv Whipple and the ATVA's Sam Gammon have stepped up to keep up with this big boost in the ATV scene. Your team has been through two rounds so far. What are your thoughts on the series?

Very good. Very competitive. There was a lot of amateurs, and that is what feeds us and makes it a bigger series and it was very impressive. The track was great. The pits were a little tough, but the weather had a lot to do with that. The series is really coming together and it looks like the entire year should be good.

With that said, what is it going to take to stop this Wimmer, guy?

It's going to take a lot! (laughs) He is on top of his game right now, I was very impressed with the way he rode. I think between him, Chad Wienen, and Josh Creamer I think we're going to see a lot of wins between the three of them. But if Wimmer keeps the pace he's going now, it's going to tough for everyone for sure.

You're always scouting talent for your team. What advice do you have for an aspiring ATV racer that has dreams of becoming a professional?

I spend a lot of my time when I'm at the races watching all of the classes. It's the way a rider presents himself. I try to get to know he and his family, because obviously quad racing is very family oriented. We like to get with riders early in their career. That's what Kawasaki is about. We build champions, we don't buy champions. You know, Josh Creamer, he was just a rookie Pro-Am when we picked him up and I was impressed with his determination and he's worked out excellent. I have a couple A riders right now in that someday soon will be at the professional level.

Would you like to add anything else?

Between our sponsors and the team that Reid and I have developed I'd like to thank everyone. From our driver, Chappy, to everyone. It's been a lot of work, but we have a lot of fun at what we do. We try to keep it loose, but we work hard at the same time.