Jason Weigandt
Wimmer Takes Millcreek Moto 1
Time
Sunday, March 30, 2008 | 12:00 AM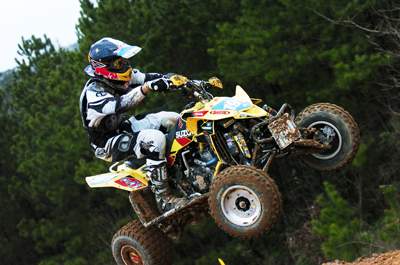 Wimmer looks strong early at Millcreek.
PELL CITY, Ala. (March 30, 2008) -- Dustin Wimmer continued his dominance of the FMF Spring National at Millcreek Raceway, winning the first of two AMA Pro ATV motos. The event represents Round 2 of the 2008 ITP Tires/Moose Racing AMA/ATVA ATV Championship Series.
Wimmer (No. 191 Team MSR/Suzuki/Yoshimura/Pro Taper) started second behind Suspension Technologies Holeshot Award winner Josh Upperman (No. 20 Honda). Upperman went off track on the first lap, and Wimmer pounced, taking the lead for good. Behind Wimmer, Chad Wienen (No. 44 Team Rockstar/MSR/Suzuki/Yoshimura/Pro Taper) took second from John Natalie, Jr. and finished second. Natalie (No. 13 Can-Am) just held off defending Champion Joe Byrd (No. 7 IMS/Honda).
"I just stuck with Josh at the start, and when I saw my chance, I took it," said Wimmer, who remains undefeated this season. "From there, I just tried to stay smooth and hold my line. It's great to win another one!"
The second moto is scheduled for today at 3 p.m. CDT.