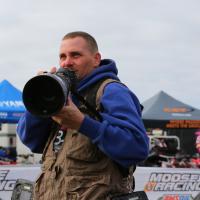 Ken Hill
Time
Wednesday, May 31, 2023 | 10:50 AM
FOR IMMEDIATE RELEASE
Sunset Ridge ATVMX National Championship Race Report
Hetrick Continues Dominance by Going 1-1
WALNUT, Ill. (May 31, 2023) - Round six of the ATV Motocross Championship Series, an AMA National Championship, (ATVMX) took aim at the highly anticipated Sunset Ridge MX facility in front of multi-time AMA Pro Chad Wienen's hometown fans. This round in the past has served as a swing round whereby we have seen Wienen Motorsports/Maxxis/SSi Decals/Fly Racing/Yamaha's Wienen set the stage for the remainder of the season as he battles his way to challenge for another number one plate.
The rider standing in his way repeatedly is none other than Phoenix Racing Yamaha's Joel Hetrick who is proving difficult to unseat from anything short of all out domination, round after round. While the competition has always been close on the track and razor thin in the points chase, Hetrick seems to have entered a zone that is showing no signs of relenting his position and winning by margins that don't show on the stop watch.
For Wienen, the season started off with an injury and even though the incredibly fierce champion has put forth a gallant effort thus far, his persistence has come up short as he faces not only Hetrick each round, but a host of up and coming riders that aren't giving him an inch as they eagerly try and put their own names in the history books. The start has become insanely critical for Wienen and if he doesn't get up front in the first few turns, he now faces incredibly fast riders that he has to chisel his way through before attempting a run on Hetrick.
Memorial Day weekend is filled with patriotism and respect for our countries fallen and wasn't missed by the teams whose graphics kits featured military themes throughout. On a weekend that finds the majority joining friends and family for a cookout, in Illinois there was a war brewing of its own. Smiles and friendly chats persist through out the Pro class as the gate begins to fill and a chilling vibe settles in over the crowd. The star spangled banner takes on a special meaning at this round and nerves of steel waver slightly in the final few seconds before the gate drops on an empty battlefield that will soon be filled with battles in every turn and through the air with every jump.
The fastest qualifier had already been captured by Hetrick and going 1-1 would be a victory worth celebrating however there were others showing promise such as a hard charging GennUSA Racing/SSi Decals/CST Tires/Corrosion Specialties' Nick Gennusa and Musick Racing/Déjà vu/Kenda Tire's Brandon Hoag who blistered the qualifying sessions and showed they had some speed to head into battle on an incredible weather day that was begging for the intense action which was well on its way!
Sunset Ridge is notorious for getting rough, really rough! It has been the advantage Wienen has capitalized on at many races here and that advantage has always swung his way until it didn't. Hetrick's ability to maintain an insane speed through the chop has been incredible and he used what he has learned to shut the door on his competitors once again going 1-1 for yet another perfect weekend. The current champion is at a pinnacle in his career and riding in his prime with no showing of letting up or showing mercy to those who challenge him.
For Wienen, a 2-2 weekend would have to suffice as he continues to dig for every point in hopes he can make things pop in the second half of the season. In no way has he lost a step on the track, it is merely that he is watching a phenomenal rider run ahead of him in a way that is almost impossible. If you ask if the torch will be passed easily you may well end up with a burnt hand because the desire, dedication and sheer drive in Wienen will not let him quit.
The 3-3 finishing positions went to Ford Brothers Racing/FXR/SSi Decals/CST's Bryce Ford who again put in a great set of motos here at Sunset and looked like he still had more to give. Finding that place where your passion takes you isn't easy and the young Texan is growing with every moto. After an intense exchange with Gennusa, Ford made the pass for third in the first moto as the checkers flew proving he isn't shy about going after what he wants.
Rastrelli Racing/FXR Moto/Rocket Machine Design's Jeffrey Rastrelli would go down swinging with 5-4 for fourth as he currently sits third in points with a razor thin margin over Wienen. Rastrelli is so close yet so far away and this finish won't sit well with him as he prepares for the next round. Gennusa has been having the same basic season as Rastrelli if you look at finishes and here he would go 4-7 for fifth as he showed promise throughout the weekend. Two incredible racers that have tons to prove even after many years of the brutality this form of racing brings.
While the door has closed on this round, Budds Creek is up next and should provide an incredible venue for the series to showcase its series and allow the pro class to shine. This is another track that can get brutal and could offer Wienen a counterstrike that he definitely needs to propel him in points.
For more information on the ATV Motocross National Championship, visit the series official website at www.atvmotocross.com or call (304) 284-0101. Join the conversation on the series social media channels, along with receiving the most up-to-date news and exclusive content.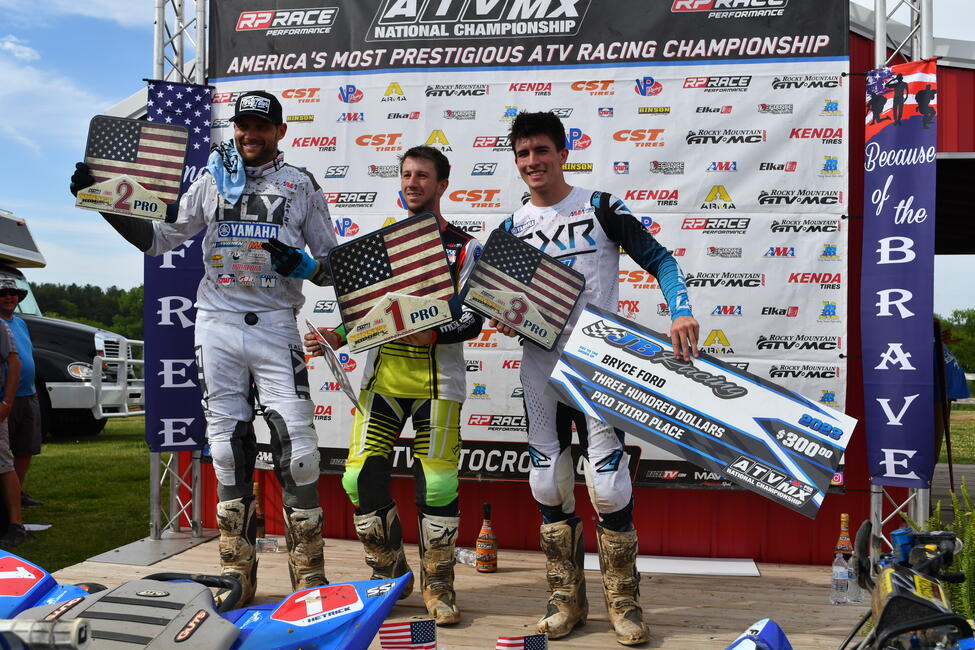 Sunset Ridge Results and Points Standings
Walnut, Illinois
Round 6 of 10
Saturday, May 27, 2023
AMA Pro Class Event Results:
Joel Hetrick (1-1)
Chad Wienen (2-2)
Bryce Ford (3-3)
Jeffrey Rastrelli (5-4)
Nick Gennusa (4-7)
Brandon Hoag (6-5)
Max Lindquist (7-6)
Logan Stanfield (9-8)
Westley Wolfe (8-9)
Cody Ford (11-10)
Overall National Championship Standings:
Joel Hetrick (264)
Bryce Ford (221)
Jeffrey Rastrelli (203)
Chad Wienen (200)
Nick Gennusa (180)
Brandon Hoag (167)
Max Lindquist (149)
Logan Stanfield (141)
Westley Wolfe (130)
Cody Ford (107)
About the ATV Motocross National Championship:
The ATV Motocross National Championship, an AMA National Championship, is the nation's premier amateur and professional ATV motocross series, hosted at top motocross facilities nationwide. The 10-round AMA Pro and 9-round amateur series features the Nation's best racers, teams and sponsors, and is America's largest and longest-running ATV national motocross program. Since 1985, the series continues to expand and produce top talent from the amateur ranks, while premiering the professional class. For more information, please visit www.atvmotocross.com.
About the American Motorcyclist Association:
Founded in 1924, the AMA is a not-for-profit member-based association whose mission is to promote the motorcycle lifestyle and protect the future of motorcycling. As the world's largest motorcycling rights and event sanctioning organization, the AMA advocates for riders' interests at all levels of government and sanctions thousands of competition and recreational events every year. The AMA also provides money-saving discounts on products and services for its members. Through the AMA Motorcycle Hall of Fame in Pickerington, Ohio, the AMA honors the heroes and heritage of motorcycling. For more information, visit www.americanmotorcyclist.com. Not a member? Join the AMA today: www.americanmotorcyclist.com/membership/join.
Media Contact:
Kayla Bolton
Media Manager
[email protected]