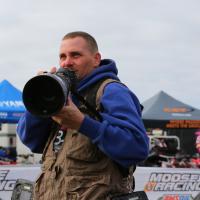 Ken Hill
Time
Monday, March 20, 2023 | 4:55 PM
FOR IMMEDIATE RELEASE
Gatorback ATVMX National Championship Race Report
Bryce Ford Goes 1-2 for First Overall Win
ALACHUA, Fla. (March 20, 2023) - Round two of the ATV Motocross National Championship Series, an AMA National Championship, (ATVMX) remained South and set its sights on returning to the Gatorback Cycle Park facility in Alachua, Florida. The return to this track had racers excited about getting onto the second round of AMA Pro Racing, and would be the season kickoff for amateur, youth and vet racers as a full schedule of racing was scheduled.
For the premier AMA Pro class, the weather was taken in stride as the day unfolded. Phoenix Racing Yamaha's Joel Hetrick put the power down during qualifying earning yet another fastest qualifier and making the statement early that he was going to be a handful no matter what track conditions he faced. The top five in qualifying was filled with A listers as the separation indicated that the first moto could be a real battle amongst the fastest in the world.
However, things went sideways quickly as this moto was about to change the course of the 2023 season. The gate dropped and it was Wienen Motorsports/Maxxis/SSi Decals/Fly Racing/Yamaha's Chad Wienen and Hetrick racing towards the first turn with neither giving an inch. The pair made contact, causing them both to wreck as well as a couple other riders getting thrown into the mix.
Making his way through the carnage was Ford Brothers Racing/FXR/SSi Decals/CST's Bryce Ford out front and looking in complete control as the moto rolled on. With the top two riders' way off pace, Ford sailed to the moto win with Rastrelli Racing/FXR Moto/Rocket Machine Design's Jeffrey Rastrelli taking second and Decker Training Facility/K5 Motorsports/Walsh Race Craft's Zack Decker earning an outstanding third.
Hetrick had remounted and was back in the race, earning seventh with Wienen limping in for seventeenth. Damage control was hitting the pits as the mechanical crews dove into the machines to see what needed to be fixed and the medical crews got a visit from both Hetrick and Wienen. For Wienen, his day was done as a possible collarbone issue would keep him from competing in moto two while Hetrick, although bruised and battered, would be on the gate to salvage points.
Moto two would see its fair share of great racing however, all eyes were locked on Hetrick as he ripped around the Florida track and would claim the moto win. The big news hit when Ford crossed the finish line earning his first-ever AMA Pro Overall win! Joining the top two on the podium would be Rastrelli as he claimed second overall, and Hetrick taking third overall with a 7-1 score.
Fords win was monumental for the team and fans because we all knew his day was coming. Cheers and celebration and concerns about injured competitors kept the festivities on a lower key than one would expect but the celebrations were indeed underway.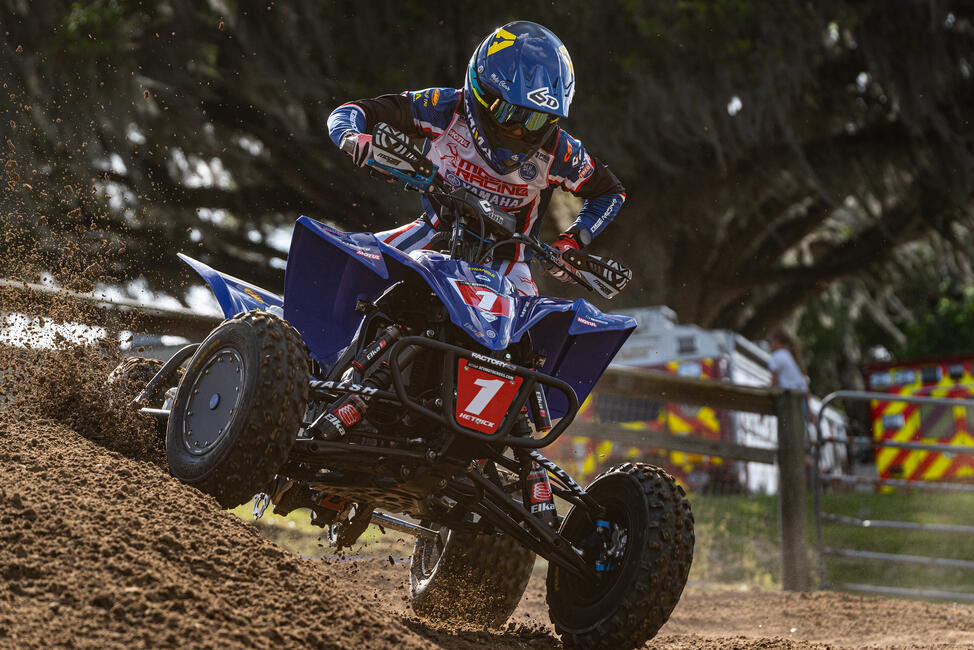 Rastrelli's efforts in both motos kept him charging to the front as he would secure second overall. Misfortune and health issues have plagued his efforts over the past several seasons so a podium finish might be just what he needs as we head to round three and beyond. Hetrick just won't go down easily and that's a trait one finds embedded in champions. Hetrick's rally in both moto one after the crash and his win in moto two prove he will be the last man standing if he has his way about the season.
Going 4-4 on the day was GennUSA Racing/SSi Decals/CST Tires/Corrosion Specialties' Nick Gennusa as he appeared to be in a good place at the end of the race. Gennusa is yet another racer that has his sights set on big things and knows hard work is what will get him there. Leaving safe and healthy might be the advantage he needs to capitalize on round three.
Taking the final position in the top five going 5-5 on the weekend was Musick Racing/Déjà vu/Kenda Tires' Brandon Hoag as he found some success here at Gatorback. It's not a podium finish, but Hoag as well knows nothing comes easy and he remains on the cusp of doing big things with just a little luck thrown his way.
Unfortunately for Decker a crash in moto two would leave him sidelined for the unforeseeable. A video from Decker would spread on social media as he discussed his broken femur and wrist. Well wishes go out to him, Wienen and Cesar Jimenez, who was involved in the moto 1 holeshot crash injurying his shoulder.
In the Pro-Am class it was Jayden Londerville taking the overall win after going 1-2 in Florida, while Mason Jackson came through to earn second with a 5-1 score on the weekend. Blair Miller rounded out the top three after going 3-3 at Gatorback.
Brett Musick took home the Pro Sport class win with a 1-1 score, and it would be Agostino Abbatiello coming through to earn second overall in the class. Joseph Chambers, a Florida native, rounded out the top three in the Pro Sport class at their second round of racing in the 2023 season.
Battling throughout the weekend were the WMX racers, as Kinsey Osborn would come through to earn the overall win going 1-1 on the weekend. Niamh Shaw would go 2-2 to earn second overall, while Shelby Cobrando went 3-3 to round out the top three in the class. Ellie Roush and Shelby Shiamone would go 4-4 and 6-6 to round out the top five in the WMX class.
Next stop for the series falls on the Underground MX (UGMX) soil of Texas as round three heads full force into another amazing facility that should be a great equalizer that will provide some intense action throughout the ranks.
For more information on the ATV Motocross National Championship, visit the series official website at www.atvmotocross.com or call (304) 284-0101. Join the conversation on the series social media channels, along with receiving the most up-to-date news and exclusive content.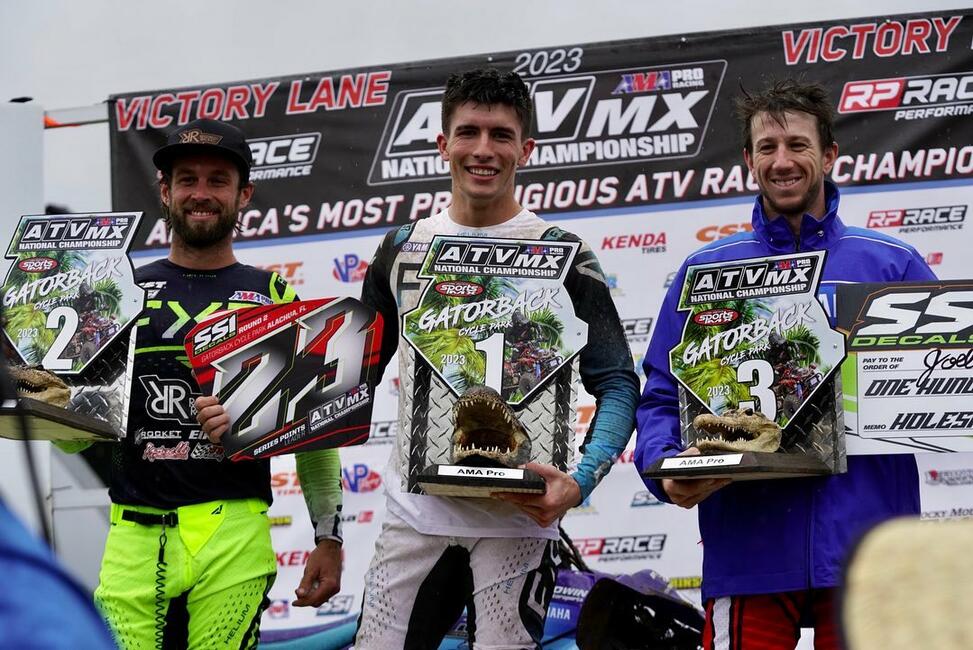 Gatorback Cycle Park Results and Points Standings
Alachua, Florida
Round 2 of 10
Saturday, March 18, 2023
AMA Pro Class Event Results:
Bryce Ford (1-2)
Jeffrey Rastrelli (2-3)
Joel Hetrick (7-1)
Nicholas Gennusa (4-4)
Brandon Hoag (5-5)
Logan Stanfield (9-6)
Westley Wolfe (8-7)
Zack Decker (3-17)
Max Lindquist (6-13)
Cody Ford (11-9)
Overall National Championship Standings:
Bryce Ford (67)
Joel Hetrick (64)
Jeffrey Rastrelli (60)
Nicholas Gennusa (52)
Brandon Hoag (42)
Logan Stanfield (42)
Max Lindquist (37)
Zack Decker (37)
Cody Ford (31)
Kevin Saar (29)
About the ATV Motocross National Championship:
The ATV Motocross National Championship, an AMA National Championship, is the nation's premier amateur and professional ATV motocross series, hosted at top motocross facilities nationwide. The 10-round AMA Pro and 9-round amateur series features the Nation's best racers, teams and sponsors, and is America's largest and longest-running ATV national motocross program. Since 1985, the series continues to expand and produce top talent from the amateur ranks, while premiering the professional class. For more information, please visit www.atvmotocross.com.
About the American Motorcyclist Association:
Founded in 1924, the AMA is a not-for-profit member-based association whose mission is to promote the motorcycle lifestyle and protect the future of motorcycling. As the world's largest motorcycling rights and event sanctioning organization, the AMA advocates for riders' interests at all levels of government and sanctions thousands of competition and recreational events every year. The AMA also provides money-saving discounts on products and services for its members. Through the AMA Motorcycle Hall of Fame in Pickerington, Ohio, the AMA honors the heroes and heritage of motorcycling. For more information, visit www.americanmotorcyclist.com. Not a member? Join the AMA today: www.americanmotorcyclist.com/membership/join.
Media Contact:
Kayla Bolton
Media Manager
[email protected]