Kayla Bolton
Time
Thursday, March 16, 2023 | 11:55 AM
FOR IMMEDIATE RELEASE
ATV Motocross National Championship Heads to Gatorback This Weekend
Hetrick Looking to Earn Second Win in Florida
MORGANTOWN, W.Va. (March 16, 2023) – The ATV Motocross National Championship, an AMA National Championship, (ATVMX) holds its first round of amateur racing and round two of the AMA Pro and Pro Sport racing this weekend in Alachua, Florida at Gatorback Cycle Park.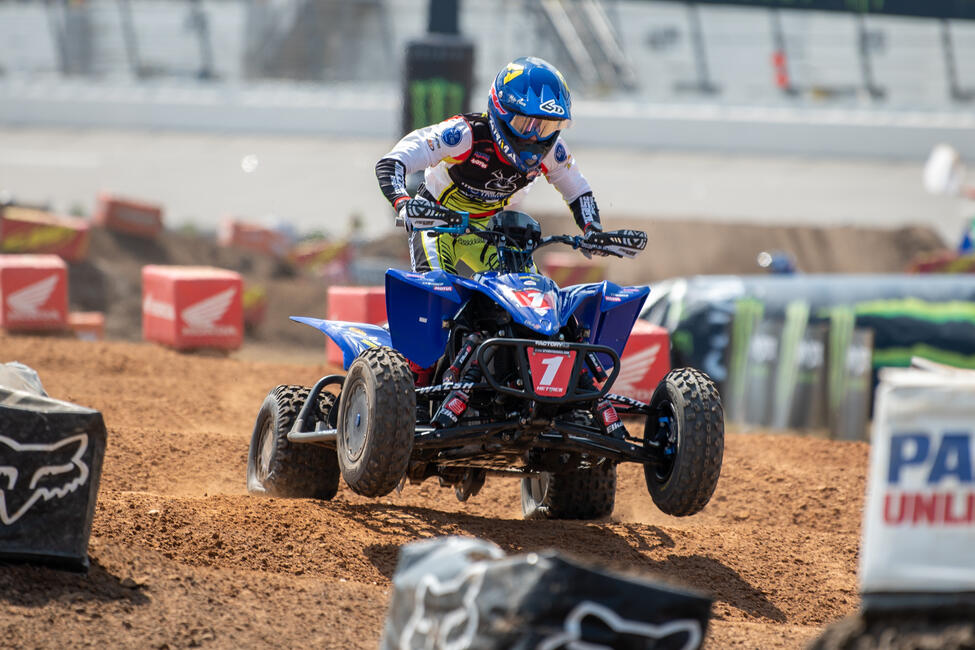 After earning the first win of the season inside Daytona International Speedway, Phoenix Racing Yamaha's Joel Hetrick is looking to keep his momentum rolling into this weekend's ATVMX National. Hetrick is hoping to start a win streak and earn valuable points towards another National Championship.
Wienen Motorsports/Maxxis/SSi Decals/Fly Racing/Yamaha's Chad Wienen came through second, but he is hoping to battle at the front for both motos this weekend and come out in the center of the box with a first overall. Wienen is looking to take over the points lead and work his way towards regaining that number one plate.
Also looking to earn an overall win this weekend will be Ford Brothers Racing/Fly Racing/SSi Decals/Maxxis' Bryce Ford. After rounding out the podium at the season opener in Daytona Beach, Florida, Ford is aiming to battle his way into that number one spot at the second round on Saturday.
Both Rastrelli Racing/FXR Moto/Rocket Machine Design's Jeffrey Rastrelli and GennUSA Racing/SSi Decals/CST Tires/Corrosion Specialties' Nick Gennusa had good races at round one as they rounded out the top five finishers. This weekend both will once again be setting their sights on that top spot at Gatorback. Rastrelli and Gennusa have shown an immense amount of speed throughout their years of racing, and once again they will be looking to a put a stop to the front-runners.
The Pro Sport class also took part in the racing at Daytona International Speedway where Jayden Londerville took the win over Blair Miller and Brett Musick. This weekend the Pro Sport class will be one to keep an eye on as the top runners in the class look to battle throughout their second round of racing.
This weekend's ATVMX National is round one of amateur racing, as well as the Pro-Am and WMX classes. This season will be one to watch as the AMA Pro, Pro-Am, Pro Sport, WMX and top amateur, youth and vet racers have continued to elevate the sport each and every year.
Kinsey Osborn is looking to defend her first WMX National Championship this season, as Brett Musick is also looking to defend his two championships in Pro Sport and Junior 25+. Kadin Tvergyak is an up-and-coming name as he looks to keep his winning ways going after earning three National Championships last season. Logan Mazuy also earned two National Championships in the 50cc classes last year, and as Mazuy moves up to a bigger machine he is hoping to battle at the front of the pack once again. Natalie Jackson and Lillian Plaza are two girls looking to battle at the front of their classes along with Allison Klootwyk and Olivia Joiner.
Pre-Registration is available until 2 pm ET TODAY. Click HERE to pre-register for the event this weekend.
For more information on the ATV Motocross National Championship, visit the series official website at www.atvmotocross.com or call (304) 284-0101. Join the conversation on the series social media channels, along with receiving the most up-to-date news and exclusive content.
Previous Round Results and Points Standings
Daytona ATV Supercross Results and Points Standings
Daytona Beach, Florida
Round 1 of 10
Tuesday, March 7, 2023
AMA Pro Class Event Results:
Joel Hetrick
Chad Wienen
Bryce Ford
Jeffrey Rastrelli
Nick Gennusa
Logan Stanfield
Max Lindquist
Zack Decker
Kevin Saar
John Glauda
Overall National Championship Standings:
Joel Hetrick (25)
Chad Wienen (22)
Bryce Ford (20)
Jeffrey Rastrelli (18)
Nick Gennusa (16)
Logan Stanfield (15)
Max Lindquist (14)
Zack Decker (13)
Kevin Saar (12)
John Glauda (11)
About the ATV Motocross National Championship:
The ATV Motocross National Championship, an AMA National Championship, is the nation's premier amateur and professional ATV motocross series, hosted at top motocross facilities nationwide. The 10-round AMA Pro and 9-round amateur series features the Nation's best racers, teams and sponsors, and is America's largest and longest-running ATV national motocross program. Since 1985, the series continues to expand and produce top talent from the amateur ranks, while premiering the professional class. For more information, please visit www.atvmotocross.com.
About the American Motorcyclist Association:
Founded in 1924, the AMA is a not-for-profit member-based association whose mission is to promote the motorcycle lifestyle and protect the future of motorcycling. As the world's largest motorcycling rights and event sanctioning organization, the AMA advocates for riders' interests at all levels of government and sanctions thousands of competition and recreational events every year. The AMA also provides money-saving discounts on products and services for its members. Through the AMA Motorcycle Hall of Fame in Pickerington, Ohio, the AMA honors the heroes and heritage of motorcycling. For more information, visit www.americanmotorcyclist.com. Not a member? Join the AMA today: www.americanmotorcyclist.com/membership/join.
Media Contact:
Kayla Bolton
Media Manager
[email protected]