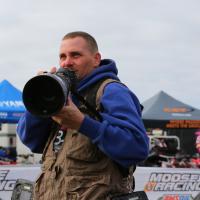 Ken Hill
Time
Wednesday, June 1, 2022 | 1:55 PM
FOR IMMEDIATE RELEASE
Sunset Ridge ATVMX National Championship Race Report
Chad Wienen Victorious in Home State of Illinois
WALNUT, Ill. (June 1, 2022) – The anticipation for round six of the 2022 ATV Motocross National Championship (ATVMX) Series, an AMA National Championship, that took place at Sunset Ridge in Walnut, Illinois, was building for nearly two weeks as this round usually sets the tone for the second half of the season. While Pheonix Racing/CST Tires/Elka/Moose Racing's Joel Hetrick remains in control of the points, Wienen Motorsports/Maxxis/SSi Decals/Fly Racing/Yamaha's Chad Wienen was able to cut into them and would be on the hunt for more here at what he considers his hometown track.
With the stage set for another epic day of AMA Pro ATVMX racing, it was anyone's game to write history in Illinois yet again. Hetrick sealed the deal on who was the fastest qualifier padding his lists of success as moto one gated. It was no surprise that the John Deere themed Yamaha of Hetrick powered to earn the SSi Decals Holeshot Award and the win in the first moto after a near flawless race.
For Wienen, watching Hetrick cruise to victory just solidified his focus as he crossed the finish line in second. Wienen seems to excel on rough tracks, which allow him to work the quad to his advantage and he was eagerly setting things up for the final showdown in moto two. Following Wienen was the hard-charging Musick Racing/Déjà vu/Kenda Tires' Brandon Hoag who earned third place in moto one as these three continue to be the riders to beat for a spot on the podium.
Moto two had Wienen fans cheering as he and Hetrick where in the mix, both hungry for the win. Hetrick would take the lead and moto two started looking like a repeat until Hetrick started falling off his lead pace. Wienen overtook the lead and would hold it until the end taking the moto win and the overall victory in his home state. For Hetrick, saving his race was paramount as he had begun hearing noises coming from his machine and would opt to save the finish instead of taking it to the point of being left trackside and possibly loosing points. Hetrick rolled in to take second overall with Hoag grabbing third.
GennUSA Racing/Integrated Financial Concepts/CST Tires/Walsh Race Craft's Nick Gennusa would have a solid day on a brutally rough track claiming fourth overall, his best finish this season. Rastrelli Racing/FXR Moto/Rocket Machine Design's Jeffrey Rastrelli would mark the top five after going 4-6 for fifth overall on the day.
The season holds a ton of racing with some of the best action yet to come. Upcoming rounds will be to the liking of the points leaders and will provide the closest racing as Wienen and Hetrick battle it out to settle the 2022 National Championship. These rounds also will fall into a few racers' skill set that should offer them the chance to break out and make history of their own!
For more information on the ATV Motocross National Championship, visit the series official website at www.atvmotocross.com or call (304) 284-0101. Join the conversation on the series social media channels, along with receiving the most up-to-date news and exclusive content.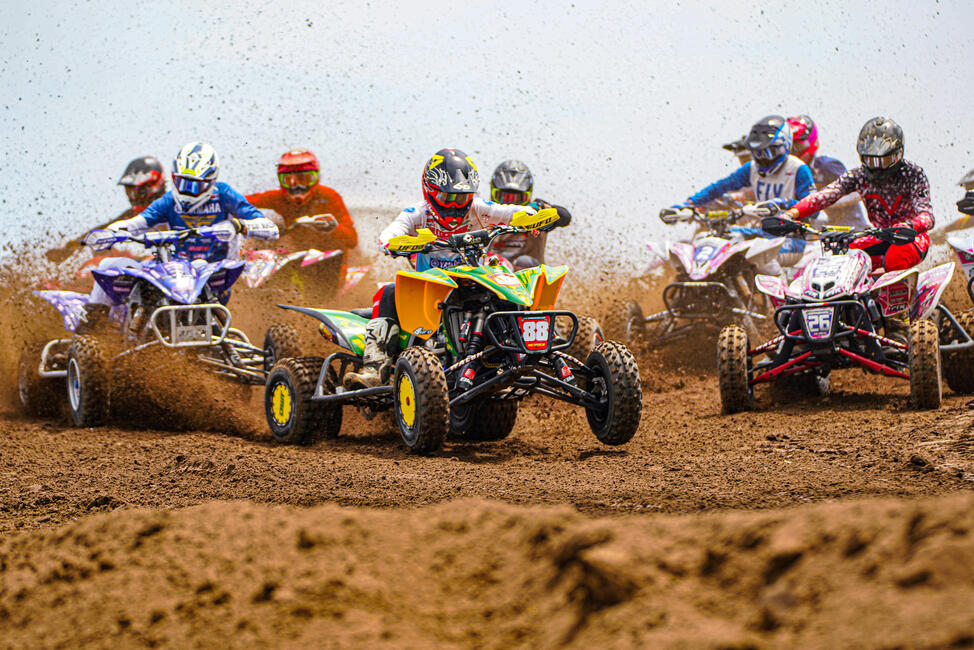 Sunset Ridge Overall Results and Points
Walnut, Illinois
Round 6 of 10
Saturday, May 28, 2022
AMA Pro Class Event Results:
Chad Wienen (2-1)
Joel Hetrick (1-2)
Brandon Hoag (3-3)
Nicholas Gennusa (6-4)
Jeffrey Rastrelli (4-6)
Max Lindquist (7-5)
Logan Stanfield (8-7)
Westley Wolfe (9-8)
Cody Ford (10-9)
Bryce Ford (5-15)
Overall National Championship Standings
Joel Hetrick (260)
Chad Wienen (234)
Logan Stanfield (184)
Bryce Ford (184)
Jeffrey Rastrelli (181)
Nicholas Gennusa (163)
Max Lindquist (144)
Michael Allred (129)
Logan Stanfield (126)
Cody Ford (124)
About the ATV Motocross National Championship:
The ATV Motocross National Championship, an AMA National Championship, is the nation's premier amateur and professional ATV motocross series, hosted at top motocross facilities nationwide. The 10-round AMA Pro and 9-round amateur series features the Nation's best racers, teams and sponsors, and is America's largest and longest-running ATV national motocross program. Since 1985, the series continues to expand and produce top talent from the amateur ranks, while premiering the professional class. For more information, please visit www.atvmotocross.com.
About the American Motorcyclist Association:
Founded in 1924, the AMA is a not-for-profit member-based association whose mission is to promote the motorcycle lifestyle and protect the future of motorcycling. As the world's largest motorcycling rights and event sanctioning organization, the AMA advocates for riders' interests at all levels of government and sanctions thousands of competition and recreational events every year. The AMA also provides money-saving discounts on products and services for its members. Through the AMA Motorcycle Hall of Fame in Pickerington, Ohio, the AMA honors the heroes and heritage of motorcycling. For more information, visit www.americanmotorcyclist.com. Not a member? Join the AMA today: www.americanmotorcyclist.com/membership/join.
Series Media Contact:
Kayla Bolton
Media Manager
[email protected]