Kayla Bolton
Time
Wednesday, May 11, 2022 | 10:30 AM
FOR IMMEDIATE RELEASE
Ironman Raceway to Host This Weekend's
ATV Motocross National Championship Round
MORGANTOWN, W.Va. (May 11, 2022) – The ATV Motocross National Championship (ATVMX) Series, an AMA National Championship, heads to Crawfordsville, Indiana, for round five of AMA Pro ATV racing at Ironman Raceway. This is the first ATVMX National since back in 2019, and the anticipation has been growing through the first couple of rounds as fans and riders are eager to get back to racing in Indiana.
Phoenix Racing/CST Tires/Elka/Moose Racing's Joel Hetrick is aiming to keep his win streak alive as he's earned four-straight wins to start off the 2022 season. Hetrick knows this weekend will be a tough one as racing heads to the Midwest, which is typically territory of Wienen Motorsports/Maxxis/SSi Decals/Fly Racing/Yamaha's Chad Wienen, but Hetrick knows that he can win in Indiana as he has three times before.
Wienen will be looking to take back the number one spot and earn his first win of the season this Saturday. Wienen has been gaining as he's earned a couple of moto wins, but he will now be looking to put together two great moto finishes and complete the wins by earning the overall win.
Ford Brothers Racing/Fly/SSi Decals/Maxxis/DWT/Maxima/Fourwerx/Walsh's Bryce Ford has been steadily working his way to the front as he's made the overall podium twice already this season. Ford will be looking to continue his battles at the front of the pack, and race to what could be his first AMA Pro overall win.
Just two weeks ago in Pennsylvania, ML2 Motorsports/Walsh Race Craft/Maxxis/Yamaha's Max Lindquist finished fourth overall and this weekend he will be once again aiming to run up front. Lindquist is hopeful he can battle for an overall podium finish in Indiana as the series heads from the East to Midwest.
Rounding out the top five at the last round of racing was GennUSA Racing/Integrated Financial Concepts/CST Tires/Walsh Race Craft's Nicholas Gennusa. This weekend Gennusa is eager to be back at Ironman Raceway and battle for his first podium finish of the year. Gennusa is steadily working his way back to the front of the pack and is hopeful he can put together two motos on Saturday to finish within the top three.
Musick Racing/Deja Vu/Kenda Tires' Brandon Hoag along with Rastrelli Racing/FXR Moto/Rocket Machine Design's Jeffrey Rastrelli are both eager to get back to racing in Indiana as well. Both riders have been showing great improvements throughout last year and during the first half of this year.
Both HuntScapes/Baldwin Motorsports/Captial Powersports' Michael Allred and Stanfield Motorsports/TDR Motorsports/Impact Solutions' Logan Stanfield are also aiming to continue working their way up through the pack this year. Both finished inside the top 10 overall at the previous round, and both will continue to be looking to better themselves this weekend. Westley Wolfe has also returned to racing after a crash at last year's Loretta Lynn's ATVMX National took him out of contention for a little while. Wolfe was running in fifth before a mechanical issue would take his out of contention for that top five finish at High Point Raceway.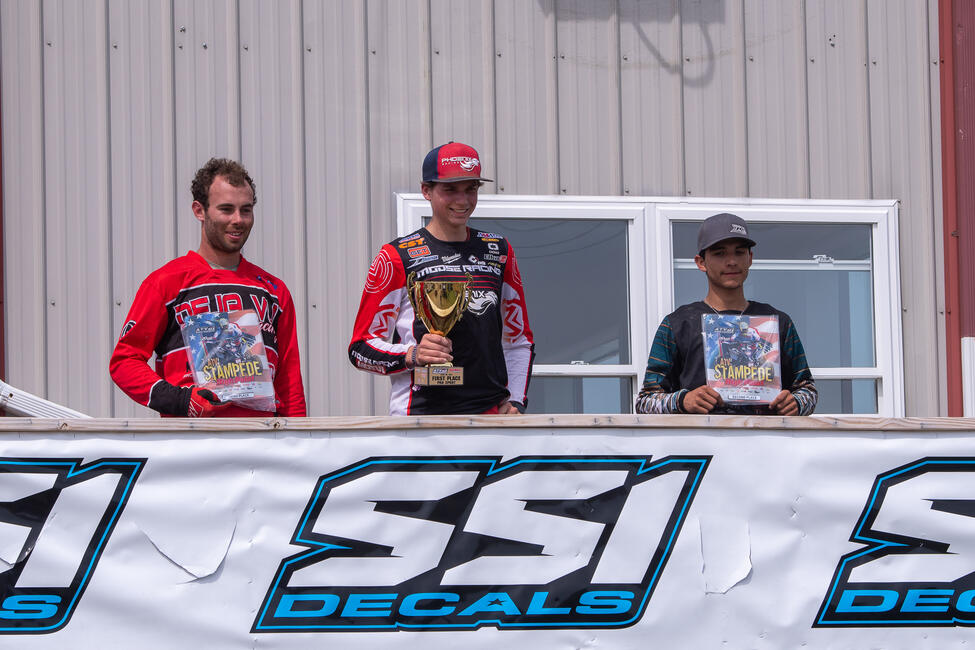 The Pro-Am riders had a quite a weather change on Sunday at High Point versus the weather that was present on Saturday in Pennsylvania. However, Blair Miller came through to earn the win and this weekend Miller will be looking to add another win to his name in the Pro-Am class. Aaron Salinas is looking to earn another podium finish this weekend as he came through to earn second two weeks ago. Paolo Galizzi rounded out the top three Pro-Am finishers, and he is aiming to continue that podium streak this weekend.
In Pro Sport Jayden Londerville took the win and this weekend he will be aiming to earn his second-straight win in the class. Londerville sits third in the points standings, but only two points back from second in the class. Aaron Salinas is looking to keep his momentum going after earning second in Pro Sport and Pro-Am at the previous round. This weekend Salinas will be one to keep an eye on in both classes, as he is ready to continue battling at the front of the pack. However, Brett Musick will be aiming to return to the center of the box as he lost his win streak last round after finishing third overall on the day. Musick is recharged and ready to go this weekend as he looks to return to the center of the podium.
In the WMX class Kinsey Osborn will be aiming to keep her points lead after winning both motos last round along with both Wheelz Up WMX Moto Holeshots. Andrea Berger and Nimah Shaw will be looking to put a stop to her winning ways though and battle for their own overall wins. Berger sits five points behind Osborn, while Shaw is 10 points out of the lead, but both will be looking to battle at the front with Osborn on Saturday.
Pre-Registration will remain open throughout the weekend. Click HERE and get yourself registered NOW! Gates open at 2 p.m. on Thursday, while registration will be held from 6 to 8 p.m. and then at 7:30 a.m. on Friday.
For more information on the ATV Motocross National Championship, visit the series official website at www.atvmotocross.com or call (304) 284-0101. Join the conversation on the series social media channels, along with receiving the most up-to-date news and exclusive content.
PREVIOUS ROUND RESULTS AND POINTS STANDINGS
ATV Stampede Overall Results and Points
Mt. Morris, Pennsylvania
Round 4 of 10
Saturday, April 30, 2022
AMA Pro Class Event Results:
Joel Hetrick (1-1)
Chad Wienen (2-2)
Bryce Ford (3-4)
Max Lindquist (7-3)
Nicholas Gennusa (6-5)
Brandon Hoag (5-6)
Jeffrey Rastrelli (4-8)
Michael Allred (8-10)
Logan Stanfield (11-9)
Patrick Turrini (10-11)
Overall National Championship Standings
Joel Hetrick (172)
Chad Wienen (145)
Bryce Ford (136)
Jeffrey Rastrelli (123)
Brandon Hoag (106)
Nicholas Gennusa (103)
Max Lindquist (96)
Michael Allred (88)
Zack Decker (77)
Cody Ford (76)
About the ATV Motocross National Championship:
The ATV Motocross National Championship, an AMA National Championship, is the nation's premier amateur and professional ATV motocross series, hosted at top motocross facilities nationwide. The 10-round AMA Pro and 9-round amateur series features the Nation's best racers, teams and sponsors, and is America's largest and longest-running ATV national motocross program. Since 1985, the series continues to expand and produce top talent from the amateur ranks, while premiering the professional class. For more information, please visit www.atvmotocross.com.
About the American Motorcyclist Association:
Founded in 1924, the AMA is a not-for-profit member-based association whose mission is to promote the motorcycle lifestyle and protect the future of motorcycling. As the world's largest motorcycling rights and event sanctioning organization, the AMA advocates for riders' interests at all levels of government and sanctions thousands of competition and recreational events every year. The AMA also provides money-saving discounts on products and services for its members. Through the AMA Motorcycle Hall of Fame in Pickerington, Ohio, the AMA honors the heroes and heritage of motorcycling. For more information, visit www.americanmotorcyclist.com. Not a member? Join the AMA today: www.americanmotorcyclist.com/membership/join.
Series Media Contact:
Kayla Bolton
Media Manager
[email protected]