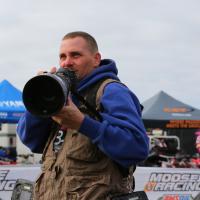 Ken Hill
Time
Tuesday, April 5, 2022 | 2:20 PM
FOR IMMEDIATE RELEASE
Three Palms ATVMX National Championship Race Report
Hetrick Goes 1-1 in Texas at Round Two
CONROE, Texas (April 5, 2022) - The ATV Motocross National Championship (ATVMX) Series, an AMA National Championship, rolled into Three Palms Action Sports Park in Conroe, Texas as the entire series would see action at the opening round of racing for amateurs and round two for the elite AMA Pro, WMX and Pro Sport classes. This location is a highly anticipated round as scores that need to be settled after ATVSX get played out in a more traditional motocross format.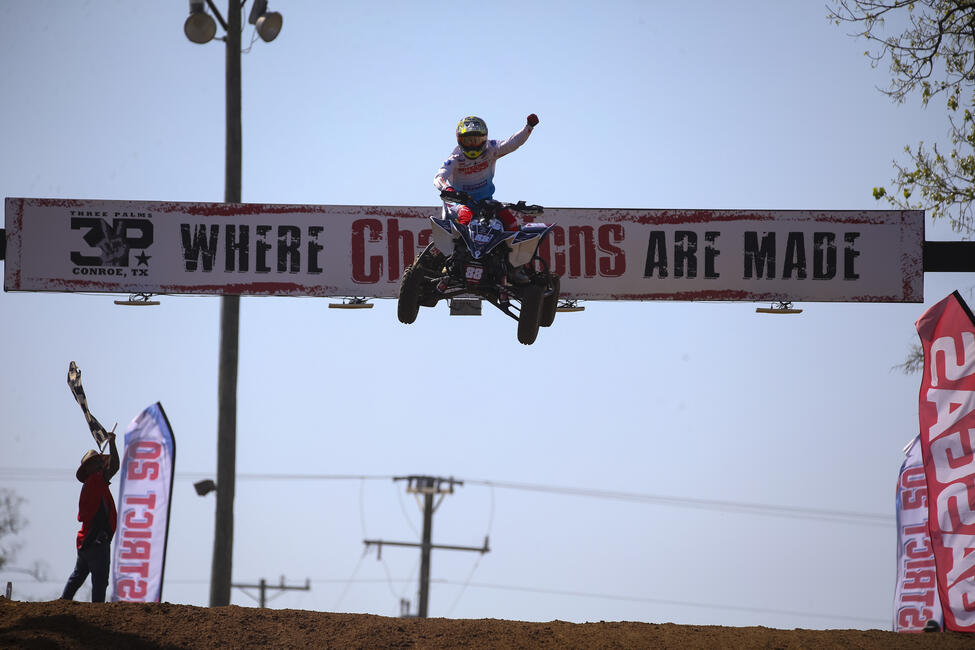 For the fans in attendance, it was time to see the World's fastest ATVMX racers go to battle, and it was no surprise the top two favorites remain Defending Champion Wienen Motorsports/Maxxis/SSi Decals/Fly Racing/Yamaha's Chad Wienen and his number one competitor Phoenix Racing/CST Tires/Elka/Moose Racing's Joel Hetrick. This pair has entertained and thrilled crowds across the country with their fierce competition throughout the seasons, however new talent is beginning to shine that have made it known on the track that they are here to take the fight to the old guard.
After a heartbreaking mechanical failure at Daytona, Musick Racing/Déjà vu/Kenda Tire's Brandon Hoag is one of those racers whose time has come. The 2022 season has Hoag in a great position with a new team and a positive outlook on his chances of having a very strong season. Hometown favorite Ford Brothers Racing/Fly/SSi Decals/Maxxis/DWT/Maxima/Fourwerx/Walsh's Bryce Ford consistently remains a contended and is usually a powerhouse here at this event along with his brother Ford Brothers Racing/Fly/SSi/Maxxis/DWT/Maxima/Fourwerx/Walsh's Cody Ford.
The entire class is stacked as veterans face challenges and new talent in every turn adding to the organized chaos on the track. The season is indeed just getting started but the excitement is at full tilt as we field one of the most balanced Pro classes in many seasons. The hype had arrived, now it was time to see who could deliver on it and who would be left wondering what just happened as race time neared. The weather not being an issue and allowed for a clean slate and equal footing for each racer to attack this round.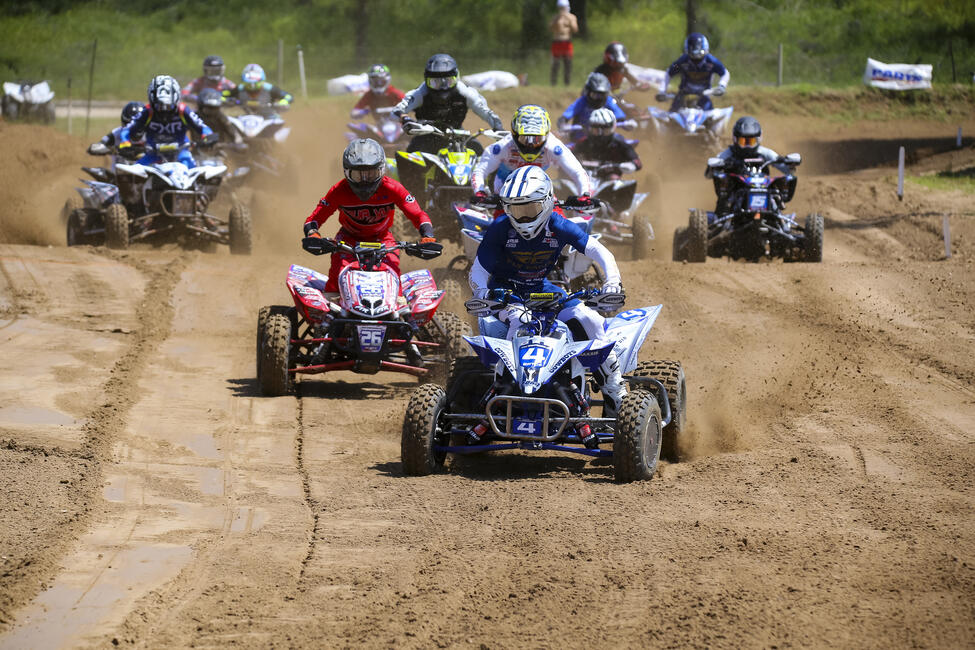 Ford would put his brand on the moto one SSi Decals Holeshot as the insanity commenced behind him. Ford would lead half of the moto until Hetrick would make the pass that put him in control, and he would command the lead until the moto ended. Hoag would wrap up the top three in the moto with Wienen falling just out of the mix with fourth. In the fifth position, Rastrelli Racing/FXR Moto/Rocket Machine Design's Jeffrey Rastrelli remained on the cusp of breaking into the lead pack, but time would run out.
Frantic work between motos had everyone looking for every ounce of speed and allowed some corrections as dialing in the suspension is paramount at this level of racing. The speeds and brutality handled at this event reach epic levels and with each rider gunning for a win, no bolts were left unattended. The stage was set for moto two as the pro class gated up for the final time of the weekend.
Moto two would see Hetrick rocket to the SSi Decals Holeshot and never look back, leading from gate drop to checkered flag, much to the dismay of everyone left to battle it out behind him. B. Ford would have another powerful moto as he secured third in the moto and second overall ahead of a hard charging Wienen who claimed the second spot giving him third overall. Solid race for Wienen however he had some issues he stated he will address and be primed for round three.
Hoag, after having an epic journey just to get to this round, would find himself just outside the leaders and would finish in fourth for fourth on the day. Not quite the finish he was after but a solid start that can be built upon. Rastrelli would once again find himself in fifth at moto end giving him fifth overall and appears to be off to a great start to the new season.
In the WMX Pro class, it was Kinsey Osborn coming through to earn the overall win on Saturday. Osborn would earn the WMX Moto two Wheelz Up WMX Holeshot award given In Memory of Michelle Jenkins. She went 2-1 to earn the overall ahead of Andrea Berger who came through to take second overall after going 1-2 on the day. Niamh Shaw rounded out the overall WMX Pro class podium with a 3-3 finish at round two.
For their second round of racing, Brett Musick battled back to take the overall Pro Sport class win after going 1-2 on the day. Musick would come through ahead of Dane Molander, who earned second overall with a 3-3 finish, and Blair Miller who went 2-4 for third overall. Agostino Abbatiello would come through to take the moto two win after a disappointing moto one finish on the day.
In Sunday's Pro-Am battle it was Blair Miller coming out on top after going 1-3 on the day. After going 5-2 on the day, Joseph Chambers came through to battle for second overall in Pro-Am at Three Palms for their first round of racing. Andrew Schadtle earned third overall with a pair of fourth place finishes in Texas. In Moto 2, Aaron Salinas would come through to earn the win in the moto, but after a 15th place finish in moto one it would place him sixth overall on the day.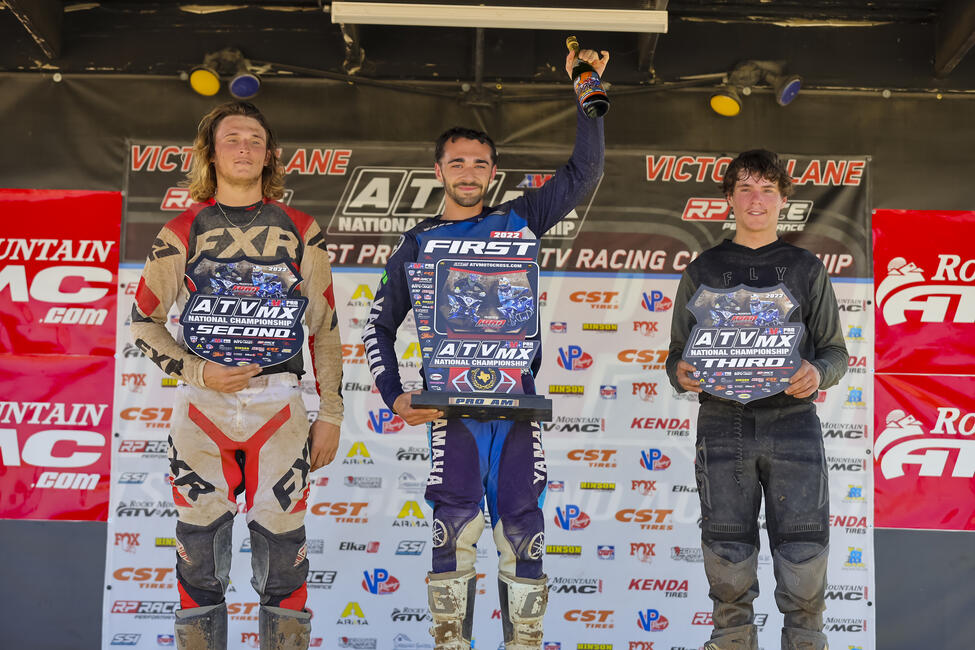 For others, Three Palms is a welcome memory and attention turns towards finding answers to the unknown and remedies for what's not working. The season is just getting started but the points seem to erase the time offering little in the way of relief from the stresses of racing.
The next round of the 2022 ATV Motocross National Championship series takes place on April 16-17 at Aonia Pass MX in Washington, Georgia. This event will be round of two of amateur ATVMX racing, and round three for AMA Pro, Pro Sport and WMX Pro ATV classes.
For more information on the ATV Motocross National Championship, visit the series official website at www.atvmotocross.com or call (304) 284-0101. Join the conversation on the series social media channels, along with receiving the most up-to-date news and exclusive content.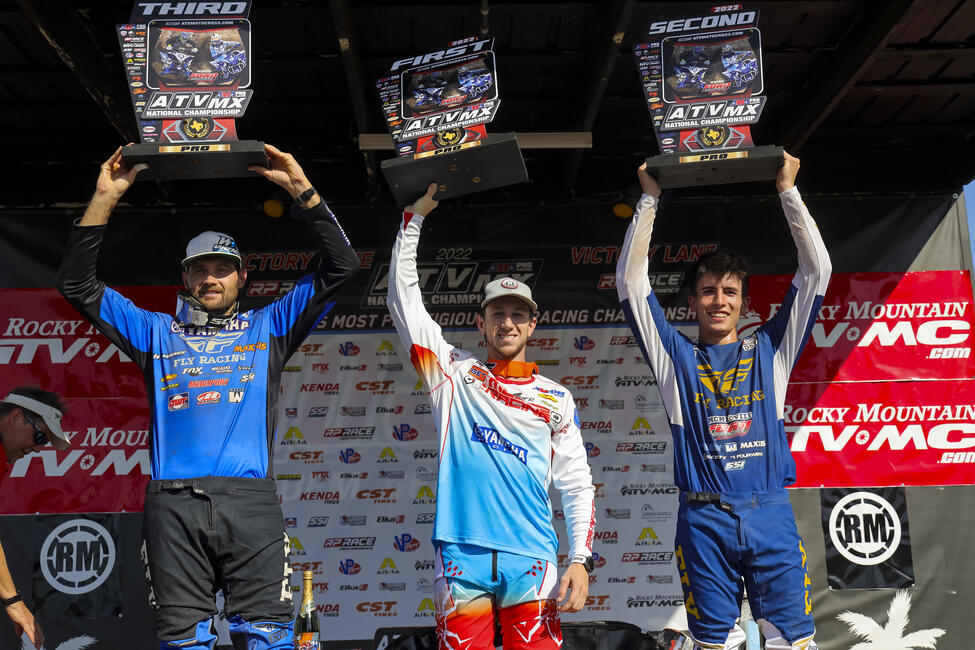 Texas National Overall Results and Points
Conroe, Texas
Round 2 of 10
Saturday, April 2, 2022
AMA Pro Class Event Results:
Joel Hetrick (1-1)
Bryce Ford (2-3)
Chad Wienen (4-2)
Brandon Hoag (3-4)
Jeffrey Rastrelli (5-5)
Nicholas Gennusa (7-6)
Cody Ford (10-7)
Zack Decker (9-10)
Max Lindquist (6-13)
Patrick Turrini (12-8)
Overall National Championship Standings:
Joel Hetrick (75)
Bryce Ford (62)
Chad Wienen (56)
Jeffrey Rastrelli (52)
Brandon Hoag (46)
Max Lindquist (45)
Nicholas Gennusa (43)
Zack Decker (38)
Cody Ford (35)
Michael Allred (35)
About the ATV Motocross National Championship:
The ATV Motocross National Championship, an AMA National Championship, is the nation's premier amateur and professional ATV motocross series, hosted at top motocross facilities nationwide. The 10-round AMA Pro and 9-round amateur series features the Nation's best racers, teams and sponsors, and is America's largest and longest-running ATV national motocross program. Since 1985, the series continues to expand and produce top talent from the amateur ranks, while premiering the professional class. For more information, please visit www.atvmotocross.com.
About the American Motorcyclist Association:
Founded in 1924, the AMA is a not-for-profit member-based association whose mission is to promote the motorcycle lifestyle and protect the future of motorcycling. As the world's largest motorcycling rights and event sanctioning organization, the AMA advocates for riders' interests at all levels of government and sanctions thousands of competition and recreational events every year. The AMA also provides money-saving discounts on products and services for its members. Through the AMA Motorcycle Hall of Fame in Pickerington, Ohio, the AMA honors the heroes and heritage of motorcycling. For more information, visit www.americanmotorcyclist.com. Not a member? Join the AMA today: www.americanmotorcyclist.com/membership/join.
Series Media Contact:
Kayla Bolton
Media Manager
[email protected]