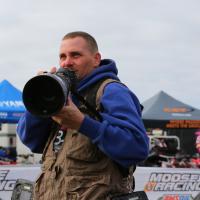 Ken Hill
Time
Wednesday, June 23, 2021 | 1:30 PM
FOR IMMEDIATE RELEASE
Wienen Earns Overall Win in Home State of Illinois
Hetrick and Wolfe Round Out Top Three Overall
WALNUT, Ill. (June 22, 2021) - After four rounds of competition the 2021 ATV Motocross National Championship (ATVMX) Series, an AMA National Championship, pro points battle continues to remain intense with a razor thin margin. With the series heading to the home turf of returning multi-time Champion, Wienen Motorsports/Maxxis/SSi Decals/Fly Racing/Yamaha's Chad Wienen.
Sunset Ridge MX would set the stage for another epic showdown as Wienen was looking to battle with his closest competitor on his home turf. While Phoenix Racing/CST Tires/Elka/Walsh Race Craft/Moose Racing's Joel Hetrick claimed two moto wins and the overall at the previous round, there was a change in the aggressiveness and tempo out of Wienen that could be seen. The question remained if that effort could be maintained and improved upon as Wienen faced the task of hunting down Hetrick.
It would be Ford Brothers Racing/Fly/SSi/Maxxis/DWT/Maxima/Fourwerx/Walsh's Bryce Ford striking first as he claimed the moto one holeshot with both Hetrick and Wienen on the young racers grab bar. The pass on Ford came from Wienen early in the moto as the close racing was playing out in front of Wienen's hometown fans. Ford quickly found himself in a incident that took him out of winning contention, opening the door for Wienen who rode to the moto one win in Illinois. For Hetrick, the chaos would not leave him unscathed as Fords Yamaha made contact with him causing some damage forcing him to dig deep as the moto raged on.
The battles were breaking out all over the track as everyone really wanted a great showing here at Sunset. GennUSA Racing/Integrated Financial Concepts/CST Tires/Walsh Race Craft's Nick Gennusa was finally running in a podium position as he has had a season filled with highs and lows. Gennusa would find the third spot in the first moto giving him some much needed confidence. ML2 Motorsports/Maxxis/SSi Decals/Fly Racing/Yamaha's Max Lindquist was again back upfront as he begins his rise to the top five once again and would be followed across the finish line by Phoenix Racing's Jeffrey Rastrelli taking fifth.
With the second moto on tap and a huge opportunity leaning in Wienen's favor, all eyes focused on Hetrick to see if he could ride through the misfortune dealt him in the opening moto. Ford was also garnering his share of things as he arrived at this round looking to have a breakout race and put the moto one crash behind him. As for Wienen, his calm and determined demeanor was on full display as he knew he needed to avoid issues and have a solid second moto.
The gate dropped for the final moto and once again Ford was streaking to what appeared to be another holeshot, however, he soon found himself involved in another accident that would allow the door to be blown off as Wienen had clear racetrack in front of him as those behind him quickly found themselves in the mayhem that makes these races so exciting. Wienen would claim both moto wins and the overall as things sorted themselves out behind him. Hetrick was in a position of fighting back and he knows how to get through traffic but time ran out as he put in another incredible come from behind moto to take second.
The surprise that shouldn't be a surprise at all was the effort put forth by third place finished JH Racing/FTR Graphics/Fly Racing/Walsh Race Craft's Westley Wolfe. This season started out with a very focus, determined and agitated Wolfe wanting to prove himself after his climb to the pro ranks. Here at Sunset, Wolfe pushed hard and had a very eager Rastrelli to tame in moto two as the pair battled for position. In the end, Wolfe would claim the coveted podium spot taking third on the weekend with Rastrelli driving home with a respectable fourth on the day. Rounding out the top five was Wienen protege Lindquist who sealed the deal on P5 marking another successful albeit bumpy race here in Illinois.
With five rounds now in the books, the 2021 season is still in a position to go down as one of the most exciting in a long time as the ranks swell with talent all providing some of the best on track action in several years. The points battle for the Pro class will be at a full rolling boil as the series heads to Hetrick country once again as Pleasure Valley Raceway in Seward, Pennsylvania will host round six.
The fast lap times and hard packed soil open the door to so many who shine in those conditions that anything is possible. Westley Wolfe will no doubt be looking to keep momentum flowing his way and Rastrelli amongst so many others will be pressing things to have another round where they can add points to their column as things are really getting cranked up mid-season.
For more information on the ATV Motocross National Championship, visit the series official website at www.atvmotocross.com or call (304) 284-0101. Join the conversation on the series social media channels, along with receiving the most up-to-date news and exclusive content.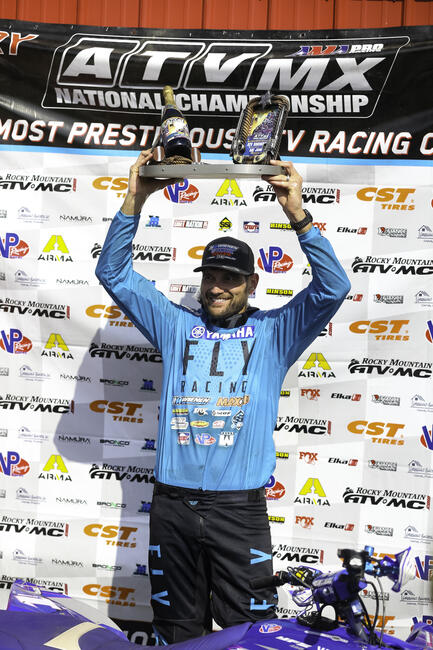 Sunset Ridge ATVMX Results and Points Standings
Walnut, Illinois
Round 5 of 10
June 19, 2021
2021 AMA Pro Class Event Results:
Chad Wienen (1-1)
Joel Hetrick (2-2)
Westley Wolfe (6-3)
Nicholas Gennusa (3-6)
Jeffrey Rastrelli (5-4)
Max Lindquist (4-5)
Brandon Hoag (7-7)
Logan Stanfield (8-8)
Bryce Ford (10-9)
Cody Ford (9-11)
Overall National Championship Standings:
Chad Wienen (205)
Joel Hetrick (200)
Nicholas Gennusa (147)
Jeffrey Rastrelli (142)
Westley Wolfe (140)
Bryce Ford (139)
Brandon Hoag (135)
Max Lindquist (126)
Logan Stanfield (115)
Cody Ford (101)
About the ATV Motocross National Championship:
The ATV Motocross National Championship, an AMA National Championship, is the nation's premier amateur and professional ATV motocross series, hosted at top motocross facilities nationwide. The 10-round AMA Pro and 9-round amateur series features the Nation's best racers, teams and sponsors, and is America's largest and longest-running ATV national motocross program. Since 1985, the series continues to expand and produce top talent from the amateur ranks, while premiering the professional class. For more information, please visit www.atvmotocross.com.
About the American Motorcyclist Association:
Founded in 1924, the AMA is a not-for-profit member-based association whose mission is to promote the motorcycle lifestyle and protect the future of motorcycling. As the world's largest motorcycling rights and event sanctioning organization, the AMA advocates for riders' interests at all levels of government and sanctions thousands of competition and recreational events every year. The AMA also provides money-saving discounts on products and services for its members. Through the AMA Motorcycle Hall of Fame in Pickerington, Ohio, the AMA honors the heroes and heritage of motorcycling. For more information, visit www.americanmotorcyclist.com. Not a member? Join the AMA today: www.americanmotorcyclist.com/membership/join.
Media Contact:
Kayla Bolton
Media Manager
[email protected]