Kayla Bolton
Time
Friday, April 19, 2019 | 11:50 AM
FOR IMMEDIATE RELEASE
Kayla Bolton
(304) 284-0084
[email protected]
America's Largest ATV Racing Series Heads to
Ironman Raceway in Montgomery County April 27 and 28
Local Racers Line Up to Compete Against Nation's Best ATV Talent
MORGANTOWN, W.Va. (April 19, 2019) – The 2019 ATV Motocross National Championship (ATVMX), an AMA National Championship, is America's most prestigious and longest-running ATV racing series. The 10-round pro and 8-round amateur circuit continues next weekend April 27 and 28 at Ironman Raceway in Crawfordsville, Indiana.
The ATVMX Series is the world's premier showcase for four-wheeled off-road racing talent. The physically demanding sport forces riders to navigate a variety of obstacles as fast as possible over the course of two 20-minute motos, while controlling a 400-pound machine and battling alongside 20 other competitors. With a unique mix of triple jumps, fast straightaways and uphill jump sections the world's fastest pro ATV racers will take to Ironman Raceway on Saturday, April 27, with the same goal in mind, to take home the overall win.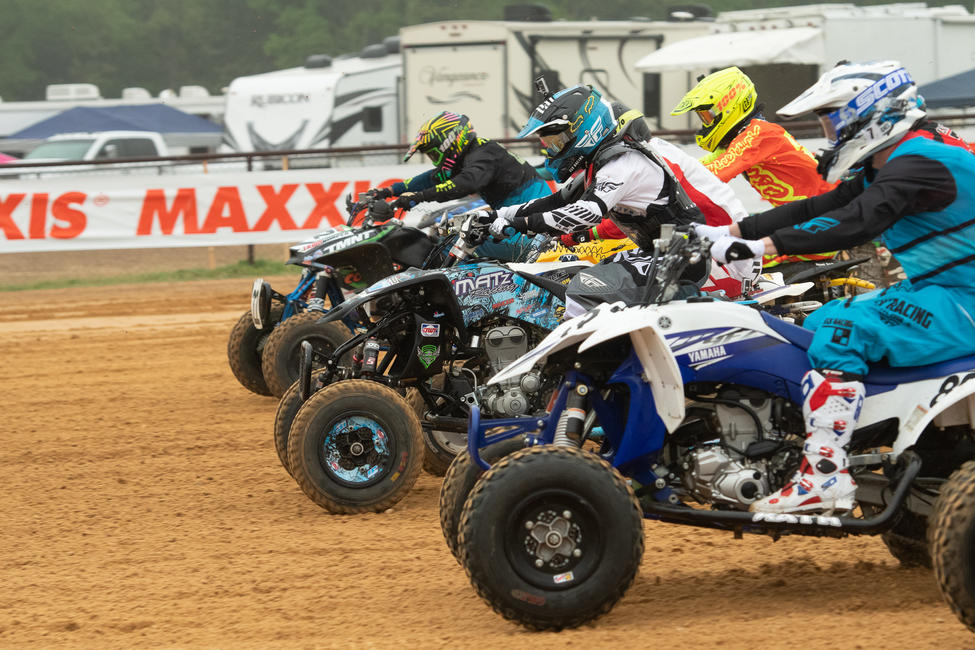 Team Nine6Nine/Walsh/Maxxis' Logan Stanfield hails from Peru, Indiana, and races in the highly competitive Pro-Am division. Stanfield took the overall win at the previous round in Texas after moto scores of 2-2. Coming into his home state race, Stanfield is aiming to earn the overall win again, but score both moto wins as well. Also coming from Peru, Indiana is Hinson Racing/Phoenix Racing/Londerville Steel's Brogan Guyer and after the first amateur round in Texas he sits fourth and ninth in his Open Pro Sport and Pro-Am classes. Next weekend, Guyer is aiming for a better overall finishing position in front of his family and friends.
Situated a mere hour outside of Indianapolis, Ironman Raceway has hosted a Grand National Cross Country (GNCC) Series event for over twenty years, and in 2014 started hosted motocross racing. Also located on the property is the iconic Tom's Marine Sales. With an inventory specializing in ATVs, UTVs and boats, Tom's Marine Sales has been a popular destination in the Crawfordsville area to purchase and service vehicles. The extensive roster of products mixed with the friendly staff make this a must stop shop for all things outdoors.
Local racers expected to compete next weekend will be: Logan Stanfield (Pro-Am), Brogan Guyer (Pro-Am/Open Pro Sport), Michael Perkins (Pro-Am/Open Pro Sport), Trystan Allerellie (Production B/College), Ryan Beaven (Junior 25+/Vet 30+), Coleman Creech (450 C), Clayton Deckard (Youth All-Star/250 Mod), Dustin Deckard (Vet 30+ C), Hayle Goff (Schoolgirl), Allison Klootwyk (Girls/70 Auto), Andrew Klootwyk (70 Auto/50 CVT), Jason Klootwyk (Vet 30+ Sportsman), Braydon Orr (Schoolboy Jr./Super Mini), Tyler Rench (Production A/College), Hunter Reynolds (Schoolboy Jr./90 Open Sr./90 Shifter Sr.), Hunter Ridenour (Open B/450 B/Production B), Trevor Roa (Production B), Nicholas Royalty (450 A/College Sportsman), Colton Sanders (70 Open/70 Auto), Matthew Sanders (Senior 40+ B), Drew Scott (Open C/Production C/College Sportsman), Jeremy Smith (450 C/Production C/Vet 30+ C), Redd Sommers (90 Auto), Cody Stockhoff (450 C/Production C), Hunter Stockhoff (450 C/Production C), Keagan Thompson (90 Open Jr/90 Shifter Jr./70 Auto), Rachel Trent (WMX/Schoolgirl), Tyler Trent (Open Pro Sport/College Sportsman) and Josh Wimmer (450 A/Vet 30+ Sportsman).
Amateur racing will take place throughout the weekend alongside the AMA Pro class, and local riders are invited and encouraged to compete in the event, as ATVMX offers classes for riders of all skill and experience levels. The amateur race entry fee is $50 and riders can sign up at the event.
Saturday spectator passes run $20 for adults and $10 for children (6-11), with kids five and under getting in for free. Each pass includes pro pit access and pro autographs at no additional charge.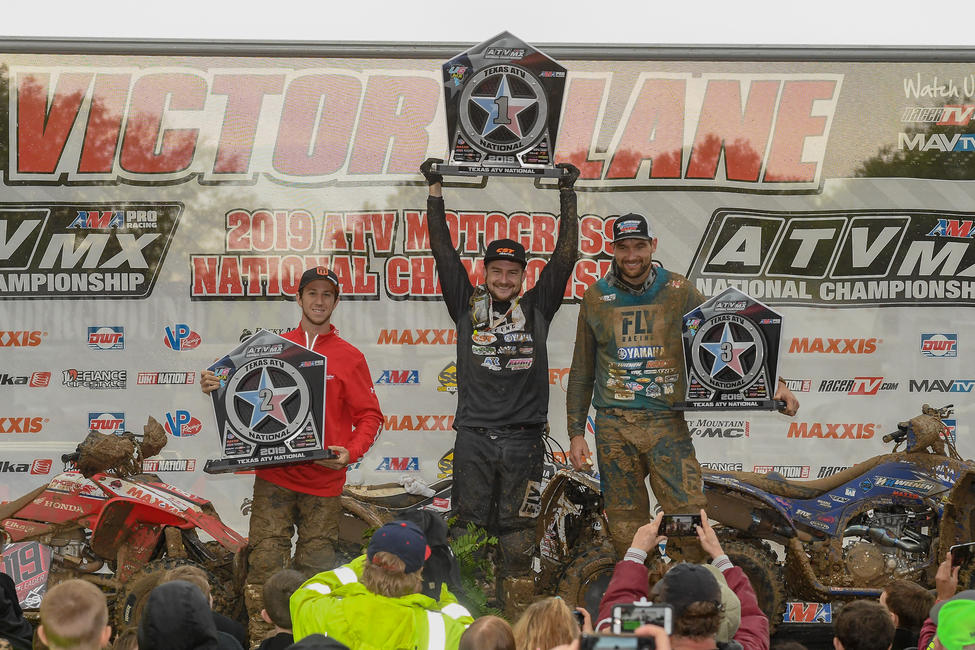 RacerTV will provide an event highlight video of the racing action from Saturday, and a highlight show featuring the Ironman ATVMX National will air on MAVTV at a later date yet to be announced.
To get to the track from Indianapolis take I-74 to exit 39 for IN-32 W to Crawfordsville. Turn right onto East Market Street and then make a left on North Washington Street. Continue along the road until making a right turn on IN-74 S/W South Boulevard, make another right on County Road 200 S and the track entrance will be on the left.
Event Schedule:
Friday, May 4
7 a.m. - Registration
10 a.m. – Amateur Practice (Weather Permitting)
Saturday, May 5
8 a.m. – Amateur Practice, Racing to Follow
10 a.m. – Practice and Qualifying Session
12 p.m. – Timed Qualifying Session 2
2 p.m. – ATV Pro Moto 1
4 p.m. – ATV Pro Moto 2
4:30 p.m. – Pro Rider Autograph Session
4:30 p.m. - Amateur Racing (continued)
Sunday, May 6
8 a.m. – Amateur Racing (all day)
Ticket Info:
No advance purchase necessary
Thursday-Sunday – $40 Adults / $25 Kids
Friday-Sunday – $35 Adults / $25 Kids
Saturday-Sunday – $30 Adults / $15 Kids
Saturday – $20 Adults / $10 Kids
Sunday – $15 Adults / $10 Kids
*All tickets include pit pass
**Kids ages 6-11
***Kids 5 and under FREE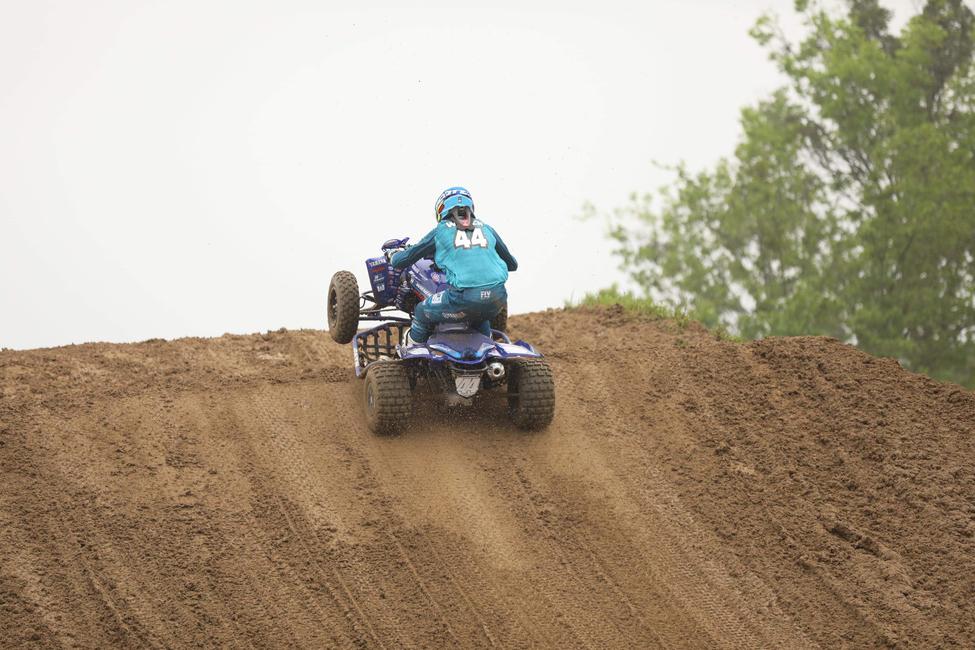 For more information on the 2019 ATV Motocross National Championship, visit the series official website at www.atvmotocross.com or call (304) 284-0101. Join the conversation on the series social media channels, along with receiving the most up-to-date news and exclusive content.
IRONMAN® is a registered trademark of World Triathlon Corporation, used by permission.
About the ATV Motocross National Championship:
The ATV Motocross National Championship, an AMA National Championship, is the nation's premier amateur and professional ATV motocross series, hosted at top motocross facilities nationwide. The 10-round AMA Pro and 8-round amateur series features the Nation's best racers, teams and sponsors, and is America's largest and longest-running ATV national motocross program. Since 1985, the series continues to expand and produce top talent from the amateur ranks, while premiering the professional class. For more information, please visit www.atvmotocross.com.
About the American Motorcyclist Association:
Founded in 1924, the AMA is a not-for-profit member-based association whose mission is to promote the motorcycle lifestyle and protect the future of motorcycling. As the world's largest motorcycling rights and event sanctioning organization, the AMA advocates for riders' interests at all levels of government and sanctions thousands of competition and recreational events every year. The AMA also provides money-saving discounts on products and services for its members. Through the AMA Motorcycle Hall of Fame in Pickerington, Ohio, the AMA honors the heroes and heritage of motorcycling. For more information, visit www.americanmotorcyclist.com. Not a member? Join the AMA today: www.americanmotorcyclist.com/membership/join.