Time
Friday, September 14, 2018 | 12:00 PM
Tune-In Alert: ATV Motocross from RedBud MX
on MAVTV Saturday, September 15 at 9:30 AM and 12:30 PM ET
MORGANTOWN, W.Va. (September 14, 2018) – Tune in to MAVTV this Saturday, September 15 at 9:30 a.m. ET and/or 12:30 p.m. ET for the ATV Motocross National Championship (ATVMX) presented by CST Tires to watch round nine – RedBud ATVMX National highlight show from Buchanan, Michigan.
The tension coming into round nine was already at an all-time high as the front-runners were locked in a very tight points battle. Plus, the challenge of muddy conditions were added after heavy rain fell throughout the day Friday and lingering storms were forecasted on Saturday.
When moto one took off, the AMA Pro riders were presented with fairly dry conditions. Storms would surround the track but failed to produce any rain during the first moto. What was produced though were some intense battles between Hetrick and Wienen, which were highly-anticipated since the National Championship was currently on the line and only one round remained.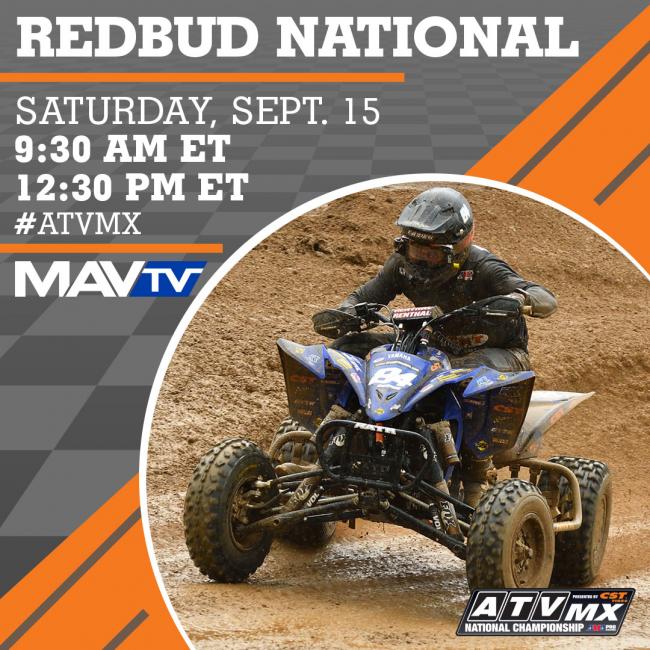 As much as the weather cooperated in the first moto, it would quickly have a heavy impact on the second moto. As race time approached the rain began to fall, making for a demanding track into a slick and a challenging final moto.
Rastrelli jumped out front claiming the second SSi Decals Holeshot Award. A mass number of racers came together in the slick conditions as they rounded into the second corner, then as the riders cleared it was Wienen still visibly sitting feverously trying to get his machine going again. Tune in at 9:30 a.m. on Saturday, September 15 to see how round nine went from RedBud MX in Michigan. There will also be a re-air at 12:30 p.m.
Use the MAVTV Channel Finder to determine the channel for MAVTV in your area.
| | | | | |
| --- | --- | --- | --- | --- |
| Rd | Premiere Date | Time | Event | Location |
| 9 | Sept 15 | 9:30 AM | Redbud | Buchanan, MI |
| - | Sept 15 | 12:30 PM | RedBud | Buchanan, MI |
| 10 | Sept 29 | 9:30 AM | Loretta Lynn's | Hurricane Mils, TN |
About the ATV Motocross National Championship:
The ATV Motocross National Championship presented by CST Tires, an AMA National Championship, is the nation's premier amateur and professional ATV motocross series, hosted at top motocross facilities nationwide. The 10-round series features the Nation's best racers, teams and sponsors, and is America's largest and longest-running ATV national motocross program. Since 1985, the series continues to expand and produce top talent from the amateur ranks, while premiering the professional class. For more information, please visit www.atvmotocross.com.
About the American Motorcyclist Association:
Founded in 1924, the AMA is a not-for-profit member-based association whose mission is to promote the motorcycle lifestyle and protect the future of motorcycling. As the world's largest motorcycling rights and event sanctioning organization, the AMA advocates for riders' interests at all levels of government and sanctions thousands of competition and recreational events every year. The AMA also provides money-saving discounts on products and services for its members. Through the AMA Motorcycle Hall of Fame in Pickerington, Ohio, the AMA honors the heroes and heritage of motorcycling. For more information, visit www.americanmotorcyclist.com. Not a member? Join the AMA today: www.americanmotorcyclist.com/membership/join.