Time
Friday, June 8, 2018 | 10:00 AM
Tune-In Alert: ATV Motocross from Underground MX
on MAVTV Saturday, June 9 at 9:30 AM ET
MORGANTOWN, W.Va. (June 8, 2018) – Tune in to MAVTV this Saturday, June 9 at 9:30 a.m. ET for the ATV Motocross National Championship (ATVMX) presented by CST Tires to watch round three – the Underground ATVMX National highlight show from Kemp, Texas.
Don't miss all the action as the ATVMX Series headed deep into the lonestar state for a showdown that would rival any old western tale ever told. A crazy swing in temperatures preceded by a night filled with high winds and heavy rains, the racers would be very skeptical as to how well the track at Underground MX would shape up. However, by the time practice started the track was almost perfect as a drying wind and strong sun helped turn things around and in favor of the racers and crew.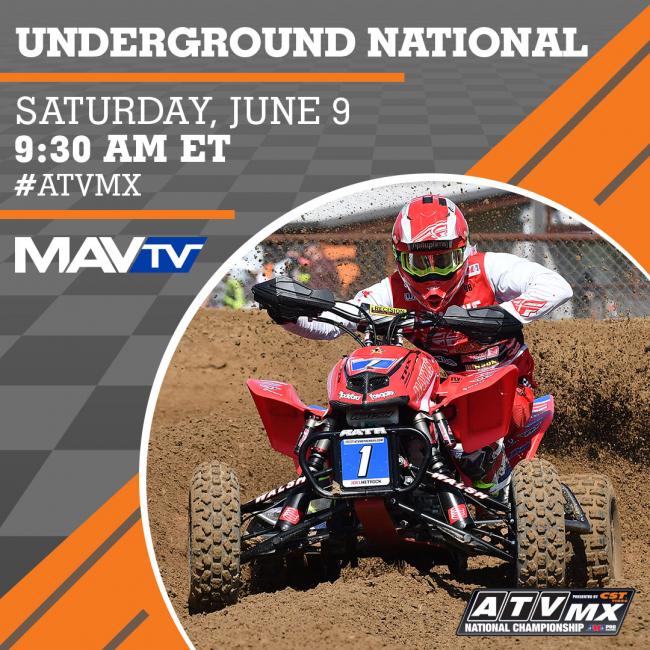 While the first moto was exciting, moto two started to build its own level of intensity, as everyone knew Wienen was gunning for the win. The start was once again a few seconds of chaos as the pro class fired off the gate and headed for the first turn. Just as in moto one, Hetrick would clinch the holeshot and build on his success from moto one.
However, some misfortune struck Hetrick and he ended up high siding a berm in the same spot as he did last year allowing Wienen a wide-open pass, which he took full advantage of, and ran away with the moto two and overall win at round three. As Hetrick did his best to get his Honda unstuck and re-fired, his chances for a podium were looking slim.
Behind the leaders, Jeffrey Rastrelli was locked in a duel with Thomas Brown nearly the entire second moto. For several laps Rastrelli shadowed Brown, and then they would swap positions and battle through more laps seemingly equally matched. The brawl ended, and you can tune into MAVTV to see how it all played out.
Use the MAVTV Channel Finder to determine the channel for MAVTV in your area.
| | | | | |
| --- | --- | --- | --- | --- |
| Rd | Premiere Date | Time | Event | Location |
| 3 | June 9 | 9:30 AM | Underground | Kemp, TX |
| 4 | June 23 | 9:30 AM | Ironman | Crawfordsville, IN |
| 5 | July 7 | 9:30 AM | High Point | Mt. Morris, PA |
| 6 | July 28 | 9:30 AM | Muddy Creek | Blountville, TN |
| 7 | TBA | TBA | Sunset Ridge | Walnut, IL |
| 8 | TBA | TBA | Unadilla | New Berlin, NY |
| 9 | TBA | TBA | Redbud | Buchanan, MI |
| 10 | TBA | TBA | Loretta Lynn's | Hurricane Mils, TN |
About the ATV Motocross National Championship:
The ATV Motocross National Championship presented by CST Tires, an AMA National Championship, is the nation's premier amateur and professional ATV motocross series, hosted at top motocross facilities nationwide. The 10-round series features the Nation's best racers, teams and sponsors, and is America's largest and longest-running ATV national motocross program. Since 1985, the series continues to expand and produce top talent from the amateur ranks, while premiering the professional class. For more information, please visit www.atvmotocross.com.
How to Watch:
Racer TV and MAVTV are the official homes for coverage of the ATV Motocross National Championship (ATVMX) events. All 10 rounds, from the season opening ATVSX inside the hallowed grounds of Daytona International Speedway, to the ATV Dirt Days finale at the historic Loretta Lynn Ranch in Tennessee, will air in 30-minue; taped-delayed telecasts on MAVTV. Catch all the action at www.mavtv.com and www.racertv.com.
About the American Motorcyclist Association:
Founded in 1924, the AMA is a not-for-profit member-based association whose mission is to promote the motorcycle lifestyle and protect the future of motorcycling. As the world's largest motorcycling rights and event sanctioning organization, the AMA advocates for riders' interests at all levels of government and sanctions thousands of competition and recreational events every year. The AMA also provides money-saving discounts on products and services for its members. Through the AMA Motorcycle Hall of Fame in Pickerington, Ohio, the AMA honors the heroes and heritage of motorcycling. For more information, visit www.americanmotorcyclist.com. Not a member? Join the AMA today: www.americanmotorcyclist.com/membership/join.