Time
Friday, April 27, 2018 | 10:00 AM
FOR IMMEDIATE RELEASE
(304) 284-0084
[email protected]
Veterans Eligible for Free Admission in 2018
ATVMX Partners with the Veterans Tickets Foundation
MORGANTOWN, W.Va. (April 26, 2018) – MX Sports Pro Racing and the ATV Promoter's Group (ATVPG) recognize the sacrifices made by our service men and women and are pleased to announce a continued partnership with the Veteran Tickets Foundation for the 3rd year in 2018. Active, retired military, veterans and families of those KIA can watch the on-track excitement of the world's premier ATV motocross series at no cost.
The ATV Motocross National Championship (ATVMX), presented by CST Tires, an AMA National Championship has donated 30 Saturday General Admission tickets to the Vet Tix foundation for 9 rounds of the championship, with the exception of the Daytona ATV Supercross. As we head into round four of the 2018 season, VetTix has already given out 60 tickets to veterans. Tickets will be available to all military veterans two weeks prior to each event through VetTix.org.
"Affordability still remains the largest factor in Veterans attending events," said Mike Focareto, CEO of Veteran Tickets Foundation. "Together we magnify our impact to those men and women who have sacrificed so much for our country and give them the opportunity to enjoy events with their families and reduce their stress."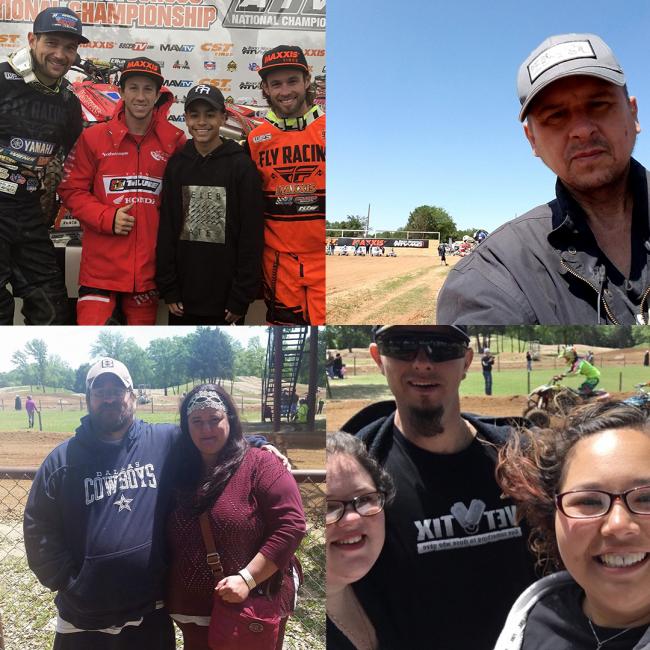 Major sports franchises from Lucas Oil Pro Motocross, Major League Baseball, the National Basketball Association, National Football League, and National Hockey League have also partnered with Vet Tix, as have touring organizations like World Wrestling Entertainment and Professional Bull Riders.
Vet Tix, based in Phoenix, is a national nonprofit organization that provides free tickets to veterans and active-duty members and their families, in addition to families of those KIA. Founder and CEO Michael Focareto, a U.S. Navy veteran, developed the concept of Vet Tix in 2008 and since then the organization has given away more than four million tickets to veterans nationwide.
All active and retired military veterans can create an account on VetTix.org to receive emails and reminders about when ATVMX tickets become available. More information about Vet Tix can be found at VetTix.org.
For more information on the 2018 ATV Motocross National Championship, visit the series official website at www.atvmotocross.com or call (304) 284-0101. Join the conversation on the series social media channels, along with receiving the most up-to-date news and exclusive content.
About Veteran Tickets Foundation:
Veteran Tickets Foundation is a national 501 (c) 3 non-profit foundation supporting our military community. Vet Tix provides free event tickets to currently serving military, veterans and family members of KIA to sporting events, concerts, performing arts and family activities. Our military and veterans experience many difficult transitions as they reintegrate back into their families, their communities and eventually civilian life. Attending these events improves morale, strengthens family bonds through shared interests and encourages service members to stay engaged with local communities and American life. In gratitude for their service and to support their reintegration processes, Vet Tix is dedicated to giving back to those who gave us so much. Please visit our website www.VetTix.org.
About the ATV Motocross National Championship:
The ATV Motocross National Championship presented by CST Tires, an AMA National Championship, is the nation's premier amateur and professional ATV motocross series, hosted at top motocross facilities nationwide. The 10-round series features the Nation's best racers, teams and sponsors, and is America's largest and longest-running ATV national motocross program. Since 1985, the series continues to expand and produce top talent from the amateur ranks, while premiering the professional class. For more information, please visit www.atvmotocross.com.
How to Watch:
Racer TV and MAVTV are the official homes for coverage of the ATV Motocross National Championship (ATVMX) events. All 10 rounds, from the season opening ATVSX inside the hallowed grounds of Daytona International Speedway, to the ATV Dirt Days finale at the historic Loretta Lynn Ranch in Tennessee, will air in 30-minue; taped-delayed telecasts on MAVTV, while Racer TV provides live streaming coverage of differing events. Catch all the action at www.mavtv.com and www.racertv.com.
About the American Motorcyclist Association:
Founded in 1924, the AMA is a not-for-profit member-based association whose mission is to promote the motorcycle lifestyle and protect the future of motorcycling. As the world's largest motorcycling rights and event sanctioning organization, the AMA advocates for riders' interests at all levels of government and sanctions thousands of competition and recreational events every year. The AMA also provides money-saving discounts on products and services for its members. Through the AMA Motorcycle Hall of Fame in Pickerington, Ohio, the AMA honors the heroes and heritage of motorcycling. For more information, visit www.americanmotorcyclist.com. Not a member? Join the AMA today: www.americanmotorcyclist.com/membership/join.