Chelsea Taylor
Time
Monday, July 17, 2017 | 1:20 PM
FOR IMMEDIATE RELEASE
Chelsea Taylor
(304) 284-0101
[email protected]
Wiseco ATV Motocross Championship Results: Unadilla National
Joel Hetrick Takes the Lead in the Points Chase
NEW BERLIN, N.Y. (July 17, 2017) – The 2017 Wiseco ATV Motocross National Championship (ATVMX) presented by CST Tires, an AMA National Championship, continued this past weekend, July 15, in the Empire State with the Unadilla ATV National. Maxxis/Elka/Liquid Wrench/Honda's Joel Hetrick posted a dominate 1-1 moto tally at the eighth round to earn his fourth win of the season, and secure the points lead as he continues his quest for his first-ever national title.
The iconic Unadilla circuit in Central New York was graced with picture-perfect weather, and for the fifth time this year Hetrick kicked off the day by earning the ATVriders.com Top Qualifier Award. The speed Hetrick showed early easily carried into the motos, where he was able to take advantage of having the first gate pick.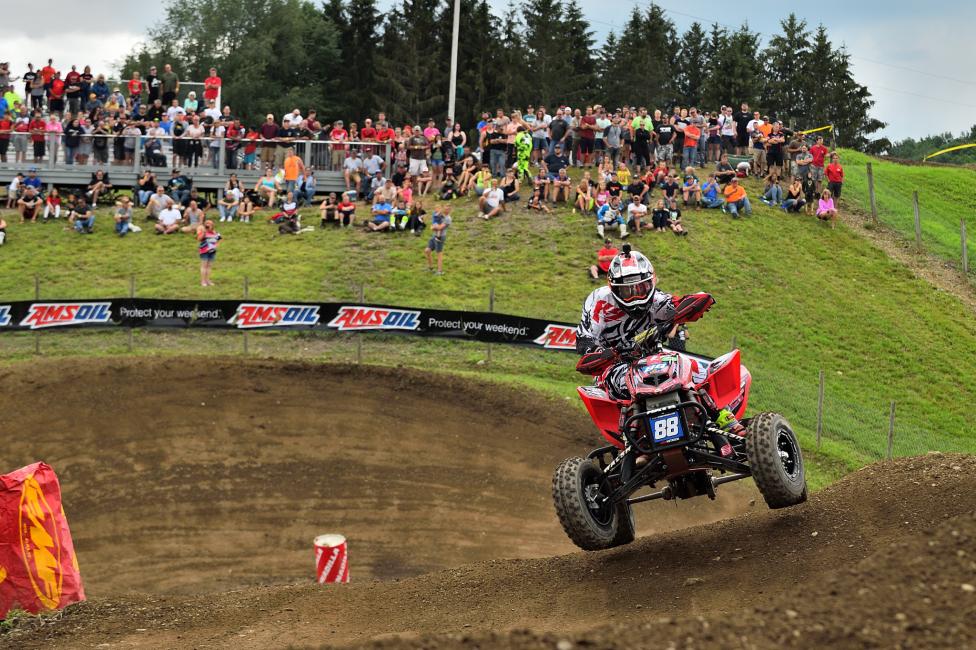 When Moto 1 got underway, Hetrick was once again back out front where he edged out the rest of the field to score the SSI Decals Holeshot Award. With a clean track in front of him, Hetrick quickly set the pace. By the conclusion of the third lap, Hetrick already had a sizable gap between him and Wienen Motorsports/SSi Decals/Walsh Racecraft/Yamaha/Maxxis/7240's Chad Wienen who had worked his way into second.
With the two front runners evenly spread out, much of the attention was on JB Racing/Root River Racing's Jeffrey Rastrelli and Baldwin Motorsports/Ford Brother's Racing/Root River Racing's Ronnie Higgerson, who were wheel-to-wheel for the final podium position. The duo continued to swap positions the entire race, but when the checkered flag was out it was Rastrelli in third after a last lap pass on Higgerson. Hetrick continued with his success from early on and took the first moto win, with five-time champion Wienen in second.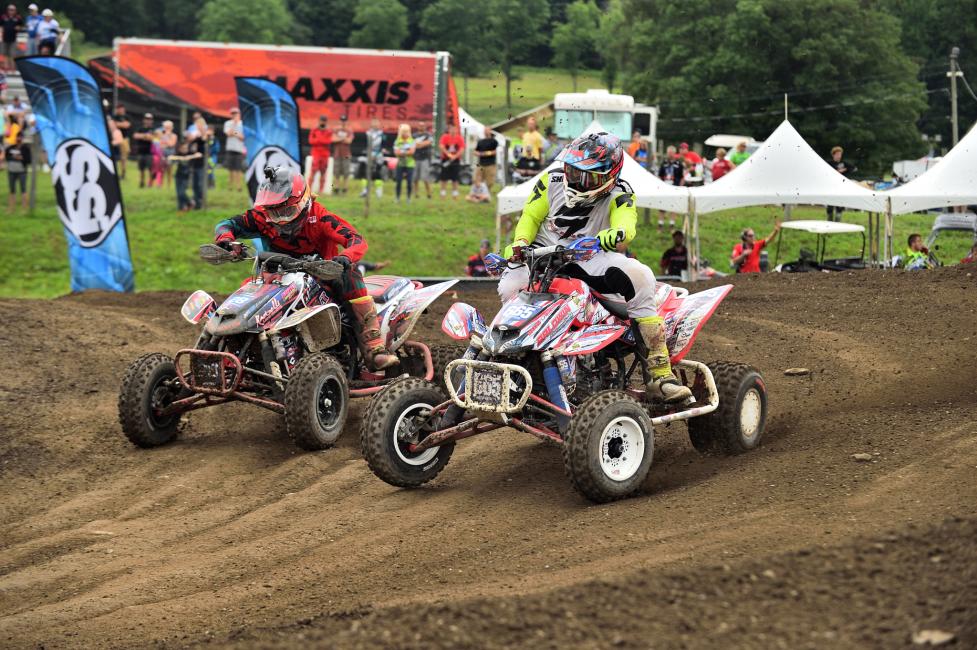 Moto 2 resulted in a considerably better start for Wienen, where he was right behind Hetrick who grabbed his second SSI Decals Holeshot Award of the day. The race between Hetrick and Wienen continued for the rest of the moto, but Hetrick was able to narrowly edge out Wienen for the overall win. A 1-1 moto finish vaulted Hetrick to the top of the points standings for the first time this year, where Hetrick will sport the red number plate at the penultimate round in two weeks. Wienen placed second overall going 2-2 for the day.
The battle between Rastrelli and Higgerson also continued in the second moto, until Higgerson went wide on a berm and came off his quad. Rastrelli kept his position and rounded out the overall podium in third. Root River Racing/CST Tires/Pro Motorsports' Thomas Brown followed in fourth overall and GennUSA Racing's Nick Gennusa filled the top-five overall.
Root River Racing's Josh Upperman landed a sixth-place overall finish. AMPED Vossman Motorsports-backed Sam Rowe had his best finish of the year in seventh, Ford Brother's Racing/Solo Pilot's Westley Wolfe trialed in eighth. Higgerson was able to remount his quad and regain his composure, but had to settle for a 15th place finish in the second moto, going ninth overall for the day. Root River Racing's Dylan Tremellen rounded out the top ten overall.
The Wiseco ATVMX National Championship moves west for the RedBud ATV National in Buchanan, Michigan in two weeks, July 29-30. A highlight show featuring this weekend's event will air on MAVTV on Saturday, September 9.
For more information on the 2017 Wiseco ATV Motocross National Championship, visit the official series website at www.atvmotocross.com. Join the conversation on the series Facebook page, follow on Twitter and Instagram, and be sure to always hashtag #ATVMX.
Unadilla MX
New Berlin, New York
Round 8 of 10
Saturday, July 15
2017 AMA Pro Class Event Results:
Joel Hetrick (1-1)
Chad Wienen (2-2)
Jeffrey Rastrelli (3-3)
Thomas Brown (7-4)
Nick Gennusa (5-5)
Josh Upperman (6-6)
Sam Rowe (9-7)
Westley Wolfe (8-8)
Ronnie Higgerson (4-15)
Dylan Tremellen (11-10)
Overall National Championship Standings:
Joel Hetrick (348)
Chad Wienen (343)
Jeffrey Rastrelli (280)
Thomas Brown (265)
Nick Gennusa (249)
Ronnie Higgerson (218)
Josh Upperman (215)
Parker Wewerka (188)
Westley Wolfe (173)
Sam Rowe (147)
SSi Decals Holeshot Award Standings:
Joel Hetrick (18)
Cole Sepesi (2)
Josh Upperman (2)
Sam Rowe (2)
Chad Wienen (1)
ATVriders.com Top Qualifier Award Standings:
Joel Hetrick (5)
Chad Wienen (3)
About the Wiseco ATV Motocross National Championship:
The Wiseco ATV Motocross National Championship presented by CST Tires, an AMA National Championship, is the nation's premier amateur and professional ATV motocross series, hosted at top motocross facilities nationwide. The 10-round series features the Nation's best racers, teams and sponsors, and is America's largest and longest-running ATV national motocross program. Since 1985, the series continues to expand and produce top talent from the amateur ranks, while premiering the professional class. For more information, please visit www.atvmotocross.com.
About the American Motorcyclist Association:
Founded in 1924, the AMA is a not-for-profit member-based association whose mission is to promote the motorcycle lifestyle and protect the future of motorcycling. As the world's largest motorcycling rights and event sanctioning organization, the AMA advocates for riders' interests at all levels of government and sanctions thousands of competition and recreational events every year. The AMA also provides money-saving discounts on products and services for its members. Through the AMA Motorcycle Hall of Fame in Pickerington, Ohio, the AMA honors the heroes and heritage of motorcycling. For more information, visit www.americanmotorcyclist.com. Not a member? Join the AMA today: www.americanmotorcyclist.com/membership/join.
-MXS-