Rodney Tomblin
TimeWednesday, July 5, 2017 | 3:15 PM
The 2017 Spring Creek ATV Motocross National has come and gone, and now the Wiseco ATV Motocross National Championship series has only three rounds left until a champion will be crowned. Things are heating up to a fever pitch and trying to predict what the future holds is impossible at this point. We have already seen so many twists and turn in this season that it almost seems like anything is possible. All we can do is hold on to see what is coming, because it literally could be anything.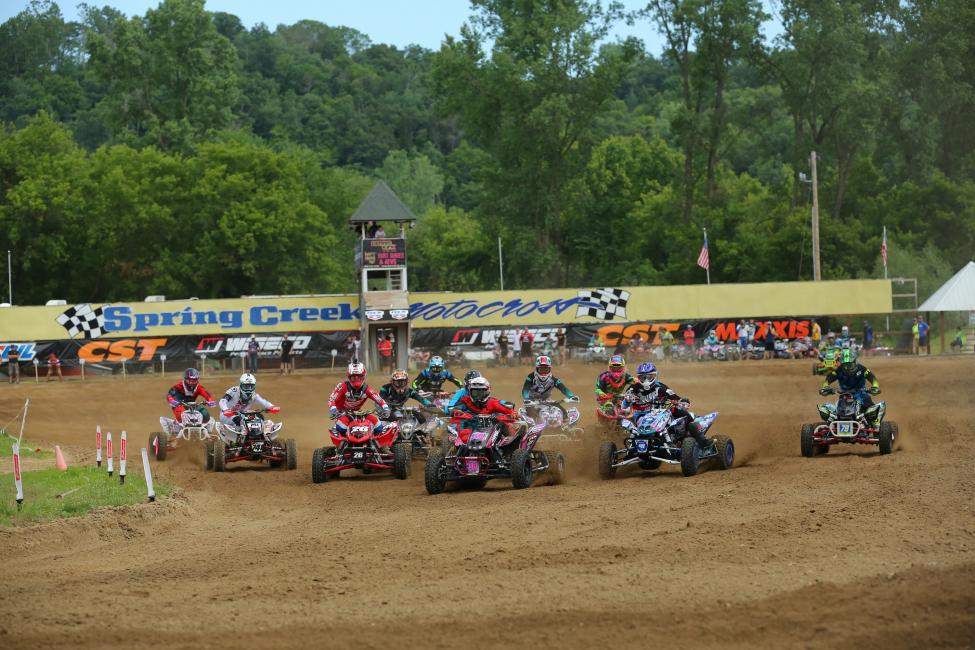 This past weekend at Spring Creek was one of the toughest weekends this racing community has had to endure. Recently we experienced the heartbreaking loss when Rob Visnic suffered a heart attack at Muddy Creek, and we really have not gotten over this... Now to suffer the tragic loss of one of our riders it breaks our hearts for the family and friends of Kyler Lenz. To say it was a hard to get up Sunday morning and go racing does not describe how everyone felt when the first call for practice went out.
There may be some folks wondering why things went on with racing after such a horrible thing happening. The reason is simple, his parents said Kyler would have wanted it to continue and that everyone came to race and enjoy the weekend. Even though it was hard to enjoy after Saturday for obvious reasons, it was enlightening to see how those kids all did what their friend wanted them to do. I know it was not easy for any of them, but seeing them all together on the podium after the second moto in Kyler's memory was a touching moment and one that will bond them for a lifetime. Like I said on Sunday morning, Kyler would have wanted things to move forward, so that's what we did. Reluctantly we all pushed forward and made the best of a bad weekend, which is what the Lenz family wanted.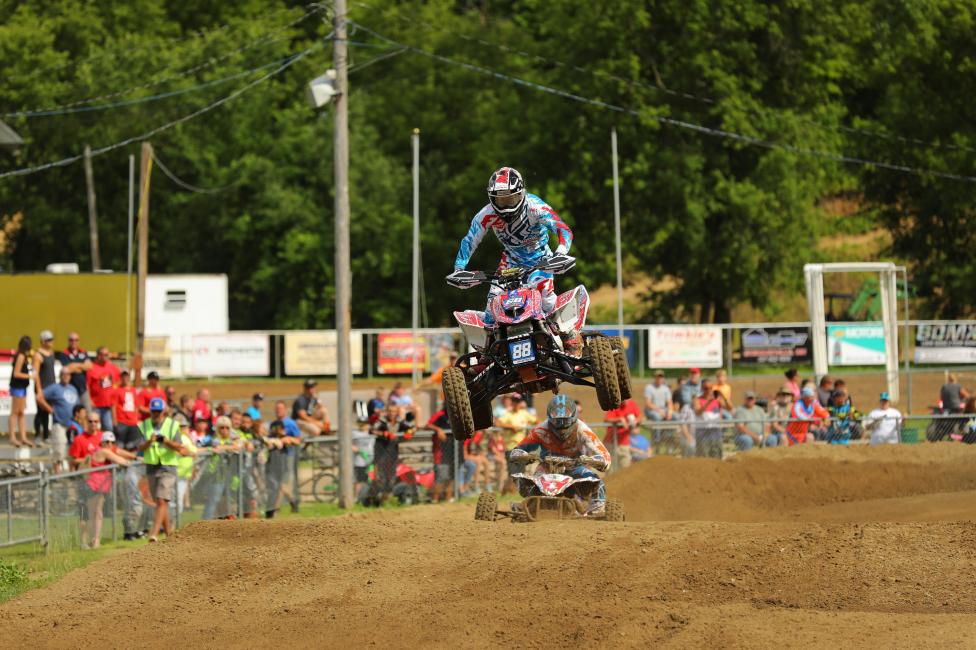 Moving forward here this week, we have so much to talk about that I'm not sure where to start. The obvious is that the AMA Pro ATV point's battle has been cut down to just one point. It is impossible to know how it will all end, but however it goes it is good for ATV racing as a whole. The championship has not seen a point's battle this tight since 2011 when John Natalie captured his second championship. The next rounds seem they may favor Chad Wienen for the most part… Unadilla has been considered "Joel's race," but last year Chad won there so now the odds are more even. RedBud is considered "Chad's race" and Loretta Lynn's Dirt Days can be anyone's race. So if you look into you crystal ball and it seems cloudy, there is a good reason.
The announcement of Team USA for the QXoN (Quad Cross of Nations) was an exciting moment this weekend. I literally got chills as these riders rode out to their position on the starting line during opening ceremonies. It is something very historic in our sport and our first time ever participating will elevate this from a European championship to a World Championship status.
The participation alone by the USA in the QXoN has got all of the European Quad-X community excited for the team's arrival. Hopefully we may see the event come to the U.S. someday, but right now the big goal is to make it to Italy to participate. If you have been reading and following any you know there is some fundraising efforts going on to try and help with financing the trip. There has even been a GoFundMe account set up for fans to support the team's first effort in a world title. You can simply text USAMX to 41411 and you will be sent a link to following to make any donations you would like to make. There will be efforts in the future and any money's that are donated that exceed the cost of the trip will be held in place to fund future teams to go to QXoN. This is only the beginning and will become a tradition for us in the future to participate each year and become more of a player in the world ATV racing scene.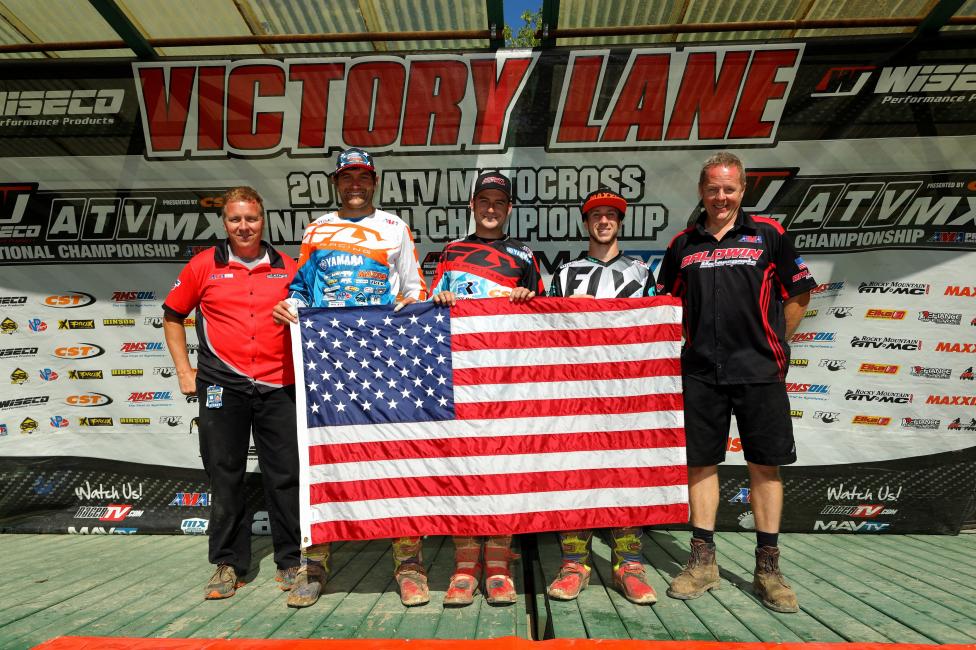 If you were at the event this weekend you may have noticed too that the 88 Live To Ride Foundation had a booth set up playing games to race money for the family of Rob Visnic. Debi told me that they raised $1,500 on Saturday and that all the money will go to the family to help in this unexpected tragedy this family has suffered. In Rob's memory as well there has been a defibrillator donated to be better prepared in the future. Pafford EMS and the Pafford family donated this, which has been a very instrumental part of our community for the past several years. Thanks to the Pafford's for stepping up again.
There is so much going on right now in our community, but honestly it is just hard to pull out this week. We have been kicked emotionally recently so much that it is hard to focus on the what's happening. Next week we will be looking toward Unadilla and hopefully things will all seem a little more normal by then. There are several championship battles to look at and much to talk about there.
That'll do it for me for now. Let's check into Gloop's Loop and with Ken "can't keep me down" Hill. Till next time, God Bless Your Heart and All Your Vital Organs.
In The Loop with Gloop: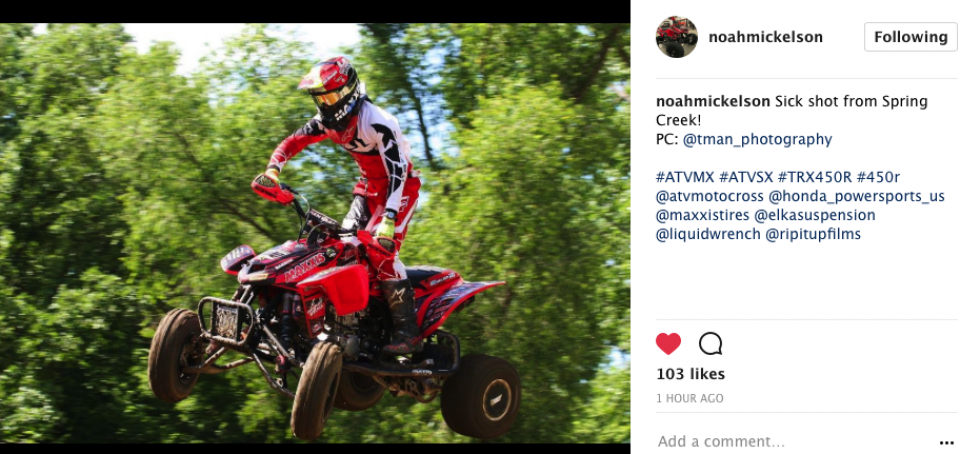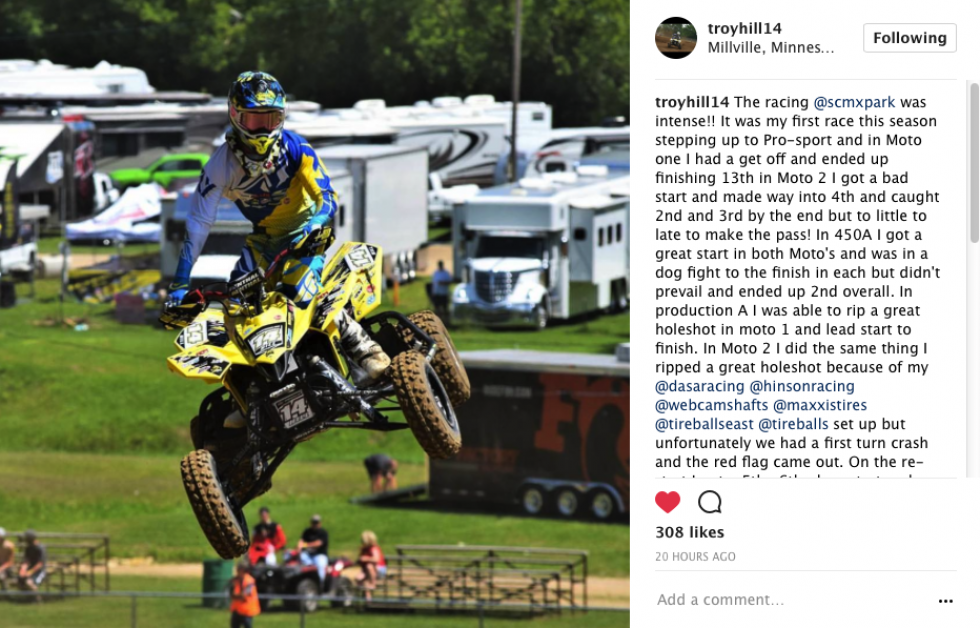 Keeping up with Ken Hill:
Another Site Lap where we unfortunately face the loss of another ATVMX family member… What makes this incredibly hard to digest is the fact that it was a youth racer taken from his family entirely too soon. No matter the how when a child is lost it destroys not only myself, but also so many others that it shakes us to our core. Rodney said it all above and I won't go through it again except to say, that life is indeed short so enjoy every second you have and love those you call family an friends as much as you can because any of us can be called away at anytime. My heart aches for the Lenz family, and while I know there is nothing I can say or do to ease their pain, I hope they know that their family has touched all of ours and we are all here for them to help in any way we can. God bless the Lenz family, Kyler and all of those who we call our family and I pray for the safety of you all on and off the track.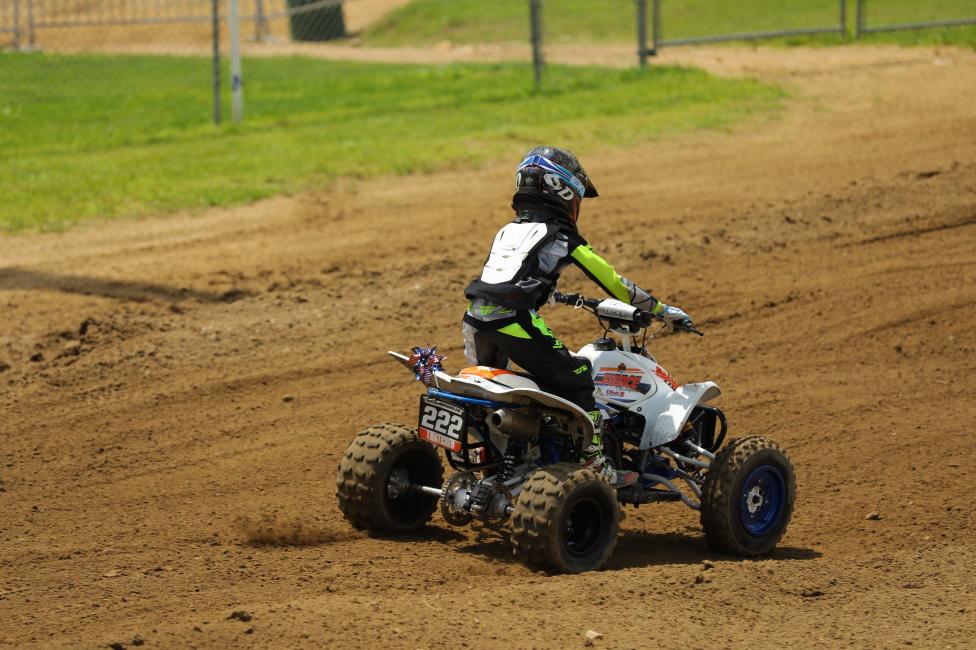 I tried keeping up with the race while stuck here at home, but with a lack of solid Internet it was intermittent and unreliable. However, it wasn't long before info started finding its way out of Spring Creek, and I was stoked to hear Joel got another win as that keeps things super tight for the championship, which makes for good racing for those of us who love ATV racing. I was also super pumped to see Thomas Brown get on the box, and also that the top 5 were right there when it all ended as I sort of predicted! Not being there to watch it doesn't tell me how close the battles were, but I suspect things were close enough to keep everyone glued to the racing. The final three rounds should be epic and fans of Hetrick and Wienen should be treated to some of the best racing of the season. Between these two you won't find much difference in effort, determination or skill, so anything can happen when they get to battle. I do recall watching Joel last year at RedBud ride so hard that I literally thought he may ride the wheels off his Honda, so I am excited to see how the last portion of this season plays out!
One thing I did take notice of while I was watching the MX National at RedBud was of course the fans. My friends that shoot those events rib me all the time about my pics with a blank grass background where they get tons of color and shapes as the masses mob those events for a weekend of action. The wife even asked why the ATV races don't get those huge crowds, as I turned and told her if she could find that answer she would be a pretty popular person in our ranks. It was cool watching the track get rough and seeing some of the changes made to the track, and many times I slammed my hand down and then knife-handed the TV and shouted about how the battles we have were more intense than what I was seeing! I of course know the answers, it is sheer numbers and what is making money for those who make the toys we race which I can fully grasp and understand the decisions that shape things, it just ticks me off knowing what goes into racing an ATV at the national level and for everyone to not get a fair shake if that is even the right choice of words. I guess fair is equal to sales as it was once said about Nascar, "Win on Sunday, sell on Monday".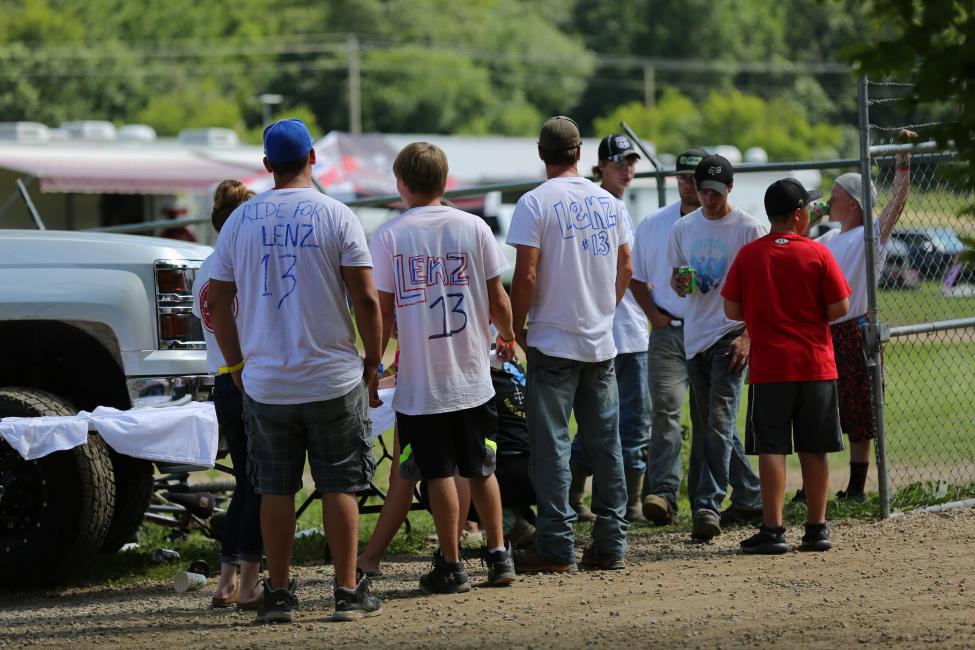 That is about it from me this week, going back to bed and do what the doctors tell me. Last week I explained what happened but this week, after a visit to the docs and X-rays, I can add fractured L1 vertebrae to the list of broken parts. I kind of knew something was different and the pain was sharper then when I usually throw out my back. Now to wait out hearing back from a neurosurgeon to discuss what can be done or what options I may have. Next one I call I won't tell them I do not have health insurance to see if I at least get a call back! For now, its rest, shuffle out to see my new Harley which I won't be riding for the foreseeable future and sing myself the blues! God bless you all once again and I will see you soon!