Rodney Tomblin
TimeWednesday, May 10, 2017 | 12:45 PM
The Ironman ATV Motocross National at Ironman Raceway in Crawfordsville, Indiana is here and a number of folks are already loaded and rolling to one of the world's premier off-road motorcycle and ATV racing venues. The Ironman moto track may be new, but the history of racing here is over two decades old and holds the memories of some of the greatest moments in off-road racing. The facility offers an ambiance of prestige from the moment you roll through the gate and the feeling of arrival is eminent. You are somewhere special.
The coming weekend will be especially special as the cancellation of High Point two weeks ago may have been unexpected, but as a whole I think it was good for a lot of people. It took us all by surprise and many used the weekend to rest from racing while others used it as an opportunity to train and try to find that little bit of an edge. Many of those reading who do double duty racing GNCC were treated to a weekend off last weekend for the X-Factor GNCC due to the National Weather Service flood warnings and alerts. Personally it was a nice and unexpected break that was impossible to plan for much so the two weeks off has been good, but I'm ready to get back to racing!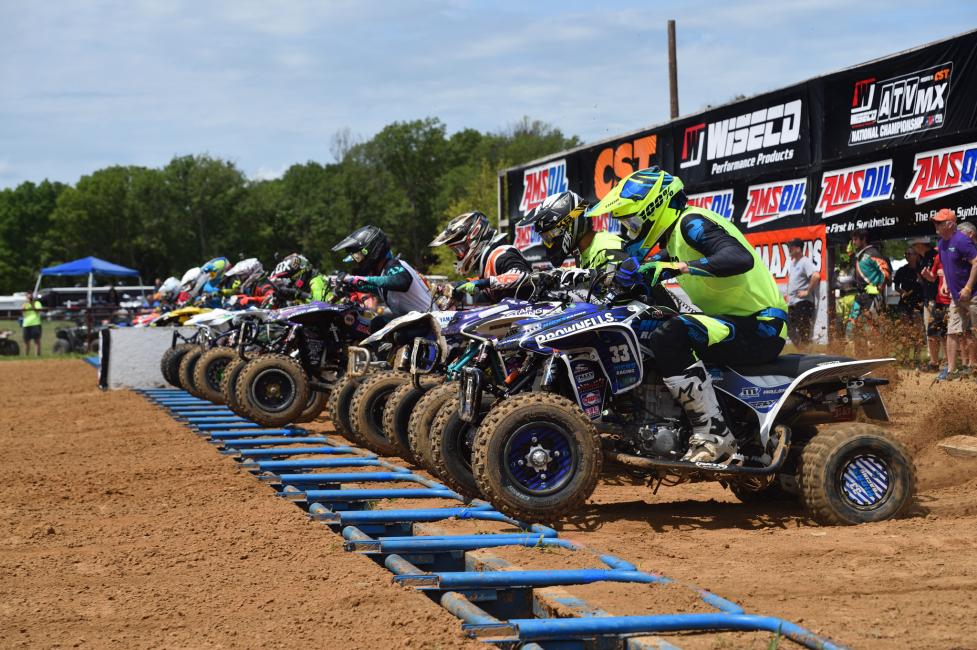 As the weekend of racing approaches the excitement builds and questions begin to float around about the racing again. The series continues for both the pro and amateurs so the battles are expected to intensify especially with an extra couple weeks to think about the remainder of the season. Last week we heard from a few of our top riders, but if you are wondering what Nick Gennusa and "Almost Evil" Ronnie Higgerson have been up to they weighed in just after deadline last week with the "what's up" from them.
Nick Gennusa has been on the tips of a lot of tongues early in the 2017 season and rightfully so. He has not only picked up from his momentum of 2016, he has stepped it up and even more impressively with a change in machines. Nick has kept pretty much the same program with a few changes, but the major shift was from Yamaha to Honda. We had not seen Nick on a Honda possibly since youth days. Nick rode a Can-Am and then Yamaha after spending a season under the tent with Wienen Motorsports. He then went out on his own and kept finding more and more success.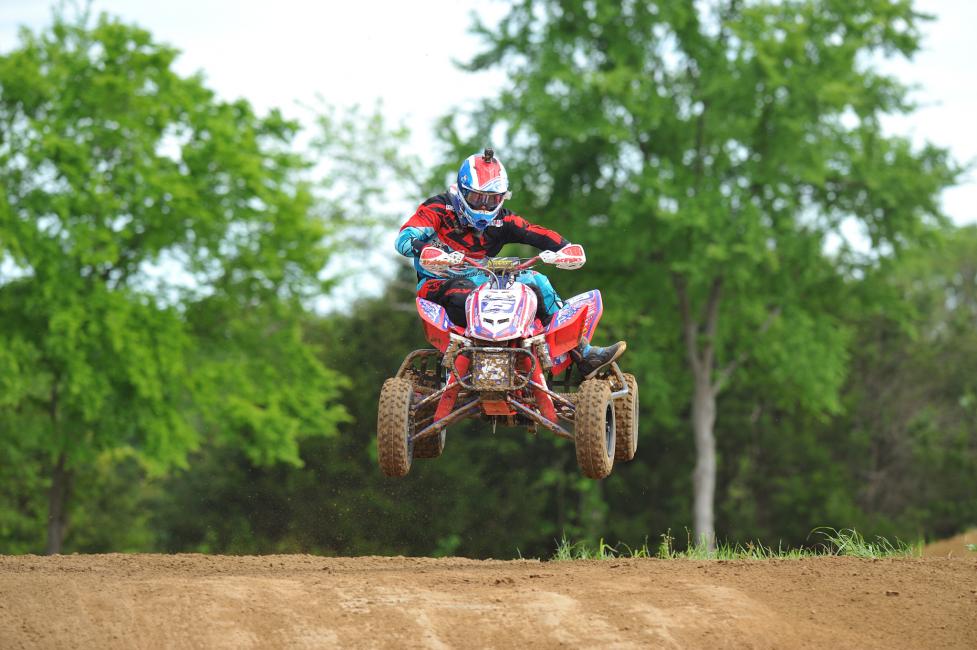 Nick's recent success hasn't come without lots of sacrifice and he sent me the following message earlier this week to let me know what he has been up to. He wrote, "After being away from home for 100 days exactly over the winter, it was so great to get back home after Monster Mountain. I have been doing a ton of catching up at home on my quads and even my own personal life. The weather has been pretty decent for riding and I have been staying on my training every week.
We were ready to go racing at High Point but when we heard the race was cancelled it kind of set things back but not in the worst way. I did not get to ride too much before that because it rained here the week prior. These last 2 weeks have been great for riding though. I've been helping my dad a bunch around the house and honestly I have been getting a lot done. It feels nice to get back home and just do different things because there are definitely times where racing can be very stressful and you just need a short break.
It's always good to change things up when the time is right I feel. Over the past weekend there was an NEATV Race at Englishtown Raceway Park about 25 minutes from my house so I could not say no to that. It was so nice to get to race in front of my friends and family who really never get to see me race. I won all 4 motos and it was a great day overall. The track was great too.
We are about 6 days out from racing Indiana and I am ready to go. I happen to love that track and I am looking for a great finish there this weekend."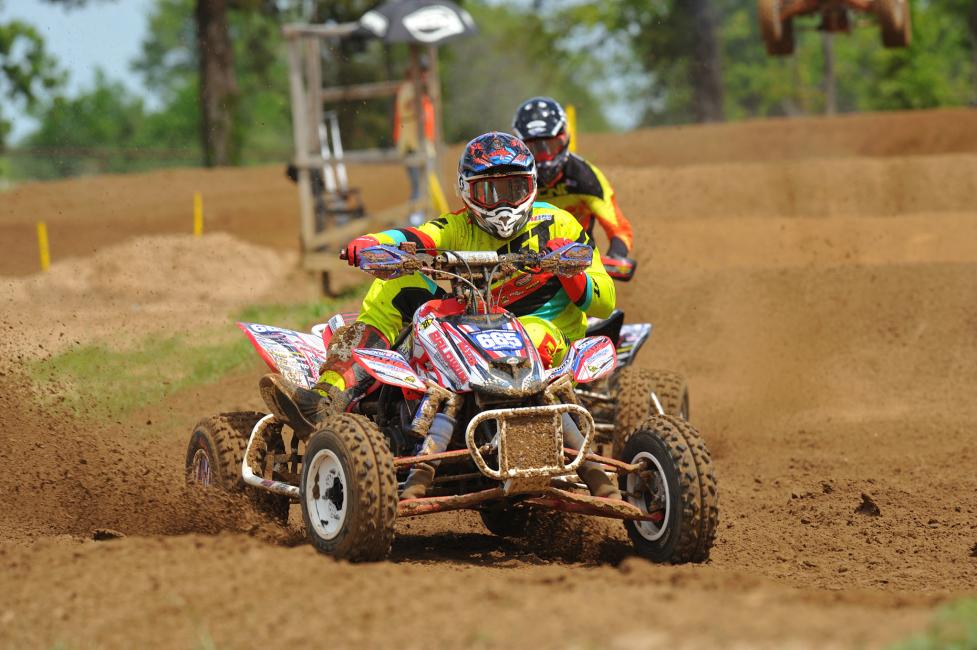 I also heard from the 665 of "Almost Evil" Ronnie Higgerson late last week. He as well is seeing continued improvements and with his hard work, dedication and all around drive, Ronnie is positioning himself to be a true threat for top fives and likely soon podiums. The podium thing may be sooner than you think and with the right momentum Ronnie has all the potential to even challenge for titles.
Ronnie sent me a message late last week and put us in the loop about what's been going on there. It seems he has found a great home with Ford Brothers Racing and the future looks very bright. Ronnie wrote, "My off weekend was good. I was really looking forward to racing the new layout at high point and didn't mind the forecast for the weekend considering how my muddy weekend went there last year. (haha) But since it was cancelled our weekend really wasn't much different than any other.
We trained like it was any other off weekend. Saturday we all sat down and watched Supercross together like we do every Saturday night and since the points battle is close for the 250s and 450s we are all going to Vegas this upcoming weekend to enjoy the Supercross race. I'm pretty pumped for it because I've never been to Las Vegas and usually the Ford family goes to the race In Dallas but we all had to miss it this year. I'm glad we get to make it up with this one. Then when we get back we hit it again like normal until we leave for Ironman."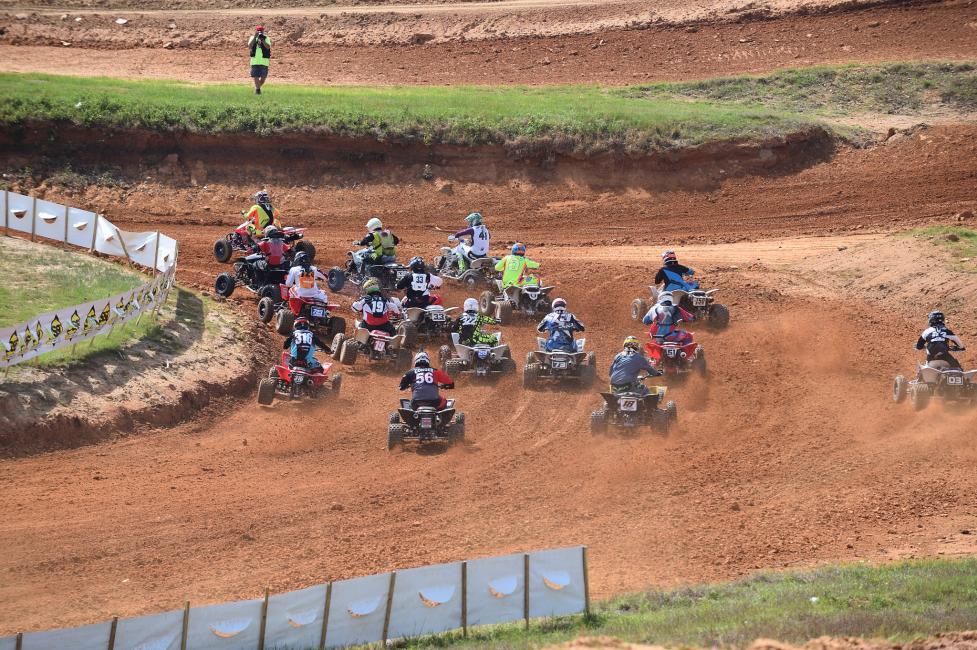 I haven't talked to Ronnie since he returned from Las Vegas, but after watching the finals last weekend I have to think he is somewhat pumped up for the upcoming weekend. I know that was an inspiring season and hopefully we see that energy in AMA Pro ATV MX this season.
That's about it for me for now. Don't forget to catch the live streaming of Saturday's racing action beginning at 11:00 am on RacerTV.com. We will feature youth, amateur and pro racing so spread the word and watch if you can't make the show.
Let's check in with Gloop's Loop and with Ken "the rock gardener" Hill. Till next time, God Bless Your Heart and All Your Vital Organs.
In The Loop with Gloop: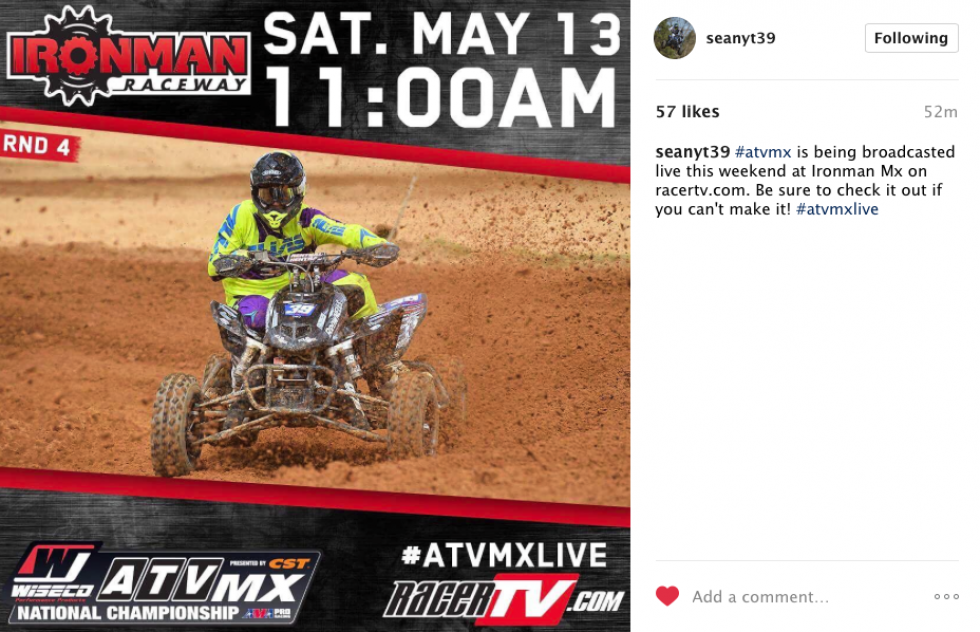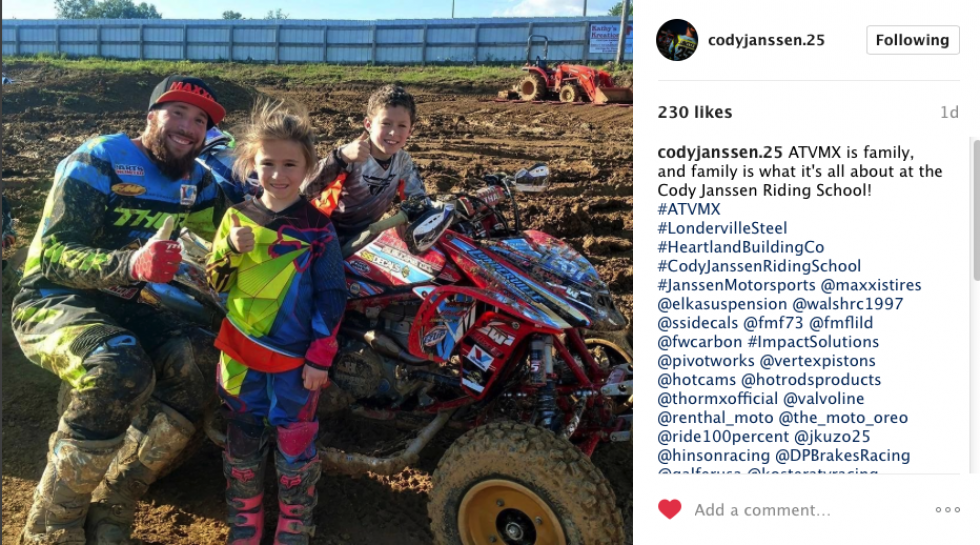 Keeping up with Ken Hill:
Ironman Raceway here we come! Now I had my doubts looking at the weather forecast last week when the GNCC race just north of Crawfordsville was postponed due to the tremendous rain that pummeled that region. I thought we may be affected as well, however, it seems like we should be ok. The family that owns and runs Ironman has my full trust and I have no doubt they will get things ready for you all to do your thing! So after nearly a month, we are going back to ATVMX action in a big way. I would expand on things, but Chelsea did a great job on her pre race write up. So, there is not much to add besides another nail biter should be in store for those of us on the fence watching it all play out.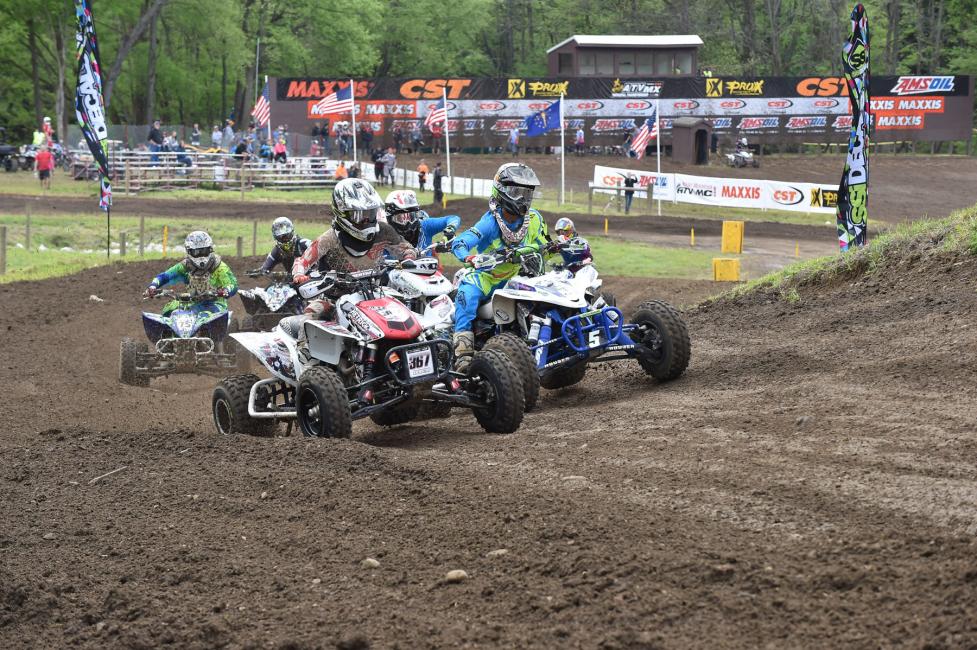 Now as much as I love Indiana and this facility for both the GNCC and ATVMX, it is one of those places that really force you to try and get good images. Most anyone can shoot from the fence and get good stuff and you will see me scooting around hanging over the fence shooting away as the track flows in and out of the spectator area offering a great view of the action. For the pros and amateurs alike there is some decent air to be found if you have what it takes to let it hang out. The pro section is nuts and again; very hard to show just how big those guys go. The section along the roadway can provide some awesome action as so many through the ranks grab another gear and send it as the fans get a great view from the bleachers.
We should have a great weekend in store and it will all be shown live via Racer TV starting at 11 am on Saturday. That is www.racertv.com for those who continuously ask if we ever show the races or ask where they can see them, which perplexes me because you can't swing a blown shock without it landing on anything that doesn't promote Racer TV! And I ask again, please share that info as getting the word out there is a never-ending task! Hitting the "share" or "repost" options is so easy even a caveman could do it! I dig seeing the personalized images with the Racer TV info over them and I wish they could make a way for everyone to be able to have one to share around!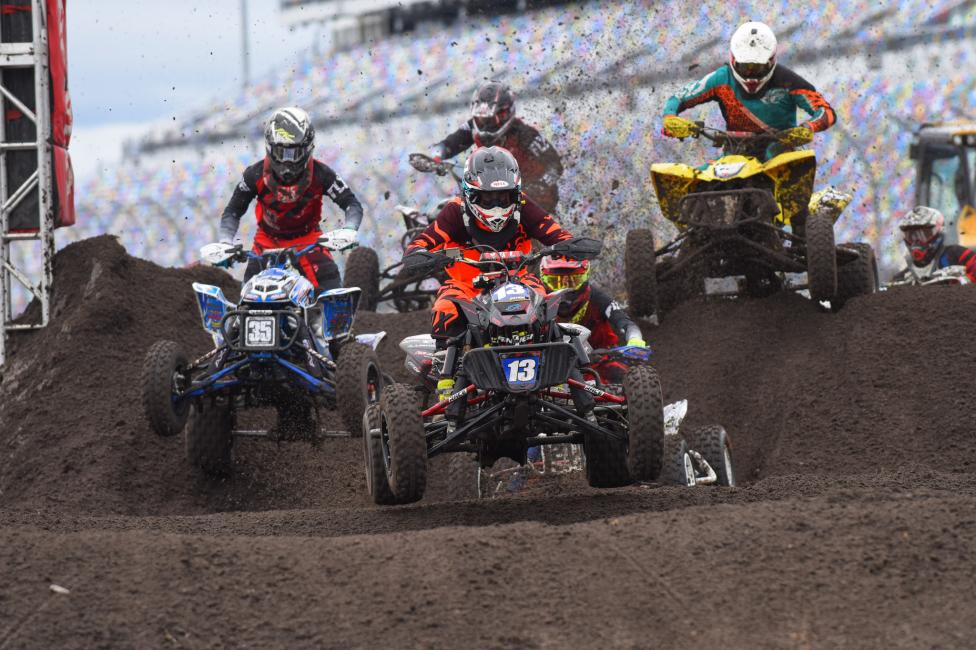 Ok, so that is all from me this week. It has been a rewarding, frustrating, exhaustive few weeks off as I turned my attention from not getting hit by flying dirt to working in dirt to get my gardens and food plots ready. It in fact has been stupid silly as the weather beat me up non-stop, but we were very fortunate to not have the destruction many areas received from all that rain. A sore back and knees do not compare to the loss of life and property those storms brought to many areas of the country so I thank the good Lord for keeping us here safe and our place in one piece. I pray you all have a safe and prosperous race weekend as we get this big machine fired back up and on the gate! Be safe in your travels and I look forward to seeing everyone soon!