Rodney Tomblin
TimeFriday, March 17, 2017 | 12:50 PM
It was another action packed hard-hitting opening to the New Year in the ATV Racin' Nation. The 3rd annual Fly Racing ATVSX at Daytona International Speedway, an AMA Major Championship, drew attention from all across the globe as well another big hit with 76th annual Bike Week crowd as they once again filled the stands in anticipation of what the day would bring. The 2017 debut was everything and more any race fan could ever hoped it could be.
What it brought was the beginning to what is going to be a monumental championship season that lies ahead. The AMA Pro ATV class began its championship while a small preview of the top amateurs filed in from across the world. Riders from Dubai, Denmark, Argentina, Canada and all across America were in attendance for this AMA Major Championship Title. It brought 5 new AMA Pro ATV Rookies and the weather brought an interesting change to the track.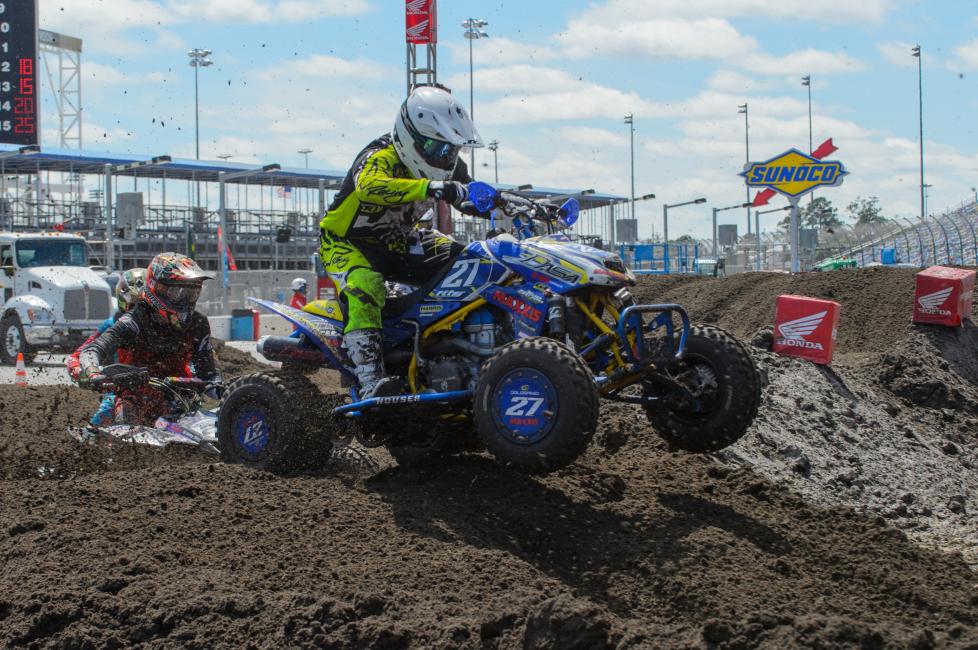 All apologies for the late posting of this week Site Lap as personally I spent 17 hours behind the wheel driving yesterday. Not a real excuse but its my story and I'm sticking to it. As far as my take on the whole season kickoff goes I have no idea where to even start. There was so much happening I'm a little frazzled. So I will just shoot random thoughts of how I am processing things at the moment.
First off I want to say that Tuesday's race ended a two week stretch and the sixth day of racing with four of those being back to back to back to back. Things started for a lot of the crew the week before Bike Week in Union, SC for the Big Buck GNCC then to Palatka, FL for The Wild Boar GNCC. Then on Monday we were at Daytona of the Ricky Carmichael Amateur Supercross and the Fly ATVSX on Tuesday. So that being said again this could be a little random.
The results of the race speak for themselves and if you have watched on RacerTV.com through the live stream or the archive you can see that likely one of the big things was weather. The day opened with a gloomy, cloudy and chilly morning. It had rained several times from Sunday through Tuesday morning and to say the track developed a characteristic would be a good way to put it. The clouds gave way to sunshine in the afternoon and for the main events things were looking prime. Obviously the track had its constant changing conditions and created some very interesting racing. Kudos and hats off to organizers and the track crew for the amazing job of saving the event completely. It could have been a disaster but Tim Ritchie from Red Bud, Sunset Bob Pistole from Sunset Ridge and famed course designer and track builder Randy Poulter used their know how and experience to save the day(s).
The new wave of rookies, five to be exact, are all seeming to find their place early on. The sheer level they rode at was impressive and gives hope for a new wave of challengers in the future. Each one seemed to leave a little mark on the day and each one will soon find out the true riggers of being an AMA Pro ATV competitor. It will be a great season watching these young men.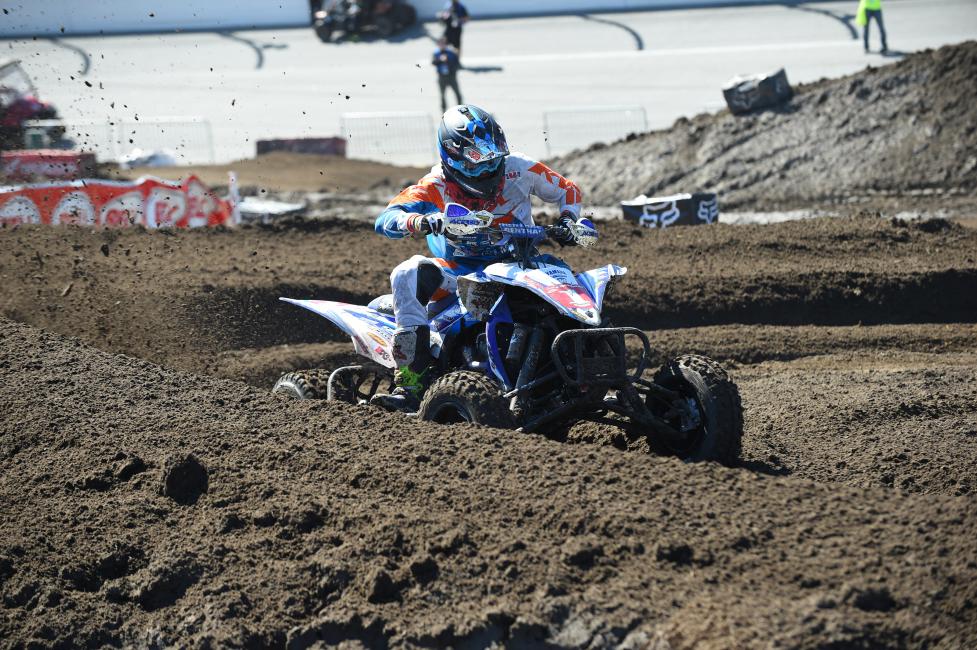 Chad Wienen posted back-to-back Daytona ATVSX AMA Major Championship titles wins with this past Tuesdays win. It also sets him up with the points lead heading into the Wiseco ATV Motocross National Championship presented by CST Tires, an AMA National Championship over Joel Hetrick, Thomas Brown and the entire field of challengers.
Wienen told me "It's amazing to get back to back wins at Daytona! It was not so much a physically tough race but mental. Had to hit your marks every lap and limit the mistakes. I was able to ride a major mistake free 18 laps to take the win. It was a whole team effort on this one. My Yamaha was dialed and so please with how we performed." Chad gives credit where credit is due as he had a fuel pump issue prior to the 8:00 am qualifier that took him out of that practice. I wonder though if it may have not been a mind game though as he came out in the final qualifier and lit it up on his hot lap to take the fastest qualifying time of the day.
The win for Chad was again not an easy one but he was able to persevere and push after a fourth place start out of the first turn. He battled to second but Hetrick who grabbed the holeshot was just out of reach. He settled in and waited for something to happen and when it finally did he took control and never looked back. It was a good win for the champ and has lit the fire to a title fight that may be his most challenging yet. He is prepared though and knows what he if faced with as he told me in an interview prior to the season kickoff on Quad-Radio on the YouTube channel at https://youtu.be/uh38j9gJy8w.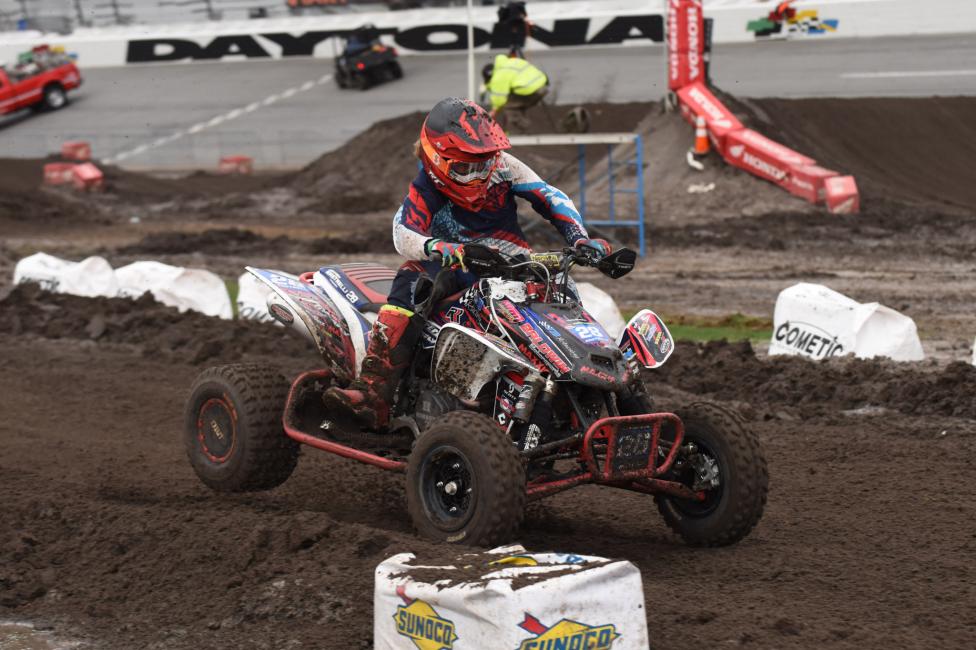 Jeffery Rastrelli had issues early and salvaged what he could as Josh Upperman gave us glimpses of the Josh of Ole. Nick Gennusa was on fire once more as a new and highly motivated Thomas Brown may have shown some major steps forward himself. Brown came from mid pack in around tenth place off the start to third place closing hard. He told me when I asked him about his day "It was good. My start in the main was bad but other than that I was happy. Simple track lay out but with the rain I was impressed and there was good passing for a tight track." He is right, there was plenty of passing and especially for him. Texas is coming and big things happen there so maybe Thomas will really kick things off for himself at home for this season. It was fun to watch him work through the field and exciting to think and know that there are legitimately 6 six riders that could under the right circumstances take a win in this seasons championship. So as in any championship consistency will be what wins the title in the end.
That's it from me for now. Let's check in Ken "The Snow Drifer" Hill. Till next time, God Bless Your Heart and All Your Vital Organs.
In The Loop with Gloop: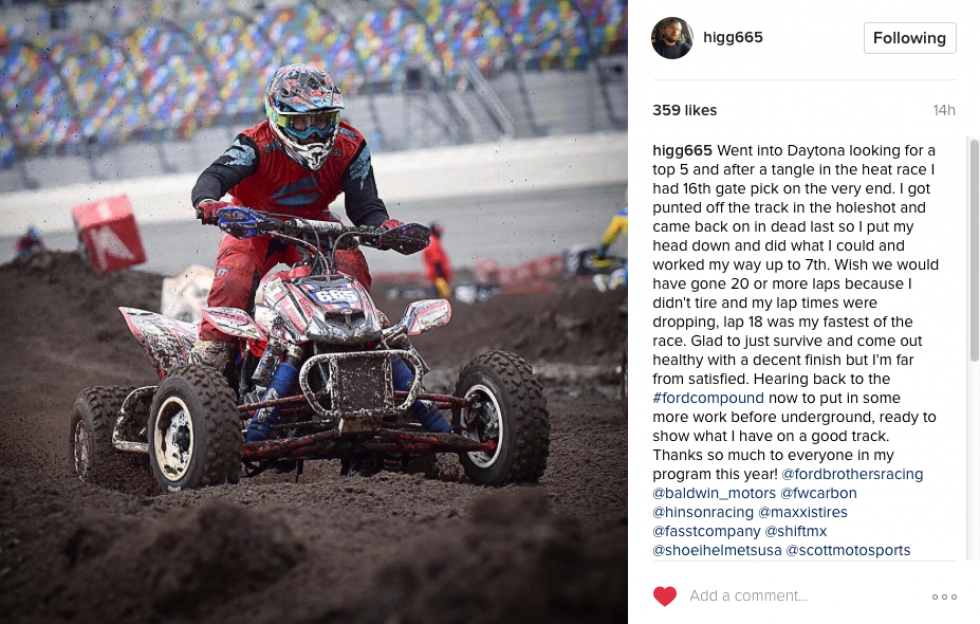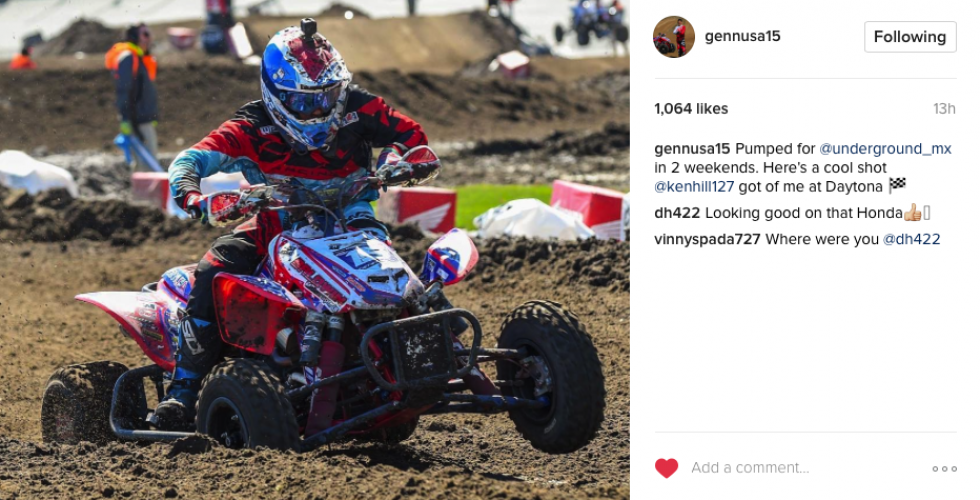 Keeping up with Ken Hill:
Well there she is folks, the 2017 Fly Racing Daytona ATVSX is history! Chad Wienen strolls out of this historic facility with another win to his credit and once again we find Joel Hetrick sitting in second! Now that doesn't tell the story now does it? It sure doesn't, because Hetrick came out swinging and looked to be untouchable after ripping the holeshot and scooting around the Daytona track like it was his private practice location! If not for hooking a tough block, coming off the quad, remounting and charging back to second, I would have to say Hetrick rolls to the win convincingly. And not even that tells the story! Wienen got off to a horrible start, had to fight his way through some serious competitors and then set his sights on Hetrick who was already dealing with his get off. The door swung wide open and the Yamaha mounted rider cleared the finish line taking the win. Kind of confusing? You bet it was at least for me as I tried to keep up with the action as I skirted the track taking pictures. One minute Hetrick is flat gone and the next thing I knew everyone seemed to be in the mix as the top riders started running in to lap traffic. It was not until near the end of the race that I realized Wienen was in the lead and going to take the win! Thomas Brown had his own battle that he viciously took out on those in front of him and found his own spot on the podium claiming third.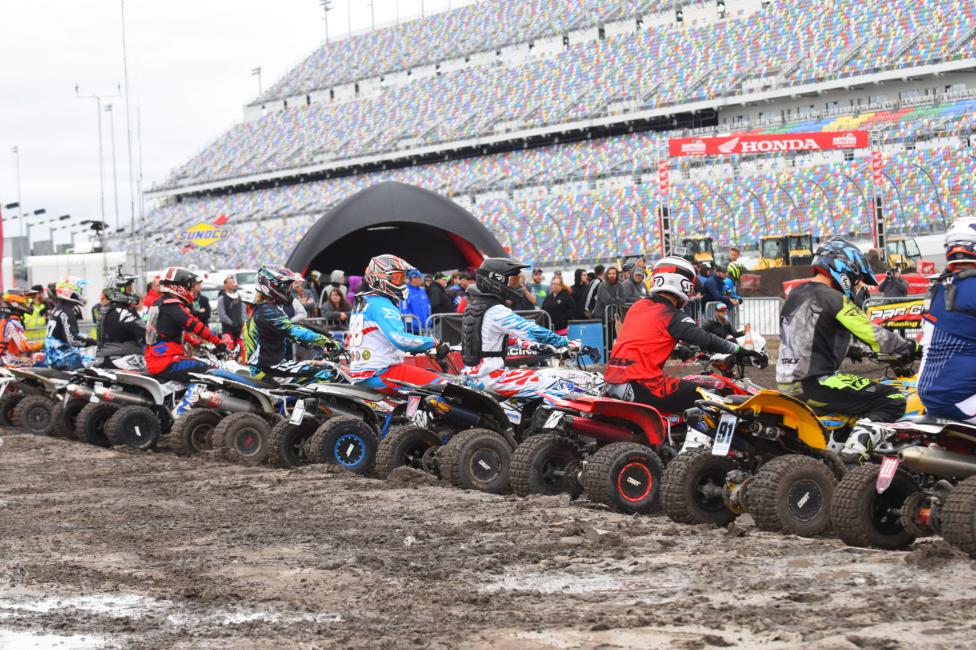 The podium was full of excitement as the riders told their stories and big smiles seemed to be everywhere, even from those that knew victory had been snatched from their grasp. That is scary now because Hetrick, as I have stated in the past, has matured and is ready to fight for what he wants in a way that should have everyone putting money on that red blur of the 88 machine. Now of course you'd be a fool to discount Wienen's record and his ability to be there when it counts. This season could be a two horse race but it is racing so others can be right there even though their showing at the ATVSX doesn't show the improvements they have made in the off season. I have to suspect Jeffrey Rastrelli will be hard to handle when we get into more races that will allow these guys to really open up and the list of riders who could come out on top is not limited to 2 or 3 so 2017 is looking good in that respect!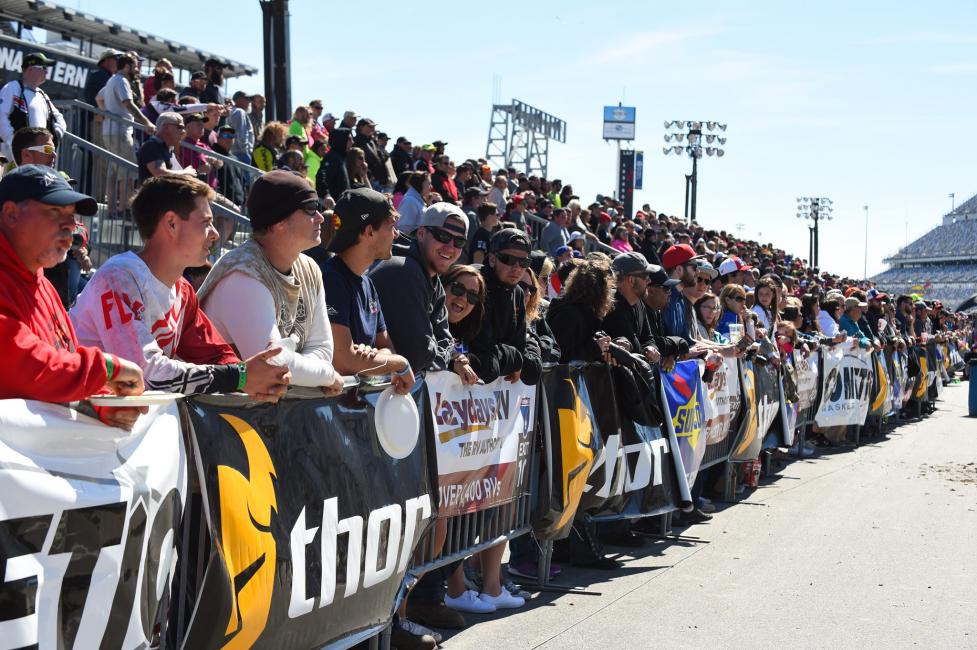 So off we go to round two where we get our first real look at our riders on a track that should showcase the speed they are capable of and be joined by all of our racers as this round will mark the full inclusion of all classes. The hurried pace at Daytona is a crazy day in itself and keeping tabs on everyone is tough so I look forward to reaching a point where I can go through social media and catch up on how everyone did! That's all from me, long drive then more work and then do it all over again! Be safe in your travels and God bless!