Rodney Tomblin
TimeWednesday, February 1, 2017 | 5:00 PM
The approaching 2017 Fly Racing ATVSX at Daytona International Speedway and the Wiseco ATV Motocross National Championship presented by CST Tires series have seemed somewhat quiet compared to recent seasons, but it may be considered the quiet before the storm. The "New Era" of ATVMX is still an evolving process and though there isn't much in way of big announcements the look of the New Year may be what is most noticed. The thing noticed this past week was the announcement from Wiseco, the parent company of ProX Racing Parts, that they will take the title sponsorship branding for 2017 and that is another great step forward.
Other big steps forward this year will be noticed in teams, team sponsorship, appearance and likely attitude. We heard recently and expect to hear more from the Nine6Nine Motorsports team of Travis Moore. He has not only continue to build a solid program on the track, but has also picked up a rather big sponsorship from an outside solar energy company that we will be hearing more about in the future.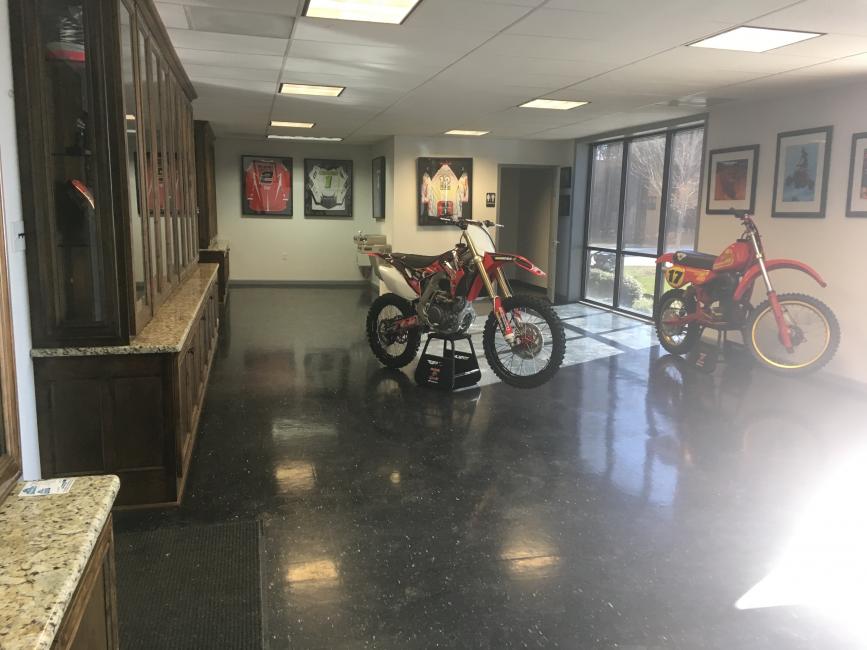 This past week the folks at Maxxis/Liquid Wrench/Elka/Honda invited me to the new race headquarters located in the heart of "race country" near Winston-Salem, North Carolina. As I rolled down Speedway Boulevard I realized that I was about to see something special. I turned left through the gate and noticed a huge 7,500 square feet building that was the obvious new home of the now Phoenix Racing.
Team manager and owner David Eller said, "It is the direction our sport needs to go." Basically meaning the way you position your team, and how you make it appeal to outside sponsors. It's an obvious formula that has worked on a smaller scale over the past several years with Mt. Dew Live Wire (which was a separate deal from other Dew series sponsorship), Cheerwine soft drinks and now Liquid Wrench. The big picture is that our sport like any other motorsport will require building programs with sponsorship dollars from businesses outside the sport, as there is only a limited amount of dollars to go around within the industry.
Phoenix Racing is the new teams name for Joel Hetrick, Grayson Eller and new teammates Haeyden and Noah Mickleson as well as a new forming and developing National Arenacross team. The large building has a front office and reception area featuring a trophy case with awards and memorabilia from years of racing and race support by David Eller and his many involvements in motorsports racing. You could see local, state and regional and national championship plaques and trophies. There was even a vintage Maico motorcycle and a new Honda, which will be used by the new AX team. The appearance of what I had seen at this point had me realizing that the next steps I would be taking would be into something very big for the sport of ATV racing.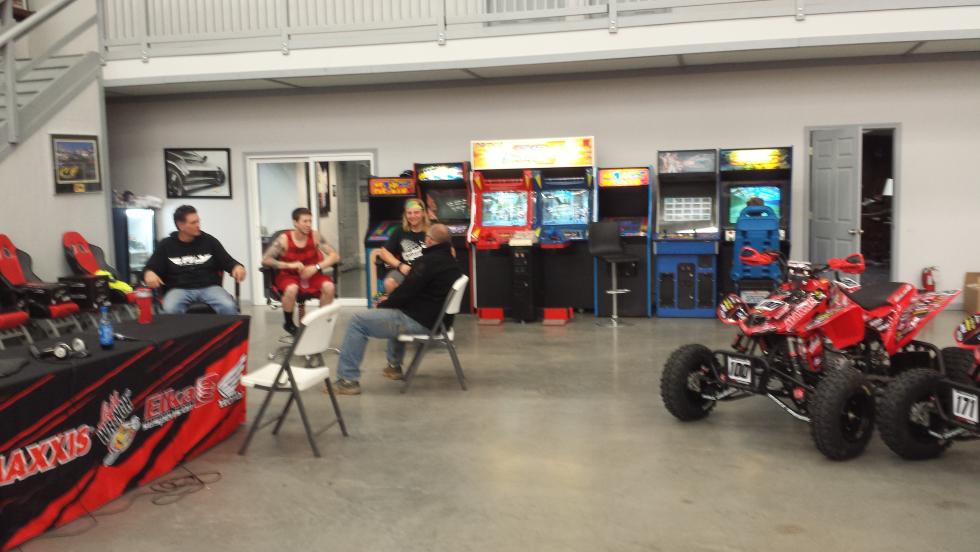 As I opened the door in the huge shop I noticed a host of ATVs, classic cars and trucks, a semi tractor for some sort of flashy transporter hidden away in the back, a state of the art work shop, a parts room and bay, a conference room, weight and workout room, living quarters and a wall of classic arcaded video games featuring games like Asteroids, Pac Man, shooting games and race car games. I was like a kid in a candy store and as cool as the appearance was it might have been the business like attitude amongst mechanics, sponsors and riders was second to none. As much as it looked like a race team, it looked like everyone meant business.
Joel Hetrick had arrived only a few days before I had as he had been training at his normal preseason stomping grounds at Greg Pafford's in Louisiana. Joel said in the short amount of time he had been there he had seen the benefits of the shop now up and in full swing. Team sponsors were there testing with Joel tweaking settings and testing new products, the workout room had everything needed, a full time mechanic and a practice and test track located only minutes away from the shop and makes for the most professional and best organized program in our industry. The appearance in my opinion is what I imagine a NASCAR team to be like and like what we see in our sister sport of AMA Pro Motocross and Supercross.
I had a chance to also sit down and talk one-on-one with all the riders and even got to pick the brain of the mastermind himself, David Eller. Those interviews will be made public in the coming days that I encourage everyone to take a little time to watch. Before the interview with David he said, " I wonder if I should share this? I mean it gives us the edge in some ways but what good is having an edge if there is no one to race?" It was a question I easily answered with, "You have to share at least the idea but not the secrets!" which is what he later did in a one-on-one interview later. It took a lot to get David to open up to the idea because of how humble a man he really is, but he is also working to help the sport grow so he is willing to make the sacrifices necessary to help that process. I will tell you he has a lot of personal sacrifice and if you wonder how dedicated he is, he said "if people wonder what if Grayson, my son, decides he doesn't want to race anymore will it continue. It will! It's a business and it will continue." David said there are big plans and being involved with Cam Reimer's and the Liquid Wrench TORC series team, which is also a part of the Phoenix Racing conglomerate.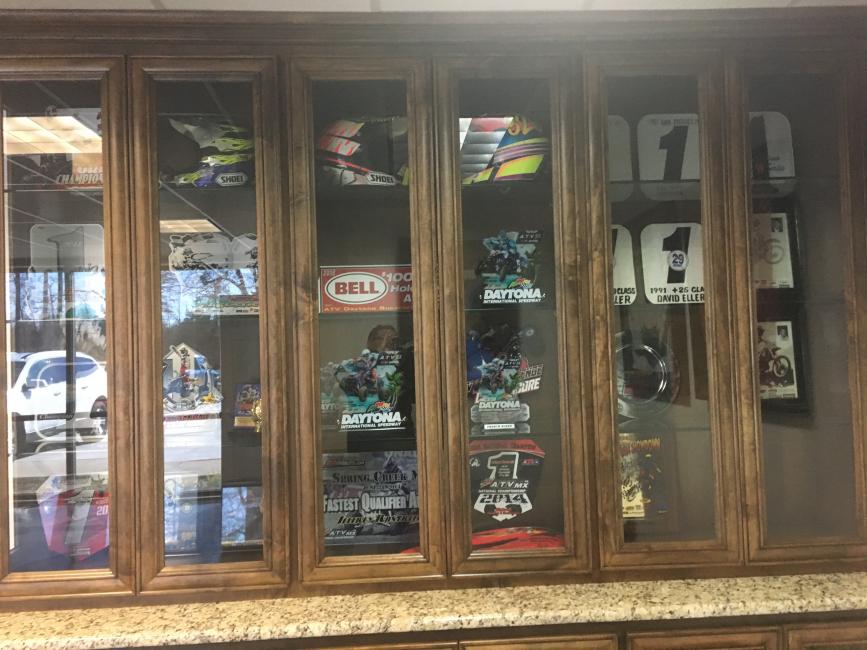 I talked with Grayson Eller, who will be running the A classes for the team this year, and he seemed to be reinvigorated than he was heading into last season after making the step up to the big bikes. Grayson graduated comfortably and if the performances at Edge of Summer and the ATV Pro Challenge are an indication he is more than ready for the step up. He is really excited about the new teammates in the Mickelson's and says having his toughest competition on the track to train and ride with can only help take them all to new levels.
Noah Mickelson will be running an A class and the Pro Sport class as he begins his eventual graduation into the AMA Pro ATV class. Noah and his family recently made a move from Minnesota to North Carolina when the opportunity became available. Noah said he was faced with some uncertainty at the final round last season when he learned that his Root River Race team was reinventing itself a little differently. He was quickly picked up by Ford Brothers Racing, but when Davey Haagsma opted out of the team to focus on Side-by-Side and car racing on the west coast, there was an opening and the Ford Brothers and Phoenix Racing came to an agreement that would allow the brothers to be together which also allowed for the whole family to relocate to one location. Noah is very impressed with the program and reports are that he has adapted to the finely tuned equipment and is already reaching higher levels than expected. He also began a physical training regime, which he had never done until moving to North Carolina. The sky is the limit for this kid right now and he is eager to see the first gate drop to prove it to him and everyone he is ready.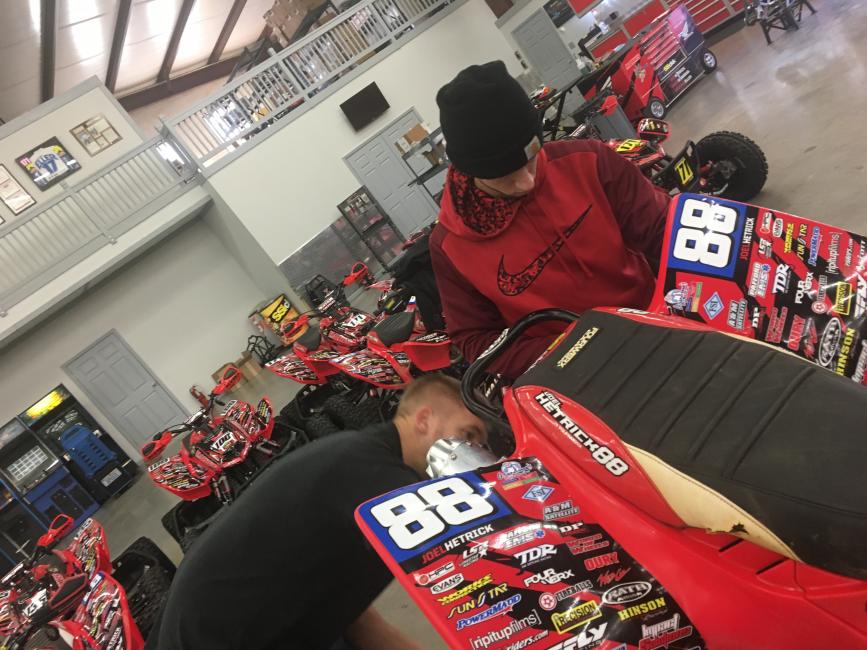 Haedyn Mickelson also joins the team and will be running the Pro Am and Pro Sport classes. It will be a great chance to see the brother's battle head to head in the Pro Sport class. Haedyn is also reported to be achieving unexpected and anticipated levels at this stage in the program. Haedyn, and the rest of the team, feel very confident in their equipment knowing the technology that is behind them. Haedyn will likely have a very noticeable burst of speed and control as he is as dedicated and serious as any competitor I have ever seen.
Attitudes like this team carries are inspiring for the future of our sport and quite honestly the attitude is one that I feel all around our sport heading into 2017. As the first big round of racing approaches the Florida sunshine may not be the only reason to grab those shades because the future is looking pretty bright as well.
That's it for me for now. Let's check in with Gloop's Loop and with Ken "fill my wine glass full" Hill. Till next time, God Bless Your Heart and All Your Vital Organs.
In The Loop with Gloop: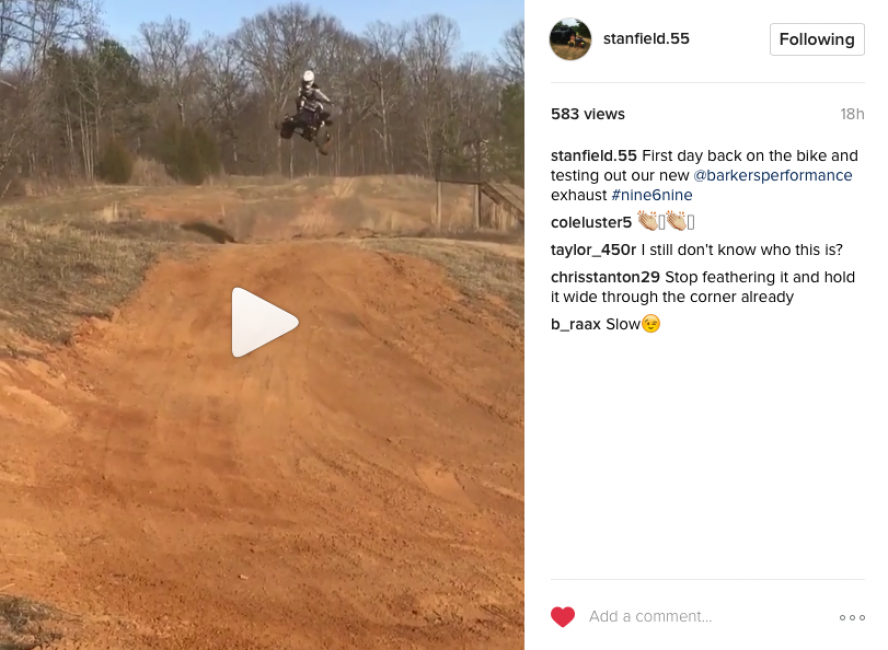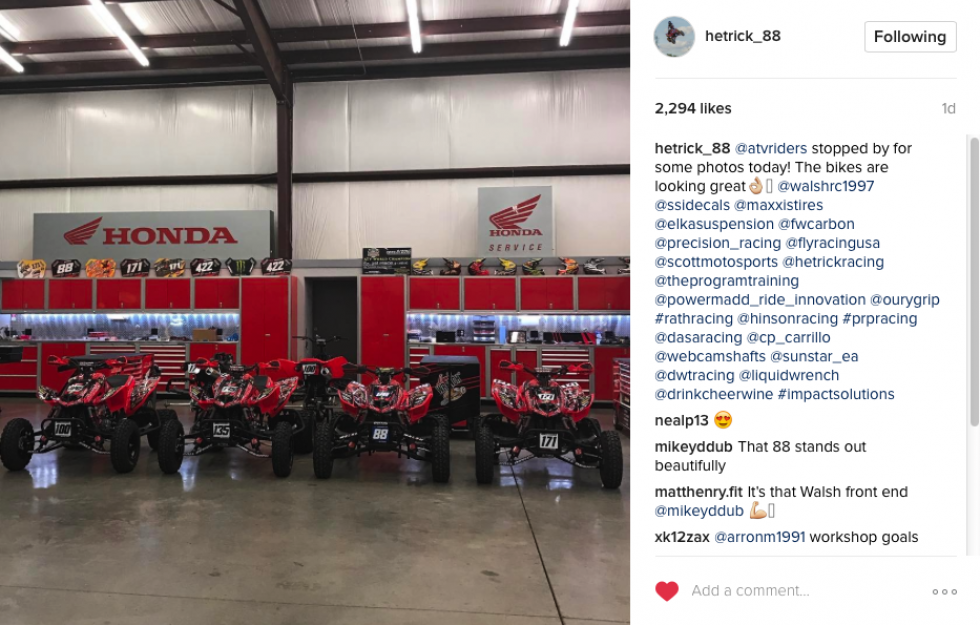 Keeping up with Ken Hill:
Hey now it is getting close! That "it" being the first gate drop of the 2017 ATV MX Championship season and folks, I believe it is going to be a wild one! Over the weekend, Ford Brothers racing let loose some live video feed from an arena cross down in Texas that had Jeffrey Rastrelli taking the win followed by one hard charging Ronnie Higgerson. Being an arenacross it was tight and the quads couldn't really open up, but it was a fun watch in any event. The pictures then started popping up of Higgerson in a cry bucket getting his freeze on and then an image of him neck deep in a hot tub. If anything, he is covering all the bases! The biggest change I see though was he was smiling which is a far cry from how his 2016 started off showing me his connection with the Ford crew may be a really good thing for him.
It will be a very interesting to watch the first few rounds and see how Nick Gennusa and Ronnie Higgerson respond to the changes in their programs. Gennusa on a Honda will take some getting used to, but if he rides like he did at the Pro Challenge he stands a good chance of finding the podium because he was absolutely on fire on a borrowed ride for that weekend. Lets see what he can do after getting on his own ride that is tuned for him! The issues Higgerson faced heading into 2016 should be long gone and he can actually get seat time instead of being a mechanic and that could really send him off the gate right from the start in a very good way. So, I would say these two riders are going to be ones to watch without a doubt!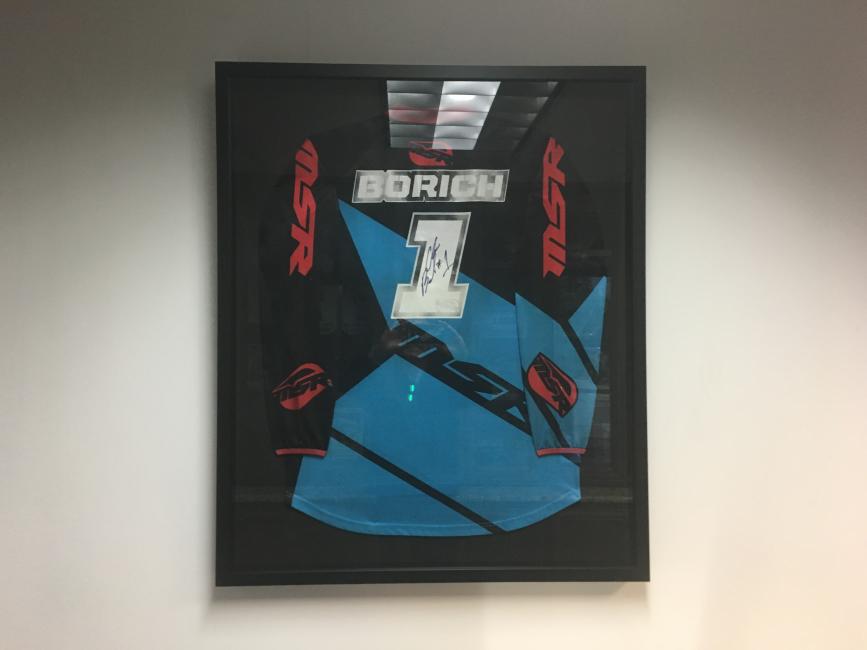 Now Rastrelli heads to South America for a big race down there and he seems to be very eager to do well after not meeting his expectations the last time he ran it. From his social media I see no signs that he is facing any big issues so I fully expect him to be a podium contender right off the gate this season. There are three riders that I think will be battling and I cannot help but wonder how Thomas Brown is shaping his program up thus far, but counting him out just isn't going to happen. The same goes for Josh Upperman who gave us some updates in last weeks Site Lap. It seems like a so good so far scene is taking shape, which should provide us fans with some of the best racing possibly creeping in on us!
Last week I had stated I should be down south by this time but it just did not pan out. Lining up a huge trip that revolves around riders, both bike and ATV, is a challenge! I am happy to say that things are finally starting to align, as it seems every day now I am getting word that riders are ready. I am literally awaiting an email to get the word on two riders and then finally I can start heading out for the start of my season. I have the Dodge all fueled up and everything is packed so I am indeed excited to get going and get a first hand look at the riders and see what the behind the scenes scoop is! So as always, be safe in your travels and God bless you all!