Rodney Tomblin
Time
Friday, June 12, 2015 | 12:00 PM
The battles at Sunset Ridge are ready to wage, and the role that last seasons winner, Thomas Brown, has may put a whole new twist on the championship. Thomas has been searching and may have found the confidence to know he can do it. The win at the Ironman ATVMX coupled with the confidence of winning at Sunset last year gives Thomas a big upper hand. The big flip side is that Chad may want to make a statement and what better place than in his own backyard.
Joel Hetrick will be focused as ever trying to keep what happened at the Ironman from happening again, as he has a few points to make up in the title hunt. I look for calculated riding out of Joel, and of course a spark of Kid Dynamite. However, for Joel's sake, he better hope he has the long fuse on this week as a quick fuse could take him right out of the hunt.
As the season wears on, I took a close look a couple of weeks ago and analyzed some of the classes and the way the championships were breaking down. The following is what I saw heading into the halfway point of this championship. Though it is a couple of weeks old, I feel you can see right where we are heading.
Anyone who has been paying attention in the slightest as to what's going on in the pro class knows that we now have a new points leader in in the pro class. It is actually our third point leader this season counting the ATVSX at Daytona, which the pros are counting as part of their championship season. John Natalie opened the season up with a win then Chad Wienen took control once we hit Echeconnee. Then Joel Hetrick was finally able to put together a four Moto win streak taking two overall wins and gaining the points lead by two after High Point. This is monumental alone considering Chad has held onto the points lead for three consecutive seasons with no one being able to put on such a charge till now. What it means for the rest of the season is pure excitement and now uncertainty as to who will be finally crowned champion.
The Pro Am ranks have seen a lot of competition and though there are no clear-cut winners here it looks like Nick Gennusa may be the next heavy hitter here. With a 17 point lead heading into the midway point of the season, we have seen some great rides out of Nick, but at the same time there are other players in this class. Argentina's Vital Cazenave has also shown great speed in this class. He sits second in points but with the way this class runs anything can happen at any time. Dylan Tremellen and Cam Covil are two more players that may be in position to take this fight on as well. They sit a little further back in 3rd and 4th but both have the speed and talent to start clicking off some wins. So though Gennusa is looking strong, there are still many motos to go before he can claim this fight.
As far as amateur classes go, there are many great battles shaping up. One thing to point out is that there are throwaway rounds and once this starts happening, then things may get even tighter. I have scanned the classes and many have good battles shaping up. This week I am going to focus on some of the closer points battles to give you an idea of just how great this championship is from the pros through the youths.
One of the battles that catch my attention first off is the Production B class. The fifth place rider is only 8 points out of the lead right now. That means that there are five riders fighting for this championship. Zach Kaczmarczyk leads by 2 points over Sky Volkamer with Kirkland Jack only one point behind him in third. Then Vincent Mirman sits only 2 more points back in fourth with Tyler Mack another 3 points back in fifth. To say that any one of these riders will be likely crowned champion is the easy part, the exciting and difficult prediction lies in exactly who.
The Production C class is another. Though the points race is not as tight right now, knowing once again that there are throwaways coming and still plenty of racing, this class is a bother that catches my eye. Jacob Stevens currently leads the class by 6 points over Nick Weber. The big gap back to third of 15 points may be a little deceiving here. Jesse Voiles currently holds onto the third spot with a 21-point deficit to first. Brandon Smitley sits another 6 points back in 4th and knowing the talents and speeds of these four, this championship is still wide open. Consistency is going to be key here but the strong rides must keep coming in order to stay in this battle.
The Senior Plus 40 class has a battle too. A really good one shaping up. Defending champ "Rev'n" Kevin Pochrinich sits 5 points back behind Robert Salinas. Robert has made an impression and shown some speed in the class. Though these guys are a little older on the grand scale of things the battle this championship is bringing is making this another one of the must watch classes. And even better is the fact that the points may not show it but there are more including Daniel Domaszewski and C.D. Musick. Each has shown the speed and the will to win and each time they race they battle with as much fever and intensity as any class on the track.
The Youth All-Star Class is another that has been and will be exciting to watch. Allen Myers currently leads the points by 4 over Peyton Zimmerman. Cody Ford and Noah Mickelson sit a few more points back in 3rd and 4th but again this is a class where anything can happen and knowing the talent pool in this class makes it easy to say what I say. I am not taking anything away from Meyers who is in total control of points right now it comes from not only speed but consistency which is going to be harder to maintain as this season wears on. Meyer's got his first win in the class at High Point and if he is able to keep this early season momentum then he may pull it off. Competition is tough in this class but so far he has been tougher.
Another exciting class to watch this season has been the Schoolboy Sr. 14-17 class. Noah Mickelson and Cody Ford sit 8 points apart but Troy Hill is only another 13 points back. That again may be a little deceiving at this point and if what I have been watching continues in this class then it could get pretty exciting too. All three riders like to win and all three expect to win so it can only mean great racing from this title chase is going to be a must watch battle.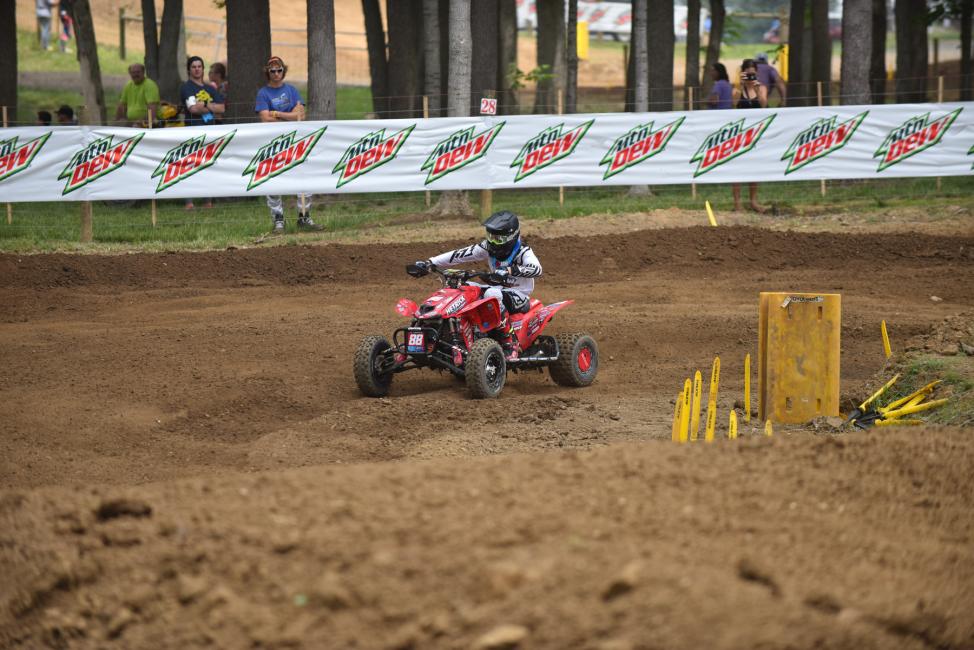 The Schoolgirl 13-17 is seeing a great chase. Maddie Guyer who was expected to be one of the key elements to this fight broke her arm and will be out for a while. She leaves the class wide open in the process. The young Nimah Shaw has stepped up though and moved into the point lead over Kiersten Keane who has shown great speeds this season. Though a 14-point deficit seems like a lot, the season still has plenty to offer and experience may lend itself to Keane, however you cannot count out the heart, determination and speed of Shaw. Another to watch out for intuits class may be Johanna Vossman. Vossman has been steadily picking up speed and pace and has put herself in thick of things. A few more rounds may see this title chase begin to intensify. If heart and speed these young ladies show are any indication, get ready for this one to go to the wire.
The 125 (8-15) class, which is a rather new class, is already presenting fans with lots of excitement. Braden Lollis holds onto the point lead by 7 over Eli Lingle. Lingle has three wins to Lollis' 1 win but it has been strong consistent rides that have kept Lollis in the hunt and possibly on his way to a title. One thing that Lollis knows and it will keep him on his toes and that is that "Eli's a coming" so there is no resting in this class till the final checkers.
The next class to catch attention is the 90 Shifter (8-11) class where only 2 points separate the title contenders here with only another 5 points back to 3rd. Max Lindquist leads Zack Decker but there is another up unknown variable lurking in this one. Son of 40 plus class leader Robert Salinas, Aaron Salinas holds onto a commanding 3rd and sits only 7 points out of 1st. Salinas has yet to win an overall in the class but it looks like that could be coming soon. And if and when it does this class will see a whole new level of competitiveness, which we as fans will be in for a treat for.
Another interesting Youth Division battle comes from the 90 CVT (8-15) class. Only 8 points between the top 3 in this class and it is another that may leave us wanting more when they are done. Leader Chris Furches has yet to win an overall in this class this season but he has been strong and in the thick of things each race. This is what helps him gain the points lead over Corey Edwards who is only 7 points back and Bryson Slagle who is only another point behind him. Edwards has posted one win so far but more should be coming. Same thing for Furches too and though he has yet to take a win in this class, it's not far from happening.
Those are some of the more intense battles taking place right now. There are more that could see things start to get more exciting and challenging and it will be fun from a fan point to watch them develop. Normally this is the time when a dominating rider in each class is starting to rise to the top but this season has kept that from happening in most classes so far.
That's pretty much it in a nutshell and the great thing about this is that there is still more racing to come. The exciting news is that there are several more classes that still have the potential to tighten things up and bring the title chase around.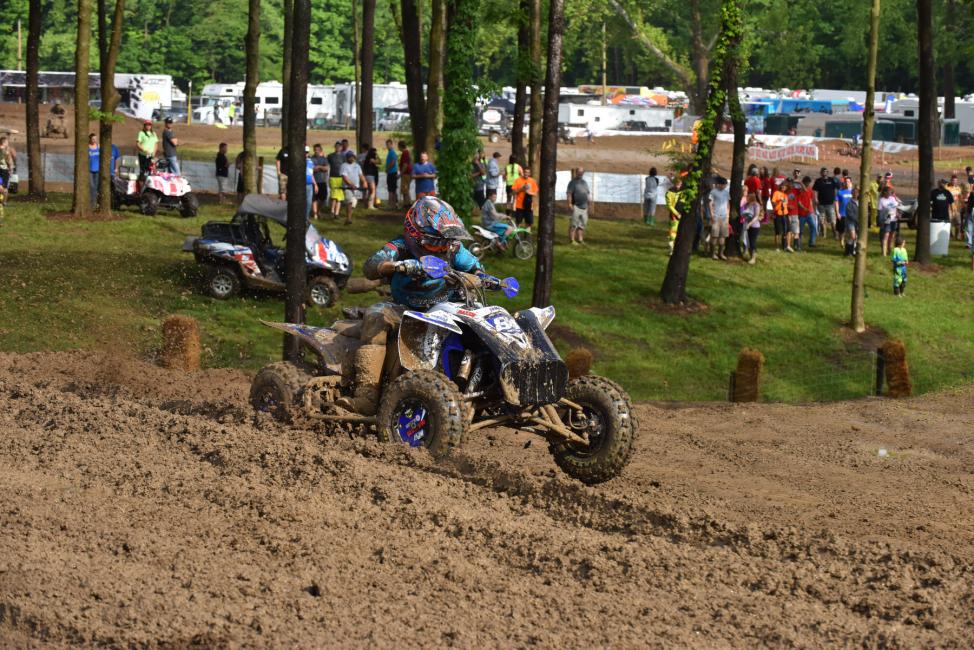 That's it for me for now. Till next time God Bless Your Heart and All Your Vital Organs. Let's check in with Ken.
In the Loop with Gloop
Looks like Jeffrey is going to see how he's feeling this weekend at Sunset Ridge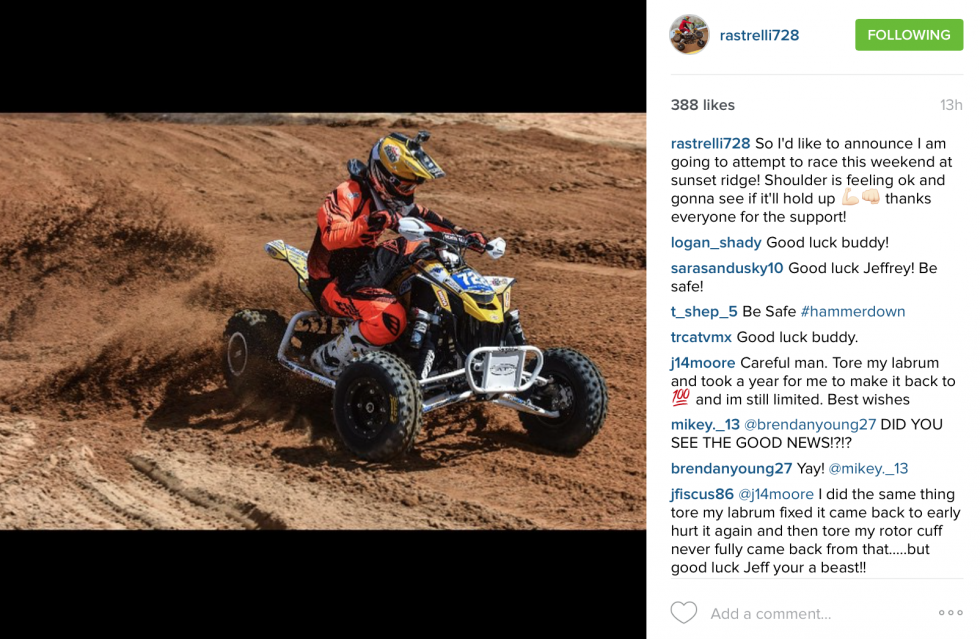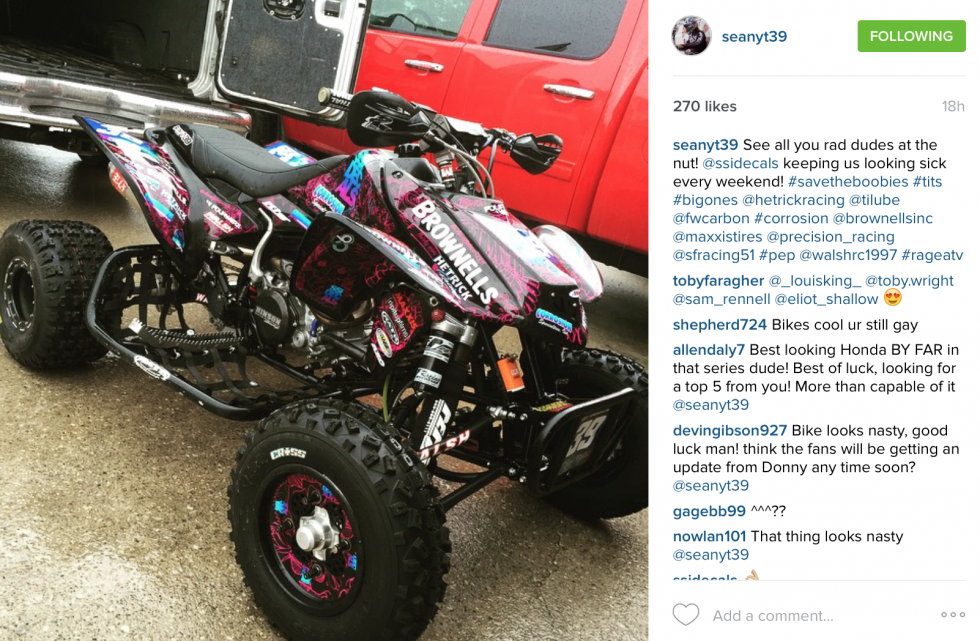 Catch up with Ken Hill
Here we are, getting ready for round 6 of the series, can you believe it round 6! It seems to me that just a few weeks ago many of us were in sunny Florida basking in the glow of the infamous Daytona Speedway as we witnessed history being made. The silly season sure does make the time fly by, but there are still some rounds left that could prove to be the best of the season.
Chad Wienen will no doubt be giving it everything he has to decimate the rest of the pro field at his home track, Sunset Ridge. Chad seems to like the big loose tracks and having motivation from a huge hometown crowd cheering him on may make him one tough cookie in Illinois. The points edge he has now gives him a bit of room to breathe, but he cannot afford to slack up. One bad moto can be the deciding factor as we witnessed when Joel Hetrick suffered a bad moto two at Ironman. The top three, Wienen, Hetrick and Thomas Brown have a bit of cushion over the rest of the field and if all stays on course, you can pretty much count on the season to end up with those three holding the top three spots come banquet time. Now that doesn't mean Wienen gets a cake walk, Hetrick has had a big bite of what its like to hold that points lead and I think he liked it! If he can just settle into a rhythm and steer clear of any big mistakes, he is at the least looking at the number two spot at years end, which is a huge step in his young career. I said a few years back that learning lessons come at a price and the lessons he has learned so far this season may have him being the top seed for the 2016 season.
Ironman ATVMX also sent Jeffrey Rastrelli to the sidelines, but I am happy to report he is making his way to Sunset to see how things go. He knows he is far from 100%, but thankfully the injury was far less severe than first reported and he will be riding just to see how he feels and if he is up to it, might be trying to run to salvage some points. Rastrelli is another rider who has been knocked down and had to rebuild things but with this comes experience that will help him keep clawing away at the pro points. I know we all wish him the best and hope he can get back out there at full speed in short order.
Speaking of injured riders, John Natalie made a post on his Facebook page a few days ago and was actually going riding! The future is still unclear for the Ironman, but if it can be done he is the man to do it! It has been unnatural to even write or talk about ATV Motocross with out having to mention John in the middle of it all. We will be keeping an eye on his progress and wish him the absolute best in his efforts to overcome his injuries.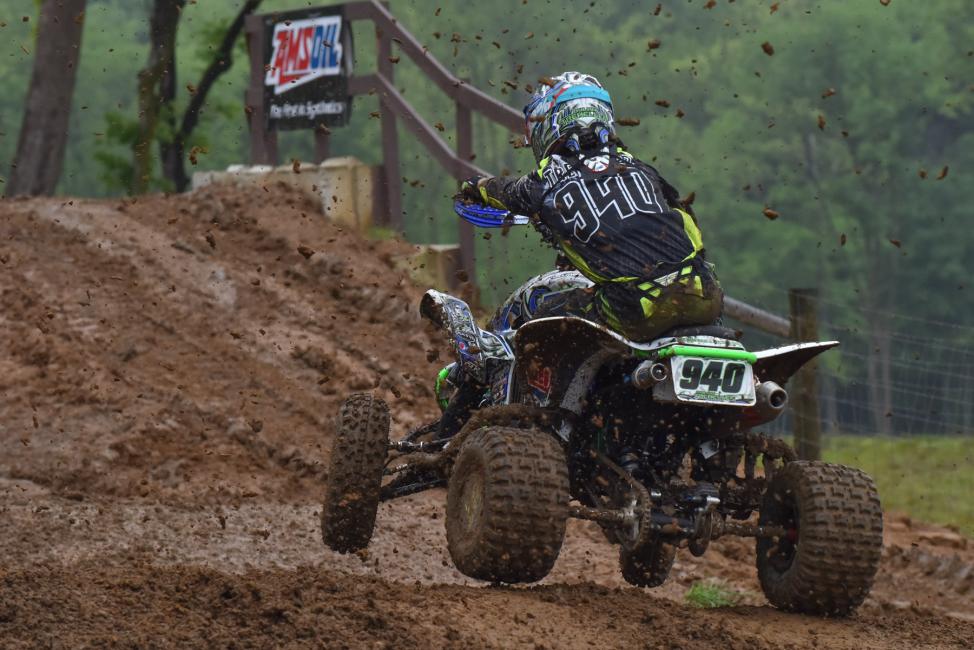 Then there is Logan Tremellen who is still in the hospital recovering from a very serious health issue that was brought to light by his get off at High Point. I pray for him and his family every day and hope you all do the same. There are several ways for you to support their family from a GoFundme account to events at the races such as the pit bike and tricycle race at this weekends event. There is nothing worse than having a young family member in the hospital and when it is an extended stay, it affects every member of that family and the stress is unbelievable. Stay strong guys, if anyone and any family can face this challenge head on it is you guys!
That is all from me this week. I am trying to type this with sticky fingers as making Strawberry Jam and Jelly has been my life for the last few days. I wanted to roll out today to get to the track a bit early but you have to make hay when the sunshine's and there isn't a cloud in the sky this week! Be safe in your travels and I wish nothing but a successful and enjoyable weekend for everyone!
ATVMX on MAVTV
Tomorrow at 10 and 10:30 a.m. ET MAVTV will be airing replays of the ATVMX Spring National and the ATVSX at Daytona International Speedway. Be sure to tune in before checking out the Lucas Oil Pro Motocross Championship from High Point Raceway.