Brandon Short
Time
Wednesday, July 9, 2014 | 4:20 PM
In just a matter of days, the hills of Central New York's Unadilla Valley will come alive with the roar of hundreds of ATVs as the Mtn. Dew ATV Motocross National Championship, sanctioned by AMA (ATVMX), will make its annual visit to legendary Unadilla Motocross in New Berlin this Saturday, July 12, and Sunday, July 13. The seventh round of the season marks the series' lone visit to the northeast at perhaps the most recognizable and historic track in American motocross.
Consistency has been the key to reigning back-to-back AMA Pro ATV Champion Chad Wienen's success during the 2014 season. While his four overall wins and seven moto wins are tops amongst all competitors in the division, it's the distinction of putting his Wienen Motorsports/SSi Decals/Walsh Yamaha inside the top three in each moto that really separates him from the pack. Wienen's average finish through 12 motos is an incredible 1.5, which ultimately explains why he brings a 46-point lead in the AMA Pro ATV standings coming into Unadilla.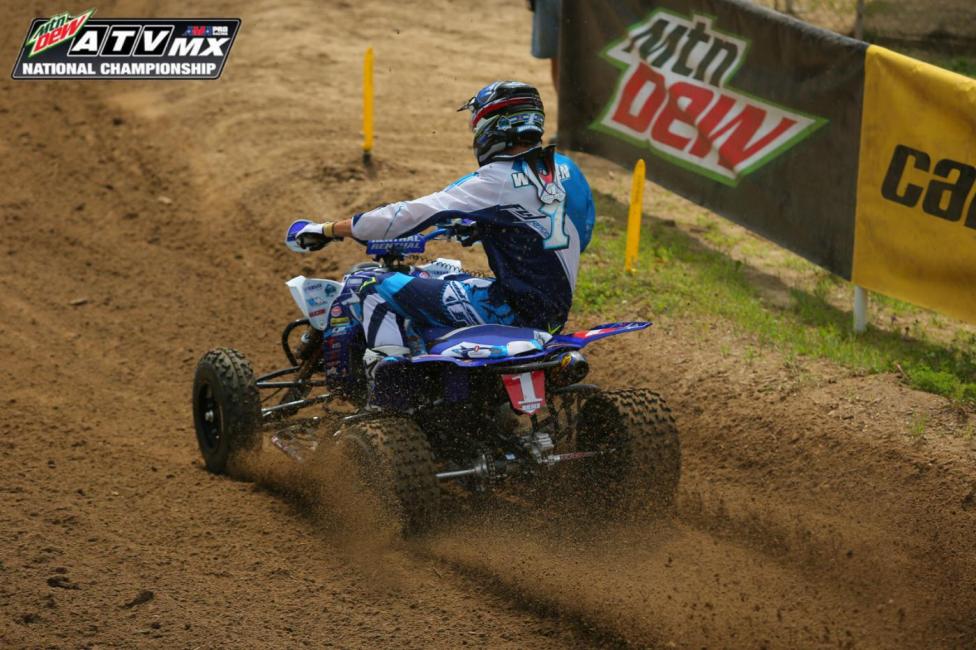 While such impressive results would suggest Wienen has been a dominant force this season, he's been challenged each and every week by the likes of JB Racing/DWT/Mtn. Dew Live Wire Can-Am's Joel Hetrick, Motosport.com/RRR/Ford/DWT/Walsh/Fox Honda's John Natalie, his Wienen Motorsports teammate Thomas Brown, and Baldwin Motorsports/PEP/Upperman Racing Honda's Josh Upperman. Only once in six rounds of action has Wienen swept both motos en route to victory, but due to the high level of competition going on between his championship rivals, it has allowed him to patiently take advantage of opportunities as they come to him.
Wienen has consistently grabbed strong starts throughout the season, which puts him in contention for the win immediately, and thanks to his championship-winning speed he's able to maintain his spot in the lead pack on a regular basis. He's well aware that consistency will earn him a third-straight title, so there's no sense of urgency for Wienen to take any risks in going for the win if one of his rivals is riding well. There is no doubt that the defending champion has been tested and even pushed to his limits at times this season, but he's statistically managed to make it look easy. Wienen would be the first to say this title defense has forced him to be better than he's ever been before, because his closest competitors are bringing it each and every week.
With Wienen's comfortable margin making him a heavy favorite to maintain his spot atop the standings over the final three rounds of the season, the attention moves squarely on the three riders vying to be the runner up. Hetrick, Natalie and Brown have all had distinctly different fortunes this season, but just 20 points separate these three riders coming into Unadilla.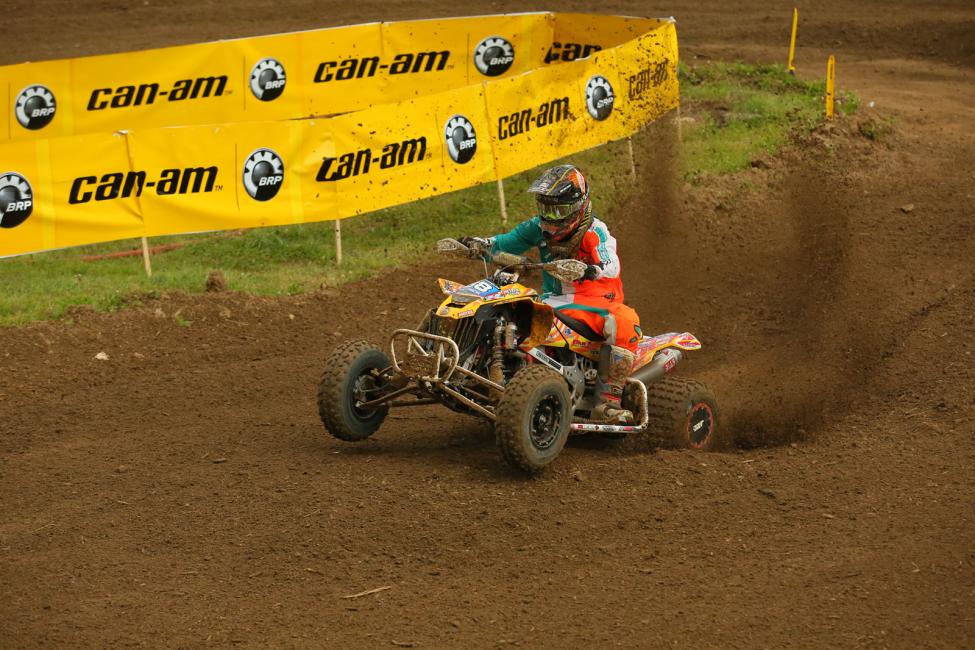 Hetrick has been arguably more consistent than ever before, boasting a 3.25 finishing average that includes one victory and has him currently in control of second place. Natalie started the 2014 season off exceptionally strong and went toe-to-toe with Wienen through the first few rounds. However, over the last three races the veteran has had to endure tough battles for the top five and has seen his average finish go from 2.5 to 5.5 in the course of six motos. On the flip side, Brown has overcome a surprisingly slow start to the season to become one of the hottest riders in AMA Pro ATV. Brown's first win of the season at Round 4 provided a much needed surge of momentum and since then he's amassed a 2.6 finishing average that is second only to Wienen. With each of these three riders on varying paths to the end of the season, it will be intriguing to see how the points shape up when the final checkered flag falls.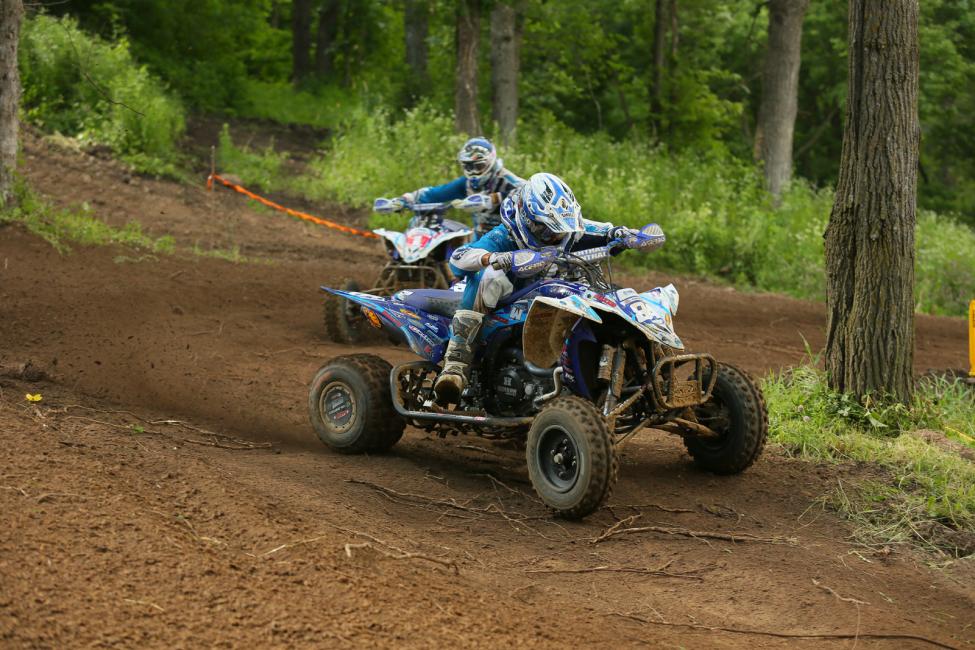 Unadilla has been a staple of the ATVMX season since 2005 and always provides one of the most exciting rounds of the championship. Affectionately known as the "Home of Horsepower," the sprawling layout at the legendary facility is the ideal setting for riders to showcase the raw power of their ATVs and let it all hang out. High speed and big air is common at Unadillla and it should make for a thrilling battle for victory on Saturday afternoon. As a fixture of American motocross since 1969, there may not be a track with a more iconic legacy than Unadilla and as a result, it is one of the most coveted trophies in all of ATV motocross.
For the last two years at Unadilla, Wienen has been the rider to beat and will be in search of his third straight victory at the track on Saturday. Coincidentally, Wienen has been accompanied by the same two riders during those two trips to the top step of the podium as BCS Performance Can-Am's Josh Creamer and Natalie finished in second and third, respectively, each of the past two seasons. In fact, Natalie has posted a third-place finish at Unadilla for five consecutive seasons. With Creamer and Hetrick also serving as former winners at Unadilla, it looks as though the all the fans in attendance will be in for a memorable showdown.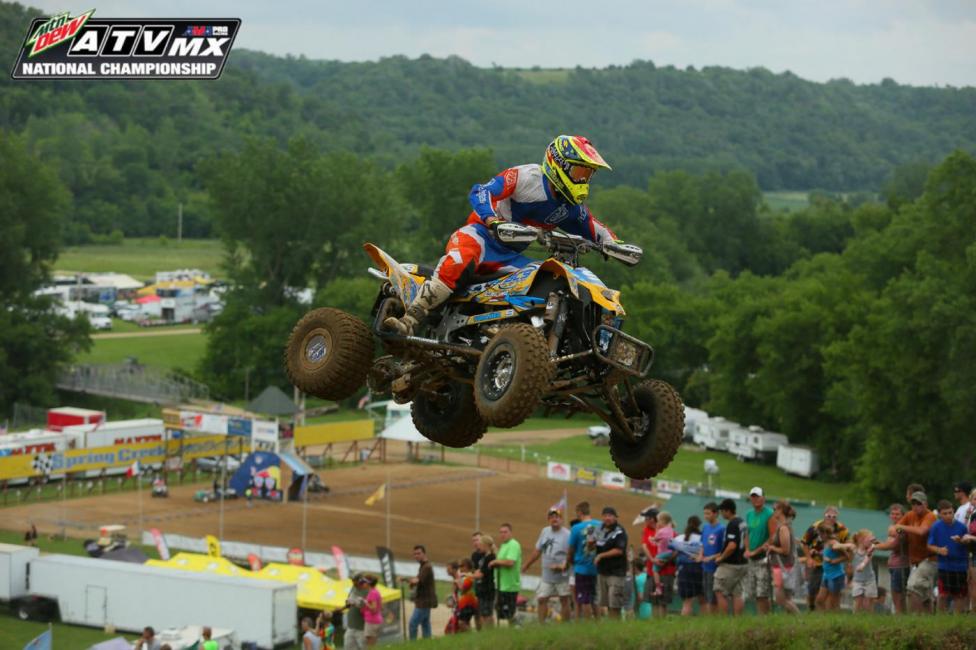 Previous Round Results:
Spring Creek MX Park – Millville, Minnesota
June 29, 2014
AMA Pro ATV Overall Results (Moto Finishes)
Chad Wienen, Galena, Illinois, Yamaha, 1-2
Joel Hetrick, Seneca, Pennsylvania, Can-Am, 2-3
Thomas Brown, Sanger, Texas, Yamaha, 5-1
Josh Creamer, North Stonington, Connecticut, Can-Am, 3-4
Jeffrey Rastrelli, Palm City, Florida, Can-Am, 4-5
John Natalie, Warriors Mark, Pennsylvania, Honda, 7-6
Josh Upperman, Louisville, Ohio, Honda, 6-8
David Haagsma, Jr., Bakersfield, Calif., Honda, 8-7
Beau Baron, Atascadero, Calif., Honda, 9-9
Ronnie Higgerson, Cutler, Illinois, Can-Am, 10-10
AMA Pro ATV Championship Standings
Chad Wienen, Galena, Illinois, Yamaha, 283
Joel Hetrick, Seneca, Pennsylvania, Can-Am, 237
John Natalie, Warriors Mark, Pennsylvania, Honda, 224
Thomas Brown, Sanger, Texas, Yamaha, 217
Josh Upperman, Louisville, Ohio, Honda, 198
Josh Creamer, North Stonington, Connecticut, Can-Am, 177
Jeffrey Rastrelli, Palm City, Florida, Can-Am, 151
Ronnie Higgerson, Cutler, Illinois, Can-Am, 148
Tyler Hamrick, Cortland, Ohio, Honda, 119
Sean Taylor, Montezuma, Iowa, Honda, 105
Specialty Awards
ATVRiders.com Top Qualifier Award
Aonia Pass MX Park – Chad Wienen
Muddy Creek Raceway – Chad Wienen
High Point Raceway – Joel Hetrick
Sunset Ridge MX – Chad Wienen
Briarcliff MX – Chad Wienen
Spring Creek MX Park – Jeffrey Rastrelli
SSi Decals Holeshot Championship
John Natalie – 9 points
Josh Upperman – 8 points
David Haagsma – 2 points
Chad Wienen – 1 points
On-track AMA Pro ATV Class action at Unadilla begins at 11 a.m. ET with practice and qualifying. Opening Ceremonies kick off at 2:40 p.m. ET, with opening motos scheduled for 3 p.m. ET. All the action can be followed via Live Timing and Scoring through the official series website.
Catch all nine rounds of AMA Pro ATV Class racing action on MAVTV. For more information on the series, visit www.atvmotocross.com and join the conversation on the series Facebook page or follow on Twitter @ATVMXdotcom and #ATVMX.