Brandon Short
Time
Wednesday, June 25, 2014 | 4:10 PM
After a two-year absence, the Mtn. Dew ATV Motocross National Championship, sanctioned by AMA (ATVMX), will make its anticipated return to Millville, Minnesota's legendary Spring Creek MX Park for the sixth round of the 2014 season. With an illustrious legacy that includes both motocross and off-road racing for nearly four decades, Spring Creek is one of the most prominent motocross facilities in the Midwest and this Saturday, June 28, the roar of ATV's will once again fill the Mississippi River Valley for the first time since the 2011 season.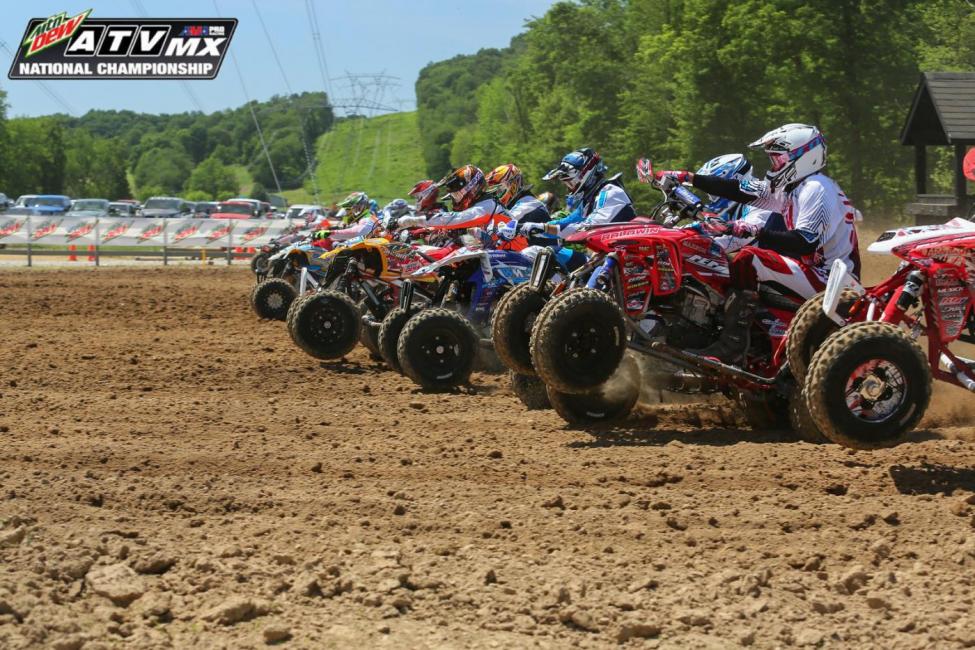 With three overall wins to his credit this season and a moto result no worse than third, defending two-time AMA Pro ATV Champion Chad Wienen has put the pressure on his rivals to end his title run and continues to add to the strong foundation already in place. The Wienen Motorsports/SSi Decals/Walsh Yamaha rider knows better than anyone that consistency wins championships and he's been a picture of that throughout the first five rounds of the 2014 season. At the most recent stop two weeks ago, Wienen became the inaugural winner at Ohio's Briarcliff MX, the newest stop on the schedule. It was the first time this season that Wienen swept each of the motos and it vaulted him 41 points ahead of both JB Racing/DWT/Mtn. Dew Live Wire Can-Am's Joel Hetrick and Motosport.com/RRR/Ford/DWT/Walsh/Fox Honda's John Natalie in the championship standings.
The timing of Wienen's most convincing ride of the season was critical to his championship momentum. While he had a series-leading two wins coming into Briarcliff and enjoyed a comfortable points lead, Wienen had yet to truly put forth a dominant effort. Hetrick and Wienen's Yamaha teammate Thomas Brown also held overall wins to their credit, while Natalie was a consistent fixture at the front of the field thanks to stellar starts. As a result, confidence remained high for this group of challengers in their quest to unseat Wienen. They showed they had the ability to win and proved the road to the title would be much tougher than in years past. In response, Wienen's triumphant outing at Briarcliff served as a blow to his rivals' efforts and has him in an enviable position coming into Spring Creek.
With four rounds and eight motos still remaining, the title fight is still far from over as anything can happen at any given moment in ATV motocross. Wienen's impressive consistency combined with his significant points lead will make it difficult for his primary challengers to gain considerable ground, but given how thrilling the racing has been to this point in the season it should make for a memorable battle to the finish.
The last time ATVMX competed at Spring Creek, Wienen emerged victorious. It was the fourth win of the year for the Illinois native and added to his position atop the AMA Pro ATV standings at the time. Unfortunately for Wienen, that ultimately became his last win of the season after he suffered a season ending back injury mere days before the next round. The loss of a potential first title created an unmatched resolve in Wienen, who returned in 2012 stronger than ever and set the stage for the championship reign he currently enjoys. The return to Millville will surely bring back some of those memories for Wienen, which will likely add to his motivation to succeed on Saturday afternoon.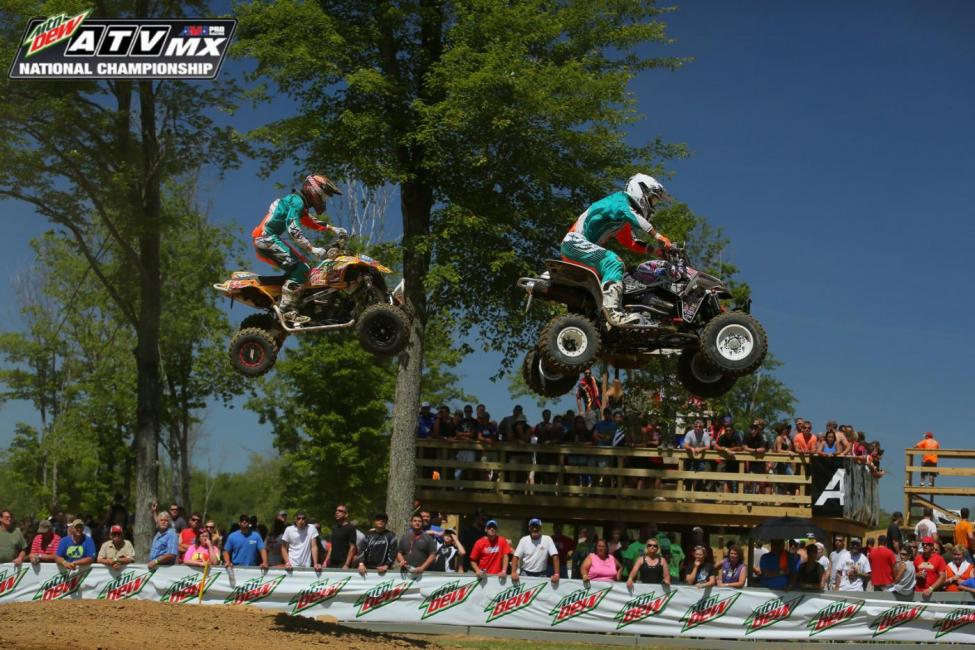 Spring Creek MX Park boasts some of the richest soil on the circuit. The dirt is actually great for farming, so it should come as no surprise that the facility used to be a working farm. However, annual early-spring floods resulting from the snow melting in the valleys made this parcel of land particularly difficult to cultivate, so in 1967 a man named Grant Marquardt pursued his interest in motorcycles by founding a hill climb event there. About a decade later, its new owner Perry Hendricks added a motocross track to the facility in 1976, setting the stage for its rise to prominence. In 1987, Spring Creek came under new ownership again from John and Greta Martin who have owned and operated the facility since, making continued enhancements to make it the world-class track we know and love today.
With its dramatic elevation changes, great soil and collection of the most notorious obstacles in all of off-road racing, Spring Creek provides a truly ideal setting to host an event of this magnitude and will no doubt result in some of the best racing of the 2014 season. While Wienen will look to add to his control of the AMA Pro ATV division, his fiercest challengers will look to regain the edge they lost in hopes of closing in their deficit to Wienen in the championship standings.
Previous Round Results:
Briarcliff MX – Nashport, Ohio
June 15, 2014
AMA Pro ATV Overall Results (Moto Finishes)
Chad Wienen, Galena, Illinois, Yamaha, 1-1
Joel Hetrick, Seneca, Pennsylvania, Can-Am, 4-3
Thomas Brown, Sanger, Texas, Yamaha, 3-4
Josh Upperman, Louisville, Ohio, Honda, 2-5
John Natalie, Warriors Mark, Pennsylvania, Honda, 6-2
Ronnie Higgerson, Cutler, Illinois, Can-Am, 5-7
David Haagsma, Jr., Bakersfield, Calif., Honda, 7-8
Tyler Hamrick, Cortland, Ohio, Honda, 8-9
Nicholas Moser, Pipersville, Pennsylvania, Honda, 9-11
Josh Creamer, North Stonington, Connecticut, Can-Am, 16-6
AMA Pro ATV Championship Standings
Chad Wienen, Galena, Illinois, Yamaha, 236
Joel Hetrick, Seneca, Pennsylvania, Can-Am, 195
John Natalie, Warriors Mark, Pennsylvania, Honda, 195
Thomas Brown, Sanger, Texas, Yamaha, 176
Josh Upperman, Louisville, Ohio, Honda, 170
Josh Creamer, North Stonington, Connecticut, Can-Am, 139
Ronnie Higgerson, Cutler, Illinois, Can-Am, 126
Jeffrey Rastrelli, Palm City, Florida, Can-Am, 117
Tyler Hamrick, Cortland, Ohio, Honda, 99
Casey Martin, Frenchburg, Kentucky, Honda, 91
Specialty Awards
ATVRiders.com Top Qualifier Award
Aonia Pass MX Park – Chad Wienen
Muddy Creek Raceway – Chad Wienen
High Point Raceway – Joel Hetrick
Sunset Ridge MX – Chad Wienen
Briarcliff MX – Chad Wienen
SSi Decals Holeshot Championship
John Natalie – 9 points
Josh Upperman – 7 points
Chad Wienen – 1 points
On-track AMA Pro ATV Class action at Spring Creek MX Park begins at 12 Noon ET with practice and qualifying. Opening Ceremonies kick off at 3:40 p.m. ET, with opening motos scheduled for 4 p.m. ET. All the action can be followed via Live Timing and Scoring through the official series website.
Catch all nine rounds of AMA Pro ATV Class racing action on MAVTV. For more information on the series, visit www.atvmotocross.com and join the conversation on the series Facebook page or follow on Twitter @ATVMXdotcom and #ATVMX.