Rodney Tomblin
Time
Friday, January 24, 2014 | 1:10 PM
Another week passes and though most of the nation is stuck in the "Polar Vortex" a.k.a. "winter" there continues to be rumblings in the ATV Racin' Nation as we push that much closer to the opening round of the Mtn. Dew AMA ATV Motocross National Championship.
It's no surprise that defending AMA Pro ATV Champion Chad Wienen and the Wienen Motorsports crew are hard at it. I actually saw a social media post where Nick was finally climbing aboard the Yamaha for the first time and rumor has it that it was a perfect union nearly from the get go. Gennusa will fly the flag in the Pro Am ranks while Chad and returning teammate Thomas Brown will make their bid for the AMA Pro ATV title. Brown had some major momentum all season that seemed to start to peak the final few rounds. Brown's win at the closing round of 2013 could only be a glimpse of what podiums could look like in the future.
If you haven't checked out the press release form JB Racing this past week you need to do so. It was finally announced officially the lineup for the 2014 season and it looks like two big things will be happening under the JB banner. Joel Hetrick returns to ride the Can Am and not only that, his former mechanic from his Motoworks/Can Am day's returns. Darrin Thomas makes his return the ATV racing world and by all accounts it seems like everything is going like clockwork for the reunited duo. Could this mean an even bigger threat for title is emerging? Who knows for sure? Just hold on with the format changes it will benefit a number of riders and Hetrick could be right in the mix of it himself.
Jeffery Rastrelli returns to the JB team once more with a little different program than Hetrick's but none the less they are teammates and don't think that couldn't be a factor as the season wears on especially since Jeffery too is starting to blossom as a rider.
I spoke with Stan Digby from ITP who says they are busy signing contracts right now and finalizing things for 2014. Digby is super excited to be hitting all the nationals again this season on both the MX and GNCC side of things. Digby says look for some big things from them in the Side-by-Side world as well as quads in 2014. Stan says that ITP will be the tire choice for teams like JB Racing as well as Root River Racing, Josh Creamer and more. I am not sure whether I should let the cat out of the bag but Stan says he is hopeful they will be able to sign Westley Wolfe for an ITP deal for both ATV MX and GNCC. Stan seems to think that Westley may just make history this season winning championships in both disciplines. I hope that is the case for young Wolfe, and I hope I haven't spoiled anything for anyone. Good luck to all parties in this matter.
I spoke with Joel Janssen, Cody Janssen's father and he tells me that other than being frozen up in northern Middle America they have things ready to go for 2014. Joel says actually things have never been more ready. Sponsors have been a huge support with the addition of a full sponsorship from THOR apparel and of course sponsors like FSI/Maxxis/Elka/Walsh Race Craft and Makson things have never been so ready says Joel. He said Cody has two practice bikes built as well as two race bikes and a cross-country bike. Why an XC bike? It was at the direction of his 2014 mentor Jerimiah Jones. Cody will be heading to Jones' place in about two weeks to begin training and Jones says that if the weather is bad then Cody will ride anyway. I asked if that meant a possible crossover and Joel said not till at least the ATV MX season is over.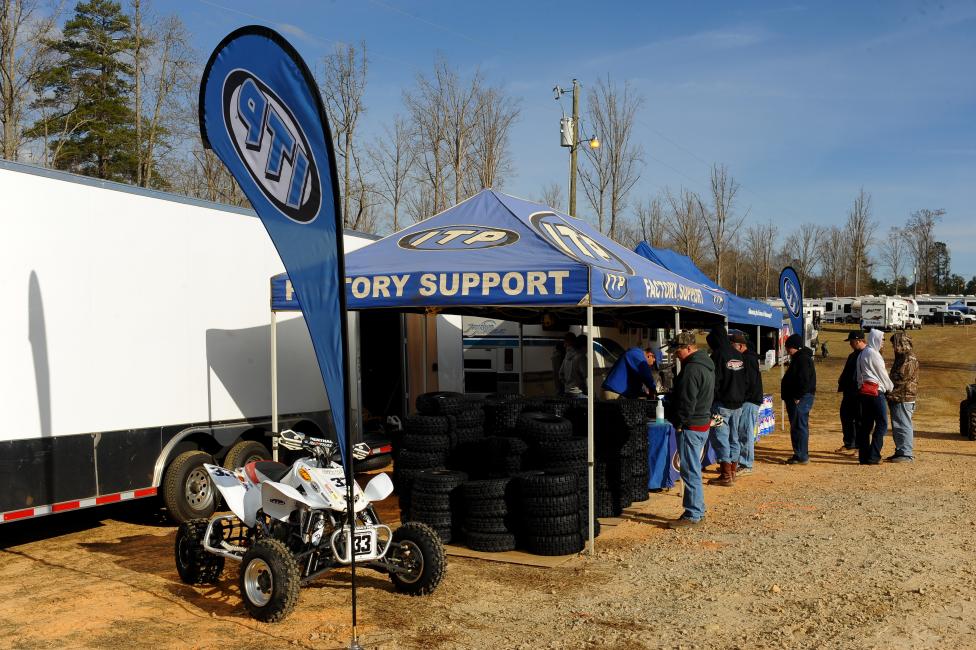 I also spoke with the "Mtn. Dew Girl," Allie Kobar, this week as well. She told me she is really pumped for the New Year and plans on being there for every gate drop in 2014. She said that Mtn. Dew Kickstart has new things coming up such as the recent introduction of the new Limeade and Black Cherry flavors. Allie said that the lovely Beth will be returning as Mtn. Dew Girl and Beth is as excited for the new year of competition as Allie is.
Let's check in with Ken Hill to see what's shaking in his neck of the woods. And just a friendly piece of advice if you ever decide to visit Ken, call first or you might get to stare down the barrel of something that is not a camera lens. What's up Pappy?
Rodney, I had the chance to listen in on a meeting between the series big wigs and the new company that will be helping to promote the sport. It was a break the ice kind of deal, with some information being passed around and I think it was productive. I say "think" because this is all just getting underway but everyone seemed to be steering things in the same direction which is a great start. I cannot share any of the details, but I wanted to let everyone know that things are indeed popping as we run up to the new season. If we can accomplish some basic things, the future will be looking brighter than it has in some time. One thing I took away from the meeting was how intense some of the promotion issues can be and in this day of instant everything, how fast it can all take place. More meetings will be held, more info shared and more progress will be made.
One area that was focused on is social media and how we can leverage that to help promote. This extends to every racer out there as well as using social media to help keep your fans and a sponsor informed is very important. That fact was verified in the meeting and we should see a huge push in that area series wide. So if you have information that you need out there, please be sure to email it to me at [email protected] and I will be able to get it on our pages or on our website.
The business side of things aside, it's been a train wreck for many of us stuck here in winter's cold grip. If you browse around Facebook, you will see posts and updates from all over. One person in the south loving life, then one up north ready to take a flame thrower to their driveway. Then there is a video of preseason practice followed by one video of a snowball fight. I think of it as the Ying and Yang of winter! We just hope everyone stays safe and warm as we all look forward to another season of ATV MX.
Thanks Ken! And really thanks for letting the cat out of the bag on the meeting! That should give us even more hope as we push toward one of the greatest seasons in ATVMX history.