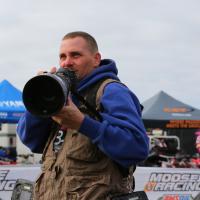 Ken Hill
Time
Wednesday, December 18, 2013 | 6:25 AM
The 2013 season was rough on everyone, and it is even tougher when you race a mini. Trevor Thatcher gives us a run down on his season and his outlook on 2014.
The 2013 race season started off with what I thought was going to be one of the worse rounds as far as weather goes. I guess Mother Nature showed me! I'm a pretty good mud racer, so it didn't bother me a whole lot with almost the entire season being a mud race, but it would've been nice to have been able to get some good, full race motos in!
I raced in the 90 Open Jr. and the 90 Limited classes, both which proved to have fierce competition! I led the points in the 90 Limited class for most of the season, which I thought was a huge accomplishment since I was 10 years old, having to race 13 and 14 year olds. Having some bad luck with my machine the second half of the season (broken shock, blown up motors, broken shifter, broken transmission, ect. ect.), I ended the season at Loretta's with a 4th place finish in 90 Limited, putting me in 2nd, losing the championship by only 2 points! I did however win both my motos in 90 mod jr at Loretta's, so that kind of made up for losing the championship in my other class.
It was a fun year, and I can't wait for the 2014 season to begin….just hopefully we have some better weather!
My plans for 2014 are to race the Full Mt. Dew ATV MX National Championship series in the 90 Shifter (8-11) and 90 Open Jr. classes, as well as District 14 in the 90 Modified class.
I'd like to say thanks to everyone who helped me out this year…
Fierce Powersports, Elka Suspension, Makson Incorporated, Harold Goodman, Melissa Kufel and Joe Scarrow, Root River Racing, ATV Outlaws, 488 Web Design, Boyesen, Galfer, Hot Rods, Hinson Clutch Components, Liquid Performance, ODI Grips, Eks Brand goggles, Rage ATV, Quad Tech, Triple A Powersports, Leatt, & Osiris.
Along with my sponsors, so far, for 2014…
Fierce Powersports, Elka Suspension, Makson Incorporated, Harold Goodman, Melissa Kufel and Joe Scarrow, ATV Oulaws, 488 Web Design, Boyesen, Fly Racing, Hot Rods, ODI Grips, Leatt, Eks Brand goggles, & Works Connection.
Without the help of my sponsors, I wouldn't be able to compete at the level I do and I want them all to know that I appreciate them very much. THANKS!