Andy Bowyer
Amateur Report from Johnstown
Time
Monday, July 14, 2008 | 12:00 AM
' 
' 
Amateur Report from Pleasure Valley Raceway:
It's Byrd Again in Pro Am Women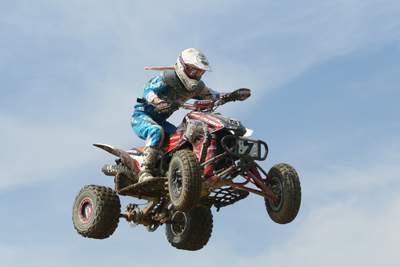 JOHNSTOWN, Pa. (July 14, 2008)--The Pro Am Women division produced some of the best racing action during the Suzuki Southern National, part of the ITP Tires/Moose Racing AMA/ATVA Motocross National Championship. In the end, Heather Byrd put on a clinic, winning her eighth consecutive victory.
Multi-time ATVA Women's National Champion Angela Butler came into the weekend to run her first race this season on the tour. Butler raced hard to finish third in her season debut.
The first moto victory by Michelle Natalie showcased her talent and poise. Natalie, who lives in nearby Houtzdale, Pa., had been denied victory all season long, but pulled the holeshot in the first moto and rode uncontested to the checkered flag, much to the delight of the local fans.
Moto two saw a motivated Byrd earn the holeshot, then ride flawlessly for the entire moto, taking the moto win, and the overall victory. Natalie was biting at her heels the whole moto, but could not find a way around. Meanwhile, Butler was just out of striking distance between the two series regulars.
The next race for the ITP Tires/Moose Racing AMA/ATVA National Motocross Championship is scheduled for July 26-27 at RedBud MX in Buchanan, Mich.
' 
Amateur Winners
Class Rider Quad Hometown
Pro Am Production Cody Gibson Suzuki Englewood, TN
Women Angela M. Adkins Honda Charles City, VA
Pro Am Women Heather Byrd Honda Union City, TN
Pro Am Unlimited Cody Gibson Suzuki Englewood, TN
450 A John Buller Honda Cleveland, TX
450 B Kyle S. Bard Kawasaki Oil City, PA
450 C Yasmin Adams Honda Savannah, TN
Open A Brandon C. Jones TRX Toledo, OH
Open B Dustin Swartfager KTM Knox, PA
Open C Terry Monroe Suzuki Alma, WV
4-Stroke A Cody H. Brown Honda Van Alstyne, TX
4-Stroke B Neal C. Mcgrath Suzuki Bradenton, FL
4-stroke C Jordan Davidovich Honda Mount Pleasant, PA
Production A Jordan Gallagher Honda Fenwick, MI
Production B Kyle S. Bard Kawasaki Oil City, PA
Production C Jordan Davidovich Honda Mt. Pleasant, PA
College 16-24 Cody G. Janssen Honda Kaukauna, WI
Junior 25 Plus Chad Lohr Suzuki Madison, VA
Vet 30 Plus A Jeffrey Thompson Suzuki Hanover, PA
Vet 30 B/C Brian Jenkins Suzuki Warren, OH
Senior 40 Plus Jeffrey Thompson Suzuki Hanover, PA
Schoolboy Sr. (15-17) Joel Hetrick Kawasaki Seneca, PA
Schoolboy Jr. (13-15) Jeffrey Rastrelli Honda Palm City, FL
Supermini (13-15) Jeffrey Rastrelli Honda Palm City, FL
90 Modified (8-15) Jesse Skvarek Honda Jefferson, OH
90 Automatic Sr. (12-15) Brett J. Musick Cobra Verdunville, WV
90 Automatic Jr. (8-11) Benjamin Brocato Honda Muscle Shoals, AL
90 CVT (8-15) Jesse Skvarek KTM Jefferson, OH
70 Modified (6-11) Samu'  el Rowe Kawasaki Menasha, WI
70 CVT (6-11) Christian Horne DRR Cookeville, TN
70 SS (6-11) Alexander Hammond' '  Cobra Melbourne, FL
50 Sr. (6-8) Corey J. Heath Cobra Wadesville, IN
50 Limited Jr. (4-6) Dj Bassani DRR Sussex, NJ