It's Wimmer Again at Unadilla
Time
Sunday, June 8, 2008 | 12:00 AM
NEW BERLIN, N.Y. (June 8, 2008) -- Dustin Wimmer further cemented his role as the man to beat in ITP Tires/Moose Racing AMA/ATVA National Motocross Championship competition Sunday, winning his fourth race of the season at Unadilla MX. The event was part of the Can-Am Northeastern ATV National Presented by Renegade.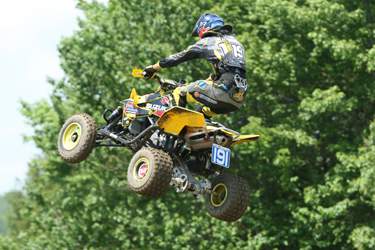 Wimmer (No. 191 Team MSR/Suzuki/Yoshimura/Pro Taper Suzuki) finished second in both motos to secure the victory. Jeremy Lawson (No. 16 Team Epic Can-Am) was second overall, ahead of Joe Byrd (No. 7 American Honda/Joe Byrd Quad Riding School Honda).
With Saturday's heat replaced by muddy conditions on Sunday, Wimmer said an intelligent strategy helped him in the end
"In the mud, you really have to finesse the bike so it doesn't slip out on you," said Wimmer, who remains in the points lead. "I did what I had to do to stay behind John (Natalie) in the second moto and, since I didn't need to pass him for the win, I just stayed consistent and rode smart."
Yet, Wimmer's overall win might just be overshadowed by further milestones achieved by Can-Am. Lawson and Natalie handed Can-Am's brand new DS450 its second and third moto wins here, respectively. In addition, Lawson gave the company its third overall podium.
Lawson won the first moto after overtaking both Wimmer and Josh Upperman (No. 20 American Honda/Baldwin Motorsports Honda) to take the lead.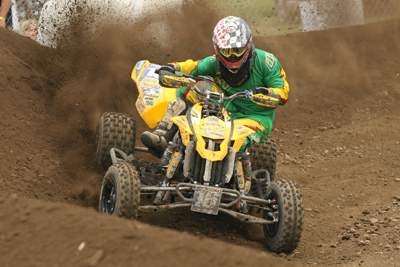 "Everything just happened so fast," said Lawson. "These guys are so fast and you really have to be on your game. I am feeling really confident in my team, my bike and myself, so that makes me ride well."
Natalie earned his second moto victory of the year, after catching and passing Byrd and dominating the second moto.
"My Can-Am just pulls in this mud; we really had it dialed," said Natalie. "We considered putting on the big tires, but checked out a couple classes before we went out and decided against it which was the right choice."
In the Riders' Championship, Byrd moved past Doug Gust (No. 55 Team Rockstar/MSR/Suzuki/Yoshimura/Pro Taper Suzuki) to take second in the points chase, 61 markers behind Wimmer. Gust is third.
Team Can-Am moved past Honda for second in Manufacturers' Cup points and is now just 43 points behind leader Team Suzuki.
Meanwhile, the $5,000 ITP Tires Grand Slam Presented by QUAD Magazine remains tight with two different winners (Byrd and Wimmer), and a numerical tie between Byrd and Lawson for the lead in the championship-within-a-championship program.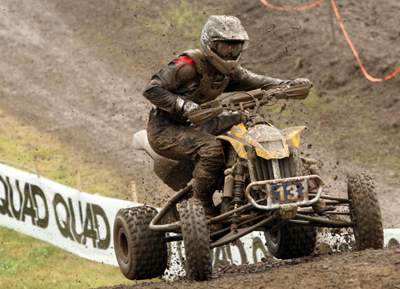 Special award winners were:
Ti Lube Fast Qualifier Award: Wimmer
Suspension Systems Holeshot Award--Moto 1: Upperman
ATVRiders.com Holeshot Award--Moto 2: Byrd
DASA Mechanic of the Race: Fred Reiser, Natalie's mechanic
The next race for the ITP Tires/Moose Racing AMA/ATVA National Motocross Championship is scheduled for June 21-22 at Muddy Creek Raceway in Blountville, Tenn.
NEW BERLIN, N.Y. (June 8, 2008) ¯¿½"" Results of Sunday's ITP/ Tires Moose Racing AMA Pro ATV Motocross Championship at Unadilla MX (Showing finishing position, rider, bike number, bike brand, hometown, and moto finishes):
Dustin Wimmer, 191, Suzuki, Center Valley, Pa., 2-2.

Jeremy Lawson, 16, Can-Am, Battletown, Ky., 1-5.

Joe Byrd, 7, Honda, Union City, Tenn., 3-3.

John Natalie, 13, Can-Am, Houtzdale, Pa., 7-1.

Josh Creamer, 9, Kawasaki, North Stonington, Conn., 5-4.

Josh Upperman, 20, Honda, Louisville, Ohio, 4-10.

Keith Little, 12, Kawasaki, Spruce Pine, Ala, 8-7.

Richard Pelchat, 46, Can-Am, St. Romuald, Quebec, 10-9.

Joe Haavisto, 75, Kawasaki, New Ipswich, N.H., 9-12.

Cody Miller, 22, Can-Am, Greenville, Texas, 16-6.

Russell Shumaker, 68, Kawasaki, 15-8.

Harold Goodman, 708, Honda, Romulus, Mich., 12-11.

Jasmin Plante, 91, Yamaha, Notre Dame, Quebec, 6-19.

Cale Downen, 727, Honda, Junction, Ill., 11-15.

Pat Brown, 199, Yamaha, Pittstown, N.J., 13-14.

Sage Baker, 49, Can-Am, Shasta Lake, Calif., 14-16.

Rocco Arno, Jr., 101, Honda, Bridgton, N.J., 18-13.

Greg Gee, 10, Can-Am, Simcoe, Ontario, 17-17.

Jason Dunkelberger, 19, Honda, Trevorton, Pa., 20-18.

Doug Gust, 55, Suzuki, Salem, Wis., 19-20.
ITP Tires/Moose Racing AMA Pro ATV Motocross Championship points leaders: Wimmer 279, Byrd 218, Gust 197, Natalie 181, Creamer 180, Lawson 175, Goodman 160, Upperman 148, Arno 127, Wienen 126.
Notebook:
WEATHER WOES...The race weekend featured some of the most diverse weather this season. Saturday was hot and humid, while Sunday, at around 2 p.m., the skies opened, causing the second Pro moto to be run in rainy, muddy conditions.
CAN-AM CLEANS UP...Can-Am's new DS450 won both motos on Sunday, with John Natalie and Jeremy Lawson doing the honors and moving the company's tally to three moto wins this season. In addition, Lawson's podium finish represented his second consecutive runner-up effort and Can-Am's third overall podium this season. Along with being the weekend's title sponsor, Can-Am also brought out its popular test ride program, where fans got the chance to test out the company's newest quads.
PLANTE AND HAAVISTO RETURN...French Canadian rider Jasmine Plante and Joe Haavisto returned to the national tour this weekend, which featured 570 total entries of which 30 were Pros.
TIMING ONLINE...This weekend featured live timing and scoring for all classes. Live timing and scoring will continue to be part of every race this season at ATVMotocross.com.
GREMLINS...Both Jason Dunkelberger and Doug Gust suffered mechanical problems on their ATVs this weekend and they finished 19th and 20th, respectively, overall.