BYRD HITS HIGH POINT GRAND SLAM
Time
Sunday, May 25, 2008 | 12:00 AM
JOE BYRD HITS "GRAND SLAM" AT HIGH POINT
MOUNT MORRIS, Pa. (May 25, 2008) -- Joe Byrd has been around long enough to know when it's time to pull off a big win. With Round 6 of the ITP Tires/Moose Racing AMA/ATVA National Motocross Championship Series Presented by Parts Unlimited marking mid-point of the 2008 season, as well as the opening round of the ITP Tires Grand Slam Presented by QUAD Magazine, Byrd brought his "A" game...and it showed. Byrd knew it was time to win, and win he did.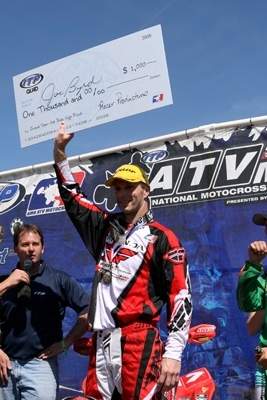 Byrd (No. 7 Honda) captured the ATVRiders.com Holeshot Award in the second moto, and, combined with his third-place finish in the first moto, he netted his second overall victory of the year. Putting in another strong ride was Can-Am's Jeremy Lawson, who finished second, ahead of Josh Creamer (No. 9 Team Monster Energy Kawasaki), who recorded his second podium this season
Byrd switched machines three rounds ago and since then, he has been methodically marching his way to the top of the series points.
""This quad has just worked out great," said Byrd. "Sometimes, one machine is just better than the other one; plain and simple. We finally got to enjoy perfect weather and I was feeling great out there. We worked hard on the set up on this Honda and it was working perfectly."
The victory provided a boost to Byrd's points tally, but the Union City, Tenn. native is still taking it race by race.
""We got off to a slow start," said Byrd. ""We've been trying to dig ourselves out of a hole and things are coming around. There are still a lot of motos to go."
After posting a solid runner-up finish, Lawson (No. 16 Can-Am) suffered a poor start in moto two, but quickly made his way into second place. Once there, he made a short charge after Byrd, but couldn't make a dent in the Honda's rider's lead. His second-place overall finish is his best this season.
""I rode my hardest to overcome my bad start, and I just hit the wall when I reached second," said a motivated Lawson. ""It's been a good weekend for me and my Can-Am has been working well. The guys at Epic have been working hard to give me everything I need."
Adding to Bryd's stellar day was the bad luck of series points leader Dustin Wimmer. The MSR/Suzuki/Yoshimura/Pro Taper rider earned the Suspension Systems Holeshot Award, en route to winning the opening moto. However, the Center Valley, Pa. rider suffered a variety of misfortunes to post a 15th place in moto two. Most in attendance were expecting another win from the previously dominant Wimmer, but he ran into trouble right out of the gate.
""I came together with Josh Creamer, we rubbed tires and I was lucky not to crash," said Wimmer. "I was completely up on my front wheels, spinning backwards, and somehow I pulled it out."
From there it things continued to go poorly for the series points leader: ""I cut the right front tire down when I made contact with Josh," added Wimmer, "then the left went flat on the second lap."
Wimmer's team changed his tires. He continued to race to salvage valuable points.
Team Honda edged closer to Team Suzuki in the Manufacturers' Cup standings. Suzuki now holds a 46-point lead going into the next race. Team Can-Am sits third, 49 markers out of the lead.
The next race for the ATV Motocross Series is scheduled for June 7-8 at Unadilla Valley Sports Center in New Berlin, N.Y.
MOUNT MORRIS, Pa. (May 25, 2008) ¯¿½"" Results of Sunday's ITP/ Tires Moose Racing AMA Pro ATV Motocross Championship at High Point Raceway (Showing finishing position, rider, bike number, bike brand, hometown, and moto finishes):
Joe Byrd, 7, Honda, Union City, Tenn., 3-1.

Jeremy Lawson, 16, Can-Am, Battletown, Ky., 2-2.

Josh Creamer, 9, Kawasaki, North Stonington, Conn., 4-3.

Josh Upperman, 20, Honda, Louisville, Ohio, 7-4.

Dustin Wimmer, 191, Suzuki, Center Valley, Pa., 1-14.

Doug Gust, 55, Suzuki, Salem, Wis., 5-6.

Harold Goodman, 708, Honda, Romulus, Mich., 11-5.

Chad Wienen, 44, Suzuki, Galen, Ill., 6-10.

Rocco Arno, Jr., 101, Honda, Bridgeton, N.J., 13-8.

Cody Miller, 22, Can-Am, Greenville, Texas, 15-7.

Sage Baker, 49, Can-Am, Shasta Lake, Calif., 12-12.

Keith Little, 12, Kawasaki, Spruce Pine, Ala., 8-17.

Steve Runkel, 911, Honda, Pleasant Prairie, Wis., 14-3.

Pat Brown, 199, Yamaha, Pittstown, N.J., 9-18.

Russell Shumaker, 68, Kawasaki, Bristol, Wis., 20-9.

Greg Gee, 10, Can-Am, Simcoe, Ontario, 18-11.

John Ragon, 98, Honda, Milan, Tenn., 10-20.

Thomas Hager, 215, Suzuki, Flaherty, Ky., 17-15.

John Natalie, 13, Can-Am, Houtzdale, Pa., 19-16.

Hunter Miller, 90, Honda, Greenville, Texas, 16-19.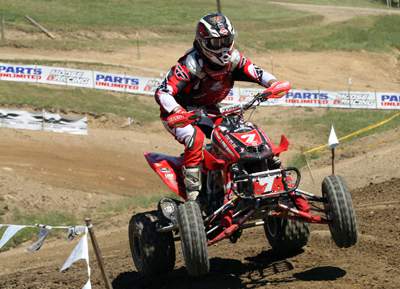 ITP Tires/Moose Racing AMA Pro ATV Motocross Championship points leaders: Wimmer 235, Gust 194, Byrd 178, Creamer 146, Natalie 142, Goodman 141, Lawson 134, Wienen 126, Upperman 119, Arno 116.
Notebook:
SLAMMED...With his overall win on Sunday, Joe Byrd (No. 7 American Honda/Joe Byrd Quad School Honda) won an extra "grand" in the form of a $1,000 check for winning the first of four ITP Tires Grand Slam Presented by QUAD Magazine events. The $5,000 program, being held at the four showcase events left on the 2008 calendar, kicked off here this weekend. Byrd also takes the points lead in the championship-within-a-championship series. The Grand Slam also awards special Gold, Silver and Bronze medals to the top-three finishers in each of the Amateur divisions.
STRONG ENTRIES...This weekend featured 704 entries, of which 27 were Pros.
TAKE YOUR SEAT...Josh Upperman finished fourth overall, despite losing the seat on his No. 20 Baldwin Motorsports Honda early in second moto.
CAN-AM AGAIN...Can-Am earned its second consecutive podium here, this time with rider Jeremy Lawson. Can-Am earned its first overall podium in ATV Motocross competition two weeks ago in Illinois with rider John Natalie.
QUICK CHANGE...Pat Brown (No. 199 Yamaha) had a change in personnel prior to the first Pro moto on Sunday. Paul Turner, Brown's mechanic, was called away at the last moment to care for his daughter, who was injured in a non-racing accident. Brown's father, Fred, stepped in at the last minute to wrench for the younger Brown. For his efforts, the elder Brown was named the DASA Mechanic of the Race.
INJURY UPDATE...Chad Wienen (No. 44 Team MSR/Suzuki/Yoshimura/Pro Taper) is still suffering the after affects of two separate shoulder injuries. Wienen broke his right scapula several weeks ago in a crash during practice, which was further aggravated by a tumble a month ago. "I'm just trying to finish two motos," said a dejected Wienen. "That's my goal right now."
TECHNICAL DIFFICULTIES...The quads ridden by Pat Brown, Dustin Wimmer, and John Natalie all suffered mechanical problems in the second moto on Sunday.
THREEPEATER...This weekend's overall podium marked the second consecutive time three different brands finished in the top three: 1. Honda (Joe Byrd), 2. Can-Am (Jeremy Lawson), and Kawasaki (Josh Creamer).
'