Joe Byrd Wins Birch Creek!
Time
Sunday, April 27, 2008 | 12:00 AM
JOE BYRD BOUNCES BACK, WINS BIRCH CREEK ROUND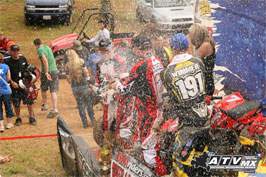 DANVILLE, Va. (April 27, 2008) -- Is Joe Byrd back? "Let's hope so," said a triumphant Byrd after sweeping both motos to win Sunday's TriangleCycles.com ATV National at Birch Creek Motorsports, marking his first victory of the season. The event was Round 4 of the 2008 ITP Tires/Moose Racing AMA/ATVA Pro Championship.
Byrd (No. 7 Honda) traded the lead once with Dustin Wimmer (No. 191 Team MSR/Suzuki/Yoshimura/Pro Taper) before winning and the first moto, and ran away with the second moto. The two-time and defending AMA Pro Champion finished ahead of Wimmer, who notched his fourth consecutive podium. Jason Dunkelberger (No. 19 East Coast ATV/Honda) earned his first ATV Pro podium, finishing third.
"This track really worked for me this weekend," said Byrd, who was near the top of the timing charts all weekend. "We've been working hard this season, and we're going to keep doing what we're doing.
"This will definitely build momentum going into the next race," added Byrd. "More importantly, it will raise the morale in the Byrd compound, making all of those 18-hour shifts meaningful."
With the victory, Byrd moves up four positions to third in points, 59 markers behind Wimmer. Doug Gust (No. 55 Team Rockstar, MSR, Suzuki, Yoshimura, Pro Taper) is second in the title chase, while John Natalie (No. 13 Can-Am) and Josh Creamer (No. 9 Team Monster Energy Drink/Kawasaki) are fourth and fifth, respectively.
The next race for the ITP Tires/Moose Racing AMA/ATVA Championship is scheduled for May 10 and 11 at Walnut, IL.
DANVILLE, Va. (April 27, 2008) ¯¿½"" Results of Sunday's ITP/Moose Racing AMA Pro ATV Motocross Championship at Birch Creek Motorsports (Showing finishing position, rider, bike number, bike brand, hometown and moto finishing positions):
Joe Byrd, 7, Honda, Union City, Tenn., 1-1.

Dustin Wimmer, 191, Suzuki, Center Valley, Pa., 2-2.

Jason Dunkelberger, 19, Honda, Trevorton, Pa., 3-8.

Doug Gust, 55, Can-Am, Salem, Wis., 4-7.

Jeremy Lawson, 16, Can-Am, Battletown, Ky., 6-5.

Josh Upperman, 20, Honda, Louisville, Ohio, 11-3.

Harold Goodman, 708, Honda, Brownstown, Mich., 10-4.

John Natalie, 13, Can-Am, Houtzdale, Pa., 5-11.

Cody Miller, 22, Can-Am, Greenville, Texas, 9-9.

Josh Creamer, 9, Kawasaki, North Stonington, Conn., 13-6.

Rocco Arno, Jr., 101, Honda, Bridgeton, N.J., 12-10

Jasmin Plante, 91, Yamaha, Notre Dame, Quebec, 7-15.

Keith Little, 12, Kawasaki, Spruce Pine, Ala., 8-16.

Greg Geen, 10, Can-Am, Simcoe, Ontario, 16-12.

John Ragon, 98, Honda, Milan, Tenn., 15-14.

Pat Brown, 199, Yamaha, Pittstown, N.J., 18-13.

Cale Downen, 727, Honda, Junction, Ill., 14-19.

Sage Baker, 49, Can-Am, Shasta Lake, Calif., 17-17.

Russ Shumaker, 69, Kawasaki, Bristol, Wis., 20-18.

Chad Wienen, 44, Suzuki, Galena, Ill., 19-20.
ITP Tires/Moose Racing AMA Pro ATV Motocross Championship points leaders: Wimmer 178, Gust 145, Byrd 119, Natalie 113, Creamer 104, Goodman 103, Wienen 92, Dunkelberger 82, Lawson 80, Arno 80.
Notebook:
ENTRIES STRONG...Total entries for this weekend were an event record 654 in 34 classes, with 26 riders representing the Pro Class.
TOP QUALIFIER... Josh Creamer set the fastest time in final qualifying held mid-morning on Sunday, winning the Ti Fuel Fast Qualifier Award. Creamer turned a two-minute, .524-of-a-second lap on the wet track surface. Creamer backed up his fast time in first-round qualifying, which was more than four seconds faster, set yesterday in dry conditions.
HOLESHOT WINNERS...Joe Byrd won the Suspension Systems Holeshot Award en route to winning the first moto and the ATVRiders.com Holeshot Award in the second moto.
IRON MEN...John Natalie, Jr. and Chad Wienen were both suffering the after effects of injuries sustained prior to the weekend. Natalie has an infection in his left eye, and Wienen was involved in an accident last week while training for this event, which left him with a sore shoulder. Interestingly, the two made contact in the first moto and Wienen ended up with the worst of the incident, going off in one the track's uphill sections. Neither rider was seriously injured in the tangle.
TRACK CONDITIONS...Saturday was warm and dry, but evening thunderstorms washed over the Danville area Saturday evening and didn't stop until 7 a.m. Sunday. However, due to hard work by the track staff, the wet weather only delayed Sunday's program by one hour.